Life and Career Prospects of an Income Tax Inspector
Staff Selection Commission or SSC, as often called, is an umbrella organization under Government of India. SSC is responsible for conducting the recruitment processes for various posts in different ministries, departments and subordinate offices. Every year SSC conducts various exams like SSC CHSL, SSC CGL, SSC multitasking, SSC GD constable, SI and many more to recruit staff in various government authorized entities. More than 20 lakh aspirants sit for SSC CGL exam every year to enter into the government sector.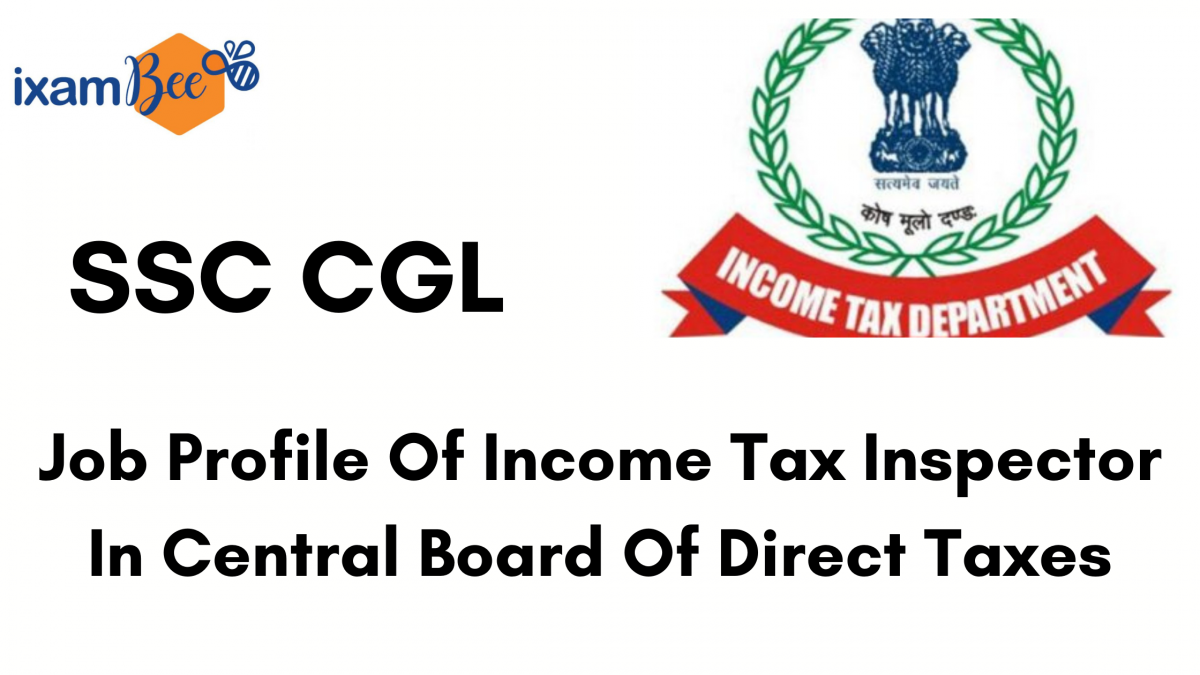 In continuation to our series for the various posts covered under SSC CGL exam 2021-22, this post will be dealing with the life and career prospects of an Income Tax Inspector. SSC CGL Income tax inspector job is one of the dream jobs aspired by thousands of candidates. SSC CGL Income Tax Inspector job is among the first one that comes to the mind of the SSC CGL aspiring candidates. So the curiosity to know about the SSC CGL Income Tax Inspector salary, job responsibilities, career growth is bound to linger in the minds of the candidates.          
Here is a short and crisp insight into the life of an SSC CGL Income Tax Inspector. 
Career as an Income Tax Inspector
Income Tax Inspector is a Group C post under Combined Graduate Level Examination conducted by SSC. Income Tax Inspectors are a part of the Department of Income tax, which functions under the Central Board of Direct Taxes or CBDT. You will be promoted to Income Tax Officer after a service of 5-6 years as an Income Tax Inspector. Also, you need to clear the departmental exam. After a service of 10-11 years as an ITO, you will be promoted to Assistant Commissioner of IT then to Deputy Commissioner of IT after a service of 4–5 years as an Assistant Commissioner. Then to Joint Commissioner of IT and finally to Additional Commissioner of IT.
NOTE- If you join the IT department before 25 then there is a good chance that you'll be retired from Additional Commissioner of IT. Once you become ITO then almost a group of 30–40 people directly work under you & the series goes on…
Also See: Life of SSC CGL Assistant Audit Officer (AAO)
Income Tax Inspector Pay Scale and Perks
SSC CGL exam not only offers you a stable and secured central government job but also offers you a handsome salary. The in-hand salary of SSC CGL Income Tax Inspector is Rs 58,000-60,000 including HRA, DA, and TA. However, the house rent differs according to the city you are posted in.
Beside this you are also eligible for telephone, transport and fuel allowances. Also medical expenses on health are borne by the organization. 
Also See: Life of SSC CGL Assistant Section Officer (ASO)
Income Tax Inspector Job Profile
The SSC CGL Income Tax Inspector works under the aegis of CBDT that operates throughout the nation to raise direct taxes. Therefore, an Income Tax Officer can be posted either in Assessment or in Non-Assessment Section. On which section you are going to work will be decided once your probation period is over. The work distribution of an Income Tax Officer in assessment and in non-assessment section is given below in tabular format:
| | |
| --- | --- |
| Assessment Section | Non Assessment Section |
| Purely a desk job and generally deals with paperwork. | Job in this section is basically related to fieldwork. |
| Fix 9 to 5 job | Working hours are not fixed |
| Check people have paid their taxes on time, refund & tax evasion | If you're in raid then you can't leave office until raid is done |
| Also to handle refund claims and TDS queries | |
This is a short summary of the SSC CGL Income Tax Inspector work scenario and career prospects. If you want a detailed information do watch the video given below-
Study with ixamBee
ixamBee is here to help you in your preparation for SSC CGL. You can enrol yourself in our SSC online course, attempt SSC CGL free mocks to get an insight into the SSC CGL exam pattern and see where you lack. Feel free to reach us in case you have any doubt or queries in your mind by commenting below.
Good luck for your SSC CGL exam.
Get Free Online Test Series, GK updates in form of Beepedia,  as well as latest updates for Bank PO, Bank Clerk, SSC, RBI, NABARD and Other Government Jobs.
Also Read
Life of SSC CGL Assistant Audit Officer (AAO)
SSC CGL 2021-22: Life of SSC CGL Assistant Enforcement Officer (AEO)
SSC CGL Preparation 2022: SSC CGL Tips from Toppers
How to Crack SSC CGL 2022 in First Attempt? SSC CGL Preparation Tips
займ на киви кошелёкчастный займ под залогэкспресс займ на карту онлайн