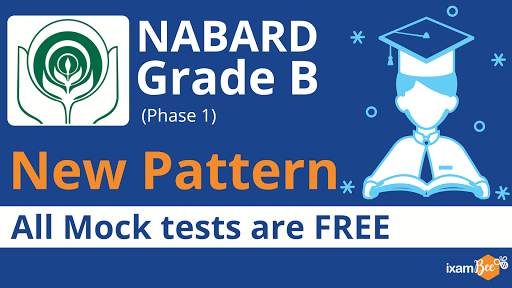 NABARD Grade B Phase 1 Free Mock Test
NABARD Grade B Preliminary Mock Test will help you assess your current preparation level. National Bank for Agriculture and Rural Development is an apex development financial institution in India. NABARD Grade B is one of the most popular notifications released from time to time. As the exam is tough, one needs to regularly practice in order to secure a seat. ixamBee understands this and therefore, it provides the NABARD Grade B Online Mock test series for free. These practice tests are made by our experts and are very close to the real exam. With regular practice of the NABARD Grade B Pre mock test, you will definitely improve your preparation.
NABARD Grade B Phase 1 Online Test Series | Practice Test
NABARD Grade B Prelims free mock test is bilingual i.e. it can be attempted in English as well as in Hindi
The mock test is very close to the real exam and the interface is also identical to the real exam
You will also get section-wise performance graph analysis with each practice test
Doubts are clarified through the "issue reports" key feature making you aware of what you need to focus on
You can retake the exam if you wish to attempt the same NABARD Grade B Pre mock test series to see how much you have improved
ixamBee also provides complete guidance on NABARD Grade A and NABARD Grade B exam through our exclusive online course. These courses have been designed by our experts who are ex- RBI, ex- Bank PO, ex-NABARD and know the depth of the questions that can be asked in the exams.
Also, attempt NABARD Grade B Mains mock test as the Prelims exam has been over and its result can be out soon.
Exam Pattern
Phase 1/ Prelims Exam Pattern
Nature of Test
Test Name
No. Of Questions
Maximum Marks
Time Duration
Qualifying
Quantitative Aptitude
20
20
Composite time of 120 minutes
Reasoning Ability
20
20
Computer Knowledge
20
20
English Language
30
30
Decision Making
10
10
Merit Based
General Awareness
20
20
Agriculture & Rural Development (with focus on Rural India)
40
40
Economic and Social Issues (with focus on Rural India)
40
40

Total

200

200

2 Hours
Phase 2 / Mains Exam Pattern
Subject
Type of Paper
No. of Questions
Marks
Duration

Paper I

General English
Online Descriptive (Answers to be typed using keyboard)
3
100
90 Minutes

Paper II

ESI & ARD
Objective
30
50
30 Minutes
Descriptive Type (Answers to be typed using keyboard either in English or Hindi (Remington and Inscript keyboards))
6 questions will be asked, of which candidates will be required to attempt 4 questions [2 of 15 marks each (with difficulty level) and 2 of 10 marks each]
50
90 Minutes

Total

100

2 Hours

Paper III

Development Economics, Statistics, Finance and Management
Objective
30
50
30 Minutes
Descriptive Type (Answers to be typed using keyboard either in English or Hindi (Remington and Inscript keyboards))
6 questions will be asked, of which candidates will be required to attempt 4 questions [2 of 15 marks each (with difficulty level) and 2 of 10 marks each]
50
90 Minutes

Total

100

2 Hours
Exam Dates 2020
NABARD Grade B Exam Dates 2020
Events
Exam Dates (Tentative)
Online Registration and Payment of Online Fees/Intimation Charges
July 17, 2021
Last date for submission of online Applications
August 07, 2021

Download of Phase 1 (Preliminary Exam) Admission Letters

August 31 to September 17, 2021
(Click Here)
NABARD Grade B Phase 1 Date (Preliminary Exam)
September 17, 2021
NABARD Grade B 2021 (RDBS)
Phase I Result
October 14, 2021 (Click Here)
Call Letter for NABARD Grade B Online Main Exam (Phase – II)
November 03, 2021 (Click Here)
NABARD Grade B Mains Exam Date
November 17, 2021
Result for NABARD Garde B RDBS Online Main Exam (Phase – II) 2021
December 31, 2021 (Click Here)
58 Cr+
Questions Attempted
56 Lac+
Mock Test Attempted