In terms of career growth, which is a better option: NABARD Grade A or SBI PO?
NABARD Grade A 2020 and SBI PO 2020 exams are conducted almost every year. NABARD Grade A and SBI PO 2020 exam always have great attraction for young banking aspirants because of the attractive perks and salaries. If you are also among those confused as to which is a better career option between NABARD Grade A and SBI PO, then you should definitely read this. NABARD Grade A and SBI PO, both are quite different career options and with the differences explained below, you should be able to make a conscious choice for your preferred career.
Lets first understand what are these two organizations:
NABARD is a DFI (Development Finance Institution), which is an apex institution working for agriculture and rural finance by following means:
Participating in policy making
Providing finance and refinance
Training and consultancy 
SBI is a Commercial Bank that provides banking services. SBI is similar to any other commercial bank –it accepts deposits from the public, provides all kinds of loans, sells mutual funds and insurance schemes, does remittances and other similar banking activities.
Now let's understand how working at NABARD and SBI is different:
The objective of NABARD is not to make a profit, it is not a listed company like SBI. For SBI quarterly profits are monitored by the market and reflected in its share price.
There are some 30-40 other banks providing all those services as SBI does and SBI competes with them in the market. NABARD is unique, there is no other such institution in the country.
SBI has ~2.5 lakh employees and NABARD has ~4000 employees. SBI has more than 24,000 branches and NABARD has some 31 offices. Therefore when you compare NABARD Grade A vs SBI PO, SBI is like an ocean and NABARD is a small lake.
In NABARD you will be a member of a smaller family, working in bigger offices (mostly in state capitals) and you will get to know many people in very less time. You will become a part of it as you will also live in NABARD's officers' quarters. In SBI you can be posted at any of these 24,000 branches and you will get to know only a limited number of people. In the larger organization like SBI, you will have limited reach and network.
SBI has offices even in foreign countries and you can get an opportunity to work in interesting areas such as International Operations, Investment, Corporate Finance, Foreign Exchange Management. SBI being the largest bank of the country deals will all types of complex financial transactions and all large corporates are clients of SBI. Therefore, the exposure of working in these specialized functions of the bank cannot be matched in any other organization. The experience is related to commercial lending – for business purpose.
In NABARD you are exposed to the world of development finance. You collaborate with banks, advise state government and the central government in the matters of rural finance, undertake pilot projects, provide soft loans and grants, supervise rural banking (by supervising RRBs and Rural Cooperative Banks). The work is less routine but will have more bureaucratic challenges. You will like this if you are interested in the field of development.
When you compare work pressure in NABARD Grade A vs SBI PO, in SBI there will be work pressure to meet targets, deadlines, loan recovery, customer service and others. In NABARD there is hardly any work pressure, you will be able to complete your work in the given office hours.
Salary and benefits at present will be more in NABARD as the perks are much higher there. In future salary and perks in SBI may overtake especially as you grow upwards in the hierarchy. CGMs and above in SBI have a huge business empire to manage and they get many more facilities and position of influence. You must have read statements of SBI Chairman (who started their career as SBI PO) very often in newspapers, but how many times have you read about NABARD's chairman making a statement? However, career progression (promotions) and job profile will also be much tougher in SBI.
Both these organizations have their own significance, importance, and ways of working. The importance of commercial banking or making profits cannot be undermined in any way because making profits is "the most important" activity, as is funding to any "developmental or grant-based work". However, what you like entirely depends on you.
To know more about NABARD Grade A job profile watch 
About the Author Chandraprakash Joshi Sir: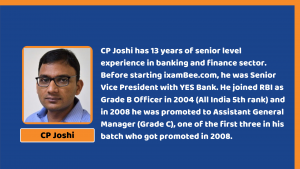 Click Here for Free Demo of NABARD Grade A online course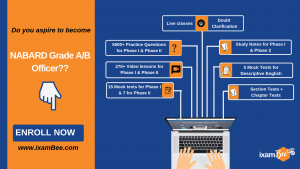 Click Here for Free Demo of SBI PO 2019 Online course

Also Read:
SBI PO vs SBI Clerk: Which One Is Better?
Government Job vs Private Job: Which Job to Prefer?
SSC MTS vs SSC CHSL: Which One is Better?
SSC CGL vs SSC MTS: Which One is Better?
Get Free Online Test Series, Daily GK Update, PIB Current Affairs, Banking Awareness as well as latest updates for Bank PO, Bank Clerk, SSC, RBI, NABARD and Other Government Jobs. займ на карту 100 процентов одобрениязайм на карту с отрицательным балансомзайм онлайн от 20 лет