IBPS SO Law Officer Exam
The Institute of Banking Personnel Selection (IBPS) conducts an exam to recruit Specialist Officers every year. The IBPS SO Law Officer Exam is for aspirants who seek to work as Law Officers (Scale I) in a bank. They are an indispensable part of any bank. They advise the bank on how to abide by different laws formulated by RBI Notifications, the Banking Regulation Act, the Foreign Exchange Management Act, Contract Laws, and so on.
IBPS SO: Roles and responsibilities
An IBPS SO Law Officer plays an important part in a bank. They provide legal advice as well as deal with various legal issues associated with the bank. Candidates who want to become IBPS SO Law Officers must understand the job profile, their roles, and responsibilities. Read on to learn more:
A Law Officer takes care that the bank follows all the rules and regulations set by the RBI.
These Law Officers prepare legal documents for various processes of the bank.
An IBPS SO Law Officer guides the bank to act in accordance with various laws like RBI Notifications, Banking Regulation Act, Foreign Exchange Management Act, Contract Laws, Companies Act, 1956, etc.
A Law Officer in banks prepares initial drafts of legislation administered by the bank.
IBPS SO Law Officer- Vacancies
Candidates should go through the notification carefully to ensure they have read and understood every detail. Several vacancies are released with the official notice. The notification is expected to be released in October. Last year, there were 50 vacancies for this post.
IBPS SO Law Officer- Brief Overview
| | |
| --- | --- |
| Criteria | Detail |
| Age | A candidate must be between 20 and 30 years of age. |
| Educational qualification | A Bachelor Degree in Law (LLB)Enrolled as an advocate with Bar Council |
| Eligibility | A candidate must be a citizen of India. Study the complete eligibility criteria. |
| Exam Pattern | Prelims: The IBPS SO Prelims 2021 Law Officer will consist of three sections: Reasoning, English Language & General Awareness. Mains: Paper on Professional KnowledgeInterview: If you clear the Mains, you will be shortlisted for an interview. |
| Exam Syllabus | Prelims: Quantitative Aptitude, English, General Awareness and Reasoning.Mains: Banking Regulations, Compliance and Legal Aspects and others. |
Related information: Find out more about how to apply, application fee, books for preparation and other such related queries.
IBPS SO Exam Preparation
Are you also interested in working as an IBPS SO Law Officer? Are you lost in a sea of research and don't know where to begin? Then you've come to the right place. ixamBee has launched an online course to help you prepare for the IBPS SO Legal exam. ixamBee online courses are curated by seasoned faculty members who are dedicated to helping you realize your goals. If you are on the edge about whether you want to pursue the course or not, you can try a demo class as well. Moreover, you can always take ixamBee's free mock tests and review previous year's question papers to gauge your overall standing at any time of your preparation.
NABARD Grade A Legal Officer
NABARD is an all-India Apex Organization, completely owned by the Government of India. Thousands of aspirants hope to work with a pioneer organization such as NABARD. NABARD has not released the notification for NABARD Grade A 2021 yet. The vacancies for NABARD Grade A 2021 will be updated as soon as the notification releases NABARD Grade A Legal Exam requires sheer dedication and experienced hands to guide you through the exam preparation process.
Job Profile
The life of a NABARD Grade A Legal Officer is one of and prestige and responsibility. Let us look at the kind of work this job entails.
Work on various policies and programs mandated by the Central/State Governments related to Agriculture and Rural Development.
As a Grade A – Legal Service officer, you will be collaborating with the State Government and the Banking Industry, which encompasses the entire activities in the rural areas.
Take care of the Bank's legal affairs
Preparing legal documents for the bank's processes.
Guiding the bank concerning legal issues including customer complaints
NABARD Grade A Legal Officer: Brief Overview
CRITERIA
DETAILS
Age
The candidate must be between 21 and 30 years of age
Educational qualification
Bachelor's Degree in Law recognized by Bar Council of India for the purpose of enrolment as an Advocate with a minimum of 50% marks (SC/ST applicants – 45%), or equivalent in the aggregate of all semesters/years OR LLM Degree with a minimum of 45% (SC/ST applicants – 40%), or equivalent in the aggregate of all semesters/years.
Eligibility
Citizen of India

Vacancy
3 (1 seat each for Unreserved/SC/ST categories)
Exam pattern
Preliminary Exam (200 marks)
Mains Exam (200 marks)- Paper I and Paper II
Interview (25 marks)
Exam syllabus
Prelims: Mains: Paper 1: English (writing skills)
Paper 2: Legal
Previous Year's Cut-off
Final Merit List Cut-off
Unreserved- 153.00
SC- 151.00
ST- 135.50
In-Hand Salary
₹ 75,000-80,000
NABARD Grade A Legal Exam Preparation
ixamBee has launched NABARD Grade A Legal Officer online course for all those who struggle to gather study material for the preparation of the exam. Aside from ample study material, Our NABARD Grade A Legal Officer Online course gives students the guidance of seasoned experts. These faculty members understand the needs of each of their students and work with them accordingly to help them reach their goals. If you like, you can try a demo of our online course as well to help you make up your mind. You can find a number of free mock tests at your disposal. You should also look at the best books For NABARD Grade A & B Exam Preparation to help with your preparation. This video will help you to better understand the banking system in India.
To get a head-start on your preparation and to learn more about all the government jobs and how to prepare for them, visit our ixamBee page for a comprehensive guide. You can learn about all the upcoming exams here. If you think you can learn better through audiovisual or multimedia-based instruction, subscribe to our ixamBee channel for exam preparation YouTube videos.
ixamBee has just launched a 'Get Vaccinated, Get Rewarded' offer to provide a flat 18% off to candidates who are preparing for competitive examinations and would like to buy any of our courses. To avail of this offer, all you have to do is upload a picture of yourself getting jabbed.
Stay Home, Stay Safe!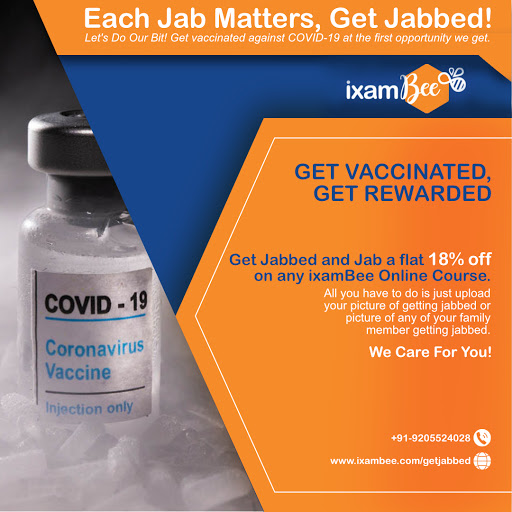 Also read:
IBPS SO Law Officer: How to prepare in 8 months??
Salary of an IBPS SO Agriculture Field Officer
NABARD Grade A 2021: Previous Year Question Paper 2020 (ARD Analysis)
At ixamBEE you can find free Online Test Series, GK updates in form of Beepedia, as well as latest updates for Bank PO, Bank Clerk, SSC, RBI, NABARD and Other Government Jobs.