If you are one of the many SEBI aspirants and have been eagerly and anxiously waiting for the SEBI Grade A 2023 notification then we are happy to tell you that you are at the right place because there is a piece of good news for you. Yes, you heard it right. The good news is – now you do not have to wait too long for the notification. SEBI Grade A notification is expected in December 2023, which means that you are left with just a couple of months for the notification and the Phase 1 exam is likely to be conducted in early 2023, most probably in January or February.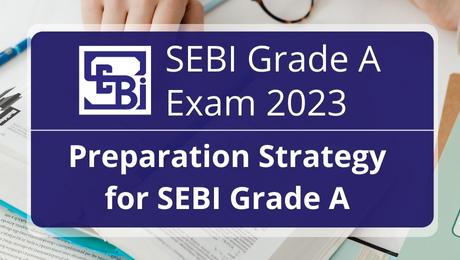 Are you feeling scared and anxious? Do not worry as ixamBee is here to guide you regarding the preparation for SEBI Grade A with a proper plan to help you complete your syllabus much before the exam and save your time for adequate revision.
So now that you know you do not have enough time for the SEBI Grade A exam, let us not waste more time and get straight to the matter as time is the most valuable resource that a person has and when it comes to an exam as competitive as the SEBI Grade A then there can simply be no resource as precious as time.
SEBI Grade A Preparation Strategy 2023
Strategy for finishing the SEBI Grade A syllabus on time and saving time for revision.
Most of the SEBI aspirants are worried about the timely completion of the syllabus as the SEBI Grade A exam has many components that require adequate revision. ixamBee has prepared a detailed strategy for you to help you save your time for revision.
It is obvious to feel overwhelmed by the huge SEBI Grade A syllabus 2023 but with proper guidance and strategy, it becomes easier to complete the syllabus on time and revise the entire syllabus multiple times before the exam as timely revision is the key to getting through a highly competitive exam like SEBI Grade A.
Do's and Dont's for SEBI Grade A 2023 Preparation
Do's
Always refer to the previous year papers and analyze the kind of questions asked in the past for getting a fair idea of how to prepare for the SEBI Grade A 2023 exam.
Finish the topic that you study and then move on to the next topic. Do not leave a topic incomplete and move to the next topic because such a haphazard preparation will take you nowhere. Always follow an order and stick to it. It will help you to remember every topic well.
Attempt as many sectional tests as you can for the timely assessment of your progress and for better retention.
Prioritize the subjects as per your strengths and weaknesses for which we always advise to give ample SEBI Grade A mock test to identify your strengths and weaknesses.
Give full length mock tests to know where you stand in terms of your preparation and accordingly modify your strategy. You can give ixamBee's full length mock tests for free.
Give equal importance to all the topics and subjects. Strictly do not try to skip any topic or subject, especially for paper 2 of both the Phases.
Lastly, be consistent in your preparation. Everyday prepare as if there is no tomorrow because consistency is the key to success and it is something that very few people have. There will be several challenges and roadblocks that you may confront but do not let the challenges distract you from your goal. Remember, only the ones who are consistent, are able to achieve their goals.
For a proper sequence of topics, you can refer to our SEBI Grade A 100 days study plan 2023 that we have created exclusively to help you save your time for adequate and timely revision because your time is precious not only for you but for us as well.
Don'ts
Never start your preparation without a proper plan as you may feel confused and end up wasting your time. Remember every year of your life is precious and you cannot afford to waste a precious year of your life. Consider this attempt to be your final attempt so that you prepare with a lot more dedication.
Take two subjects at a time because retention of what you study is more important than completion of the entire syllabus. Remember, on the day of the exam, you have to select the right option that will fetch you marks and help you avoid losing marks because of negative marking. It is important to remember what you have studied. Do not pick more than two theory subjects at one time.
Neither ignore QRE and general awareness nor dedicate a lot of time to these components because at the end of the day you just have to secure qualifying marks in SEBI Grade A Phase 1.
Do not ignore descriptive English. Start preparing for the same along with the other subjects. Most of the aspirants wait for the Phase 1 exam to get over to start preparing for descriptive English. Remember after clearing Phase 1 exam candidates do not get enough time to prepare for Phase 2 exam. As descriptive English carries 1/3rd weightage to reach to the next stage thus you need a lot of practice.
Do not ignore the Finance numerical. If you thought that you just need to practice numerals for Phase 1, then you are wrong. Going by the past papers, Finance numericals are extremely important for Phase 2. A good number of finance numerical were asked in 2021 and 2022 phase 2 papers and you can expect the same for the SEBI Grade A 2023 phase 2 exam.
In short, prepare for both Phases simultaneously.
How to Prepare for SEBI Grade A Phase 1 Paper 1 Exam
Tips and suggestions for QRE
It is always good to start with mock tests for QRE to identify your strengths and weaknesses and accordingly devote time to quant, reasoning and English.
Try to devote at least 2 hours every day to QRE
Practice, practice and more practice
Be thorough with the rules of grammar
Solve as many reading comprehensions as you can
Remember your aim for paper 1 is not to score the maximum marks possible but to clear each section merit with a decent score. All you need is just qualifying marks so devote time accordingly.
Tips for General Awareness
A component that many aspirants fear is General Awareness but let me tell you that there is nothing to fear if you simply follow my advice
Be thorough with the last 3-4 months of current affairs prior to the exam as the maximum no of questions will be from the past 3-4 months of ixamBee's Beepedia.
It is advisable to go through the current affairs of the last 6-8 months prior to the exam.
Remember static GK questions are based on current affairs. Study the static part of current affairs.
Try to make notes of current affairs for your reference before the exam. Note down the most important points.
Give enough mock tests.
How to Prepare for SEBI Grade A Paper 2 of Phase 1 & 2
Tips and suggestions for Paper 2
SEBI Grade A Phase 1 and Phase 2 Paper 2 has 6 components – Economics, Finance, Companies Act, Management, Costing and Accountancy.
Refer to the previous year papers to know what kind of questions are asked and prepare accordingly.
Be thorough with all the concepts because the questions asked in the exam are based on the concepts. Conceptual clarity is a must.
Focus on the keywords.
Try to prepare a mind map.
Prioritize the six components as per their significance in the exam and level of your understanding of the 6 subjects.
Give ample mock and sectional tests.
Timely and adequate revision is a must.
Give equal importance to all the 6 components.
Do not skip any topic.
How to Prepare for Descriptive English
Descriptive English has 1/3rd weightage for your final selection.
Do not ignore descriptive English. Most of the aspirants make the mistake of ignoring descriptive English.
Read newspaper articles especially editorials to get an idea of how to write essays. Refer to the editorials of 'The Hindu' or 'The Indian Express".
Take any topic and write on it for practice.
Give mock tests.
Try to read an editorial and write a summary of it in your own words.
Practice as much as possible to develop the speed required for the exam.
SEBI GRADE A Exam Pattern 2023
Let's have a quick look at the SEBI Grade A exam pattern 2023.
| | |
| --- | --- |
| Phase 1 | Online qualifying examination consisting of two papers of 100 marks each |
| Phase 2 | Online merit-based screening consists of two papers of 100 marks each. Phase 2 plays a deciding role in the selection of candidates |
| Phase 3 | Interview- Final filtering round for choosing the ideal candidates |
SEBI Grade A Previous Year Exam Analysis
An analysis of the difficulty level of the SEBI Grade A exams in the past years. Please take a look at the graphical representation below. 0 indicates the easiest level and the higher the value the more difficult the paper was. As you can see, the SEBI Grade A Phase 1 and Phase 2 2022 papers were the most difficult in recent years.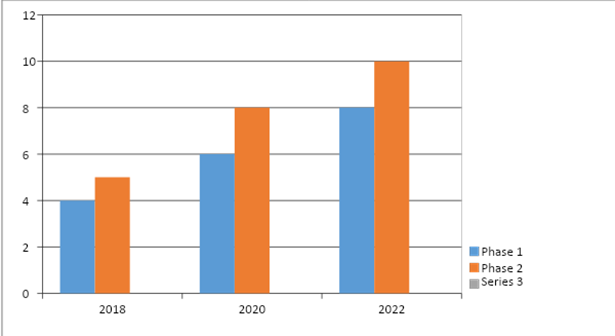 Summary – The level of difficulty of the SEBI Grade A exam is increasing with the passage of year.
A Quick Analysis of the Competition for SEBI Grade A Exam 2023
Now that you are clear about the preparation strategy for the exam, let's have an idea of the level of competition for the SEBI Grade A exam. 78,085 applications were received for the SEBI Grade A 2022 exam. With a surge in demand for government jobs due to job security, you can simply expect the number of applicants for the 2023 exam to increase.
A lot of people lost their jobs when the pandemic hit the country. We all know that when it comes to private jobs, no one can assure your security, certainty and stability. We have seen an increase in the number of young professionals giving up their well-paying jobs for government services.
A govt. job not only provides job security but also earns one respect and recognition in society. Very often you have been told about that typical 'Sharma ji' ka beta or Joshi ji ki beti', who has a prestigious govt. job and, is considered an ideal son or daughter, by your parents or relatives or neighbours.
If you are trying hard to fit yourself into the category of "Sharma ji ka beta or Joshi ji ki beti", then we are here to help you with the help of our detailed SEBI Grade A 100-Day Study Plan 2023 and extremely affordable course.
Why choose IxamBee
The SEBI Grade A Exclusive Online Course will provide aspirants with all their study materials and more. Please take a look at what we offer.
Affordable courses
Free mock test
Dedicated, experienced and expert faculty.
Concise study material
Crisp videos
Easy to access course
Sectional and topic-wise tests
All the best!!
At ixamBee you can find free Online Test Series, GK updates in the form of BeePedia, as well as latest updates for Bank PO, Bank Clerk, SSC, RBI, NABARD, and Other Government Jobs.
Also Read
Functions of SEBI with All Details
Are SEBI Employees Allowed to Trade?
Interesting Facts About SEBI: Full form of SEBI & Other Details