What is CBS?
CBS stands for Core Banking Solutions. Core Banking Solutions or CBS is a commonly used word in banking these days. It has expanded the scope of banking in a major way by letting the banks to develop a centralized system which allows their customers to operate their bank accounts and avail any facility irrespective of the bank branch. In technical words, Core Banking "is a banking service provided by a group of networked bank branches where customers may access their bank accounts and perform basic transactions from any of the member branches."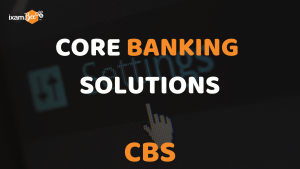 CORE itself is an acronym used for- Centralized Online Real-time Exchange. Commonly we refer to the bank branches as CBS branches these days. In simple words we refer to the branches as CBS branches when they are connected to each other through a centralized network, enabling the customers to access their accounts whenever and wherever they want to,as per their convenience.
Core Banking actually came into existence after the entry of computers and telecommunication technology into the banking industry, which allowed the banks to exchange information among themselves in an efficient way which has also resulted in lesser manual work. It helps in processing the daily transactions quickly and properly. In recent years almost all the banks have shifted to core banking applications to support their operations.
Features of Core Banking
The advent of core banking has provided an easy and efficient way to the bankers to carry on their bank operations in a smarter and swift way. Core Banking is often considered as the basis of all banking activities in today's date. Some of the main features of Core Banking are as follows:
'Core Banking' is usually associated with 'retail banking' and it functions as a one-stop solution for all the financial needs of retail and corporate customers by providing them with various facilities under one roof.

The main elements of the core banking solutions are:

Loan processing

Transaction accounts

Mortgages & payments

Deposits/withdrawals

Client interaction and solutions

Internet & Mobile Banking

ATMs & all other activities undertaken at online kiosks.

Better CBS is directly proportional to larger customer retention.

Better record keeping

CBS also aids in growth maximization, increase in the productivity by allowing the inclusion of new products and alleviating risk.

CBS enables the bankers to manage the internal controlling of operations in a better way.

CBS applications also help the banks in

banking analytics

that include 'risk analysis, profitability analysis and collateral management.

CBS: Banking Analytics, Risk Analysis etc.
Advantages of Core Banking
CBS have aided the banking industry in a huge way. They have not only mitigated the risk factors, but also made the banking system more swift and efficient. We can sum up few major advantages of adopting the CBS in few points:
CBS helps in reducing the fraud cases and errors as well as in rectifying them.

It has enabled better and stronger banker-customer relationships.

CBS also increases employee efficiency.

CBS also facilitates the obtaining of demand drafts from any branch.

Transfer of funds made easy and quick.

Cost and time saving.

Manpower saved at one stage can be assigned different tasks and responsibilities and accomplish larger goals.

Supports innovation and regular improvements in the electronic/technical processes.
Core Banking Applications Softwares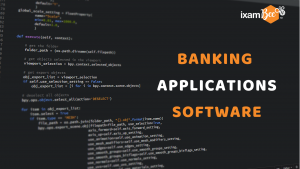 Banking application software is the backbone behind all banking operations. Core Banking Solutions is the facility provided to the banks through a software which allows the banks to operate in an efficient manner. These software applications are provided by some tech companies to the banks. The main software applications and their providers are listed below:
Infosys Finacle:

It is one of the top softwares that is being used in the banking and finance sector. It supports all the technical requirements of a bank and also assists business data analytics. It also contributes in providing a user-friendly platform.
I-flex Solutions Ltd.:

This software is owned by Oracle financial company. Oracle is an IT solution provider mainly for the banking and finance industry. It has around 900 customers in over 145 countries. The banking software suite provided by Oracle encompasses retail, corporate and investment banking, fund, cash and wealth management.
TCS FNS (Financial Network Services Limited):

It is an Australian source that develops and supplies banking application software, that operates worldwide. It is now owned and managed by TCS, thus the name TCS FNS.
Canopus EpaySuite by Canopus Innovative Technologies:

Canopus EpaySuite is a leading banking application software that assists the banking and financial companies to well-organize their services and operations. It proves effective in PoS transactions and GiftCard management.
Fidelity National Information Services (FIS): FIS

was responsible to modernize the core platform and help the banks in the major shift from traditional ways to the modern technological ones. It provides complete banking solutions and smooth consolidation of all services and facilities provided by the banks.
Thus, we can say that CBS or Core Banking Solutions have been a major breakthrough in the banking industry that has facilitated a smooth workflow in banks and extended the services of banks giving their customers a more comfortable and flexible setting where they do not have to give a second thought before wanting to avail any facility.
Also Read:
& Many More…
Get Free Online Test Series, GK updates in form of Beepedia, as well as latest updates for Bank PO, Bank Clerk, SSC, RBI, NABARD, and Other Government Jobs.
займ по двум документамзайм на карту мгновенно круглосуточно без отказа с 18 летпервый займ без процентов на киви