What is ATM?
Each one of us in today's day and age is well aware of the word ATM which is used widely among all age groups. But, how many of us are actually aware of the full form of this acronym? Do you know that the word ATM that is so prevalent among us stands for – Automated Teller Machine?
ATM is an electronic telecommunications device that enables customers to perform financial transactions, such as cash withdrawals, deposits, transfer funds, or obtaining account information, at any time and without the need for direct interaction with bank staff. It is a small kiosk that dispenses money. There are no hard international or government-compiled numbers totaling the complete number of ATMs in use worldwide. Presently, close to millions of ATMs have been installed worldwide or approximately 1 ATM per 3000 people in the world.
On most modern ATMs, customers are identified by inserting a plastic ATM card into the machine, which is authenticated by the customer entering a personal identification number (PIN), which must match the PIN stored in the chip on the card (if the card is so equipped), or in the issuing financial institution's database.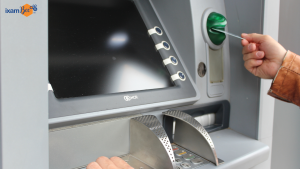 Functions of ATM:
ATMs were originally developed as cash dispensers, and have evolved to become a lot more useful ever since. Some of the uses of this Automated Teller Machine (ATM) are as follows :
Paying routine bills, fees, and taxes (utilities, phone bills, social security, legal fees, income taxes, etc.)

Printing or ordering bank statements

Updating passbooks

Cash advances

Cheque Processing Module

Paying (in full or partially) the credit balance on a card linked to a specific current account.

Transferring money between linked accounts (such as transferring between accounts)

Deposit currency recognition, acceptance, and recycling
In some countries, especially those which benefit from a fully integrated cross-bank network (e.g.: Multibanco in Portugal), ATMs include many functions that are not directly related to the management of one's own bank account, such as:
Loading monetary value into stored value cards

Adding prepaid cell phone / mobile phone credit.

Purchasing

Concert tickets, gold, lottery tickets, movie tickets, postage stamps, train tickets, Shopping mall gift certificates, donating to charities
Types of ATM:
Depending on the location, facilities, and providers, ATMs can be classified into various types:
On-Site ATM

– ATM that is inside the bank premises

Off-site ATM

– ATM outside the bank premises but is located at other places, such as shopping centres, airports, railways station and petrol stations.

White Label ATM

– ATM provided by NBFC (Non-Banking Financial Company)

Green Label ATM

– ATM provided for agricultural transactions

Orange Label ATM

– ATM provided for share transactions

Yellow Label ATM

– ATM provided for E-commerce

Pink Label ATM

– ATM for women banking

Brown Label ATM

– ATM are those automated teller machines where hardware and the lease of the ATM machine is owned by a service provider but cash management and connectivity to banking networks is provided by a sponsor bank.
Devices related to the ATM:
Except for the regular kind of ATM that we use in our daily lives, there are few other extended types of this 'Automated Teller Machine' or ATM as we popularly call it. Few of them are listed below-
– A Talking ATM is a type of ATM that provides audible instructions so that people who cannot read a screen can independently use the machine, therefore effectively eliminating the need for assistance from an external, potentially malevolent source. All audible information is delivered privately through a standard headphone jack on the face of the machine. The world's first talking ATM for the blind was an NCR machine unveiled by the Royal Bank of Canada on October 22, 1997 at a bank branch on the corner of Bank Street and Queen Street in Ottawa, Ontario.
India's first talking ATM for visually impaired was inaugurated in Vastrapur, Ahmedabad,Gujarat on 6th June 2012, which was unveiled by the 'Union Bank of India'.
– A postal interactive kiosk may share many components of an ATM (including a vault), but it only dispenses items related to postage.
– A scrip cash dispenser may have many components in common with an ATM, but it lacks the ability to dispense physical cash and consequently requires no vault. Instead, the customer requests a withdrawal transaction from the machine, which prints a receipt. The customer then takes this receipt to a nearby sales clerk, who then exchanges it for cash from the till.
– A teller-assist unit (TAU) is distinct in that it is designed to be operated solely by trained personnel and not by the general public, does integrate directly into interbank networks, and usually is controlled by a computer that is not directly integrated into the overall construction of the unit.
– A Web ATM is an online interface for ATM card banking that uses a smart card reader. All the usual ATM functions are available here, except for withdrawing cash.
(Most banks in Taiwan provide these online services).
Additional Information related to ATM:
ATMs are known by a variety of names, including "automatic teller machine" in the United States (ATM– American, British, Australian, Malaysian, South African, Singaporean, Indian, Maldivian, Hiberno, Philippines and Sri Lankan English), often redundantly. Automated banking machine (ABM) in Canada.
Although ABM is used in Canada, ATM is still very commonly used in Canada and many Canadian organizations use ATM over ABM.
Other terms include 'any time money, cashline, nibank, tyme machine, cash dispenser, bankomat or bancomat'. Many ATMs have a sign above them, indicating the name of the bank or organisation that owns the ATM, and possibly including the networks to which it can connect. In Canada, ABMs that are not operated by a financial institution are known as "white-label ABMs".
Some Interesting Points about the ATM ( Automated Teller Machine)
The ATM was invented by

John Shepherd Barron

.

First ATM in India

was installed by

HSBC

(Hongkong and Shanghai Banking Corporation) in 1987.

First ATM in the World

was installed on 27 June 1967 at the

Barclays Bank

of London.

World's Highest ATM

is installed in

Nathu-La

mainly for the army personals. Its height is 14,300 feet above sea level and is operated by Union Bank of India.
Also Read:
& Many More… взять займ безработномузайм с 16 летбыстрый займ чебоксары
Get Free Online Test Series, GK updates in form of Beepedia, as well as latest updates for Bank PO, Bank Clerk, SSC, RBI, NABARD, and Other Government Jobs.