The Pension Fund Regulatory and Development Authority (PFRDA) had released an official notification announcing 14 vacancies for Grade A Officers. Now that you have successfully sent in your application, it is time to earnestly take to your books. Although the PFRDA 2021 exam dates have not been announced yet, we can safely assume that the exam will not be held within the next 6 weeks.
For the next 6 weeks, your sole focus should be on this upcoming exam. Prepare yourself mentally to devote all your time to your study so that whenever the exam is announced, you are more than ready to take it.
In this article, we have outlined a detailed 6-week study plan that will aid you in successfully completing your preparation in the next month and a half or so.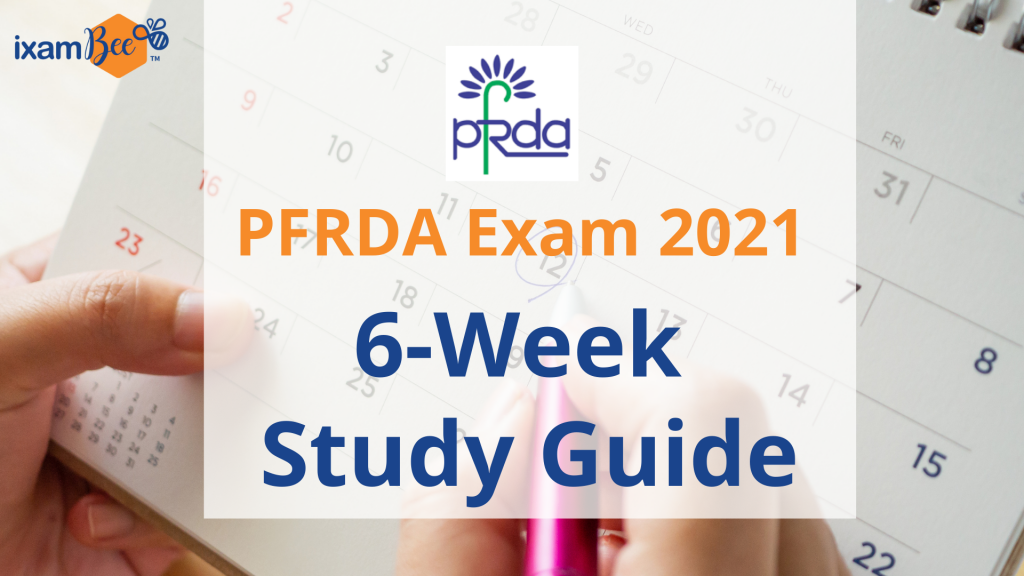 Important Points to Remember
Before we begin our study plan, there are some points you need to keep in mind so that you can better understand how this strategy will help you.
We will cover the syllabus for both Paper 1 and Paper 2 in each week.
Since the PFRDA 2021 syllabus is largely similar in both Phases 1 and 2, you will be preparing for both phases in tandem.
In case you're not familiar with the PFRDA Exam Pattern and Syllabus, study it before you begin any other aspect of your preparation.
Devote 3 days to Paper 1 and 3 days to the study of Paper 2 for every week. Reserve the 7th day of your week to make up for it if you fall behind in your preparation.
If you have completed your scheduled study for the week, take the 7th day off to enjoy yourself.
PFRDA Recruitment 2021: 6-Week Study Plan
Week 1
Paper 1
Paper 2
Reasoning (Common Sense Reasoning, Coding Decoding)
Quant (Percentage, Profit & Loss, Ratio & Proportion)
English – 5 RCs + 2 Grammar Topic6 Months of BeePedia Revision

Practice 15 Puzzles and 15 DI questions every week
Management
Nature and scope.
The Management Processes
The Role of a Manager in an Organization
Leadership: The Tasks of a Leader
Leadership Styles & Leadership Theories
A successful Leader versus an effective Leader
Human Resource Development
Motivation, Morale, and Incentives
Role of Incentives in Building up Morale
Communication
Role of Information Technology.
Begin studying the Management part of the syllabus along with the aptitude test subjects. 
Start reading BeePedia from now itself. You should have a fair sense of current affairs for six months or so from the exam. 
If there are some parts of the Management syllabus that you are already familiar with, begin with the completely new concepts. You can cover the familiar topics in your revision cycle. 
From Reasoning, begin with Common Sense Reasoning and Coding-Decoding for the first week. 
Week 2
Paper 1
Paper 2
Reasoning (Ranking & Syllogism)
Quant (Partnership, SI & CI, Average)
English – 5 RCs + 2 Grammar Topic
6 Months of BeePedia Revision
Finance
Financial Markets
Basics of Derivatives
Recent Developments in the Financial Sector
Financial Inclusion
Direct and Indirect Taxes
Non-tax sources of Revenue
GST
Finance Commission
Fiscal Policy Budget Management Act (FRBM)
Inflation
Financial System
Alternate source of finance
Cover Ranking and Syllogisms from Reasoning.
From Quantitative Aptitude, you can take up Partnership, SI, CI and Average.
Once again, we will urge you to follow the same pattern for Finance that you will for Management. In fact, for all subjects from Paper 2, this should be your go-to strategy.
Week 3
Paper 1
Paper 2
Reasoning (Blood Relation, Input & Output, Coded Inequalities)
Quant (TSD, Boat & Streams, Time & Work, Pipe & Cistern)
English – 5 RCs + 2 Grammar Topic
6 Months of BeePedia Revision
Commerce & Accountancy and CostingCash Flow StatementFund flow statementFinancial Statement analysis. Ratio analysisAccounting for Share Capital Transactions Employees Stock Option and Buy-Back of SecuritiesAccounting as a financial information system. Accounting Standards Preparation and Presentation of Company Final AccountsOverview of Cost and Management Accounting Methods of Costing
This week, from Quantitative Aptitude, your focus should be on Arithmetic World Problem subjects such as Time, Speed & Distance, Time & Work, Boat and Streams and such.
Remember to practice, Reading Comprehension exercises every day. You need to cover 5 of those every week.
Week 4
Paper 1
Paper 2
Reasoning (Distance & Direction, Analytical Reasoning)
Quant (Permutation, Probability & Menstruation)
English – 5 RCs + 2 Grammar Topic
6 Months of BeePedia Revision
Costing and Companies Act
Basics of Cost Control and Analysis
Lean System and Innovation
The Companies Act, 2013 – Specific reference to Chapter III, Chapter IV.
You should have proper practice for Puzzles and Data Interpretation by now.
Now that you have a good amount of practice, focus on speed.
For Paper 2, Lean System and Innovation is an important topic. From this, you should focus on; Introduction to Lean System, Just-in-Time (JIT), Kaizen Costing, 5 Ss, Total Productive Maintenance (TPM) and Six Sigma (SS) among others.
Week 5
Paper 1
Paper 2
Reasoning (Data Sufficiency & Revision)
Quant (Pending Topics)
English – 5 RCs + 2 Grammar Topic
6 Months of BeePedia Revision
Economics
Demand and Supply
Market Structures
National Income Classical & Keynesian Approach Determination of output and employment
Consumption Function, Investment Function Multiplier and Accelerator
Demand and Supply for Money, IS-LM
Inflation and the Phillips Curve
Business Cycles Balance of Payments Foreign Exchange Markets
Inflation
Monetary and Fiscal Policy
Non-banking Financial Institutions.
As you can see from the table above, this week you have to fill the gaps (if any) that may have developed in the last 4 weeks.
For Reasoning you should focus on Data Sufficiency, this week. Also, you should also begin revising the entire Reasoning syllabus as well.
For Quantitative Aptitude, use this week to complete all your pending topics.
By the end of this week, you should more or less be done with all the aptitude test subject preparation.
Week 6
Paper 1
Paper 2
Attempt at least 5 Mock Test
Pension
Status of pension sector in India
Type of Retirement schemes in India and their features
National Pension Yojana
Atal Pension Yojana
Annuity Plans Basics of Investment
In the final week of this study plan, you should take at least 5 mock tests. This will help you understand how far along you have come in your preparation since you began.
Since the PFRDA is a pension regulatory body, it would be a good idea to pay special attention to the Pension part of the syllabus.
The most important topics from the syllabus have been listed for you in the table above.
If you follow this study plan, you will be completely ready to take the exam after 6 weeks. In case the exam date is not even announced by then, you can repeat this cycle all over again. This time, however, your focus should be on revising what you have already learnt.
Moreover, you can always modify this study plan outline to accommodate your needs.
Some General Tips
You must practice 15 Puzzles and 15 Data Interpretation questions every week.
Work on your speed and accuracy simultaneously. You can perform your best in the exam only by employing a combination of both.
As you have seen above, you need to practice Puzzles and Data Interpretation questions every day.
Review the PFRDA Grade A previous years' papers as well.
The syllabus for PFRDA and SEBI Grade A is more or less the same.
Only 1 paper (Phase 2, Paper 1) is descriptive in nature. The other 3 papers will contain MCQs.
There is 0.25 point negative marking for every wrong answer.
So, sit tight and study hard for your exam while you wait for any official announcement about the exam dates.
PFRDA Mock Tests
Although I have already included practice tests in the study plan itself, we will advise you to take them as many times as you like and as often as you like. You will only be able to judge the indispensability of this resource when you actually make a habit to take them routinely.
Ideally, you should take a mock test at the end of every week to test your preparation. However, as already stated above, you can take them as often as you like.
Take a PFRDA Grade A Free Mock Test Now!
PFRDA Online Courses
ixamBee offers a number of online courses for the PFRDA exam preparation. We have separate courses for the General Stream as well as the Specialist streams. For your convenience, we have listed our courses for you below.
PFRDA Grade A Finance Online Course
PFRDA Grade A (IT) Online Course
PFRDA Grade A (Rajbhasha) Online Course
We wish you the very best.
Get Free Online Test Series, GK updates in form of BeePedia, as well as latest updates for Bank PO, Bank Clerk, SSC, RBI, NABARD and Other Government Jobs.
Also read
PFRDA Grade A Exam Analysis Importance
PFRDA Recruitment 2021: How to Prepare for Finance and Accounts Stream?
PFRDA Recruitment 2021: Strategy to Clear All Streams!
Full Form of PFRDA with All Details
PFRDA Exam 2021 IT Stream Preparation