Read here how to prepare for NABARD Decision Making section for the upcoming NABARD Grade A exam 2022 with sample questions.
Decision Making is a new subject that has been introduced as a part of the Preliminary examination for both NABARD Grade A & B recruitment exams in 2021. Since this is a fairly new introduction to the NABARD Grade A syllabus and exam pattern, we have prepared an exhaustive article that will clarify all your doubts concerning the Decision Making syllabus, its weightage in the exam and how you can efficiently prepare for this subject.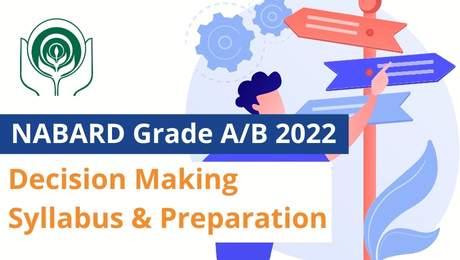 NABARD Grade A/B 2022 Decision Making
Decision Making is a subject that requires us to make choices by studying the data given to us to arrive at the best possible outcome. Since these NABARD vacancies are for managerial-level posts, you will be required to make several tough choices by weighing the pros and cons of every action and its probable reaction. For the same, NABARD 2022 exams aim to gauge a candidate's decision-making ability to select the best candidates for these posts.
Decision Making is part of the Qualifying Section for Phase 1 along with Reasoning, English, Computer Knowledge and Quantitative Aptitude. Ergo, it is imperative that students earn cut-off marks in each of these subjects. You can tentatively expect the cut-off to be at 4 marks for Decision Making.
NABARD Grade A/B 2022 Decision Making Syllabus
The syllabus for the new section on Decision Making introduced in NABARD Grade A 2022 has been given below.
Behavioural Decision Making: These are a very interesting pattern of questions. Here, we are faced with situations that may arise in our everyday lives as well that involve dealing with people depending upon their temperament, particularly if the problem involves dealing with people of different temperaments at the same time. Here, the obvious decisions you might make may not be enough as you also have to keep in mind the results or reactions that arise from your choices.
Managerial Decision Making: In this pattern of questions, a scenario will be provided wherein you will be asked to assume that you are in a managerial position and have to take a decision accordingly. As you may expect, such questions can involve how you would tackle situations concerning your team members.
Eligibility Criteria based on Decision Making: Here, a variety of eligibility criteria will be provided for the recruitment of particular personnel. With regard to the data provided, there will be follow-up questions that will require candidates to determine who is most eligible for the said post. One such sample question is discussed in the video below by our subject expert, Ms. Arunima Sinha (Ex-Grade B SIDBI Officer).
Data Arrangements Based Decision Making: As the name suggests, a large chunk of data will be provided to you in the question. You will need to arrange/organize the data before you can begin solving the follow-up questions.
Mathematical Decision Making: In essence, these questions are like Data Interpretation or Logical Reasoning questions. They are data-intensive and require that candidates carefully analyze the given information before trying to solve the questions.
Also See: NABARD Grade A Syllabus 2022 for All Subjects
NABARD Grade A/B 2022 Decision Making Sample Questions
This section will study some sample questions to understand the types/patterns of questions that can be assessed from the syllabus mentioned above.
There is a government financial institution that works in the area of resolving grass-root financial problems of the villagers. You are working as an officer with that institution and you are the team leader of a group of 5 people. Your team has been sent to a remote hilly village 'XYZ' to identify the grass-root financial problems of that village and submit a report with possible solutions. You have a medical issue and cannot go to places at height. What will you do?
Ask one of the team members to visit the village and submit the report
Ask the Sarpanch of the village to send a list of problems and make a report based on them
Send your team members to the village and refrain from going yourself.
Inform your higher authorities about the medical issue and seek permission for sending your team excluding you.
None of the above
Ans- (d)
You are working as a rural development manager in the Jaunpur branch of a microfinance institution. As a manager of a branch, you have been sent to a village with a 5 -member group to identify the primary financial problems and reasons of the villagers. You will:
Will discuss the matter with the Sarpanch of the village and then submit your report based on the inputs given by the Sarpanch without discussing anything with the villagers.
Will go to each household and try to understand all the health problems villagers are facing and prepare the report based on the discussion with the villagers.
The group members will talk to the villagers as well as the Sarpanch to understand the financial problems they are facing and then prepare the report after taking input from the group members.
Refrain from doing any work and give all the responsibilities to other members.
None of the above.
Answer: (c)
Tips to Solve Decision Making Questions
Before all else, make sure you go over the NABARD Grade A and Grade B Prelims Previous Year Papers 2021 to understand what exactly was asked in this section of the exam.
Study the problem carefully before you answer. While it is correct that speed is a key asset in any competitive exam, it is the correct answer that will ultimately fetch you your mark(s) and not for the speed you solved.
When solving dilemma-based questions, always pick the option that amplifies desirable results and minimizes the damage caused by the same.
Answer all questions as objectively as possible. For example, while answering a Managerial Decision Making question, do not let your personal beliefs/value systems get the better of you while answering in the examination.
Similarly, always pick choices that exhibit sound judgment. You want to show the examiner that you take decisions logically and not emotionally. This practice will also help you in answering your Interview questions.
Explore all the options carefully before you pick your answer. For example, as we have seen in Behavioural Decision Making questions, you must anticipate the possible outcomes before making a decision.
Ensure that you have taken into account all participants involved in the equation before you come to a decision. Also, analyze the situation from the point of view of every participant.
Always choose the best practices and methods in theory when answering questions unless specifically asked otherwise. Do not pick options that involve shortcuts or unprofessional choices.
Use the method of elimination in case you are not able to come to a decision. Obliterate answers that you are sure are not the correct ones to arrive at the right one.
If time permits, always come back and re-examine the question from scratch to cross-check if you've picked the correct answer.
The best way to prepare for the exam is to solve mock tests s you go long. For this, we recommend that you take the NABARD Grade A free mock test to ace your preparation.
Since this is a relatively new subject that has been introduced only last year, we can understand if you have some apprehensions and/or queries. Take a look at Prachi ma'am's video below. She has made a comprehensive analysis of this section and we hope it will answer all your queries.
NABARD Exam Preparation
Now that the NABARD Grade A notification 2022 have been announced, we hope you have begun your preparation in full swing. At ixamBee, you can find all the study material that you need to ace the NABARD Grade A 2022 and NABARD Grade B 2022 examinations in our online courses. Aside from these courses, we have a range of free mock tests and previous years' question papers that you can make use of at any time for free.
At ixamBee you can find free Online Test Series, GK updates in the form of BeePedia, as well as latest updates for Bank PO, Bank Clerk, SSC, RBI, NABARD and Other Government Jobs.
Also read
Review Previous Years' Question Papers for NABARD Grade A Exam
NABARD Grade A vs NABARD Grade B: Exam, Job Profile and More
10 Mistakes to Avoid in NABARD Grade A Preparation
English Preparation for Bank Exams: Syllabus & Best Tips for IBPS AFO & NABARD
Agriculture Current Affairs for IBPS AFO, NABARD, FCI, UPSC