The IBPS SO 2021 Prelims exam will be held on December 26, 2021. With such few days on your side before this highly competitive exam, what you need to do is ensure you maximize the time you have left.
We have put together some tried & tested highly beneficial IBPS SO 2021 Prelims last minute tips for you.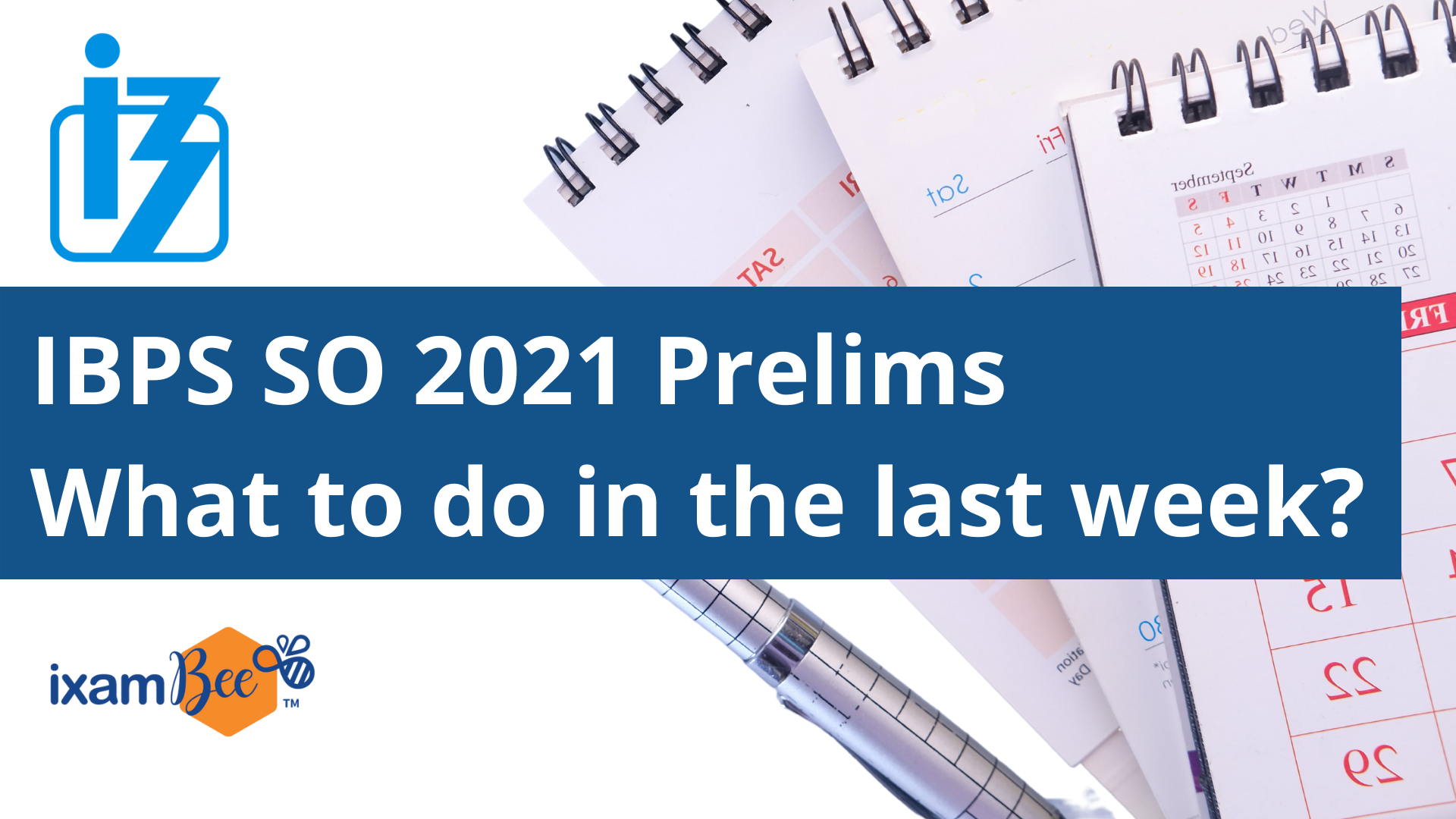 IBPS SO 2021 Prelims: Last Minute Tips
For starters, have a decent plan about which areas need more of your time and attention and work through the week accordingly.
If you have been preparing study notes all these weeks, revise them thoroughly.
Although it is not encouraged, in case you feel you have left any topic untouched, go over it within a day or so if you must.
Do not spend undue time mulling over what you did not cover.
It is normal to feel apprehensive about your preparation as the exam approaches. In which case, do not let your nerves get the better of you.
General Awareness is a very scoring topic. Hence, you must read and revise the BeePedia capsules for all current and banking awareness information.
While we are confident you have been taking the help of mock tests during your preparation, it is highly encouraged that you take two IBPS SO Prelims mock tests every day.
Our ixamBee YouTube channel is brimming with IBPS SO preparation-related videos. Be sure to watch them if you have not already been doing so.
IBPS SO 2021 Prelims: Writing the Exam
Keep your eye on the timer.
Read the questions properly. Don't be in a rush to answer.
Do not spend undue time on a question you're unable to answer.
Begin with a section/subject that is your strength. It will build your confidence.
Be mindful of negative marking. Do not make blind guesses.
Try as far as possible to save time for revision.
IBPS SO 2021 Prelims: Exam Day Preparation
Have you downloaded your IBPS SO Prelims admit card yet? If not, do so immediately.
Your single-minded focus should be on your exam for this week. All other concerns can wait for another time.
Eat healthy and sleep well. Do not consume anything that can make you ill before the exam.
Get to the exam centre well in time.
No electronic devices will be permitted inside the examination hall.
Do not carry any unnecessary items to the exam centre.
Carry everything you will need, for example, a pen and water bottle.
Wear a mask and carry a hand sanitizer.
It is imperative that you are properly-rested before the exam.
Write your exam with a calm mind.
Lastly, we always wish the best for you.
We wish you the very best.
At ixamBee you can find free Online Test Series, GK updates in the form of BeePedia, as well as latest updates for Bank PO, Bank Clerk, SSC, RBI, NABARD and Other Government Jobs.
Also read
IBPS SO Prelims 2021: English Language Preparation with Sample Questions
How to Prepare Quantitative Aptitude for IBPS SO 2021 Prelims?
IBPS SO Prelims 2020: Exam Analysis and Cut-Offs
Central Bank of India SO Recruitment 2021: Increased Vacancies & Important Updates