The ECGC PO 2022 recruitment is underway. The ECGC PO 2022 notification has been released for 75 vacancies. Moreover, the Online Examination will be conducted on May 29, 2022.
To qualify any competitive exam in the first attempt, it is essential to make a foolproof preparation strategy for each subject which will be assessed in the exam. Therefore, in this article, we will understand the preparation strategy for the Computer Knowledge subject. So, if you are planning to take the ECGC PO 2022 exam, we urge you to stay till the end.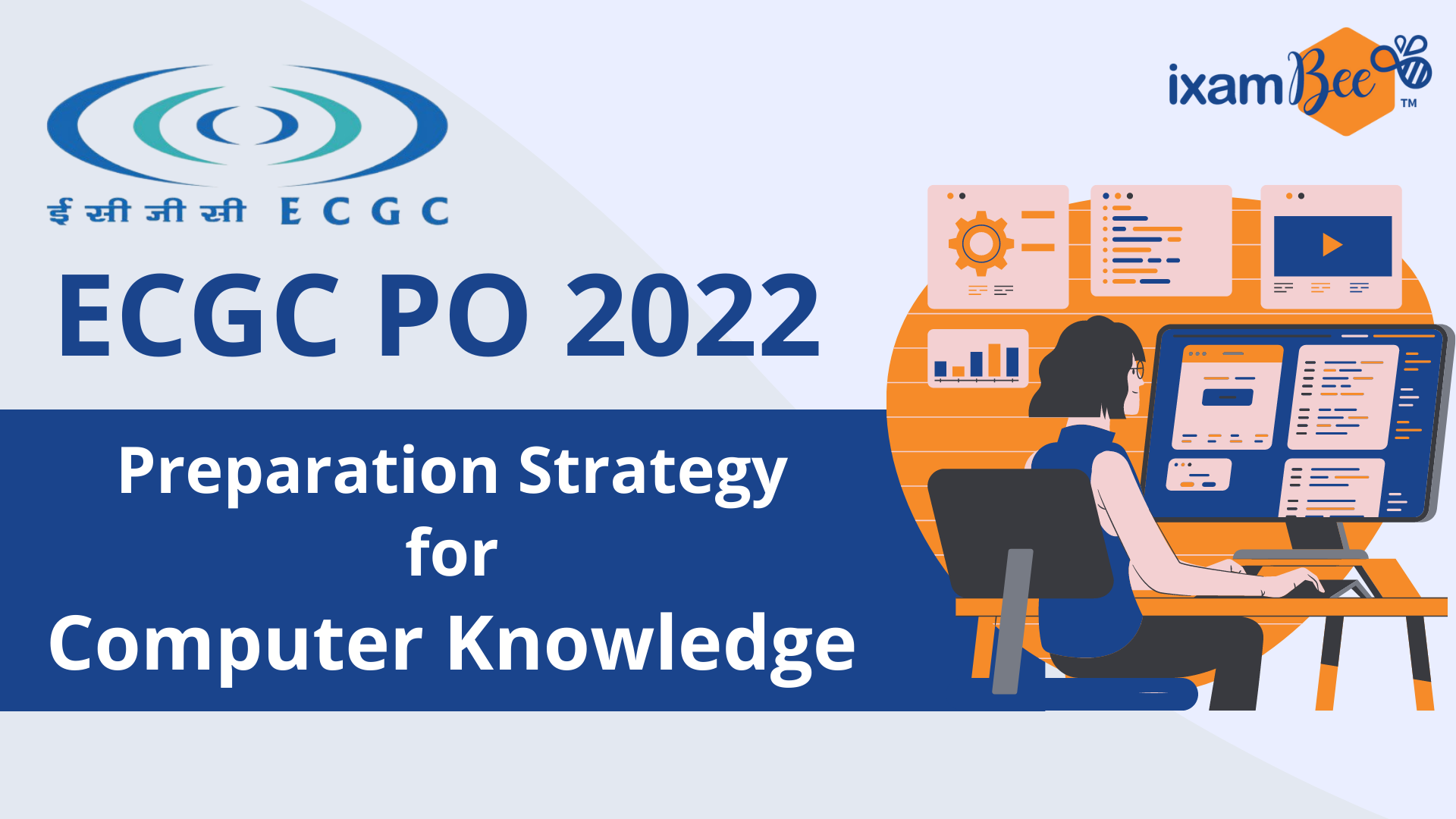 ECGC PO 2022: Exam Pattern & Syllabus
Before we go any further, we would advise you to go through the ECGC PO exam pattern. Having a thorough understanding of the exam pattern will enable you to ascertain the level of the exam. Moreover, it will give you a fair idea about the most frequently asked topics/questions.
The next step is to go through the ECGC PO syllabus and make a topic wise list of your strong and weak subjects. This will enable you to devise an effective preparation strategy, which will ensure that you pay equal attention to all the topics.
ECGC PO 2022: Previous Year Cut-off (2021)
Another important aspect of preparing for competitive exams is to know the previous year cut-off. This will give you a fair idea about the sectional cut-off as well as the overall cut-off for all categories.
Given below is the ECGC PO 2021 previous year cut-off-
| | | | | | |
| --- | --- | --- | --- | --- | --- |
| Subject | UR | SC | ST | OBC | EWS |
| Reasoning Ability (50 marks) | 11 | 6.75 | 6.75 | 6.75 | 11 |
| English Language (40 marks) | 13.75 | 9.25 | 9.25 | 9.25 | 13.75 |
| Computer Knowledge (20 marks) | 8.75 | 6.75 | 6.75 | 6.75 | 8.75 |
| General Awareness (40 marks) | 4 | 2.25 | 2.25 | 2.25 | 4 |
| Quantitative Aptitude (50 marks) | 12.5 | 8 | 8 | 8 | 12.5 |
| Descriptive English (40 marks) | 21.75 | 20 | 20 | 20 | 21.75 |
| Total (240 marks) | 147.25 | 134.75 | 126.5 | 139.5 | 138.5 |
Here, we will focus on the previous cut-off of Computer Knowledge.
From the above table, it is evident that the sectional cut-off for Computer Knowledge is quite low across all categories.
If you are able to score around 18 to 19 marks in this section, it will help you in increasing your overall merit.
Also Read: ECGC PO 2022: Previous Year Exam Analysis
ECGC PO 2022: Computer Knowledge Preparation Strategy
In the ECGC PO 2022 exam, the Computer Knowledge test will carry a total of 20 marks. So, now that we have understood the importance of going through the exam pattern, syllabus and previous year cut-off, we will understand how to prepare for the Computer Knowledge test, which will enable you to score 18 to 19 marks without any problem.
Computer Knowledge Syllabus
Given below are some of the Computer Knowledge topics that you must focus on-
Chapter
Topics
Computer History
Generation, Invention of ENIAC & UNIVAC, Differential Engine and Analytical Engine
MS Office
MS Docs, MS Excel and MS Powerpoint (focus on shortcut keys)
Operating Systems
Focus on Windows. Moreover, also go through LINUX as it is a free operating system.
Software & Hardware
Learn about the different types of Software and Hardware. Many questions are asked from this topic.
Types of Computer Memory
Primary and Secondary memory, RAM & ROM
Shortcut Commands
Ctrl+E, Ctrl+C, Ctrl+P, Ctrl+Alt+Shift (Modifier key), etc.
Keyboard
Total number of buttons (104), Functional keys (12), Toggle keys (Caps Lock, Number Lock), etc
FIle Extensions
Learn about the different types of file extensions like- Image (.jpg, .png), Document (.pdf, .docx), etc.
Internet & Networking
In Networking, read about the types of Topology- Bus, Star, Ring, Mesh, etc.
Malware & Security
Mainly focus on the Computer security and the types of malwares
Major Tech Companies
Keep an eye on major tech companies which have been in the news recently.
For instance- Twitter appointed a new CEO.
Social Media
Many questions can be asked from this field.
Database Management System (DBMS)
Have a basic knowledge about Oracle.
Latest Technology Updates
Stay updated with the recent technology updates.
For instance- Youtube recently removed the dislike button

Moreover, make a note of the names of the Headquarters and CEOs of major tech companies.
Full Forms
Focus on important full forms like- xml, html, http, smtp, DBMS, etc.
Previous year questions
You must refer to the ECGC PO previous year question papers to understand the type of questions asked in the exam.
BeeBanker for ECGC PO 2022 Exam
A good news for all the aspirants who wish to work in the Banking sector. ixamBee has just launched its Ultimate BeeBanker Online Course for various exams like ECGC PO, IBPS PO, IBPS Clerk, SBI PO, SBI Clerk.
This course has been especially curated for you by our experts who possess first-hand experience in this field. Therefore, you can count on our team of experts to give you genuine guidance with respect to the upcoming ECGC PO 2022 exam.
The duration of this course is 2 years. What's best? If you are unable to qualify any Bank exam within 2 years, your course fee will be refunded.
Therefore, to make your exam preparation smooth sailing, we encourage you to enroll in the Ultimate BeeBanker Online course.
We wish you all the best!
At ixamBee, you can find free Online Test Series, GK updates in the form of BeePedia, as well as latest updates for SBI PO, Bank Clerk, SSC, RBI, NABARD, and Other Government Jobs.
Also Read
RBI Grade B 2022 Notification Out! 294 Vacancies, Eligibility & Exam Pattern
RBI Grade A 2022 Notification Out: Check Vacancies, Salary and Eligibility Criteria
ESIC SSO Recruitment 2022: Apply Online for 93 Vacancies, Application Link