ECGC PO Exam Pattern 2021
ECGC PO Exam Pattern 2021
The Online Application process for the Recruitment of ECGC PO 2021 has started and you are required to apply for the same till January 31, 2021. You need to secure minimum qualifying marks on each test as well as overall that will be decided by the Bank. The ECGC PO Recruitment Procedure consists of two stages:
Phase 1: Online examination (MCQ and Descriptive).

Phase 2: Personal Interview.
ECGC PO Online Exam Pattern 2021
The ECGC PO 2021 objective type online exam consists of Objective and Descriptive type questions from five sections - Reasoning Ability English Language, Computer Knowledge, General Awareness and Quantitative Aptitude. Each section comprises a different number of questions. The composite time limit for the ECGC PO Online Exam 2020 is 140 minutes. For Descriptive type paper, Essay Writing and Precis Writing is asked and a total of 40 minutes is provided for both. For detailed ECGC PO Online Exam Pattern please refer to the table below:
Objective Type Test (Multiple Choice Questions)
| Name of the Tests | No. of Questions | Maximum Marks | Duration |
| --- | --- | --- | --- |
| Reasoning Ability | 50 | 50 | 40 minutes |
| English Language | 40 | 40 | 30 minutes |
| Computer Knowledge | 20 | 20 | 10 minutes |
| General Awareness | 40 | 40 | 20 minutes |
| Quantitative Aptitude | 50 | 50 | 40 minutes |
| Total | 200 | 200 | 140 minutes |
Descriptive Paper (Test of English Language)
Name of the Tests
No. of Questions
Marks
Duration
Essay Writing
One out of two given options
20
40 minutes for both questions together
Precis Writing
20
ECGC PO Interview
If you qualify the ECGC PO online written exam, you will be called for a Personal Interview. Those who qualify in both stages of the ECGC PO Exam will be appointed as an ECGC PO. You have to produce all the required documents in original while appearing for the ECGC PO Personal Interview. The total marks allotted for ECGC PO interview are 60.The minimum qualifying marks in interview is 40% (35% for SC/ST/OBC/ PWD candidates) and weightage of Online Examination and interview will be 80:20 respectively.
For Complete details on ECGC PO Exam Pattern 2021, Please check here.
ECGC PO Exam Marking Scheme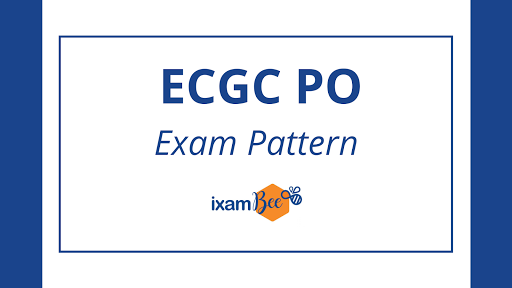 You have to bear a penalty for every wrong answer marked in the ECGC PO Objective Test. For each wrong answered question, 1/4th of marks or 0.25 marks will be deducted as penalty to arrive at the corrected score. Please note that if a question is left blank, i.e. no answer is marked by you; there will be no penalty for that question.
ECGC PO Marking Scheme
| ECGC PO 2021 Marking Scheme | Considered Marks |
| --- | --- |
| For correct answers | 1 mark |
| For wrong answers | -0.25 or 1/4th marks |
| For not attempted | 0 (no marks) |
ECGC PO Exam Pattern 2021 Related Quick Links
---
Recommended Course for you
---
Boost your preparation with Beepedia
---
High Quality Mock Test for you
---
Free Important Video Lectures
Would you like to rate us 5 star.
Search