CBI SO Interview Preparation Important Questions & Best Tips for CBI SO Interview 2022.
The CBI SO Interview 2022 will be held between April 25 and 30, 2022. In this article, we will discuss in detail the CBI SO Interview Preparation 2022 with important questions & best tips. Therefore, if you are also preparing for this interview, you should go over all the details carefully.
Read on to learn how you can prepare for your CBI SO 2022 Interview with ixamBee.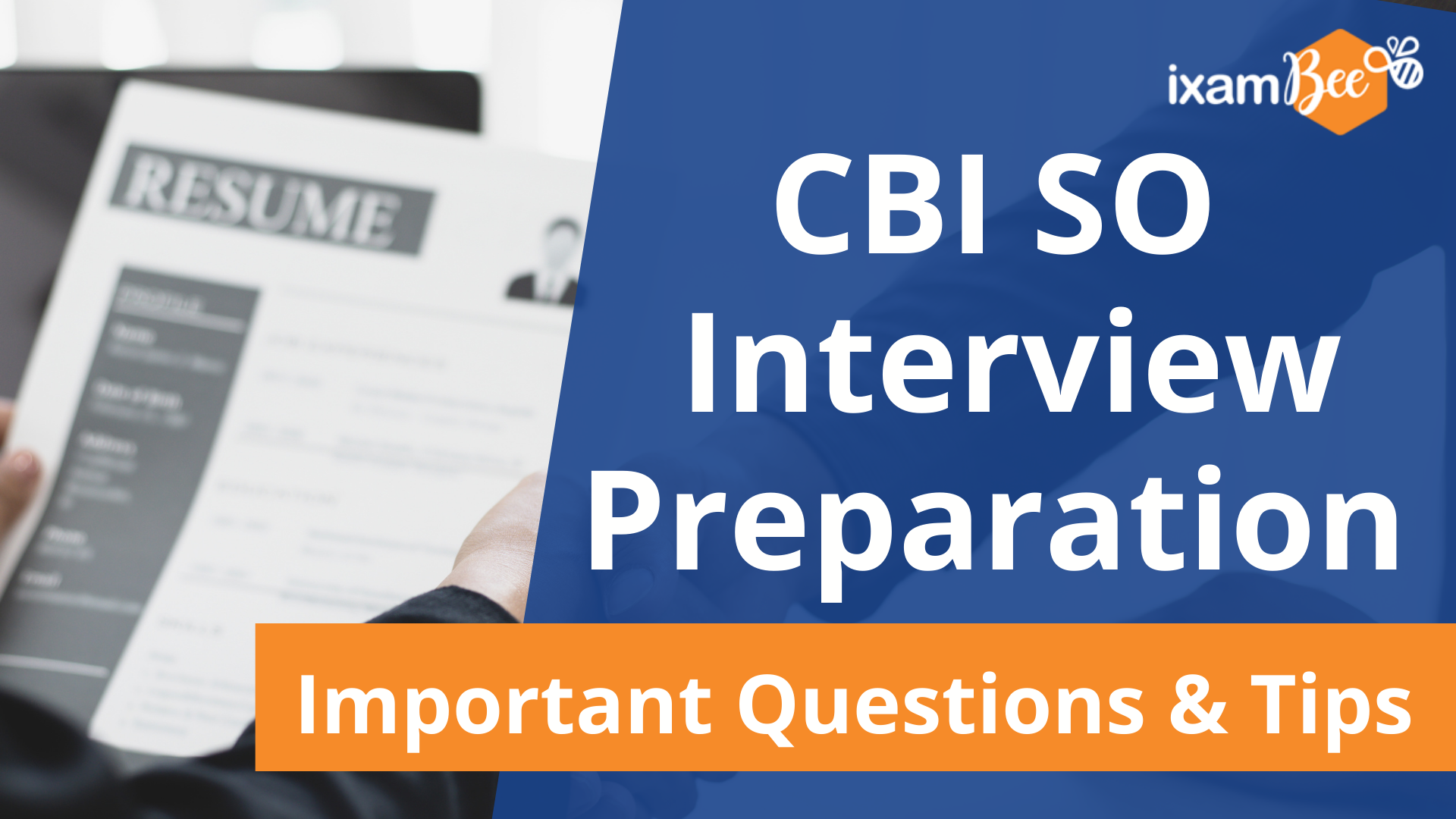 How to Prepare for CBI SO Interview?
Largely speaking, you can divide your interview preparation into 3 spheres on which your interviewers will ask you questions.
Biodata (Personal/C.V-based)
Organizational Awareness
Technical/Professional Knowledge
Therefore, be prepared to answer questions on the following areas of discussion:
About yourself
Your past professional experiences and educational journey
Your goals for the future
Questions on the job profile
Your knowledge about the organization, its products & services
Current affairs related to the bank or your field of expertise
Other follow-up questions based on your answers.
Important Questions for Interview Preparation
Tell us about yourself?
Where do you see yourself in 5 years?
How would you handle undue criticism from seniors?
How do you deal with difficult juniors?
History and establishment of the Central Bank of India
Trivia about the Bank
Objectives & functions of CBI/Department with which you will be working
What makes you stand out from other candidates?
RBI's monetary penalty on CBI
CBI's "Digital Bank" establishment goals
Some Other Tips
Practice with mock interviews. It is a sure-shot way for you to improve your performance at the actual interview.
Keep yourself updated with any information that may be a current affairs discussion topic vis-à-vis the Bank.
Ensure that you reach your Interview center well in advance.
Be conscious of your posture and body language. Do not slouch or look impatient.
Make decent eye contact with your interview panel.
Dress appropriately and formally for your interview. However, you must also wear comfortable clothes to your interview.
Speak in a language you are comfortable in. There will be no extra marks for speaking in English.
Think carefully before answering any question.
You must exude confidence. If you believe in yourself and look confident and feel confident, that's half the battle won.
CBI SO Interview Preparation with ixamBee
We have launched a number of stream-specific courses for your benefit. Before you begin exploring the courses from the table below, take a look at what our courses have to offer.
Live classes for preparation
1 Mock Interview
Detailed feedback based on your performance in the mock session
Tips and suggestions
Technical & behavioural skills training
All the best!
At ixamBee, you can find free Online Test Series, GK updates in the form of BeePedia, as well as latest updates for SBI PO, Bank Clerk, SSC, RBI, NABARD and Other Government Jobs.
Also Read
SEBI Grade A IT Interview: Best Interview Tips for IT Stream
SEBI Grade A Interview 2022: Interview Preparation for Legal Stream
UPSC EPFO EO/AO Interview: Best Preparation Tips
Ace RBI Grade B Interview with Prachi Agarwal – Part 1