Course highlights
Live Classes
Detailed Feedback on the Performance
Tips & Suggestions for Preparing
Doubt Clarification
Technical & Behavioral Skills
Tricks to Tackle Tricky Questions
CBI SO Financial Analyst Interview Course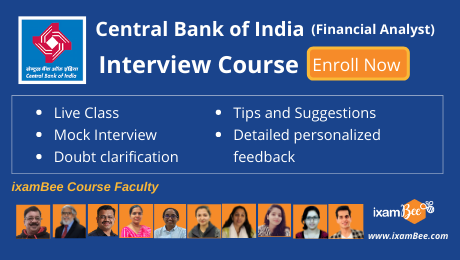 The Central Bank of India Financial Analyst is a great opportunity for those who wish to enter the banking industry as Specialist Officers. The online examination was conducted in January & the results are finally out! For those who were able to clear the online exam, the final leap still needs to be taken, and only then will you be able to see yourself as a Financial Analyst in the Central Bank of India.
Are you feeling afraid looking at the final stage?? Are you having doubts or having jitters after coming so close to the destination?
You can leave all your doubts, and worries behind as ixamBee is here to your rescue. If you feel you are totally clueless about how to go about the interview round, you can rely completely on ixamBee's CBI SO Financial Analyst Interview Course. The course has been designed by our well-experienced experts (ex-RBI, NABARD, SEBI, NHB, SIBDI, Bank PO) who can guide you through the complete process so that you emerge victorious at the end.
This interview guidance will include:
Live Classes to help you prepare well for technical, behavioural, and personal aspects
Mock Interview: One on one Mock Interview with the experts
Detailed personalized feedback on the performance in the Mock Interview
Tips & Suggestions for preparing for the real CBI (SO) Financial Analyst interview
Doubt clarification: get your doubts clarified by the experts
How One on One Mock Interviews are conducted?
The One on One Mock Interviews are conducted in a formal setup (virtually)
A panel of experts takes the Mock Interview
Questions pertaining to both technical knowledge, behaviour & personal aspects are asked in the interview
After the interview, detailed feedback with suggestions for improvement are provided in the same session
Why should you enroll for ixamBee's CBI SO IT Interview Course?
Live Classes: will be conducted by various experts to help you prepare well for all aspects of the Interview like:
Preparation Strategy
Technical & Behavioural Skills
Verbal and non-verbal communication
Relevant interview topics
Tricks to tackle tricky questions
One on one Mock Interview will prepare you to face the interview with confidence.
One on one Mock Interview will consist of:
Interview Simulation with experts
Detailed Feedback & Suggestions
Identify strengths and weaknesses
Query Resolution
Please note that ixamBee will have the right to record the mock interview or part of it for promotional purposes.
CBI SO Other Stream Interview Course
Recommended Courses for you