SBI PO Prelims: 5 Days to GO!!!!
SBI PO prelims 2019 exam is just 5 days away.  SBI PO Prelims exam is scheduled on June 8, 9, 15, 16, 2019. Many of you might be feeling scared thinking you are left with only 5 days for preparation. If you are thinking Do I you have enough time to prepare for SBI PO Prelims exam, the answer is YES!!! You just need to use this time wisely and efficiently to enhance your preparation at this point. You need to target things that will help you elevate your score in SBI PO prelims exam.
How to prepare for SBI PO Prelims 2019 in 5 Days:
Last week of the exam is a week of stress and panic, therefore we have brought  5 days preparation plan which will help to ease the stress and attempt the exam in a balanced way
Be in the know with SBI PO exam pattern
You need to have a thorough knowledge of the SBI PO prelims exam pattern. This will help you immensely on the day of the exam as you will able to answers the questions in a strategic approach.
SBI PO 2019 Exam pattern: Preliminary Exam:
Preliminary Examination consists of Objective Test for 100 marks:
SL.
Name of Test
No. of Questions
Marks
Duration
1.
English Language
30
100
20 Minutes
2.
Quantitative Aptitude
35
20 Minutes
3.
Reasoning Ability
35
20 Minutes
.
Total
100
1 hour
2. Mock Tests should be your best friends
Want to get attuned to the SBI PO prelims exam pattern before entering the exam hall, then practicing as many mock tests as you can is the best option. Every mock test attempted will help you know your strong and weak areas.  Mock tests will also help you analyze your performance and know where you stand among your peers.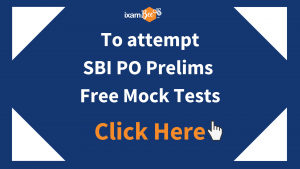 3. New topics should be "NO-GO Zones"
This is not the correct time to start a new topic or new concept; it is the time to brush up your basics. If you start a new topic, it will create unnecessary tension in you, the smart thing to do now is to revise all the topics you have studied till now.
4. Social Media- A big Distraction
We all know there are two sides to everything, good and bad, this holds true to Social Media as well. Social media can be a big distraction during your preparation and you should try to avoid it. You might be in the middle of solving a puzzle or a quant question and suddenly your phone beeps, this will create a disturbance. The solution is to put your smartphone away when solving questions as we do in the actual exam.
5. Reducing Sleep Time is BIG NO-NO
You need to understand that if you don't sleep well, the next day your body would be in very much need of rest. Get rid of the thinking that studying hard is equal to reducing sleep time. Good sleep in the days before the exam is very important for your performance on the day of the exam.
Just remember one thing you will do great on the day of the SBI PO prelims exam with all the hard work you put in till now!!!!

Read our other blogs on SBI PO Preparation:
Important SBI PO Reasoning Questions| Series 1
Important SBI PO Reasoning Questions| Series 2
займ на яндекс кошелек без картызайм онлайн срочно с плохой кредитной историейвзять займ онлайн срочно без отказа