There are 165 major rivers in the world of which 76 rivers run for more than 1000 km in length. Rivers vary in length, width, strength and the ecosystems they contain. In this article, on the Top 10 Longest Rivers of the World, we will learn which are the longest rivers in the world. Learning about rivers is part of your general awareness and static GK syllabus for most competitive examinations such as SBI PO, IBPS PO, IBPS SO, RBI Grade B, RBI Office Attendant, NABARD Grade A, NABARD Grade B, NPS Trust Officer Grade A, ECGC PO and teaching examinations among others.
We will also learn about which regions these rivers flow through so we may be able to place them geographically. Learning about the longest rivers of the world will not only help you hone your general awareness but also allow you to better your geography. We will discuss briefly about rivers and the role they play in our ecosystem before begin learning about the Top 10 Longest Rivers of the World
What are rivers?
Rivers are natural streams of water that flow on the surface of the ground into the sea, a lake, or another river. While rivers generally originate from glaciers, they may also receive water from melting snow and rainwater. Rivers always flow downhill from their source. This does not mean that they always flow southward. As we will learn in this lesson, rivers may even originate in a Southern region and flow northward (such as the Nile).
Importance of rivers
The primary and most basic importance of river water lies in providing fresh drinking water to all living beings.
Rivers are the cradles of civilization. All the major civilizations such as the Sumerian (Euphrates & Tigris), Harappan (Indus), and the Ancient Egyptian (Nile) to name a few developed on the banks of rivers.
Rivers are used as inland waterways for transportation.
River water is used for producing hydroelectric power.
Rivers are home to a variety of flora and fauna.
Rivers play an important role in transporting minerals and nutrients to different regions where they flow.
Rivers provide a source for business, travel and recreation.
Thousands of people depend on rivers for their livelihood. People may earn their livelihood from fishing, farming, water-based adventure sports, or river transportation.
Top 10 longest rivers of the world
| | | | | |
| --- | --- | --- | --- | --- |
| RIVER NAME | LENGTH (km) | LENGTH (miles) | REGION | DIRECTION OF FLOW |
| Nile | 6,650 | 4,132 | Africa (Egypt, Ethiopia, Eritrea, Sudan, South Sudan Uganda, Tanzania, Kenya among others) | South to North |
| Amazon | 6,400 | 3,902 | South America (Brazil, Peru, Bolivia, Colombia, Guyana, Venezuela and Ecuador) | West to East |
| Yangtze (Chang Jiang) | 6300 | 3,917 | China | North to South |
| Mississippi | 6,275 | 3,902 | United States | North to South |
| Yenisei/ Yenisey | 5,539 | 3,445 | Russia, Mongolia | South to North |
| Yellow River (Huang Ho) | 5,464 | 3,395 | China | West to East |
| Ob | 5,410 | 3,364 | Russia (Russia, Kazakhstan, China, Mongolia) | South to North |
| Río de la Plata | 4,880 | 3,030 | South America (Brazil, Uruguay, Argentina, Paraguay and Bolivia) | West to East |
| Congo (Zaire) | 4,700 | 2,922 | Africa (Congo, Central African Republic, Angola, Republic of the Congo, Tanzania, among others) | Northward toward Boyoma falls and then bends Southward |
| Amur | 4,444 | 2,763 | Russia, China and Mongolia | West to East |
Related facts
The longest river in Asia: Yangtze River, also known as Ch'ang Chiang (6,300 km)
The longest river in India: Indus and Brahmaputra (both 2900 km)
The longest river in Europe: River Volga (3,530 km)
The longest river in Australia: River Murray (2508 km)
The widest river in the world: Amazon River (40 km in width)
The widest river in India: Brahmaputra (18.6 km in width)
The longest tributary river in the world: River Irtysh (a tributary of Ob)
The Ganges at 2525 km is the longest river to flow entirely within India. It is also the largest Indian river.
Understandably, one cannot read and remember all the facts provided in the article in one go. Candidates should revisit general awareness articles from time to time so that they can learn and brush up on their static GK skills. 
ixamBee has just launched a 'Get Vaccinated, Get Rewarded' offer to provide flat 35% off to candidates who are preparing for competitive examinations and would like to buy any of our courses. To avail of this offer, all you have to do is upload a picture of yourself getting jabbed. Already been jabbed but no picture to show for it? Or haven't taken the vaccine yet? Worry not! You can also upload a picture of any member from your family taking the vaccine to avail of the 35% discount.
So hurry up and start sending us your pictures and get a flat 35% off on the course of your choice. Stay Home, Stay Safe!
Got queries? Check out the details here.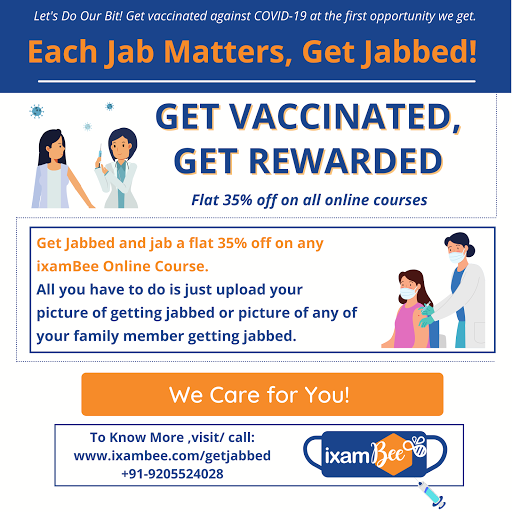 Also read:
List of Vice Presidents in India and their Term of Office.
List of Longest Highways in India: Updated 2021.
Indian States and Union Territories with their Capitals.
Get Free Online Test Series, GK updates in the form of Beepedia, as well as latest updates for Bank PO, Bank Clerk, SSC, RBI, NABARD, and Other Government Jobs.