The IBPS SO Prelims was conducted on December 26, 2021 and the Mains exam is expected to be held in January 2022. With almost a month left for the Mains exam, we hope that you have already started your preparation.
In this article, we are going to go over some tips and tricks on how to prepare for IBPS SO Law Officer Mains exam.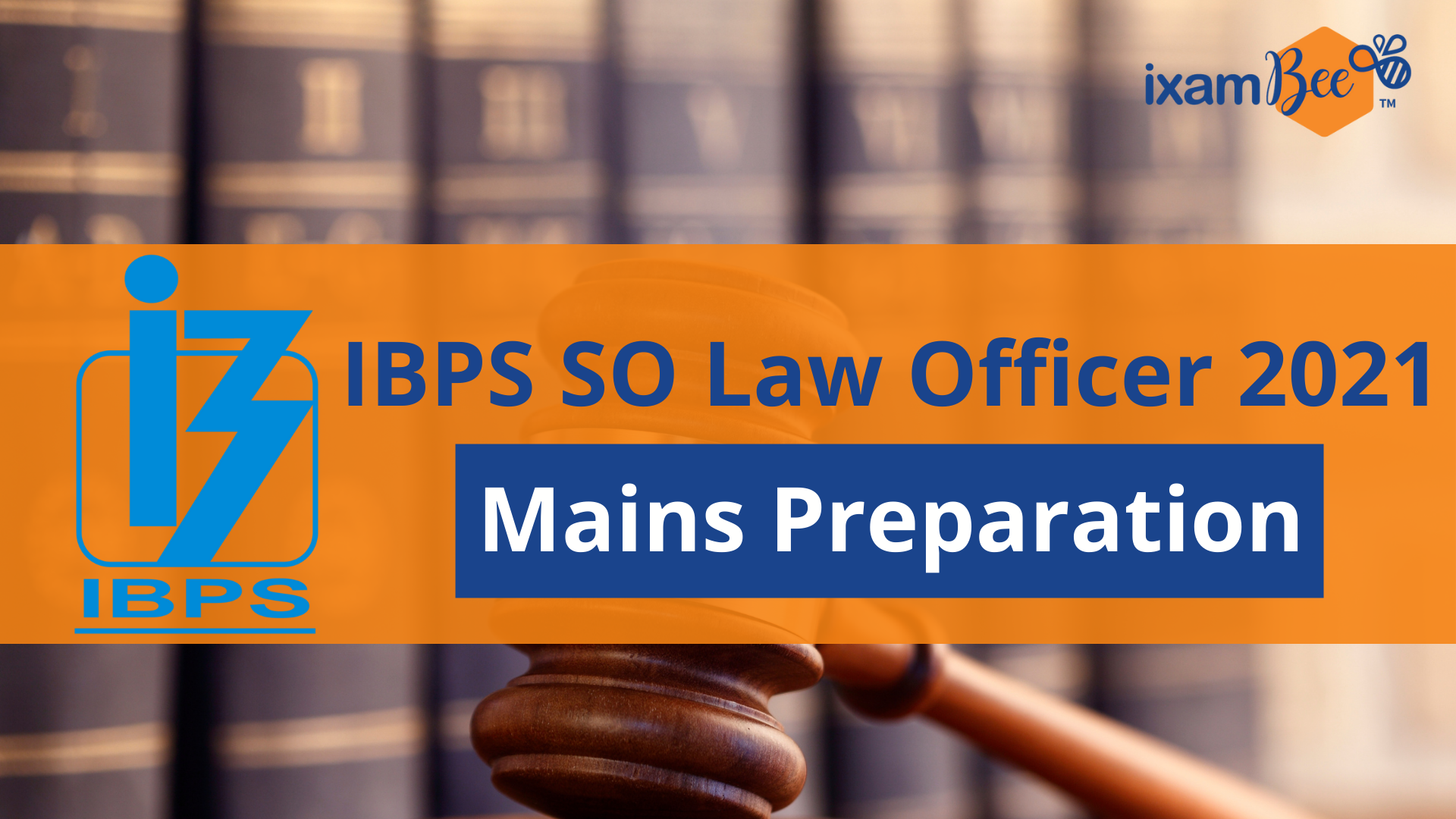 IBPS SO Law Officer: Mains Exam Pattern
Before moving ahead, let's look at the Mains exam pattern of the IBPS SO exam.
The candidates who clear the IBPS SO Prelims 2021, will be called for the Mains exam.
This paper will test only 1 subject, i.e., Professional Knowledge (Law)
Given below is the Mains exam pattern-
| | | | | |
| --- | --- | --- | --- | --- |
| Name of the Test | Number of Questions | Maximum Marks | Medium of Exam | Duration |
| Professional Knowledge (Law) | 60 | 60 | English & Hindi | 45 minutes |
IBPS SO Law Officer: Syllabus
Since law as a subject is quite vast, it is essential to go through the IBPS SO Law Officer syllabus before you start your preparation.
Let us look at the syllabus for the Mains exam-
Subject
Acts
Banking Laws
RBI Act, 1934
Banking Regulation Act, 1949
SARFAESI Act, 2002
Debt Recovery Tribunal Act, 1993
Banking Ombudsman Scheme, 2006
Banking Related Laws
Negotiable Instruments Act, 1881
Transfer of Property Act, 1881
Consumer Protection Act, 2019
Contract Act, 1872
Information Technology Act, 2000
Right to Information Act, 2005
Miscellaneous
Constitution of India
Code of Civil Procedure, 1908
Indian Evidence Act, 1872
Criminal Procedure Code, 1973
Limitation Act, 1963
Books for IBPS SO Law Officer
IBPS (CRP SPL-VI) Specialist Officers' Cadre Law Officer Scale I Study Guide
IBPS-CWE Specialist Officer Cadre Law Officer Scale I & II Recruitment Exam
IBPS CWE-Law Specialist Officer Workbook by Kiran Publication
IBPS SO Law Officer 2021: Mains Preparation
The first step in your preparation should be to understand the exam pattern and question trend. For this you can refer to the IBPS SO Law Officer previous year papers.
The next step is to identify the topics which carry the maximum weightage and prepare accordingly.
Majority of the questions will be asked from topics which have direct and indirect association with the banking sector. Therefore, it is imperative to prepare the banking laws and banking related laws well.
For other laws like CPC, CrPC, Indian Evidence Act, etc., you need to just focus on the important topics and sections.
Law as a subject is quite vast, therefore we have to study smart and not hard. In other words, referring to bare acts will be sufficient.
Refer to books only for conceptual clarity. Do not keep more than one reference book for each subject.
Start with smaller subjects to improve your speed and then move on to bigger subjects.
Make a note of the most important amendments/policies related to the financial and banking sector. For this you can read newspapers and magazines or you can refer to BeePedia to find all the relevant information in one place.
Moreover, keep a check on the circulars and policies released by RBI and SEBI.
Time distribution is a crucial part of exam preparation. Make a list of topics you struggle with and practice them so you don't make mistakes in the actual exam.
Once you have completed the entire syllabus, practice by giving ixamBee's IBPS SO Online Mock Tests. It will help you spot your strengths and weaknesses.
Study with ixamBee for IBPS SO Law Officer Exam
To make your IBPS SO Law Officer preparation simple, ixamBee offers the IBPS SO Law Officer Online course which has been created to suit your needs and requirements.
Features of this course-
Accessible anywhere, anytime
Prepare in a systematic way
Subject matter expertise with hands-on experience
Complete study materials to learn in your comfortable environment
User-friendly and unique portal with all that you need to achieve your target score
Live sessions to clear all your queries
Check our exclusive offerings for IBPS SO Law Officer
At ixamBee you can find free Online Test Series, GK updates in the form of BeePedia, as well as latest updates for Bank PO, Bank SO, Bank Clerk, SSC, RBI, NABARD and Other Government Jobs.
Also Read
IBPS SO Law Officer: Important Acts & More
Syllabus, Study Plan & More: IBPS SO Law Officer
IBPS SO Law Officer 2021: Syllabus, Salary & Exam Pattern