Roti ●Kapda● Makaan● Chai
International Tea Day is celebrated on 21st May every year. International Tea Day was first celebrated in 2019 by the UN's Food and Agriculture Organisation (FAO). The idea behind the celebration of International Tea Day is to identify and acknowledge the vulnerable situations that tea producers in India face under the present living conditions and worker-related policies. Also, ITD is dedicated to raising awareness about the demand for this hot beverage, which is the 2nd– most consumed drink, after water, across the globe. Read on to learn more about International Tea Day, its history and its importance.
What is tea? Is it a drink? Is it a hot beverage? A well-prepared cup of tea is like lying down in your mother's lap as you slowly fall asleep while she plays with your hair. Any Indian worth their salt will tell you that tea is an emotion. It is the fuel that drives a nation of 1.3 billion people. A cup of tea is as useful a prop for heavy conversations as it is for an Instagram post. Drinking tea is a one-stop solution for all sorts of situations for people in India. Allow me to explain.
Stressed? Have tea!
Tired? Have tea!
Feeling groggy? Have tea!
Want to celebrate? Have tea!
Didn't get enough sleep last night? Have tea!
Need a break from work? Take a tea break!
Meeting with a potential rishta guy/girl? Make tea for them!
I think you get the drift….
Let us now learn more about International Tea Day, its history, significance and importance.
International Tea Day- History
The first International Tea Day was held in 2005 in New Delhi. ITD is observed in major tea-producing countries like Bangladesh, Sri Lanka, Nepal, Vietnam, Indonesia, Kenya, Malawi, Malaysia, Uganda, India and Tanzania and also in tea-consuming countries like The Netherlands, United Kingdom, France and Germany. The International Tea Day campaign was launched by the trade unions, small-scale cultivators and civil society organizations to address the issues of living wages for workers and fair prices for small tea producers (cultivation of up to 25 acres). The International Tea Day observations and deliberations have significantly contributed towards the International Alliance and brought forth the attention of respective national governments to address issues in the tea sector.
The Government of India then proposed to the United Nations Food and Agriculture Organization to expand the celebration of this day across all countries where tea is produced. The then- Chairman Shri Santosh Kumar Sarangi drafted a proposal for the same in 2015. This proposal was supported by Canada, Sri Lanka, China, Japan, the United States, countries of the European Union, Kenya, and Malawi. This proposal was accepted by the United Nations in 2019. Initially, the day was celebrated on December 15, however, UNFAO declared May 21 as the International Tea Day because the season of tea production begins in May in most of the tea-producing countries. As such, International Tea Day 2021 will mark the 2nd year of its celebration. You can read the UN General Assembly's Declaration on the Resolution adopted on 19 December 2019 here.
The UN General Assembly took into consideration the expanding demand in tea-producing countries, where per capita consumption is relatively low. Also, UNFAO wanted to extend supporting efforts to address the declining per capita consumption in traditional importing countries due to increased consumption of coffee, smoothies and alcoholic beverages.
(A tweet released by the UN on International Tea Day, 2021)
International Tea Day: Importance and Purpose
Tea is not only an aromatic beverage that we consume to unwind. It is an important component of our economy (and other tea-producing nations as well). Millions of lives and livelihoods are associated with the entire process of growing tea up until its final consumption. Right from the farmers and labourers working in the tea estates to the small tea-stall owner, many families derive their livelihood from tea.
International Tea Day is celebrated with the motto, "Harnessing Benefits for all From Field to Cup". Mind you, this is not the theme of the day. It is the motto or fundamental idea under which the day will be observed every year.
GOALS
The primary goal behind observing International Tea Day is to draw global attention from governments and citizens alike to the impact of the global tea trade on workers and cultivators. The day is also observed to understand requests for price supports and fair trade. It is celebrated with the hope that International Tea Day will encourage and lead to collective actions to implement activities in favour of sustainable production practices and the consumption of tea. It will help raise awareness of its importance in fighting hunger and poverty, especially among producers, farmers and tea plantation labourers.
How do the ideas behind the celebration of International Tea Day align with the United Nations' program for sustainable development? Tea production and processing contribute in the following ways:
Goal 1- reduction of extreme poverty (No poverty)
Goal 2- the fight against hunger. (Zero hunger)
Goal 5- the empowerment of women. (Gender equality)
Goal 15- and the sustainable use of terrestrial ecosystems. (Life on land)
Read about the United Nations' 17 Goals for Sustainable Development here.
Tea Day in India
Grown as Camellia sinensis, tea has a great demand in the world market. Its medicinal properties and overall benefits on health are vastly known. It is the second most consumed beverage/drink in the world, after water. For some people, tea is an essential part of life, a part of their routine, if you will. In 2007, the Tea Board of India (see below) conducted a study which showed that around 80% of the total tea produced in the country is consumed by the domestic population.
Historian Jayeeta Sharma from the University of Toronto has worked extensively on India's history of the tea plantations. In her book, Empire's Garden: Assam and the Making of India (2011), she tells us how the British were overjoyed to learn that the conditions in Assam were favourable for tea cultivation in India. The British were eagerly looking for alternative markets when they could not compete with China's tea production and export all over the world. Since then, India has become the 2nd largest producer of tea in the world. What started as a forced colonial cultivational practice has become the livelihood of millions of people much after the British left the sub-continent. In fact, tea is the 'State Drink' of Assam.
The Tea Board of India is a government agency established in 1953 with its headquarters in Kolkata. The purpose of the Tea Board is to encourage the cultivation, processing, consumption of tea in and from India. The Tea Board is in charge of developing and fostering both intranational and international tea trade within and from India, respectively. It was the Tea Board of India that put forward the idea of International Tea Day to UNFAO in hopes of it becoming an official holiday. According to the Associated Chamber of Commerce and Industry of India's report released in December 2011, India is the world's largest consumer of tea, consuming nearly 30% of global output. TBI also publishes monthly statistics about tea production in India. You can find them here.
India as Tea Exporter
India is the 2nd largest producer of tea in the world, after China. A variety of high-quality specialty teas are produced, such as Darjeeling, Oolong, Assam tea, Dooars-Terai and the like, which have their own distinctive aromas, medicinal properties, colours, flavours and of course, health benefits. The major tea-producing states in India are Assam, West Bengal, Tamil Nadu, Kerala, Sikkim, Nagaland, Uttarakhand, Manipur, Mizoram, Tripura, Arunachal Pradesh. Tea is also grown in parts of Himachal Pradesh, Karnataka, Meghalaya, Bihar and Orissa. Assam has a total of 49,102 tea gardens of which 3,375 are small tea growers. These gardens sprawl over an area of 2,99,502 hectares and produce about 630- 700 million kilogram of tea annually which is close to 50% of the total tea grown in India. This production contributes nearly 5% to the State Domestic Product of Assam.
Tea cultivation and processing is the main source of livelihood for millions of families around the world, especially in developing countries like India, Sri Lanka and Kenya. Much like all other spheres, tea export from India took a hit in 2020 due to the COVID-19 pandemic. Tea exports witnessed a drop by 18% in 2020. India exported 208 M.kg of tea as compared to 252 M.kg export in 2019. Let us look at some statistics to understand the tea production in India. Indian exports amounted to US$ 826.47 million in 2020. The market is expected to grow by 5.78% annually.
Annual tea industry statistics between 2012-2018.
| | | | | | | | |
| --- | --- | --- | --- | --- | --- | --- | --- |
| | 2012 | 2013 | 2014 | 2015 | 2016 | 2017 | 2018 |
| TOTAL PRODUCTION (M.kg) | 1126 | 1200 | 1207 | 1209 | 1267 | 1322 | 1339 |
| EXPORT (M.kg) | 208 | 219 | 207 | 229 | 223 | 252 | 256 |
| DOMESTIC CONSUMPTION (M.kg) | 944 | 966 | 989 | 1012 | 1035 | 1059 | 1084 |
| PRICE/KG (₹/KG | 125.2 | 132.2 | 130.9 | 128.6 | 135.9 | 134.8 | 138.8 |
(Data retrieved from the India Tea Association website)
Given below are the latest production statistics (March 2021) for State-wise production.
STATE
QUANTITY (M.kg)
ASSAM
20.05
WEST BENGAL
25.61
OTHER NORTHERN STATES
1.21
TOTAL NORTH INDIA
(including areas not mentioned)
46.87
KERALA
5.63
KARNATAKA
0.48
TAMIL NADU
13.47
TOTAL SOUTH INDIA
(including areas not mentioned)
19.58
TOTAL INDIA
66.45
(Statistics retrieved from a Tea Board of India publication)
How to celebrate Tea Day?
For us in India, every day is Tea Day, any time is Tea Time. So, what can we do differently on International Tea Day? In our obsession with tea and its associated benefits, somewhere along the line, we have pushed the pro-players into the sidelines- the farmers and workers. Plantation workers generally live on or close to the tea estates, they work with low wages and in poor living conditions. We must remember that International Tea Day is not only a day to celebrate the drink, but also every single individual who plays a role from growing it to bringing it to our dining tables. So how can we extend our support to decrease poverty and increase fair trade and sustainable development?
Explore tea brands that support fair trade.
Try and switch to such brands (point 1) to make a difference in your little way.
Educate others about the tea industry, its practices and policies.
Try a new variety of tea.
Support local tea brands by consuming local varieties (if tea is grown in your area).
Generate conversation about climate change and how it is affecting tea plantations and associated livelihoods.
Use the hashtag #internationalteaday to generate conversation about the same over social media.
Tea is one of life's simple pleasures. Simple, yet indispensable. Tea drinkers are always trying to rope coffee-drinkers over to their side of the line. Other than that, the one true way to celebrate Tea Day is by fulfilling Camellia Sinensis' life's purpose- by drinking it.
To read more information you can check out our articles listed below. Preparing for a competitive examination and don't know where to begin? Dont' worry, we have got you covered. ixamBee offers a variety of courses to meet different needs for different competitive exams for government jobs. What's more? We are running an offer to avail an online course of your choice to up your game against the always overwhelming competition.
ixamBee has just launched a 'Get Vaccinated, Get Rewarded' offer to provide flat 35% off to candidates who are preparing for competitive examinations and would like to buy any of our courses. To avail of this offer, all you have to do is upload a picture of yourself getting jabbed. Already been jabbed but no picture to show for it? Or haven't taken the vaccine yet? Worry not! You can also upload a picture of any member from your family taking the vaccine to avail of the 35% discount.
So hurry up and start sending us your pictures and get a flat 35% off on the course of your choice. Stay Home, Stay Safe!
Got queries? Check out the details here.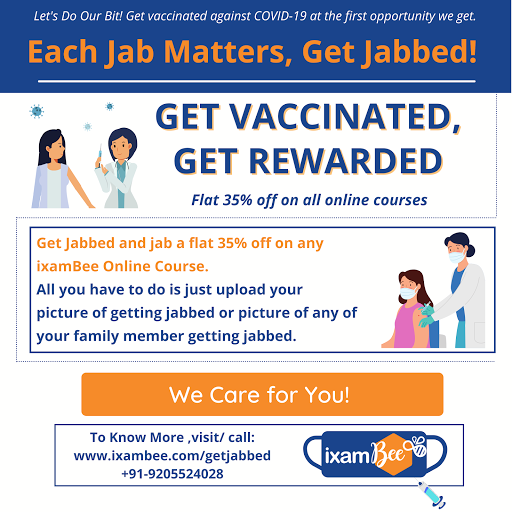 Also read:
Eid-ul-Fitr 2021: Celebration, Significance and Importance.
May 12: International Nurses Day and Other Important Events.
List of Vice-Presidents in India and their Term of Office.
Get Free Online Test Series, GK updates in the form of Beepedia, as well as latest updates for Bank PO, Bank Clerk, SSC, RBI, NABARD, and Other Government Jobs.