An abbreviation is a short form of a word or phrase. Many words are used in the short forms and therefore, it is important to know the full forms of such words. Abbreviations are used in all fields, be it- science, education, computer, examinations, banking, technology, etc. Moreover, in the present time, the abbreviations are so well developed in usage that the full forms and usage are not known by many people. Furthermore, abbreviations help in saving more time and energy, but they are only useful if you understand what they mean.
Also, abbreviations and their full forms are quite important from an exam point of view. So, in today's blog, we will cover the important full forms for competitive exams like Banking, SSC, Railway and more. The important full forms discussed in this blog are related to national and international organisations, government exams/posts, computer, economic terms etc. Thus, if you are preparing for competitive exams, we would urge you to go through the information provided below carefully.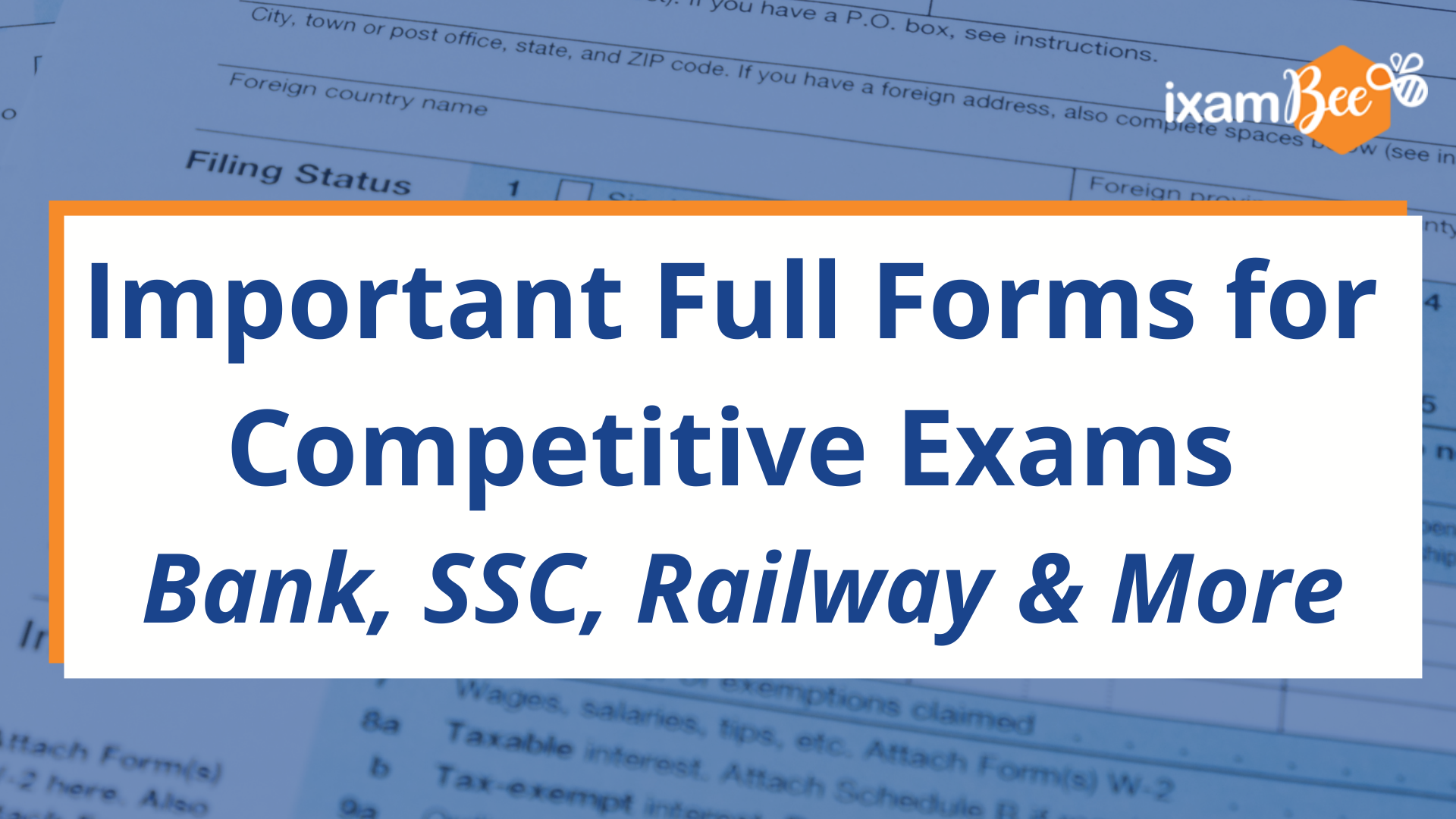 List of Important Full Forms
For your convenience, we have compiled a list of general full forms which may be asked in competitive exams like Bank, SSC, Railway and many more.
RBI
RBI stands for Reserve Bank of India and is India's central banking institution which controls the issuance and supply of the Indian Rupee. It was established on 1st of April, 1935. Initially, it was privately owned, but following the nationalisation in 1949, it was then fully owned by the Government of India.
Also See: All Details related to RBI
IBA
Indian Banks' Association or IBA is a representative body which manages the banking operations in India. In other words, IBA is the term given to the – "Association of Indian banks and financial institutions". It was established on 26th September 1946.
Also Read: What is IBA?
SBI
The State Bank of India or SBI is a public sector bank with its headquarters in Mumbai, Maharashtra. It was established on July 01, 1955. Furthermore, it is the largest commercial bank in India in terms of business size, assets, profits, deposits, number of branches and employees.
Take a look at Full Form of SBI with All Details
IBPS
IBPS also known as Institute of Banking Personnel and Selection, is a recruitment body / organisation which was established with an objective of recruiting the best eligible graduates in all the public sector banks (PSBs) in India, except SBI. SBI conducts a different examination altogether which is meant only for filling up the vacancies in SBI
Also Read: What is IBPS?
NABARD
NABARD stands for National Bank for Agricultural and Rural Development. It was formed on July 12, 1982 with its headquarters in Mumbai, Maharashtra. NABARD was established to promote the development of rural areas, to boost financial operations, and promote sustainable agriculture. It works on three main areas- Finance, Development and Supervision.
Also See: What is NABARD? Its Full Form with All Details
SEBI
SEBI refers to the Securities and Exchange Board of India. It was established in 1988 as a non-statutory body. However, it became an autonomous body on May 12, 1992. Its headquarters are in Mumbai and has regional offices in New Delhi, Kolkata, Chennai and Ahmedabad.
Also See: What is SEBI?
PFRDA
Pension Fund Regulatory and Development Authority or PFRDA is a regulatory body established under the PFRDA Act to promote old age income security and protect the interests of National Pension System (NPS) subscribers. It was established on 23rd August 2003. The PFRDA works under the Ministry of Finance, Department of Financial Services.
Also Read: PFRDA: Functions & Schemes
IRDA
IRDA or Insurance Regulatory and Development Authority is an autonomous body established in 1999 under the IRDA Act. It has its headquarters in Hyderabad, Telangana and also has two regional offices in Mumbai and New Delhi. Its aim is to ensure the financial stability of the insurance market and promote competition to enhance customer satisfaction by providing varieties in fair premium and consumer choices.
Also Read: IRDA and its Functions
FSSAI
FSSAI or Food Safety and Standards Authority of India is an independent body established under the 'Ministry of Health & Family Welfare' (Government of India). It was formed on September 05, 2008 under the Food Safety & Standards Act, 2006. Its headquarters are located in New Delhi and it has 6 regional offices in Delhi, Guwahati, Mumbai, Kolkata, Cochin and Chennai.
Read about FSSAI: Functions & Responsibilities here
SIDBI
SIDBI stands for Small Industries Development Bank of India. It is a financial institution under the Ministry of Finance. Its main objective is to strengthen and develop the Micro, Small and Medium Enterprises (MSMEs). It was formed on April 02, 1990, with its headquarters in Lucknow, Uttar Pradesh.
SSC
The SSC or Staff Selection Commission organises various national-level exams to fill up vacancies in various Ministries, Departments and Organisations of the Government of India. Therefore, the SSC conducts different level exams every year like the SSC CGL, SSC CHSL, SSC CPO, SSC MTS, etc.
Also See: Top 10 SSC Exams & How to Crack Them
GIC Re
GIC Re also known as General Insurance Corporation of India Limited, an Indian government-owned reinsurance company. Its registered office as well as the headquarters are located in Mumbai. Until late 2016, it was the only reinsurance company operating in the Indian insurance market. Post 2016, the market was opened to foreign reinsurance companies from Germany, Switzerland, and France.
Also See: GIC Full Form and History
MSME
MSME stands for Micro Small Medium Enterprises and it forms the backbone of a developing economies like India. The government introduces various schemes and incentives to promote and support the MSME sector.
ARC
ARC or Asset Reconstruction Company is a financial institution registered under the RBI which is regulated by the SARFAESI (Securitisation and Reconstruction of Financial Assets and Enforcement of Securities Interest) Act (2002). It buys off the Non- Performing Assets (NPAs) called the bad assets or bad loans from banks and other financial institutions at a mutually agreed value with the objective of recovering or 'reconstructing' the bad loans and in turn helping the banks and financial institutions in cleaning up their balance sheets.
Also Read: All Details related to ARC
UTI
Union Trust of India or UTI is a statutory public sector investment institution established in February 1964 under the UTI Act, 1963. It became functional in July 1964. Its headquarter is located in Mumbai, Maharashtra. It enables small investors to diversify their risk by investing in a variety of areas.
Also Read: UTI: History & Objectives
UNO
United Nations Organisation or UNO is an international organisation that was established in 1945. Presently, it has 193 member states. It is guided by the principles laid down in the UN Charter. It has six main organs- General Assembly, Security Council, Economic & Social Council, Trusteeship Council, International Court of Justice and the UN Secretariat.
UNESCO
UNESCO stands for United Nations Educational, Scientific and Cultural Organisation and is a specialised agency of the UN. Its objective is to promote world peace through international cooperation in art, culture, education and sciences.
UNICEF
UNICEF refers to the United Nations International Children's Emergency Fund. It is now called the United Nations Children's Fund. It is a social welfare organisation and is present in 192 countries and territories. Its aim is to provide humanitarian and developmental aid to children across the globe.
ICC
ICC refers to the International Chamber of Commerce. It is also known as the largest business organisation in the world. It was established in 1919 in Atlanta city. Its main activities include- to set the rules, resolve the dispute and to advocate the policy.
Learn more about ICC and its History here
IDA
IDA or International Development Association is a financial institution and is a member of the World Bank. It has its headquarters in Washington DC, USA. It was established on September 24, 1960. The IDA will complement the already existing International Bank for Reconstruction and Development (IBRD).
Also See: IDA and its Role
ADB
ADB or Asian Development Bank is a regional development bank. It was formed on December 1, 1966. Its objective is to eliminate poverty in the Asia-Pacific region. Its headquarters are located in Mandaluyong, Metro Manila, Philippines.
Also Read: All details related to ADB
WTO
World Trade Organisation (WTO) is an international organisation, which deals with world trade and its functioning between the member nations. It has 164 member states and is headquartered in Geneva, Switzerland. The WTO replaced the old General Agreement on Tariffs and Trade (GATT) which came into place in the year 1948.
Learn about WTO: Role & Objectives here
ASEAN
ASEAN also known as Association for Southeast Asian Nations, is an organisation which is concerned with countries in Southeast Asia. It was formed on August 08, 1967 in Bangkok, Thailand. It consists of 10 countries in the Southeast Asian region along with two observer countries (Papua New Guinea and Timor Leste). Its main aim is to encourage intergovernmental cooperation along with promoting political,economic,educational and socio cultural integration among all its member countries along with other Asian countries.
Read about ASEAN and its Objectives
SAARC
SAARC or South Asian Association for Regional Cooperation is an economic and political organisation comprising of eight countries- Bangladesh, Bhutan, India, Maldives, Nepal, Pakistan, Afghanistan and Sri Lanka. It was formed in 1985. It is headquartered in Kathmandu, Nepal. Its aim is to promote the welfare of the South Asian people and to improver their standard of living.
Learn more about the Important International Organizations and their Headquarters
FDI
Foreign Direct Investment or FDI refers to an investment made by a company or an individual from one country into the shares and securities of another company that operates in a different country.
Read more about FDI and the Role of FDI
NPA
NPA refers to Non-Performing Assets. It means those assets which have 'ceased to generate income'. A loan becomes a 'Non-Performing Asset' when the respective loan payment has not been done for more than 90 days. This period of 90 Days is the standard period of time. NPAs are also called bad loans.
Learn about NPAs and Types of NPAs
UPI
The full form of UPI is Unified Payments Interface. It is an instant real-time payment system developed by National Payments Corporation of India facilitating inter-bank transactions. It was introduced on April 11, 2016. UPI is regulated by the RBI.
Also See: How Does UPI Work?
IMPS
In the Indian Banking System, IMPS means Immediate Payment Service. It is an instant payment 'inter-bank electronic funds transfer system'. IMPS is also managed by National Payments Corporation of India. It offers offers an inter-bank electronic fund transfer service through mobile phones, which is available 24*7 all year round, including the bank holidays.
Read more about IMPS and its Features here
IFSC
IFSC stands for Indian Financial System Code. it refers to an 11-digit alphanumeric code that is used in the Indian banking system, which ensures smooth electronic funds transfer in India. The IFSC is a distinctive code that combines the 'bank code' and the 'branch code'.
Also See: How does an IFCS Work?
KYC
KYC is the acronym for Know Your Customer or Know Your Client. It refers to the process of 'knowing' or identifying your customer in a complete manner, which enables the bank or any such organization to keep complete information regarding the customer.
Learn more about KYC: Its Origin & Purpose
ATM
ATM stands for Automated Teller Machine. It is an electronic telecommunications device that enables customers to perform financial transactions, such as cash withdrawals, deposits, transfer funds, or obtaining account information, at any time and without the need for direct interaction with bank staff. It is a small kiosk that dispenses money.
Read more about ATM and its Functions & Types
OTP
The full form of OTP is One Time Password or One Time Pin. OTP is an automatically generated numeric or alphanumeric string of characters that authenticates the user for a single transaction or login session. It is the prime way of authenticating bank as it provides a secure access to perform the transaction. It is a password that is valid only for one long session or transaction on a computer or any other digital device. The password can be used only once, after which it becomes invalid.
Also See: How does and OTP Work?
GDP
GDP or Gross Domestic Product measures the monetary value of final goods and services produced in a country in a given period of time. It is a broad measure of the overall domestic production and acts as a comprehensive scorecard of a country's economic health.
Also Read: How does OTP Work?
GST
GST or Goods and Services Tax is an 'indirect tax' or 'consumption tax'. It is levied on the supply of goods and services. It is levied at every step in the production process, but is meant to be refunded to all parties in the various stages of production other than the final consumer. GST was introduced with the objective of replacing the multiple indirect taxes levied by State and Central Governments to simplify the indirect tax system in India.
Also Read: What is GST?
MSP
MSP stands for Minimum Support Price. It is the minimum price that Government of India will pay to the farmer for procuring food crops. It is a market intervention by the government to insure agricultural producers against any sharp fall in farm prices below the stated price.
Also See: What is MSP?
List of Important Computer Full Forms
Given below is a list of some important Computer full forms which are frequently asked in competitive exams-
| | |
| --- | --- |
| Abbreviation | Full Form |
| Computer | Common Operating Machine Purposely Used for Technological and Educational Research |
| CPU | Central Processing Unit |
| RAM | Random Access Memory |
| ROM | Read Only Memory |
| ALU | Arithmetic Logic Unit |
| URL | Uniform Resource Locator |
| USB | Universal Serial Bus |
| UPS | Uninterruptible Power Supply |
| VIRUS | Vital Information Resource Under Siege |
| CD | Compact Disc |
| DVD | Digital Versatile Disc |
| PNG | Portable Network Graphics |
| IP | Internet Protocol |
| GIS | Geographical Information system |
| HTTP | Hyper Text Transfer Protocol |
| HTTPS | Hyper Text Transfer Protocol Secure |
| HTML | Hypertext Markup Language |
| GIGO | Garbage In Garbage Out |
| LAN | Local Area Network |
| WAN | Wide Area Network |
| VPN | Virtual Private Network |
| WIFI | Wireless Fidelity |
| JPEG | Joint Photographic Experts Group |
| MTP | Media Transfer Protocol |
| PTP | Picture Transfer Protocol |
| MB | Mega-bytes |
| KB | Kilo-bytes |
| TB | Tera-bytes |
| PDF | Portable Document Format |
| OS | Operating System |
| DOC | Document |
| ZIP | Zig-zag In-line Package |
| DBMS | Database Management System |
| WWW | Wordl Wide Web |
| GIF | Graphics Interchange Format |
Important Miscellaneous Full Forms
A list of some important miscellaneous full forms is given below. Please note that this list is not exhaustive.
Abbreviation
Full Form
UPSC
Union Public Service Commission
IAS
Indian Administrative Services
IPS
Indian Police Service
IRS
Indian Revenue Service
IFS
Indian Forest Services
PCS
Provincial Civil Service
CAT
Common Admission Test
CGL
Combined Graduate Level Exam
CHSL
Combined Higher Secondary Level Exam
IDBI
Industrial Development Bank of India
VAT
Value Added Tax
FII
Foreign Institutional Investors
CTT
Commodities Transaction Tax
NEFT
National Electronic Funds Transfer
RTGS
Real Time Gross Settlement
NAV
Net Asset Value
EXIM
Export-Import(Bank of India)
IBS
International Banking Statistics
FOREX
Foreign Exchange
FEMA
Foreign Exchange Management Act
NBFC
Non-Banking Finance Companies
KCC
Kisan Credit Card
WEF
World Economic Forum
IES
Indian Economic Service
GDR
Global Depository Receipt
ADR
American Depositary Receipt
IDR
Indian Depositary Receipt
BOP
Balance of Payments
CPI
Consumer Price Index
MFN
Most Favoured Nation
IPO
Initial Public Offering
PPP
Public private partnership
ESIC
Employees State Insurance Corportaion
MBBS
Bachelor of Medicine and Bachelor of Surgery
ILO
International Labour Organisation
PHD
Doctor of Philosophy
NEET
National Eligibility cum Entrance Test
NASA
National Aeronautics and Space Administration
NCB
Narcotics Control Bureau
ED
Enforcement Directorate
CID
Crime Investigation Department
ITI
Industrial Training International
GPS
Global Positioning System
TRP
Target Rating Point
ASI
Archaeological Survey of India
ATS
Anti Terrorism Squad
NCERT
National Council of Educational Research and Training
NDRF
National Disaster Response Force
IUCN
International Union for Conservation of Nature
CIBIL
Credit Information Bureau (India) Limited
PO
Probationary Officer- Bank
Post Office
LASER
Light Amplification by Stimulated Emission of Radiation
IRCTC
Indian Railway Catering and Tourism Corporation
SME
Small and Medium-sized Enterprises
Subject Matter Expert
HIV
Human Immunodeficiency Virus
AIDS
Acquired Immunodeficiency Syndrome
MNC
Multinational Corporation
SIT
Special Investigation Teams
UIDAI
Unique Identification Authority of India
SMS
Short Message Service
MMS
Multimedia Messaging Service
DIG
Deputy Inspector General of Police
DGP
Director General of Police
DC
Deputy Commissioner
SP
Superintendent of Police
DSP
Deputy Superintendent of Police
SHO
Station House Officer
CS
Civil ServicesCompany Secretary
Computer Science
IT
Information Technology
USP
Unique Selling Proposition
DNA
Deoxyribonucleic Acid
RNA
Ribonucleic Acid
LOC
Line of Control
BPO
Business Process Outsourcing
ETA
Electronic Travel Authorisation
Estimated Time of Arrival
DDT
Dichloro-diphenyl-trichloroethane
ATP
Adenosine Triphosphate
Association of Tennis Professionals
OTG
On-The-Go Adapter
HCL
Hindustan Computers Limited
Hydrochloric Acid
RTI
Right to Information
PFMS
Public Financial Management System
GMT
Greenwich Mean Time
AM/PM
Ante-meridiem & Post-meridiem
CSE
Civil Services Examination
ICICI
Industrial Credit and Investment Corporation of India
HDFC
Higher Secondary Certificate
STD
Sexually Transmitted Diseases
Subscriber Trunk Dialling
CGPA
Cumulative Grade Points Average
NSS
National Service Scheme
RAW
Research and Analysis Wing
DSLR
Digital Single-lens Reflex
INR
Indian Rupee
International Normalised Ratio
SIM
Subscriber Identity Module
ISI
Indian Standards Institution
Indian Statistical Institute
Inter-Services Intelligence (Pak)
FMCG
Fast-moving Consumer Goods
UGC
University Grants Commission of India
MRI
Magnetic Resonance Imaging
ISRO
Indian Space Research Organisation
DRDO
Defence Research and Development Organisation
CPR
Cardiopulmonary Resuscitation
FIR
First Information Report
NGO
Non-Governmental Organisation
NRI
Non Resident Indian
CNG
Compressed Natural Gas
RTO
Regional Transport Office
NOC
No Objection Certificate
PWD
Public Works Department
EMI
Equated Monthly Instalment
ICU
Intensive Care Unit
CV
Curriculum Vitae
SOP
Statement of Purpose
Standard Operating Procedure
NDA
National Defence Academy
MP
Member of Parliament
MLA
Member of the Legislative Assembly
Ultimate BeeBanker for Banking Jobs
From the above discussion, it is evident that abbreviations and their full forms form an essential part of many competitive exams. Therefore, we encourage you to go through this list multiple times as it will not be possible to remember so much information in one reading.
To help you realise your dream of landing a job in the public sector banks/regulatory bodies, ixamBee is providing the Ultimate BeeBanker Online Course. It is a one of a kind umbrella course which will help you prepare for various Bank PO/Clerk exams like ECGC PO, IBPS PO, IBPS Clerk, SBI PO, SBI Clerk among others in one place.
This course has been especially curated for you by our experts who possess first-hand experience in this field. Therefore, you can count on our team of experts to give you genuine guidance.
The duration of this course is 2 years. What's best? If you are unable to qualify any Bank exam within 2 years, your course fee will be refunded.
Therefore, to make your exam preparation smooth sailing, we encourage you to enroll in the Ultimate BeeBanker Online course.
We wish you the best!
At ixamBee, you can find free Online Test Series, GK updates in the form of BeePedia, as well as the latest updates for SBI PO, Bank Clerk, SSC, RBI, NABARD, and Other Government Jobs.
Also Read:
List of Merged Public Sector Banks
List of Best Books for Exam Preparation