The Kisan Credit Card Scheme was launched in August 1988 and is a flagship public sector scheme. The primary purpose of the scheme is to provide short-term loans to farmers.
In this article, we will learn all about the scheme, its features and objectives. We will also look at how the scheme has fared over the decades.
If you are appearing for the upcoming IBPS SO Agriculture Field Officer exam, or any other exam such as FCI AGM or NABARD Grade A/B, you should read this article with extra care. Such topics on government schemes are particularly tested in exams if you want to work as an Agriculture Field Officer in a public sector bank.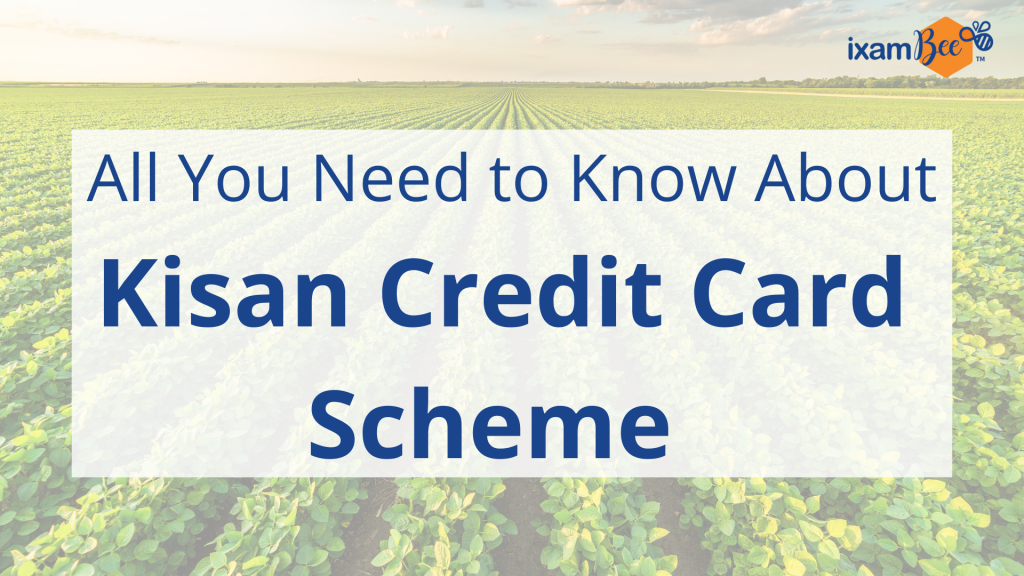 Kisan Credit Card Scheme Overview
Take a look at the overall highlights of the scheme.
| | |
| --- | --- |
| Launch Year | 1998 |
| Parent Body | National Bank for Agriculture and Rural Development (NABARD) |
| Ministry | Ministry of Finance |
| Scheme Type | Central Government |
Kisan Credit Card What's New?
The Government of India launched a pan-India program to given KCCs to eligible dairy, animal husbandry and fishery farmers. The plan is to enroll 2 crore people in the next 3 months.
A loan of a total of ₹2.32 lac crores has been given to 2.28 crore PM-KISAN beneficiaries linked with the Kisan Credit Card scheme (as of August 2021).
The Union Minister of State for Fisheries, Animal Husbandry and Dairying, Shri L. Murugan, said every fisherman must and will receive the benefits of the KCC.
Kisan Credit Card (KCC) Scheme Objectives
To meet short term credit requirements for cultivation of crops.
To meet consumption needs of farmers and cultivators.
To allow farmers to procure capital.
Maintenance of farm equipment and assets for allied sectors.
Overall development of the agriculture and allied industries.
Holistic upliftment of those engaged in agriculture and allied industries.
Kisan Credit Card Scheme Features
Credit assistance for procurement of fertilizers, seeds, machinery and other agricultural tools.
KCC holders can also get cash discounts from merchants/ dealers while buying the aforementioned products.
Credit is given for 3 years and can be repaid once the harvest season is over.
Repayment can be done in installments in some cases.
Farmers are given credit for meeting their financial requirements of agricultural and other allied activities along with post-harvest expenses.
Interest subvention/incentive options for timely repayment based on rules of the banks.
There is no processing fee for credit up to ₹3 lacs.
Interest on KCC
Up to ₹3 lac- 7%
Above ₹ 3 lac- as applicable from time to time
In essence, while most government schemes are aimed toward fulfilling the long-term and investment needs of the farmers, the KCC ensures that the farmers are able to meet their day-to-day and short term needs as well.
Who Gives KCC?
This credit is given by participating public and private sector banks in India that includes cooperative, commercial and regional rural banks. 
Confused between Kisan Credit Card and Soil Health Card? Learn the difference here.
Kisan Credit Card Scheme Eligibility
All farmers, be it individuals and joint borrowers who are owner cultivators
Tenant farmers, oral lessees & sharecroppers
Self Help Groups of farmers 
tenant farmers 
farmers involved in allied sectors like animal husbandry, dairy and fisheries 
Eligible applicants can apply for the KCC both online as well as offline.
For the online method, they can submit an application with required documents by visiting the website of the bank with which they want to apply for a loan.
For the offline process, applicants can visit the local branch of the bank and fill in a paper application and submit the required documents with it.
Documents required for KCC
An applicant is required to submit the following documents.
A filled-in application form. 
Copy of a valid photo identity proof 
Copy of valid address proof documents
Proper land documents
Passport size photograph
Other documents that may be requested by the particular bank.
Want to learn more? Read what the RBI says about the KCC.
Types of Credit
Essentially, there are 2 types of credit that is given to farmers; Cash Credit and Term Loan.
Cash Credit
Term Loan
1. Short-term financial assistance
2. For smaller agricultural needs
3. No collateral needed
4. Can be paid in full or installments
1. Long-term financial assistance
2. For bigger agricultural needs
3. Collateral may be required to withdraw loans
4. Loan offered may vary from bank to bank
Benefits of KCC
Easy process of application. Farmers can apply for KCC both online and offline.
As seen above, the repayment options are flexible as well.
Need-based loans for short-term and long-term.
A number of participating banks allow farmers to take credit from a bank of their choice.
The scheme covers a large group of farmers and workers in allied sectors.
Low rates of interest.
KCC holders are insured within the National Crop Insurance Services scheme. Moreover, there is an insurance amount for accidents and deaths.
KCC Progress Thus Far
2.5 crore farmers have made and availed the benefits of KCC.
These farmers have been given KCC with a credit limit of ₹ 2.62 lakh crore via Saturation Drive. 
The KCC scheme has now been linked to the PM-KISAN Yojana.
Loans up to ₹3 lac can be availed at 4% interest rate.
Other Government Schemes for Farmers and Rural Development
Personal Accident Insurance Scheme (PAIS)
PM Kisan Maan Dhan Yojana
Gramin Bhandaran Yojana
There are many more related articles that we have listed for you below that will not only make you better-informed about the agriculture sector of India but will also help your overall preparation.
Moreover, you should take some free IBPS SO AFO mock tests before you go. 
We wish you the very best. 
At ixamBee you can find a number of Online Courses, Free Mock Tests, GK updates in the form of BeePedia, as well as the latest updates for Bank PO, Bank Clerk, SSC, RBI, NABARD, and Other Government Jobs.
Also Read
Pradhan Mantri Matsya Sampada Yojana
Pradhan Mantri Vaya Vandana Yojana
Agriculture Infrastructure Fund: Objectives, Features and Benefits
Latest Government schemes Part 1