Agriculture is the backbone of the Indian economy as it not only constitutes a significant portion of the country's GDP but at the same time provides employment to approximately 60% of the population. But the contribution of agriculture and allied sectors to India's GDP has been declining significantly for the past few years forcing the authority at higher echelons to come out with schemes or other tools before it's too late.
PMFBY or Pradhan Mantri Fasal Bima Yojana is one of the significant steps taken by the government towards the ailing agrarian crisis. Launched on 13th January 2016, PMFSB recently completed its golden 5 years regime. Pradhan Mantri Fasal Bima Yojana was a historic step towards strengthening the risk coverage of crops and protecting the interests of the farmers. Perceived as a milestone manoeuvre, PMFBY stabilizes farmers income by providing them with a comprehensive risk solution for crops related problems at the lowest uniform premium. Let's get some more insight into Pradhan Mantri Fasal Bima Yojana.
What is Pradhan Mantri Fasal Bima Yojana (PMFBY)?
PMFBY came into existence on February 18, 2016 by the merger of two schemes namely – National Agricultural Insurance Scheme (NAIS) and Modified National Agricultural Insurance Scheme (MNAIS). PMFBY's objective is to reduce the premium burden on farmers and ensure early settlement of crop assurance claims. PMFBY syncs well with the One Nation – One Scheme theme. The scheme is administered by the Ministry of Agriculture and Farmers Welfare and it has been revamped at the structural and logistical levels to meet the new challenges that lay ahead.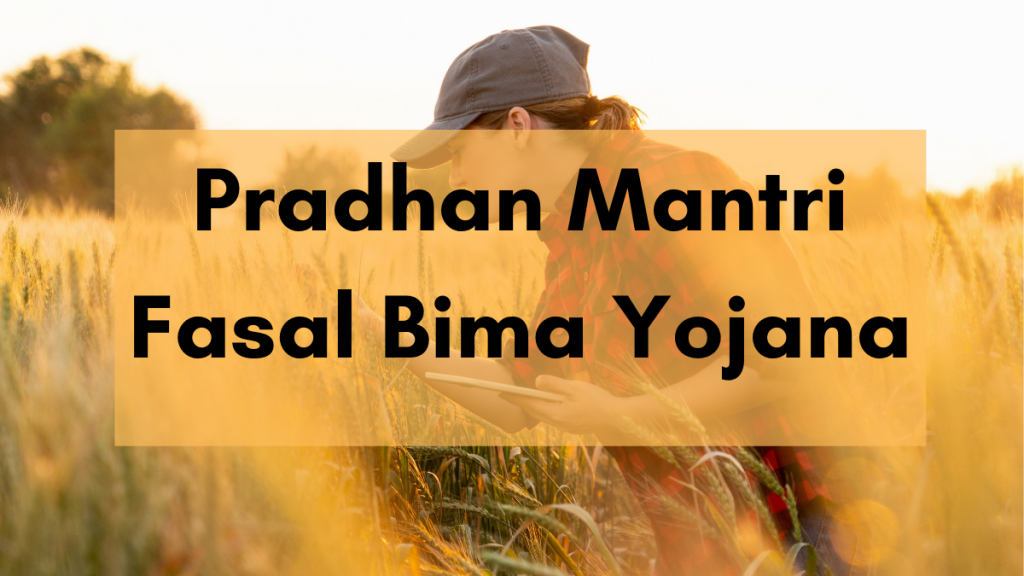 PMFBY Budget Allocation
PMFBY has been claimed as the largest crop insurance scheme in terms of farmer participation by the Central Government. Also, the 3rd largest in terms of premium, globally, PMFBY covers over 5.5 crore farmer applications year on year and till now claims worth Rs 90,000 crores have been paid out under the Pradhan Mantri Fasal Bima Yojana. Rs 16000 crores have been allocated for Pradhan Mantri Fasal Bima Yojana for the fiscal year 2021-22 by the Indian Government which is a budgetary increase of around Rs 305 crore in comparison to the fiscal year 2020-21.
PMFBY Coverage
The Pradhan Mantri Fasal Bima Yojana covers all Food & Oilseeds crops. An annual Commercial/Horticultural crop for which past yield data is available has been covered under PMFBY along with the requisite number of Crop Cutting Experiments that have been conducted under the General Crop Estimation Survey or GCES.
Maharashtra was the first state to integrate its land records with the PMFBY web portal.
Some Key Features of Pradhan Mantri Fasal Bima Yojana
Pradhan Mantri Fasal Bima Yojana or PMFBY has various notable features. Both the older and the revamped version are in sync with the ailing crisis that the country's ailing agriculture sector is facing. Some of the important features are covered here.
Extensive insurance coverage of crop loss on account of non-preventable natural risks
Helps in stabilizing the income of the farmers thus encouraging them to adopt innovative practices.
A premium of 2% of the value of the sum insured is to be paid by farmers for all Kharif crops, 1.5% for all rabi crops and 5% for annual commercial and horticultural crops.
The balance premium will be equally subsidized by the States and the Government of India and in the ratio of 10:90 for Northeastern states.
The use of Remote Sensing Technology, Smartphones and Drones for quick estimation of crop losses will help in the early settlement of claims.
Increased risk coverage from pre-sowing to post-harvest losses.
Covers a wide range from loanee farmers, non-loanee farmers to sharecroppers and tenant farmers.
PMFBY to PMFBY 2.0
To ensure more effective implementation of Pradhan Mantri Fasal Bima Yojana or PMFBY, the Government felt that the revamping of the scheme is an absolute necessity. Let's check what's new in the PMFBY revamped version.
| | |
| --- | --- |
| PMFBY (Older) | PMFBY 2.0 |
| Voluntary for non-loanee farmers and compulsory for those availing crop loans from banks | 100% voluntary enrolment for all farmers from 2020 Kharif |
| There was no upper limit for the Central Government subsidy and as a result the insurers never showed the needed willingness to actively get involved in the scheme | The Cabinet decided to cap the Centre's premium subsidy – up to 30% for unirrigated areas/crops and 25% for irrigated areas/crops, increasing the onus on the insurance companies to seek out vulnerable farmers and convince them of the importance of crop insurance |
| Huge pendency of settlement of state subsidy to the insurance companies affecting timely payment of claims | Provision introduced that if states don't release their share before 31st March for the Kharif season and 30th September for Rabi crops, they would not be participating in subsequent seasons |
| All food, oilseed crops and annual commercial or horticultural crops for which past yield data is available | States/UTs have the option to select any number of additional risk covers like localised calamity, mid-season adversity, post-harvest losses etc. |
Way Ahead
The changes brought forth in the Pradhan Mantri Fasal Bima Yojana are welcome but still, various loopholes exist that need to be filled for its effective implementation.
Creating awareness among the agricultural masses will be one of the major challenges for its smooth implementation.
This must be supported by a behavioural change regarding insurance being a necessary input and not a money-back investment.
Rationalizing waivers and service delivery with mandatory Aadhar linkage.
Timely compensation with streamlining it with state crop insurance schemes and other allied schemes to include more risk areas that have not been covered.
With the revamped PMFBY, the Government is trying to ensure transparent, timely assessment of the yield, quick computation and payment claims to realize the goal of Atmanirbhar Krishi and Atmanirbhar Farmers.
At ixamBee you can find free Online Test Series, GK updates in the form of BeePedia, as well as latest updates for Bank PO, Bank Clerk, SSC, RBI, NABARD, and Other Government Jobs.
Also Read