Har Khet ko pani
The Pradhan Mantri Krishi Sinchayee Yojana (PMKSY) was launched on July 1, 2015 with the intention to divert more attention to water conservation and its efficient management. The scheme was brought into action by the Cabinet Committee on Economic Affairs with the approval of the Prime Minister. The scheme works under the joint purviews of Ministries of Jal Shakti, Rural Development and Agriculture & Farmers Welfare.
The government had allocated a budget of ₹50,000 crore to be utilized over a period of 5 years between 2015-16 to 2020. For the present fiscal year, the allocation stands at ₹ 4,000 crores.
The tagline of the PMKSY is "More Crop Per Drop". 
PM Krishi Sinchayi Yojana Latest Update 2022
The Cabinet has approved the implementation of Pradhan Mantri Krishi Sinchayi Yojana (PMKSY) scheme for 2021-26. The Cabinet Committee on Economic Affairs has made provisions to fund 90% of water for Renukaji and Lakhwar dams. The idea behind this new implementation is to improve the water supply, both in terms of availability and quality in Delhi.
Furthermore, the Cabinet has approved new projects under the Accelerated Irrigation Benefit Programme as well. This program aims to complete 60 projects at present.
Additionally, please take a look at the other details of the PMKSY latest update 2022 as released by the Press Information Bureau of India.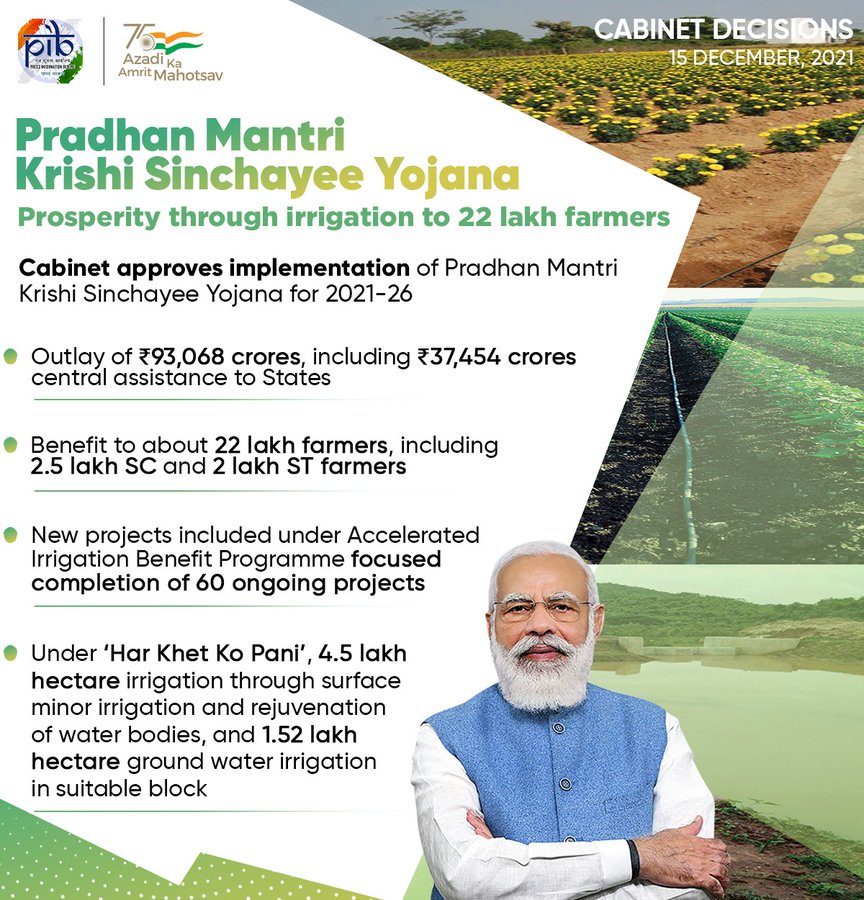 Image source: https://twitter.com/PIB_India/status/
Pradhan Mantri Krishi Sinchayi Yojana: Objectives
To secure more investments for field irrigation
To expand the cultivable area available under irrigation
To ensure the efficacious use of water on fields to reduce the wastage of water
To ensure faster completion of related ongoing projects
To utilize water with the help of indigenous rainwater harvesting techniques
Enforcement of the Pradhan Mantri Krishi Sinchayi Yojana
At the federal level, the program will be regulated and is to be supervised and audited by an Inter-Ministerial National Steering Committee (NSC). The Committee will be headed by the Prime Minister and will comprise Ministers heading allied ministries. The implementation and issuance of resources, inter and intra ministerial communication and supervision & performance evaluation will be overseen by the National Executive Committee and NITI Aayog.
Implementation of the Pradhan Mantri Krishi Sinchayi Yojana
The PMKSY is being implemented at all 3 levels of government- National, State and District. Also, the PMKSY has been designed to incorporate all the other ongoing schemes of the government pertaining to water management and agriculture. These schemes are:
Accelerated Irrigation Benefit Program (AIBP)
Integrated Watershed Management Program (IWMP)
On Farm Water Management (OFWM)
Pramparagat Krishi Vikas Yojana (PKVY)
Atal Bhujal Yojana (ABY)
Micro Irrigation Fund (MIF)
Components of the Pradhan Mantri Krishi Sanchayi Yojana
The PMKSY is composed of the following components:
Construction of new water sources by establishing minor irrigation projects
Construction of rainwater harvesting systems (Jal Sanchay)
Ground water development in areas where rainfall is aplenty
Improvement of water distribution systems across the country
Proper management of runoff water to improve soil and moisture conservation practices on a watershed basis
Create and/or reconstruct traditional water storage systems, like the Jal mandir in Gujarat and Katas and the Bandhas in Odisha and Madhya Pradesh
To encourage the use of precision water application devices like drips, sprinklers, pivots, rain-guns in the farm (Jal Sinchan)
Pradhan Mantri Krishi Sinchayi Yojana Performance
The irrigation programme has been doing especially well in some states more than others. For example, in states like Karnataka, Andhra Pradesh, Madhya Pradesh, Maharashtra, Rajasthan, Tamil Nadu and Telangana the scheme has been implemented well. States like West Bengal, Himachal and Assam are yet to pick pace.
Advantages and Disadvantages of PMKSY
After more than 5 years since its inception, the PMKSY has yielded some benefit to farmers and the agriculture and allied units. Several studies have also been undertaken that highlight the performance of the scheme through the years. We have listed some advantages and challenges seen through the years.
Advantages of the PMKSY
Decreased need for water for irrigation
Higher yield of crop(s)
Reduced wastage of water through the use of efficient technology
Better and higher yield resulting in higher profits
Reduction in input use cost(s) due to micro-irrigation
Challenges faced
High cost of tube wells
Increased dependence on unreliable power supply
Drop in the water table
Lack of training/awareness among farmers about the scheme and its benefits
Saur Pump Yojana
The Mukhyamantri Saur Krushi Pump Yojana also known as, simply Saur Pump Yojana was launched by the Maharashtra State government to ensure the availability of solar power energy for agricultural pumping and to reduce the dependence on power subsidy. 
Study with ixamBee
Such topics on government schemes are very important when you are preparing for NABARD Grade A/B exams. We will be writing an entire series on government schemes and programs that are important for your preparation. You can find all our blogs on our website. Also, you can also look at ixamBee's BeePedia page for information on other aspects of Current Affairs and General Awareness. 
Further, if you want to learn more about such Government schemes for agriculture and allied fields, you can take a look our ixamBee's NABARD Grade A free demo course. The course will also give you all the resources you need for your wholistic preparation.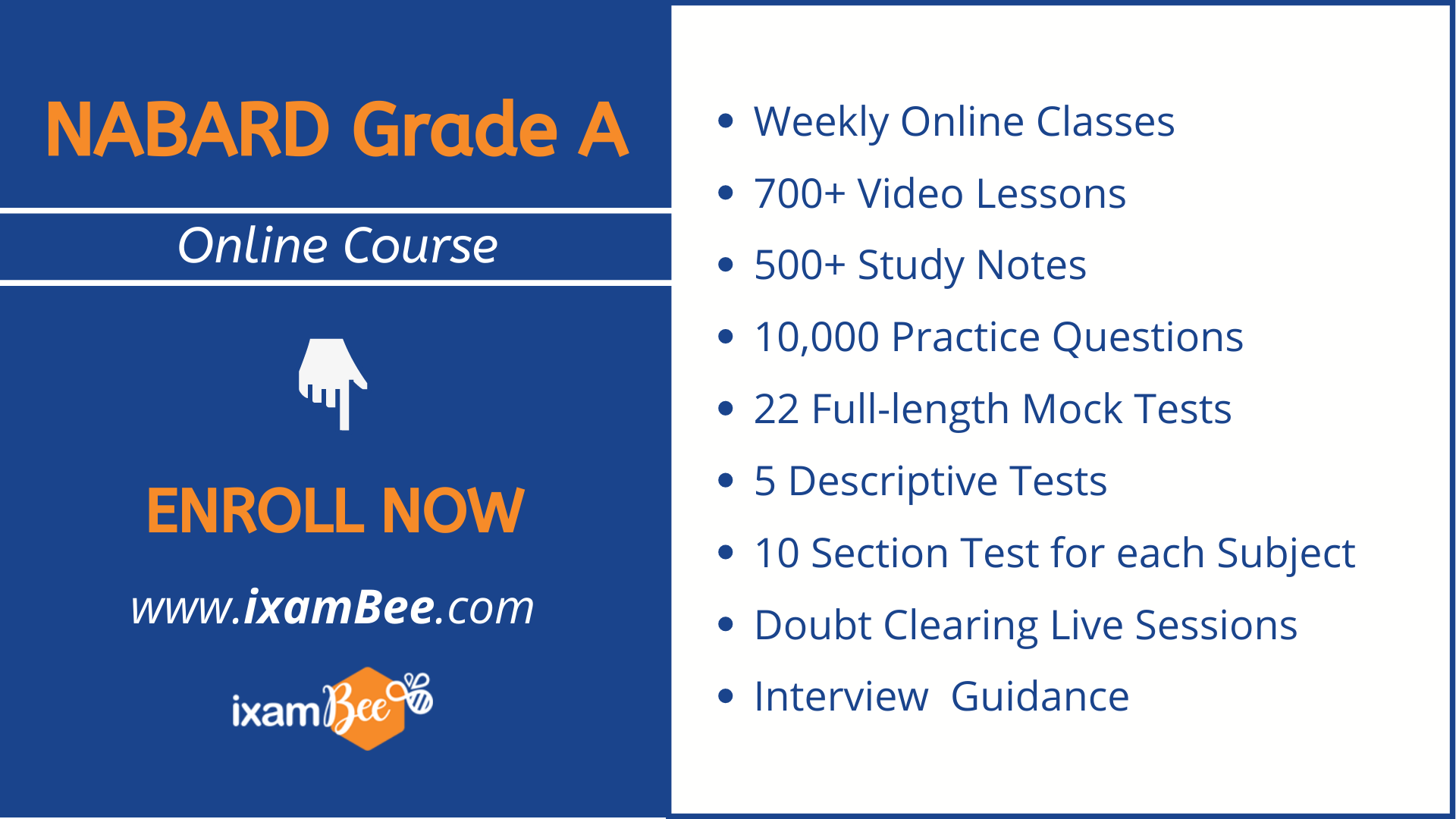 At ixamBee you can find a number of Online Courses, GK updates in the form of BeePedia, as well as latest updates for Bank PO, Bank Clerk, SSC, RBI, NABARD and Other Government Jobs.
Also read
List of Tiger Reserves in India