The Security and Exchange Board of India is a prestigious public sector organization where thousands of aspirants try their luck every recruitment cycle. Since there has been no word from the official source itself, we can understand that aspirants are becoming anxious.
In this article, we will analyze the questions related to the examination and how we can channelize our anxiety positively to ace the exam whenever it is held.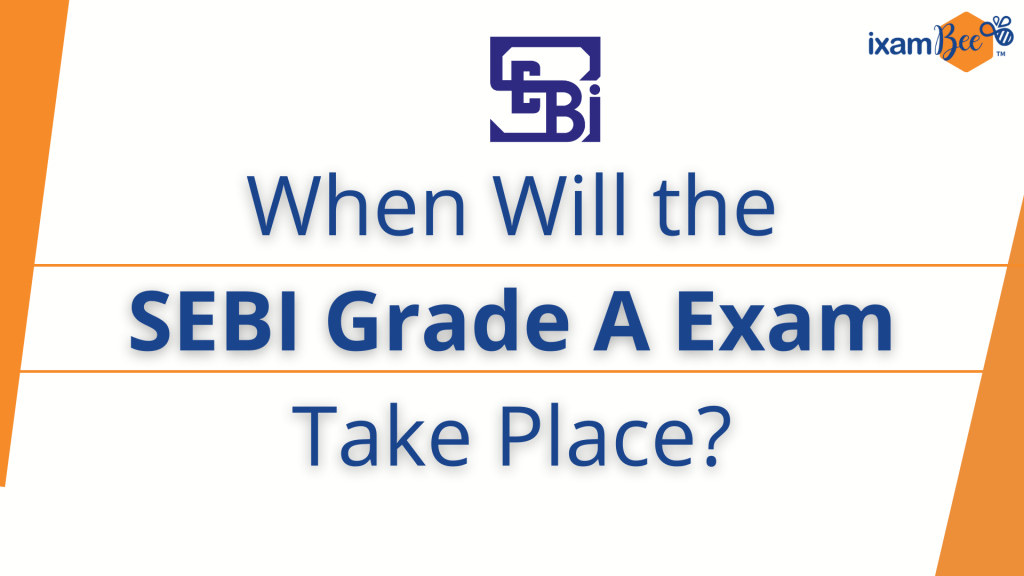 When will the SEBI Grade A Exam Take Place?
We have been receiving a number of questions from aspirants about the SEBI Grade A exam. Will SEBI Grade A happen in 2021? Will there be SEBI Grade A exam in 2022? While the notification has been expected for a while now, there has been no word from the organization.
However, we are going to share with you what we tell all our aspirants. Firstly, you need to keep pace with your preparation irrespective of whether the recruitment notification is out at the end of 2021 or early in 2022. Your job is to study hard and be ready for action and that's what you should focus on. The notification is bound to come sooner or later.
What Changes May I Expect?
If you have been following the other notifications for the NABARD Grade A/B and RBI Grade B exams, you will know that this year, a section on descriptive-type questions was introduced in both.
In light of the same, we advise all our aspirants to expect similar descriptive sections in Phase 2 for the SEBI Grade A exam. Paper 1 in Phase 2 is already based on Descriptive English. You may expect descriptive questions in Paper 2 of Phase 2 as well that are based on stream-specific subjects.
So, for example, if you are appearing for the SEBI Legal Officer exam, you may expect Paper 2 in Phase 2 to assess descriptive questions on Law. 
Why Should I Start Studying Before the Notification is Out?
There are several reasons why you should start studying from now itself.
Firstly, there is nothing called "being too prepared" when it comes to competitive exams.
The syllabus is quite specialized for the Generalist and Specialist Officer posts. So, you need to study properly.
There are 2 papers in each phase. That makes 4 papers in all. So, if you want to reach the interview round and ultimately make it all the way through, you have to clear 4 papers.
A job at SEBI is highly fulfilling and reputed. So, if you want to join the ivy league, you must be willing to work hard to achieve your dreams.
Learn from Suman Meena's Success Story on Why You Should Begin Preparing Early.
Start Your Preparation Today
Your target for this exam should be to ace this exam in the upcoming exam cycle. For this, you must ensure that you spare no effort in your preparation. If you want some guidance on how to go about your groundwork, you can take a look at some tips and tricks for SEBI Grade A exam curated by our faculty members.
ixamBee for SEBI Grade A Preparation
SEBI Grade A Previous Years' Papers
You can begin your preparation with ixamBee by looking at the SEBI Grade A previous years' papers. The papers are freely available on our website. For your convenience, we have also provided them for you below.
SEBI Grade A Phase I Previous Year Question Paper
SEBI Grade A Officer Phase II Paper 2 Previous Year Question Paper
Mock Test
We cannot emphasise enough on the importance of taking mock tests for any exam preparation. However, when it comes to an exam as specialized as this, you must make a habit to routinely take SEBI Grade A free mock tests. Now that we have an undefined period of time before the exam, we will advise you to take a mock test once every 15 days or so. As you approach the exam date, we'd urge you to take a practice test every week.
SEBI Grade A Officer Phase 1 Mock Test
SEBI Grade A Officer Phase 2 Mock Test
Online Preparation for SEBI Grade A
If you want to clear the SEBI Grade A exam successfully, one way to do it is to come study with ixamBee! Our SEBI Grade A Exclusive Online Course will not only provide you with all the study material that you will need but we also provide a number of mock tests and practice questions. Take a look at what the SEBI Grade A course has in store for you:
600 + video Lessons and 300+ study notes
30 full-length mock tests for Phase 1 & 2
5 Descriptive English mock tests
Online classes daily
Interview round preparation
Online meetings with faculty (for doubt clarification)
We also have a number of exclusive courses for aspirants who are preparing for one or more of the Specialist Officer exams as well.
We hope you begin your preparation without further ado. Like we said, your job is to study and work hard for now. You do your bit. If you use your time fruitfully now, you will surely succeed irrespective of whether the exam is taken in 2021 or 2022.
Get Free Online Test Series, GK updates in the form of BeePedia as well as latest updates for Bank PO, Bank Clerk, SSC, RBI, NABARD and Other Government Jobs.
Also Read
SEBI Grade A 2022: Start Your Preparation Today!
How to prepare for SEBI Grade A Interview?
SEBI Grade A 2020 Final Result Analysis