Read here last-minute preparation tips and guidance for SSC CGL exam 2022 from experts at ixamBee.
The SSC CGL Tier I Exam 2022 will be held between April 11 to April 21, 2022. Candidates who have applied for this exam must now buck up with their preparation and maximize their efforts in these last few days.
In this article, we will discuss with you everything you need to know for the SSC CGL exam 2022 vis-à-vis the SSC admit card, exam day preparation and SSC CGL last-minute preparation tips.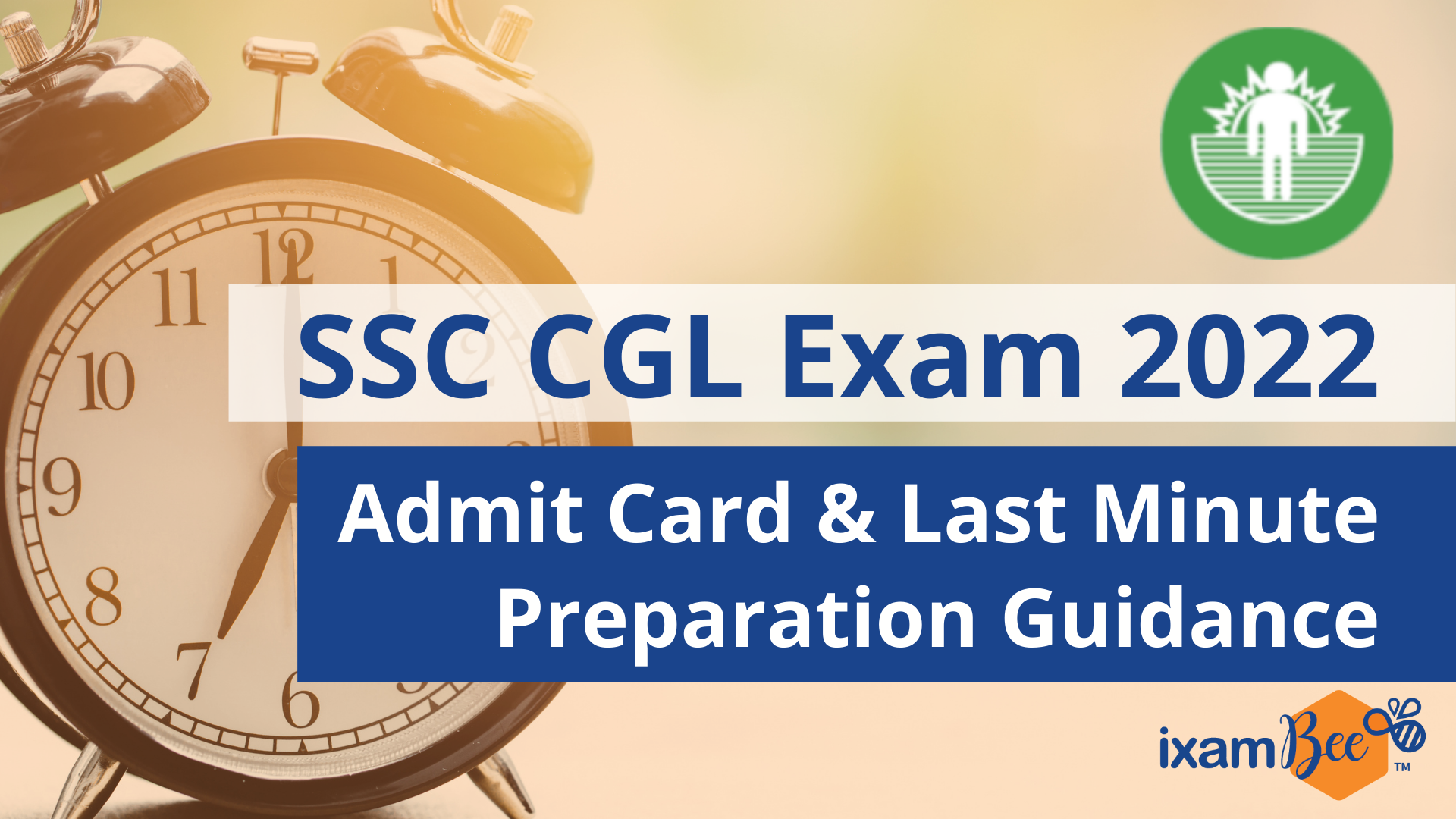 SSC CGL Admit Card 2022
Before we move ahead, please note, that the SSC has released the SSC CGL Admit Cards region-wise. Therefore, click on the links below to download your admit card according to your region.
SSC CGL 2022 Northern Region Admit Card Status.
SSC CGL 2022 Southern Region Admit Card Status.
SSC CGL 2022 North Eastern Region Admit Card Status.
SSC CGL 2022 Western Region Admit Card Status.
SSC CGL 2022 Eastern Region Admit Card Status.
SSC CGL 2022 Karnataka/Kerala Region Admit Card Status.
SSC CGL 2022 Central Region Admit Card Status.
SSC CGL 2022 North Western Region Admit Card Status.
Also read: List of Tiger Reserves in India [Updated 2022]
SSC CGL Last Minute Tips
If you have been preparing study notes during your preparation, please revise all of them at least 2 times thoroughly.
If you were unable to cover any topic in the past weeks/month, you can let them be for now. Focus on strengthening what you have already prepared.
In case you are getting cold feet or nervous jitters, it is okay. It means that you are at the start of something new and something great! Do not let your anxiety get the better of you in any way. Channelize this energy to your study if you want to achieve success.
Keep practicing and stay focused. You have come so far along in your preparation and you are very close to realizing your dreams.
By now you must already be aware that General Awareness is a very scoring topic. Therefore, we heartily urge you to read and revise the BeePedia capsules for all current awareness information.
Take a Daily GA Quiz with ixamBee for free every day!
Solve more and more questions from each subject every day. For example, if you solve 50 questions in 60 minutes, you must try to solve 55 questions in 60 minutes as you progress in your revision.
Furthermore, we would once again like to reiterate the importance of mock tests. While we are sure you have been taking mock tests during your preparation, now, we urge you to take two SSC CGL Tier 1 mock tests every day. At ixamBee, you can avail of these practice tests completely free!
Moreover, ixamBee's SSCBee YouTube channel is brimming with SSC CGL preparation-related videos. You can find several videos on preparation as well as revision that will boost your overall preparation. We have attached some videos below for your reference.
Exam Day Preparation
As already discussed above, you must download your SSC CGL 2022 admit card and keep it in the bag that you will carry to exam centre.
No electronic devices will be permitted inside the examination hall.
Carry everything that you will need, however, do not carry any unnecessary items to the exam centre.
Carry everything you will need, for example, a pen, hand sanitizer and transparent water bottle.
Wear a mask at all times.
Get proper sleep on the eve before the exam. You must come to the exam centre with a fresh mind so that you can perform your best.
Approach your exam with confidence. We are sure that you will achieve your dreams.
Your success will be determined by your own confidence and fortitude.

– Michelle Obama
We hope you will use the remaining time that you have before the exam judiciously. We wish you the very best.
Also see: SSC CGL Preparation Tips from Toppers
At ixamBee you can find free Online Test Series, GK updates in the form of BeePedia, as well as latest updates for Bank PO, Bank Clerk, SSC, RBI, NABARD and Other Government Jobs.
Also read
How to Prepare for NRA CET 2022? Class 10-level Exam Preparation Tips
NRA CET 2022: Best Preparation Tips for Class 12-level Exam
International Airports In India
How to Crack SSC CGL 2022 in First Attempt? SSC CGL Preparation Tips