Read here all the necessary details about SSC CGL auditor in C&AG, CGDA, and CGA-job profile, salary, and much more.
The Staff Selection Commission holds a Common Graduate Level examination to recruit eligible candidates for several posts under the Central Government. Among these is the very lucrative and prestigious role of the SSC CGL auditors of C&AG (Comptroller and Auditor General), CGDA (Controller General of Accounts), and CGDA (Controller General of Defence Accounts).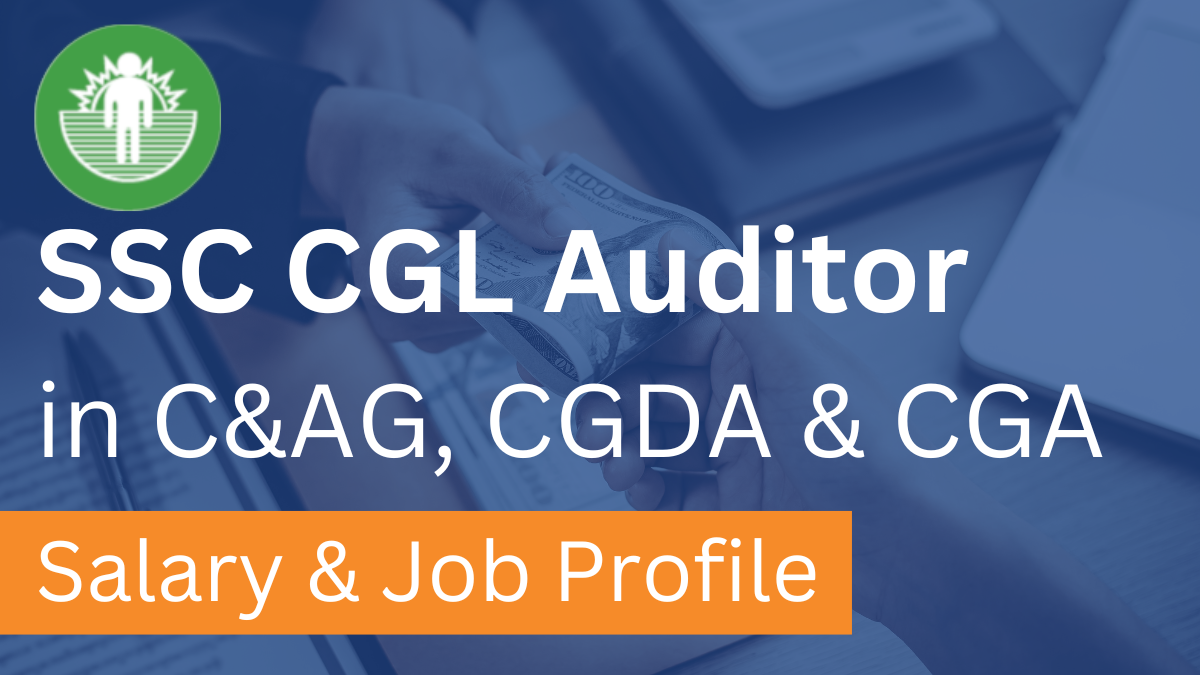 All these profiles fall under the Grade C officer category and are recruited mainly for the post of Auditor through the SSC CGL Exam. These Profiles of Auditors are under the Indian Accounts Audit Department led by the Comptroller and Auditor General of India. The most common trivia among aspirants preparing for SSC CGL is about the Job is the salary structure and job profile of all these posts.
In this blog, we are going to talk about the Job profile, salary, and much more things about SSC CGL Auditor Profile. In a nutshell, we will try to understand the salary, perks & allowances, and job profile of SSC CGL auditors in C&AG, CGDA, and CGA.
Before moving ahead, let's quickly understand the recruitment process of SSC CGL Auditor.
Recruitment process of SSC CGL Auditor: CAG, CGDA, and CGA
The Exam is held in 2 stages i.e., Tier 1 and Tier 2. The SSC CGL Exam comprises vacancies for various profiles. The Tier 1 exam is common for all of them. Tier 2 contains 3 papers, two are objective and paper 3 is descriptive. In Tier 2, the SSC CGL Exam Syllabus varies from profile to profile. Thus, students prepare accordingly. You can have a better understanding of the SSC CGA auditor Exam pattern by looking into the Syllabus of the SSC CGL Exam.
SSC CGL Auditor Salary Overview
Before we move on to learn about the salary and job profile in detail, let us briefly go over the details of the SSC Auditor's Salary in the table below.
| | |
| --- | --- |
| Particulars | Details |
| Post Name | Auditor (C&AG, CGDA, CGA) |
| Pay Level | Level 5 (7th Pay Commission) |
| SSC CGL Basic pay | ₹29,200 |
| SSC CGL Grade Pay | ₹2,800 |
| SSC CGL Pay Scale | ₹29,200 to 92,300 |
SSC CGL Auditor In-Hand Salary
Take a look at the SSC CGL auditor salary in the table below. Please note, across all posts and departments, the basic salary and grade pay for SSC CGL "Group C" auditors will remain the same.
Take a look at the details of the auditor's salary working with the SSC in the table below.
| | | |
| --- | --- | --- |
| Position | Grade Pay | In-Hand Monthly Salary (Approx.) |
| Auditor C&AG | ₹2800 | ₹35000- ₹43000 |
| Auditor CGDA | ₹2800 | ₹35000- ₹43000 |
| Auditor CGA | ₹2800 | ₹35000- ₹43000 |
SSC CGL Auditor Perks & Benefits
Take a look at the table below to learn more about the perks and benefits for SSC CGL Auditors. Please note, for this post, several perks depend upon the city in which you are posted. Therefore, depending on the need, the amount may differ.
| | |
| --- | --- |
| Particulars | |
| HRA | |
| X Cities- 27% | ₹7,008 |
| Y Cities -18% | ₹4,672 |
| Z Cities- 9% | ₹2,336 |
| Dearness Allowance- DA (31% of basic pay) | ₹9,052 |
| Travel Allowance- TPTA(Amount of Transport Allowance = TA + [(DA% x TA)/100] ) | X Cities- ₹4716 (3600+1116)Other Places- Rs. 2358 (1800 +558) |
| Gross Salary Range (Approx.) | |
| X Cities | ₹49,976 |
| Y Cities | ₹45,282 |
| Z Cities | ₹42,946 |
Some other benefits offered:
Petrol allowance
Mobile Bill Allowance
After getting familiar with the whole salary structure, you must be thinking about the terms mentioned there: X, Y and Z cities. What are these and what do they mean? Let's understand. As aforementioned, the SSC CGL salary and other details depend upon, to a certain extent, which city a selected candidate is posted in.
The X, Y, and Z cities are classified on the basis of their population.
What are X, Y, and Z cities in SSC CGL Auditor HRA (House Rent Allowance)?
The X cities have a population of over 50 lakh, whereas the population of Y cities ranges between 5 to 50 lakh. Eventually, the rest of the cities in Category Z have a population of less than 5 lakh. The HRA is a portion of your salary that your employer provides to cover expenses related to rented accommodation.
The HRA among the cities varies according to the cost of living out there. On one hand, when your job region is rural, the cost of living is less and hence the HRA becomes lower. On the other hand, the cities of urban areas have higher cost of living resulting in an increased HRA. The rate of HRA of central government employees is evaluated on the basis of city expenditure. The X cities have a 27% rate, Y cities have an 18% rate and Z cities have a rate of 9% for the evaluation of HRA.
Please take a look at the table below in order to understand which cities in India fall under which category. This will help you envision where you would like to be posted for work.
Classification of Cities
| | |
| --- | --- |
| CATEGORY | CITY |
| X | Ahmedabad, Bengaluru, Chennai, Delhi, Hyderabad, Kolkata, Mumbai, and Pune |
| Y | Agra, Ajmer, Aligarh, Amravati, Amritsar, Asansol, Aurangabad, Bareilly, Belgaum, Bhavnagar, Bhiwandi, Bhopal, Bhubaneswar, Bikaner, Bilaspur, Bokaro Steel City, Chandigarh, Coimbatore, Cuttack, Dehradun, Dhanbad, Bhilai, Durgapur, Erode, Faridabad, Firozabad, Ghaziabad, Gorakhpur, Gulbarga, Guntur, Gwalior, Gurgaon, Guwahati, Hamirpur, Hubli–Dharwad, Indore, Jabalpur, Jaipur, Jalandhar, Jalgaon, Jammu, Jamnagar, Jamshedpur, Jhansi, Jodhpur, Kakinada, Kannur, Kanpur, Karnal, Kochi, Kolhapur, Kollam, Kozhikode, Kurnool, Ludhiana, Lucknow, Madurai, Malappuram, Mathura, Mangalore, Meerut, Moradabad, Mysore, Nagpur, Nanded, Nashik, Nellore, Noida, Patna, Pondicherry, Purulia, Prayagraj, Raipur, Rajkot, Rajahmundry, Ranchi, Rourkela, Ratlam, Salem, Sangli, Shimla, Siliguri, Solapur, Srinagar, Surat, Thanjavur, Thiruvananthapuram, Thrissur, Tiruchirappalli, Tirunelveli, Tiruvannamalai, Ujjain, Bijapur, Vadodara, Varanasi, Vasai-Virar City, Vijayawada, Visakhapatnam, Vellore, and Warangal |
| Z | All Other Cities |
Job Responsibilities of all posts of SSC CGL Auditor
Firstly, if you are selected to work as an SSC CGL Auditor at the Department of Comptroller and Auditor General, you will be posted in the capital city of a state or one of the bigger cities in that state. This means, that you will be posted in either an X or Y-tier city.
Moreover, let us now understand the SSC CGL Auditor job profile for each post in detail. Please refer to the below table to have a better understanding of the Job responsibilities of each profile.
Job profile of SSC CGL Auditor in C&AG, CGDA and CGA
Job Profile of a CAG
Job Profile of a CGDA
Job Profile of a CGA
Conducting Audits: The CAG conducts audits of government accounts, financial transactions, and performance.
Transparency and Accountability: It ensures transparency and accountability in the use of public funds.
Compliance and Rule Enforcement: The CAG ensures compliance with financial rules, regulations, and procedures.
Evaluating Government Programs and Schemes: It assesses the economy, efficiency, and effectiveness of government programs and schemes.
Submitting Audit Reports: The CAG submits audit reports to the President or Governor, which are tabled in Parliament or the State Legislature.
Advising the Government: It provides expert advice to the government on financial management, control, and accountability.
Managing Defence Accounting Functions: The CGDA is responsible for managing and overseeing the accounting functions related to defence expenditure.
Payment and Accounting Processes: They administer payment and accounting processes for defence-related activities, including salaries, pensions, and other financial transactions.
Internal Audits: The CGDA conducts internal audits to ensure compliance with financial rules, regulations, and procedures within the defence establishment.
Financial Advice to the Ministry of Defence: They provide financial advice and expertise to the Ministry of Defence on matters related to defence finance and accounting.
Financial Reporting: The CGDA is responsible for providing accurate and timely financial reports and information to the government and defence authorities.
Coordination with Defence Accounting Offices: They coordinate with other defence accounting offices and agencies to ensure consistency and efficiency in financial management across the defence establishment.
Managing Accounting Functions: The CGA is responsible for managing and overseeing the accounting functions of the central government.
Maintaining Government Accounts: They ensure the accurate and timely maintenance of central government accounts and financial information.
Formulating Accounting Policies: The CGA formulates accounting policies and procedures to ensure uniformity and adherence to accounting standards across government departments.
Compliance and Financial Control: They ensure compliance with accounting standards, financial rules, and regulations within the central government.
Financial Advice and Guidance: The CGA provides financial advice and guidance to government departments regarding budgeting, expenditure control, and financial planning.
Financial Reporting: They are responsible for preparing and presenting financial statements and reports of the central government, including the Consolidated Fund and Public Accounts.
SSC CGL Exam Preparation
If you too want to qualify for the SSC CGL exam, then what you need is the best preparation resources with the best mentorship that can help you realize your dreams. Moreover, in order to achieve this, we encourage you to take a look at ixamBee's SSC CGL Online Course which offers intensive and extensive training to aspirants so that they may reach their goals. Take a look at what our course offers in the image below.
Conclusion
The SSC CGL examination offers diverse career opportunities in government auditing and accounting, including roles as Auditors in CAG, CGA, and CGDA. These positions play a vital role in ensuring transparency, accountability, and financial integrity within the government. Basically, the Comptroller and Auditor General (CAG) conducts audits and advises the government, while the Controller General of Accounts (CGA) manages accounting functions for the central government. The Controller General of Defence Accounts (CGDA) handles defence-related accounting. Now you must have understood the complete salary structures of all positions of SSC CGL Auditor. Pursuing a career in these roles through SSC CGL provides a rewarding path to contribute to the nation's financial management and governance. We wish all the best to all the aspirants of the SSC CGL Exam.
To help you prepare 50% faster for competitive exams, ixamBee provides free Mock Test Series and all the Current Affairs in English and Current Affairs in Hindi in the BeePedia capsules for GA Preparation. You can also get the latest updates for Bank PO, Bank Clerk, SSC, RBI Grade B, NABARD, and Other Government Jobs.