"90% of you are not going to clear Phase 1 of RBI Grade B"
I have always admired people who knew what they wanted to do with their careers, especially because I was never one of them. In March 2021, RBI results declared that I had failed the RBI Grade B Prelims examination. My inner voice immediately went about searching for excuses. "I must have flunked the quant paper. Or some clerical mistake? Surely I must have been wronged!"
I eagerly looked forward to the answer key, mostly to confirm my own prejudice. My marks were way below the cutoff. At the end of three grueling attempts and four years of toil, there I was. I got my worst result in the year I had worked the most. Ironical, right? I didn't just miss the cut, I was nowhere near the competition. My failure was undeniable and total, and it shook me to the core.
Born and brought up in a middle-class family with the sole aim to be a government officer. In India, middle-class families have an unseen connection, a red thread, with the word 'Government Job i.e. Sarkari Naukari' and this is an undeniable fact that my family is no different. Most of us begin our government job exam preparation by treating them only as exams. But slowly and surely, as we face hurdles and endure suffering, the exams take center stage and getting through them becomes our only objective. So when we are defeated in exams, we almost feel defeated in life. And so it was with me.
The failure crept inward into other aspects of my being. It eroded my drive, confidence, and morale. Both professionally and personally, I turned indifferent and underconfident. But my fortune changed when it was least expected.
I was scrolling YouTube as usual and found "Chalo Saath Chale RBI" popping onto my screen. The video was inspiring, with a few determined faces quoting powerful lines with patriotic background music and explaining XtremeBee. Being an aspirant, I was amazed by the word RBI, unknown of the fact that this video was going to change my life. I showed the advertisement to my father and he asked me to try for the program by registering for BeeSAT. The first step is to be a part of the XtremeBee RBI course offered by ixamBee. Luckily, I was among the ones clearing BeeSAT and getting a call for enrolment.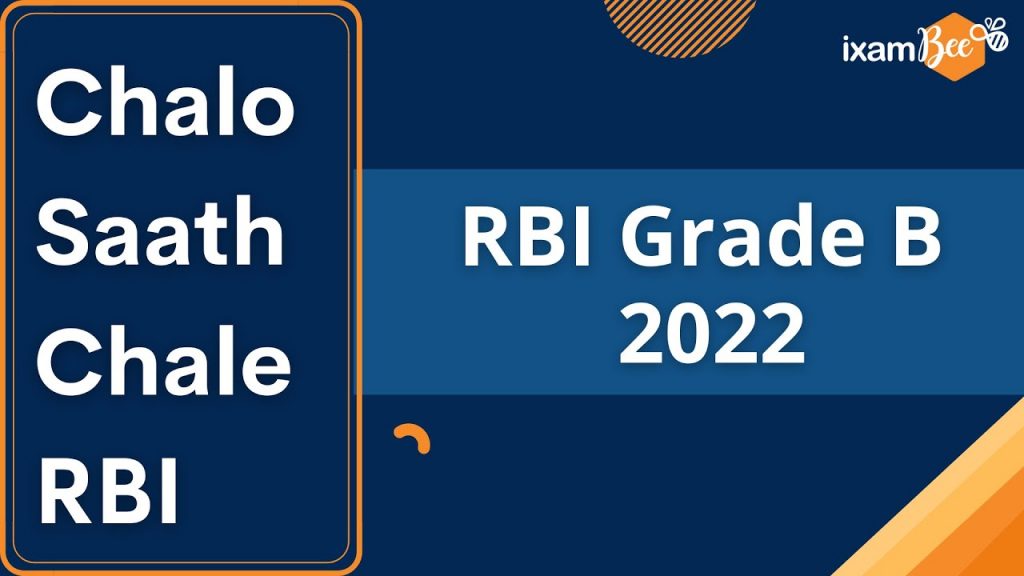 My father always believed that education is the best investment and that the wealth you put into your education will always be an asset. Inclining towards the same, I landed in XtremeBee RBI offline+online program to figure out what my career holds for me. Was I nervous? Was my self-confidence regained?
Day 1: The beginning of my journey
I arrived at the XtremeBee RBI program in the last week of February 2022, I was clueless about what these four days are going to be like. I was assured that I was going to meet people, and I was going to have a new perspective. I was going to meet the former officers of RBI who were going to guide me. I think this was it. The motivation that I needed the most. But here it was not a cakewalk.
I reached the venue at 8:30 AM and on the left side of the reception, people were sitting with their luggage sideways. I went there, and tried to speak with full confidence, "Hi! are you also here for ixamBee?" I was looking for assurance and faith.
The answer was given by their nodding heads and I had a sigh of relief that ok, I am at the right place and it's for real. After a few moments, I saw a tall man, wearing a Pink shirt, talking at the reception. He was the same man from the video. I asked my fellow mate sitting beside me, Is he Susheel Ragade, Ex-Mgr, RBI?
Again, I got my answer with another nod. A moment later, a few more RBI aspirants arrived and I was seeing the Indian diversity on the couch itself. Aspirants have come from different cities like Amritsar, Hyderabad, Mumbai, Aurangabad, Chennai, Mysore, and many more.
We were heartily received by the team ixamBee. We were allotted our rooms and were asked to meet at the conference hall at 10 AM sharp after having our breakfast. I timed the clock, took the breakfast, and went straight to the conference hall.
My first Hour
A giant hall with circular tables having the names of each student. Walls had posters of RBI buildings from all over India. Eyes filled with dreams to join the RBI. It's only after some time that the gravity of the situation finally sinks in. And when it did finally sink in for me, I was slowly overtaken by a feeling that was much more precious. The emotion wasn't one of ecstasy, but one of contentment.
A voice of a man in formal attire broke the monotony of the room. "Welcome to XtremeBee RBI, you are going to be the next RBI Grade B Officer".
The man was none other than CP Joshi. The introductory speech followed by a lamp-lightening ceremony began my 4-day journey there. All the eminent personalities viz., Susheel Ragade, Dr. Sanjeev Sharma, and CP Joshi were present. Asha, our fellow batchmate, was invited to light the lamp. The occasion was filled with auspicious energy and positive vibes coming from the faculty.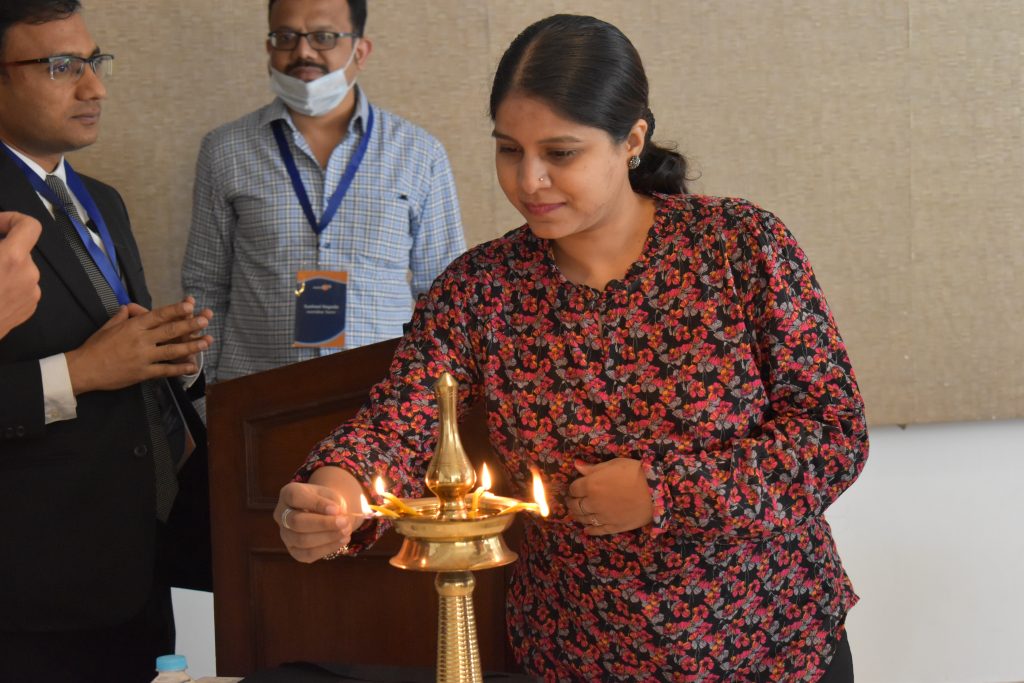 The stage was set for Dr. Sanjeev Sharma, Ex-CGM, RBI. A man who is young at heart, hopeful, optimistic, considerate, generous, honest, and an energetic encyclopedia. There is no question that Dr. Sharma cannot answer. He enlightened his vast experience at RBI, pooled various stories, and interacted with all of us. Listening to him was like music to ears. The interaction between all three officers at one stage was an elastic collision. All our energies were conserved at one focal point: RBI Grade B 2022 selection.
My First Interaction
Our first class was about to start. The dialog between the students regarding the RBI Grade B preparation was already initiated. Some were working professionals, some were preparing full-time, and some were UPSC aspirants. The room was filled with intuitive minds. I remember being both excited and nervous about the prospect of starting my RBI Grade B preparation with these sharp minds.
The challenge was daunting, but I kept reminding myself of a quote from the film Shawshank Redemption: "Time and pressure. That's all it really takes."
Our first class started. The man himself, Susheel Ragade, was in front of us. In these four days, I had always seen him holding a diary and a pen in his hand. Susheel Ragade has the personality of a troubleshooter, a friend that you will look up to when you need guidance and advice. He was our coach for the General Awareness part. This subject scares the majority of the students because of the unending facts, and static and dynamic knowledge regarding everything. I was not in this scary zone, my fear was yet to come.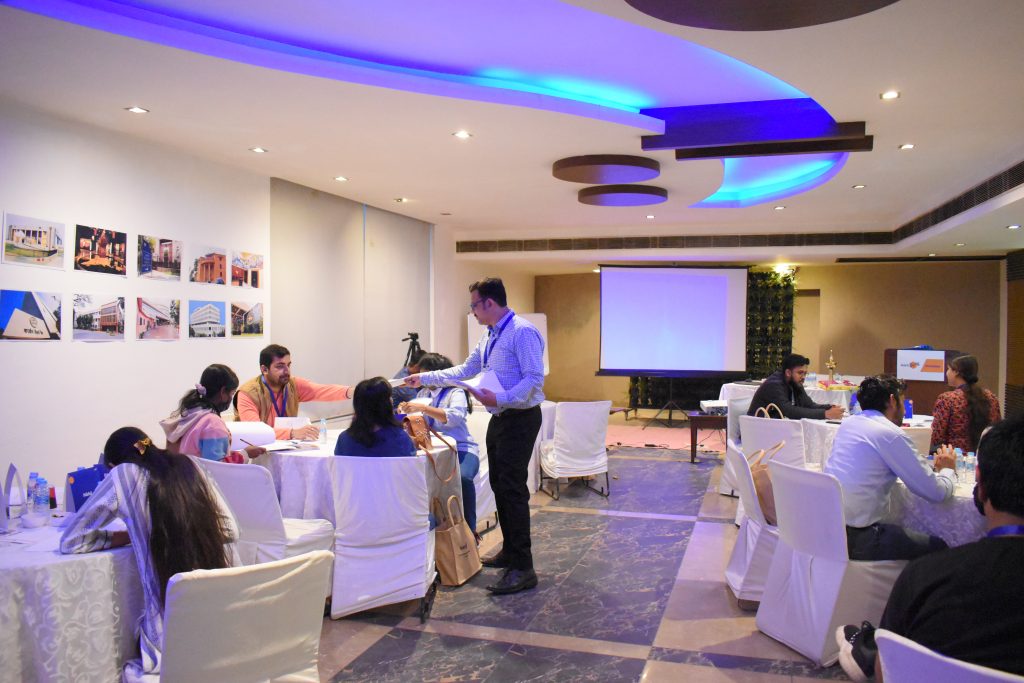 His way of teaching was dissimilar from the rest. He uses exceptional methods and makes learning simplified. We learned SDGs, data, static GK, dynamic GK, Laws, important questions, and many more topics where 95% of the students were struggling in just half an hour.
One thing that was different here was that during the tea break faculties were surrounded by most of us. I thought that I was the only one in the position and that it would simply be a matter of time until I was ignored for not knowing what I should do. However, that didn't happen. Instead, I was approached with the utmost kindness and assurance by all the faculties that even the expert aspirants face the same doubts.
Faculty interactions were the best part of these 4 days. You learn from the experiences. It was Dr. Sanjeev Sharma's class, one of the most intelligent teachers I have ever seen. Dr. Sharma's personality is that of a magician. He spreads the magic with his words, he is passionate and creative. Though being an English graduate his command over everything was remarkable. He was going to introduce me to my fears. Finance. And the moment he started, there was magic. Finance, in a simple relatable manner, correlating them with standard examples, everyday stories. His anatomization of concepts was exquisite.
In terms of the financial stack, I still had a lot to learn. Although I managed to grasp a part of it, there was a significant portion that I couldn't fully decipher.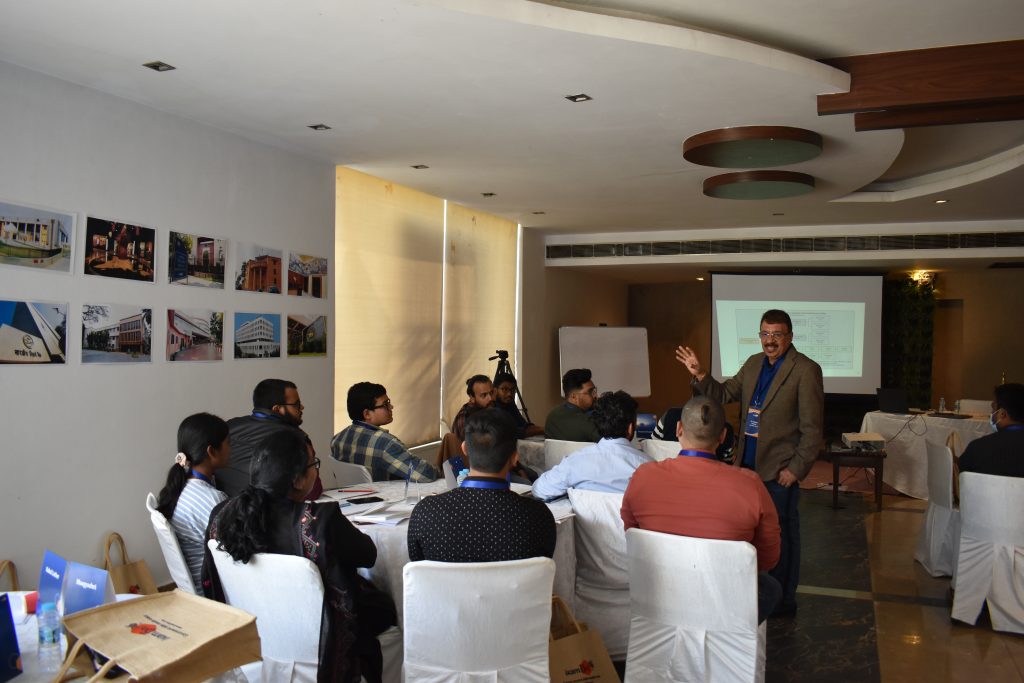 After a high dose of adrenaline rush given by finance, I needed some dopamine to balance it through. What can be a better option than food?
The food was a blend of the North and South Cuisines of India. The dining tables were the finest hours to interact with the faculty. We all were sharing the same table and there was a flood of multiple discussions happening from one corner to the other. It gave us the opportunity to clarify our doubts apart from the classrooms.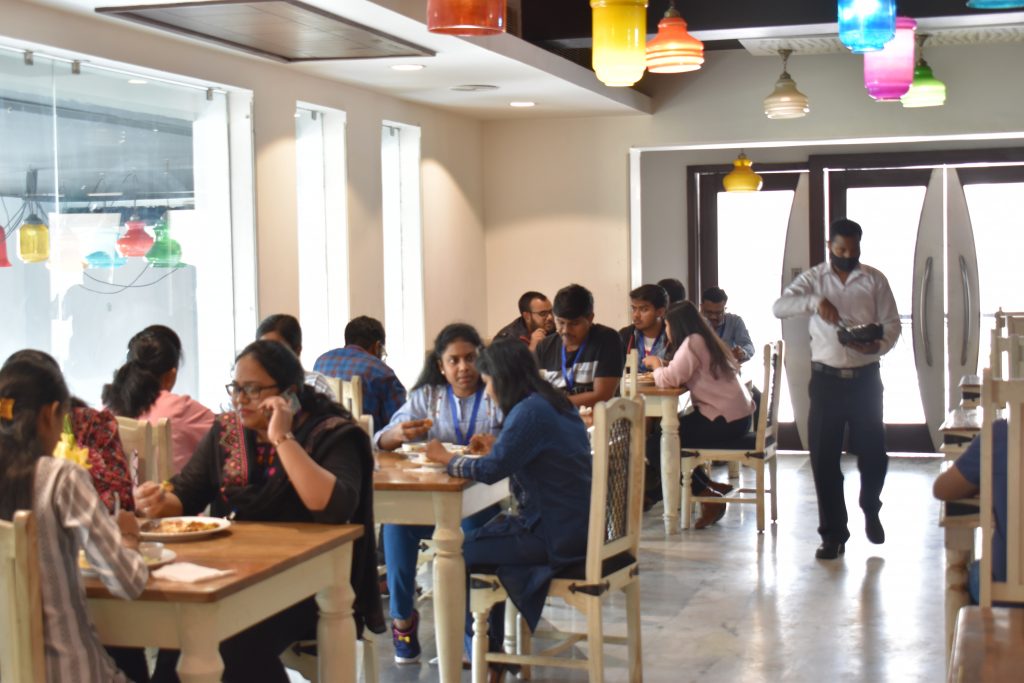 I sat down to think hard and think deeply to understand why I failed. It was not an exercise to avenge my defeat, I just wanted to know why.
The answer to my why was: Prelims. Yes! I was rushing towards the Mains and this reality check was given to all of us by someone, someone who knew. But who?
Day 1 of XtremeBee was half done. We had more classes lined up. The next class was of Mr. Anshul Malik, he taught reasoning. Anshul sir has a charming personality. His charismatic style made us behold the reasoning concepts. He has a problem-solving approach but he doesn't like spoon-feeding. His uniqueness inspires devotion in others toward the subject. He made learning the tricky concepts a child's play.
The class went well. Doubts were cleared. Although, I found the class a little tough. I don't know but it seems I was suffering from overconfidence for my prelims section. These classes were the mirror I always avoided looking into.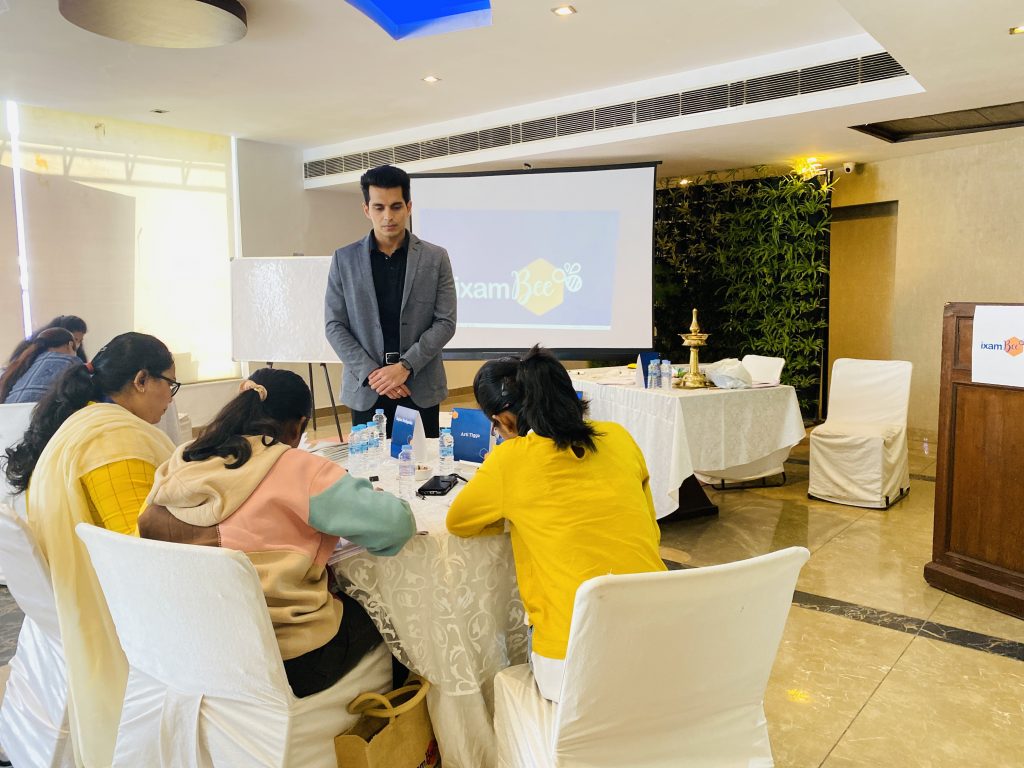 We were given breaks in between the classes and one burning topic of discussion during these breaks was: Why XtremeBee? Is this coaching enough to clear the exam?
Think of an elite sportsman like Virat Kohli. Does he have a coach? Yes, he does. But would you say his career success is purely down to his coach? Of course not. Kohli trains and suffers day in day out, and practices consistently to learn and improve his game. His self-discipline, hard work, and burning determination to excel at the game are what make him the elite player he is. But to make him that elite player, to build that self-confidence, he needs his coach to guide him.
We were here to be the elite players. At least I was.
I was learning. I was scared to see how I was the most naive in our class. People were solving questions like a pro, answering like google but I was nowhere in the competition. I was feeling disheartened until the next class. Mr. Karan Sardana was on board for Quantitative Aptitude.
I knew I was lacking behind but his first sentence boosted me with confidence, "Aapka competition aap hai, your competitor is you and it's a mind game. If you give up in your mind you will not win."
Good motivations always come when you don't expect them.
Day 1 ended on such a good note that I was eagerly waiting for Day 2.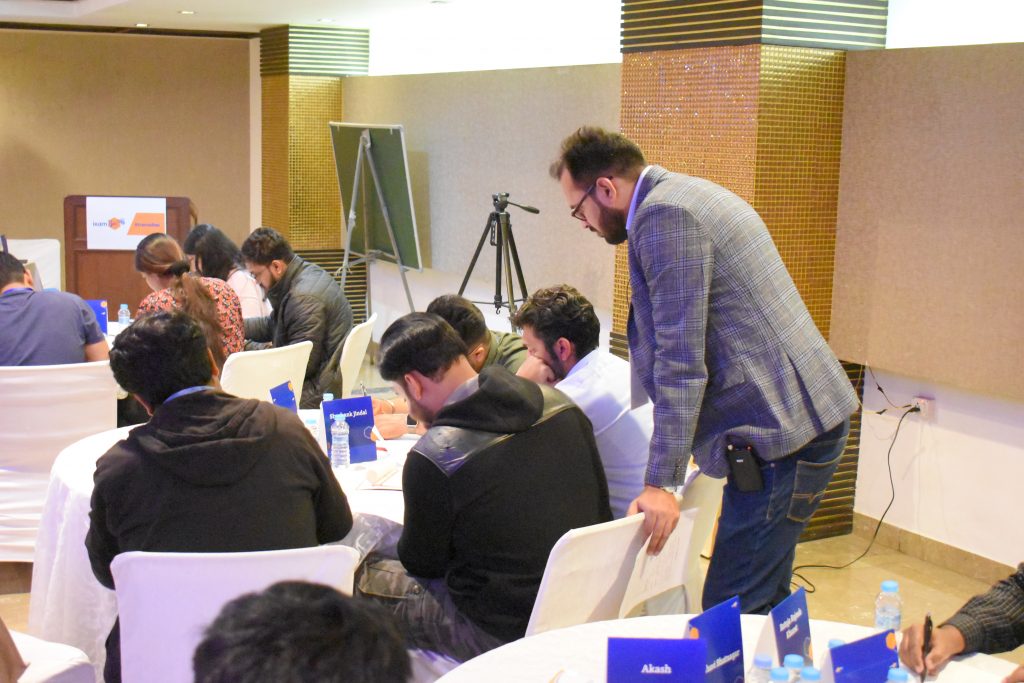 Day 2: XtremeBee
The happiness I sensed seeing everyone's faces is much much more than what I had felt the moment I first saw them. And at that moment I told myself this: all the effort, all the pain, and all the suffering is going to be worth it.
The classes were the same as yesterday but the enthusiasm was high. What was new about today? We had classes with two new faculties who were not present yesterday. Mr. CP Joshi and Miss Aditi.
Thoughts carved into words and pictures can define a person. CP Joshi is like Sandeep Maheshwari. An excellent motivator, and his experiences, and his journey is inspirational. From a former RBI officer to an Entrepreneur who is making future RBI Officers. His journey is a source of motivation itself. Not only this, he is good at his subject too. The questions he asked in class were not answered by many.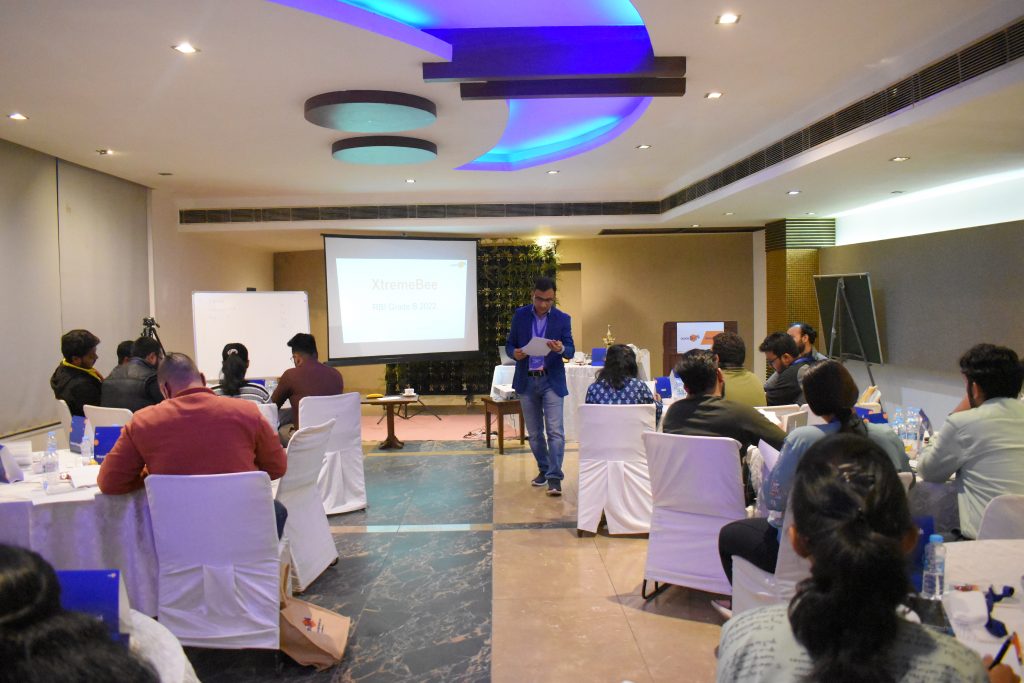 The undeniable fact is no person is better than CP Joshi to give you a moment of truth and he gave us that. It hit us hard and everyone was speechless.
He was teaching globalization and suddenly a basic quant question popped in between. He asked everyone to solve it. But my friend, our class took more than two minutes to solve a question that can be solved in 5 sec. We failed.
What response can you expect now?
"90% of you are not going to clear Phase 1 of RBI Grade B. Mark my words. Phase 1 results will come and 90% of you will not qualify it."
Yes, true. How can we qualify the QRE section when we are not able to solve a class 4 basic math problem? His statement shook us all to the core and this was the moment of truth for everyone. No one had the answer, eyes were filled with shame and disgust.
Day 2 was about to end but the hard day had some surprises left for us.
Post dinner we were given an assignment. Yes, post-dinner session – a group assignment. The faculty made it clear RBI Grade B requires an extreme level of preparation to beat the competition.
We were divided into two groups and were given topics to study. The time allotted was an hour and afterward, we had to solve 50 MCQs based on the topics assigned. The surprise element was, that a pizza treat awaited us in the middle of the assignment. The day was off after 12 AM and this group study made us all super drained, but due to the peer pressure and group competition, in those 2 hours, I could learn 4 times what I do in my routine study. I explored my newer capabilities.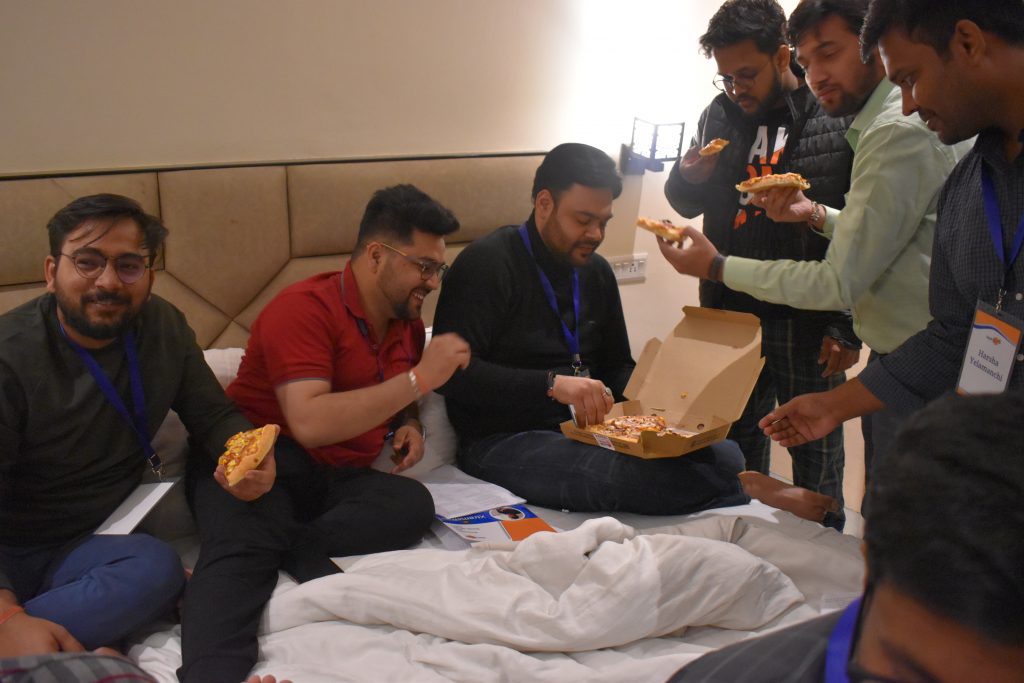 Final Day: XtremeBee
Today I was going to face my fear, Finance. I was never good at Finance, neither I understood any concepts. Every night has its dawn and mine was Ms. Prachi Agarwal. Young, confident face with a soft determined voice. The perfect teacher one could ever have. Prachi Ma'am has an invisible aura that makes things go smoothly. I never knew finance can be so quick to learn. Her teaching style cannot be matched by any.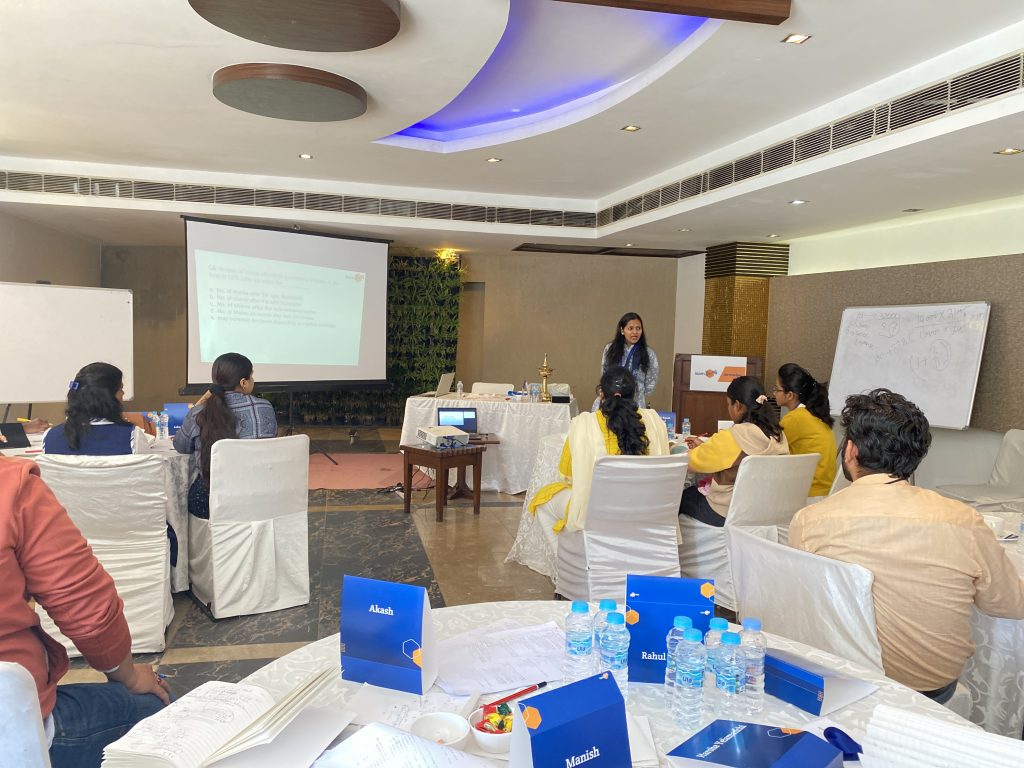 The questions, concepts, methods, and solutions she discussed in class were unbeatable.
As the day passed, I was feeling dissolute about the fact that my journey here has came to an end.
At midnight, we had the last activity planned for us. It was Pictionary. If you had ever watched the American television sitcom "F.R.I.E.N.D.S", you know what this game is about. A guessing game in which players attempt to identify words from pictures drawn by other players.
This was no random game, it was Finance term Pictionary. From a list of cue cards, we had to guess. We were divided into teams, each team had four members. If you ask me what learning with fun is, I will quote the example of this night we lived here at XtremeBee.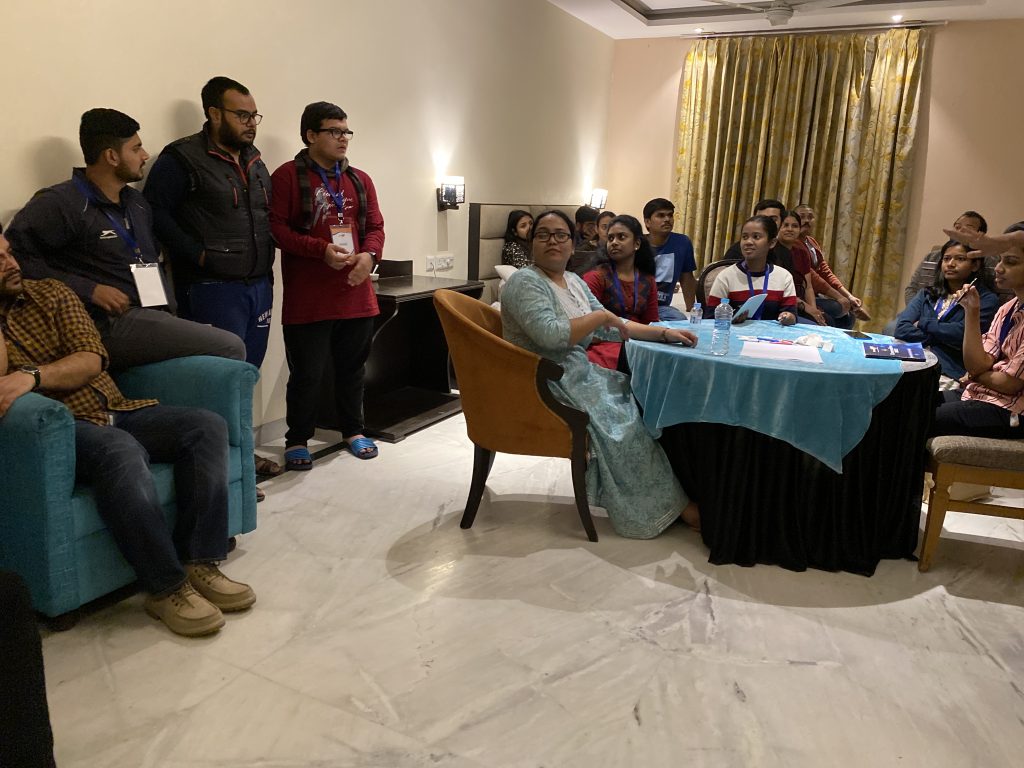 The next morning was the final morning at XtremeBee. We packed our bags, left for our final breakfast together, laughed at the silliest jokes and cherished the moments we have lived here. I know the friendships I have made in these four days are going to be with me for the rest of my life.
We were headed one more time to attend our final class. At the end of the class, we had a video call arranged with the RBI-selected candidate. Listening to someone on Youtube and connecting with them in person is different. He was there to answer all our doubts. He was so genuine about his feedback and his words were the light I was seeking. He not only praised ixamBee but appreciated other platforms as well.
My journey here came to an end. I am confident I will be back for my RBI Grade B Phase 2 preparation soon.
If you ask me, was my purpose served in these four days? I would say yes, definitely yes. I have unfolded my potential with ixamBee and explored new heights. Today I am in a better place. I have this feeling of fulfillment and satisfaction that I had won this personal battle. I stand with a firm newfound belief: when you own your failures, you become a better person. And when you work hard to overcome them, you win. And win big.
If you get a chance to be a part of XtremeBee, go for it, my friend. You are going to change your life. Trust Me.
By: The future RBI Grade B Officer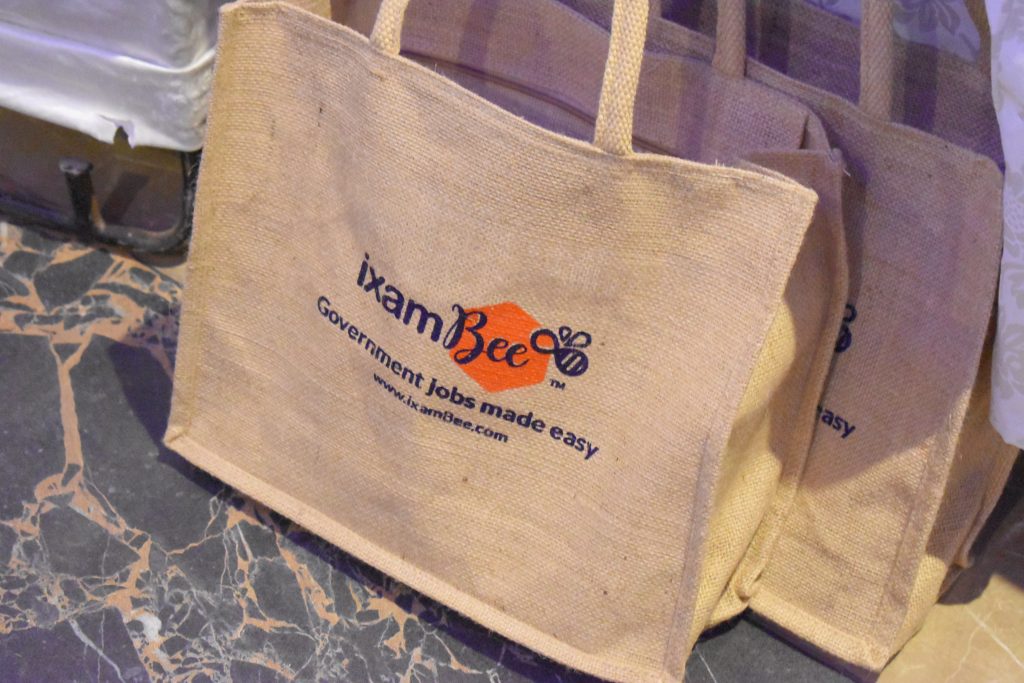 To help you prepare 50% faster for competitive exams, ixamBee provides free Mock Test Series all the Current Affairs in English and Current Affairs in Hindi in the BeePedia capsules for GA Preparation. You can also get the latest updates for Bank PO, Bank Clerk, SSC, RBI  NABARD and Other Government Jobs.
Also Read
XtremeBee: Your Complete Guide to becoming an RBI Grade B Officer
Ace RBI Grade B Interview with Prachi Agarwal– Part 1
How to Prepare for RBI Grade B 2023? Start Your Preparation Today!
RBI Grade B Interview Questions & Experience
Life of an RBI Grade B Officer: RBI Grade B Career Growth, Work profile, Perks