The SIDBI Grade A 2022 Online Written Test is scheduled to take place on April 16, 2022. Since there are only two days left for the SIDBI Grade A 2022 exam, it is time to shift your focus from preparation to revision.
In this blog, we will discuss some last minute exam tips that will help you on the day of the SIDBI Grade A exam 2022, so, we urge you to stay till the end.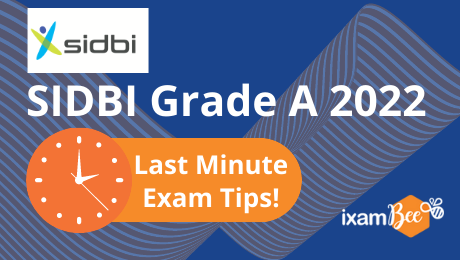 SIDBI Grade A 2022: Last Minute Tips
The days before an exam can make or break your performance on the day of the exam. So, to make the most of your time left before the exam, you can follow the tips given below-
One Last Look at the Syllabus
Since the first step in your SIDBI Grade A exam preparation was to go through the SIDBI Grade A syllabus, going through the syllabus again should also be your last step to ensure that you have not missed out any important topic.
Focus on Revision & Avoid New Topics
Now is not the time to learn new topics as this will only lead to confusion. Just revise and strengthen the topics that you have already done. Go through your study notes for a quick last minute revision.
Prioritise Mock Tests
We would advise you to take as many SIDBI Assistant Manager mock tests as possible as this will give you a better understanding of your preparation and improve your accuracy. Moreover, there is a Descriptive English section as well, so you must practice typing to improve your speed. This will save you time on the day of the exam.
Make a Strategy for Attempting the Paper
While attempting mock tests, make a strategy on how you are going to attempt the entire paper. It is recommended to attempt your strong section/questions first and then gradually try to solve the rest of the sections/questions. This will boost your confidence. However, you must not change your tested strategy at the last minute.
Take A Break
The last few days before an exam can be quite stressful. However, you must take a break to relax your mind and body. We understand that this is easier said than done. But, it is important that you keep yourself calm just before the exam, it helps with better retention. There are a few things you can do to relax-
Embrace the Anxiety
Exam day anxiety can be quite frustrating at a time when you would rather be calm and collected. However, it's completely natural to feel a little nervous/anxious before an exam. In fact, a little anxiety can help you do well in the exam. So, rather than fighting it, try to use that feeling as a tool for success.
Sleep Early
This is the oldest piece of advice, but it is the most effective one. A well-rested mind and body is quite essential before an exam as a tired mind is more prone to making errors. Therefore, on the day before the exam, have a healthy meal, drink plenty of water and most importantly, sleep early.
Keep your Documents Ready
Keep all your documents ready the night before the examination. For your assistance, following is the list of documents that are required at the examination hall-
Valid ID Proof
Photocopy of Valid ID Proof
1 passport size photograph (preferably same as uploaded in the call latter)
Mask (WEARING A MASK is COMPULSORY)
Gloves
Personal transparent water bottle
Personal hand sanitizer (50 ml)
A ball point pen
You must have the Aarogya Setu App installed on your mobile phone.
Maintain social distancing at all times and follow all other COVID-19 safety protocols.
We hope that these tips help you in your SIDBI Grade A 2022 Exam!
We wish you all the best!
At ixamBee you can find a number of Online Courses, GK updates in the form of BeePedia, as well as latest updates for Bank PO, Bank Clerk, SSC, RBI, NABARD and Other Government Jobs.
Also Read
SIDBI Grade A (Assistant Manager) 2022 Job Profile & Career Growth
Syllabus, Best Books and More: SIDBI Recruitment 2022
SIDBI Grade A Salary 2022: Assistant Manager Basic Pay, Allowances & Perks