SIDBI Grade A Free Mock Tests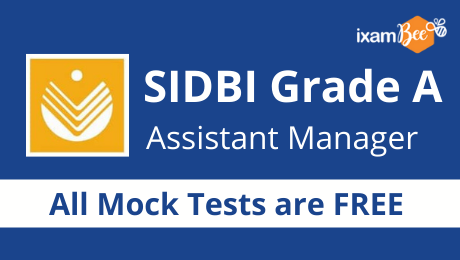 SIDBI Grade A is a great opportunity for those who wish to enter the financial sector. To ensure that you are able to crack the exam easily, ixamBee is here with SIDBI Grade A free mock tests. A few advantages of attempting these online mock tests are listed below:
The SIDBI Grade A mock tests will let you practice a number of questions and thus improve your performance.
Attempting these online tests will not only help you in enhancing your knowledge but also strengthen it.
You can make the best use of the 'reattempt' facility that will be available in ixamBee's free SIDBI Grade A (Assistant Manager) mock tests.
SIDBI Grade A (Assistant Manager) online test series will cover all the important topics in its well-curated tests with a variety of test questions.
You can also report an issue in the SIDBI Grade A mock tests by clicking on the requisite tab available at the end of the page.
You can also practice the online test series at the convenience of your home or wherever you are.
You will also be able to check your overall rank among others after attempting one of the SIDBI Assistant Manager free mock tests.
A real exam experience is all that you need to make yourself comfortable by practicing the SIDBI Grade A online mock tests.
SIDBI Grade A Online Tests | Practice Tests 2022
To make sure that you score well in the SIDBI Grade A Assistant Manager exam 2022, you should be well prepared. Good practice will always lead to good results and therefore the SIDBI Grade A practice tests will play an important role in your exam preparation. Attempting these tests will give you an edge over your peers and will help you in perfecting your knowledge.
Test was very good....Had a great expirience.expect the same in future also.

GOOD TEST, FOR MATHS TIMING WAS NOT GIVEN ELSE , IT WAS VERY GOOD
58 Cr+
Questions Attempted
56 Lac+
Mock Test Attempted