Securities and Exchange Board of India (SEBI) is an autonomous body which is responsible for regulating the securities market in India. On January 05, 2022, SEBI released the notification for filling up 120 vacancies in the General, Research, IT, Legal and Official Language stream. Eligible candidates can apply from January 05 to January 24, 2022. If you haven't already applied for this exam, we encourage you to do so at the earliest.
In this article, we will be discussing the significance of previous year papers and how they can be a great starting point for your SEBI Grade A preparation. Furthermore, we will also look at some sample questions from each subject.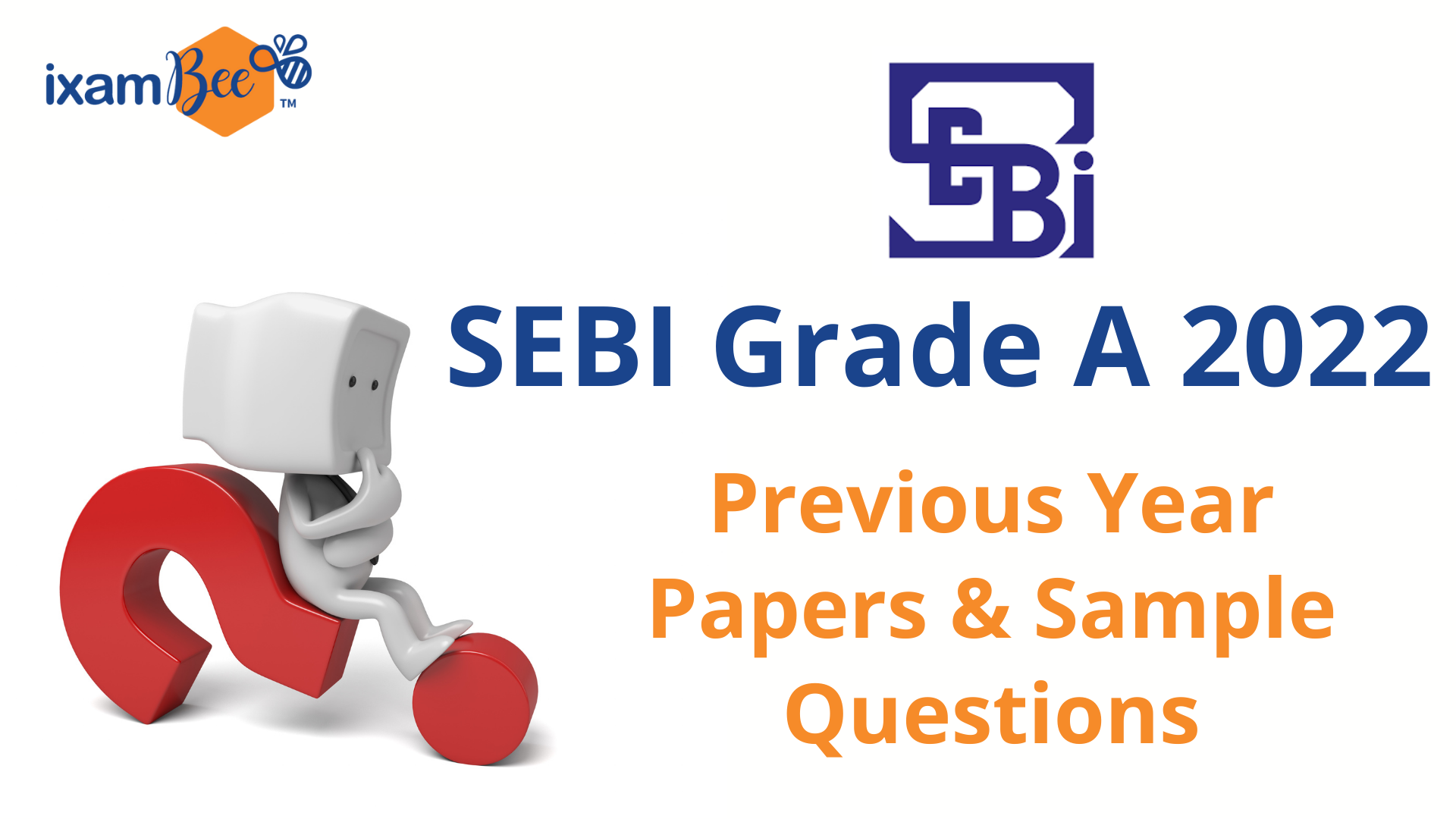 SEBI Grade A 2022: Phase 1 (Prelims) Exam Pattern
Before going through the sample questions, it will be beneficial to understand the paper pattern of the Phase 1 exam.
In Phase 1 (Prelims), the candidates are tested based on the following four subjects-
English Language
General Awareness
Reasoning Ability
Quantitative Aptitude
You can find the detailed SEBI Grade A exam pattern here.
SEBI Grade A Previous Year Papers
Previous year papers play a pivotal role in your exam preparation as they offer a great source for understanding the exam pattern and the recent question trend.
Given below are some of the advantages of prioritising previous year papers-
SEBI Grade A: Sample Questions for Phase 1 (Prelims)
Since the Phase 1 exam is only a month away, let's look at some sample questions to understand what type of questions can be expected in SEBI Grade A 2022 Prelims-
English Language
In each question below, a sentence is given with a part of it printed in bold type. That part may contain a grammatical error. Each sentence is followed by phrases 1), 2), 3) and 4). Find out which phrase should replace the phrase given in bold to correct the error, if there is any, and to make the sentence grammatically meaningful and correct. If the sentence is correct as it is and 'No correction is required', mark 5) as the answer.
Q1) According to police, the fierce street fight with sticks, iron rods and whatever else came their way began after a stiff among vendors over drawing customers to chat thelas.
begun after a stiff among the vendors over drawing customers
begun after a stiff between the vendors over drawing customers
began after a stiff among the vendors by drawing customers
began after a tiff among the vendors over drawing customers
No correction required
Answer: 4
Explanation: The phrase is grammatically correct. But the word 'stiff' is used incorrectly. The correct word would be 'tiff' which means 'quarrel'.
Q2) Five sentences are given, out of which only one sentence is correct. Select the one, that is correct, as your answer.
The world desperately needed a vaccine to reduce the miserly caused by SARS-CoV-2.
Outstanding work done by scientists, vaccine industry, funding agencies and governments has result in a clutch of vaccines being made available within a year of the declaration of the pandemic.
The general expectation is that which the vaccine against Covid-19 is rolled out in the population, it would mark the end of the pandemic.
Many are counting on the vaccine to built enough herd immunity, resulting in slowing down of the transmission and finally stopping it.
In general, a vaccine can curtail the likelihood of a person getting infected, and reduce the chances of development of symptomatic diseases
Answer: 5
Directions: Fill in the blanks using the most appropriate option.
Q3) A conversation last week between the prime ministers of India and Australia __________________ a far-reaching development in the regulation of technology and social media companies.
Ransacked
Encapsulated
Engulfed
Envied
Extrapolated
Answer: 2
Quantitative Aptitude
In each of the following giving number series, a wrong number is given. Find out the wrong number?
Q1) 42, 42, 49, 75, 138, 269
42
49
75
138
269
Answer: 4
Q2) A trader sells two shirts for Rs. 3200 each, neither losing nor gaining in all. If he sold one of the shirts at a gain of 25%, the other was sold at a loss of
14.28%
16.67%
9.67%
8.33%
None of these
Answer: 2
Q3) The average income of Shivani for the January to Oct is Rs.10400. She got Rs.9500 in January and Rs.8900 in Nov. The average income for the months of February to Nov is:
11400
10340
9500
12050
None of these
Answer: 2
General Awareness
Q1) Manikaran Power Limited, one of the country's largest power trading and renewable energy companies, will invest around Rs 1,000 crore to set up India's first Lithium refinery. In which state it is going to be set up?
Maharashtra
Bihar
Gujarat
Assam
Karnataka
Answer: 3
Q2) Which cricketer surpassed the great Sachin Tendulkar's record to become the fastest batsman to score 22000 international runs?
Virat Kohli
Rohit Sharma
Steve Smith
Joe Root
David Warner
Answer: 1
Q3) When is International Human Solidarity Day celebrated?
December 20
November 30
December 08
January 09
Answer: 1
Reasoning Ability
Q1) In a row of all facing the north, Madhu is Thirteenth from the left end and Seema is fifteenth from the right end. Rakesh, who is second to the right of Madhu, is fifth to the left of Seema in the row. How many people are there in the row?
34
32
33
40
None of these
Answer: 1
Q2) How many such pairs of letters are there in the word MISCELLANEOUS each of which has as many letters between them in the word (in both forward and backward directions) as in the English alphabet?
One
Two
Three
Four
More than four
Answer: 2
Q3) When the digits, which are odd in the number '81465324' are decreased by 1 and the remaining digits are increased by 1, then what is the sum of 4th digit from the right end and 3rd digit from the left end of the new number arranged?
12
10
9
8
21
Answer: 3
Study with ixamBee for SEBI Grade A
If you are still having any difficulty in solving such questions, then ixamBee is here to assist you. You can take a look at ixamBee's SEBI Grade A previous year papers for Phase1 (Prelims). These are absolutely free.
If the need arises, you can also seek expert guidance regarding SEBI Grade A preparation here.
We also encourage you to take the SEBI Grade A Online Mock Tests as giving mock tests will assist you in identifying your weak areas and judge your preparation before the exam. These mock tests are totally free.
At ixamBee, you can find free Online Test Series, GK updates in the form of BeePedia, as well as latest updates for SBI PO, Bank Clerk, SSC, RBI, NABARD, and Other Government Jobs.
Also Read
Eligibility & Syllabus: SEBI Grade A Legal 2022
Notification, Exam Pattern & Eligibility: SEBI Grade A 2022
General Awareness Preparation: SEBI Grade 2022 (Phase 1)