Securing a position with the Reserve Bank of India (RBI) is a cherished ambition for countless aspirants. The RBI stands as one of India's preeminent financial institutions, playing a pivotal role in regulating the nation's banking sector. Consequently, being a part of the RBI embodies a source of immense pride for those with aspirations in the banking industry. The privilege of joining this esteemed organization presents selected candidates with an invaluable opportunity to learn from experts spanning a multitude of fields, both within the Indian economy and on a global scale.
Furthermore, the appeal of banking jobs, especially in RBI, lies not only in the prestige but also in the substantial benefits they offer. The combination of job security, a competitive salary, and a comprehensive array of perks renders positions in the banking sector highly desirable. As a result, government jobs in the banking sphere have emerged as a prevailing choice among today's youth, who are drawn to the stability, rewards, and personal growth opportunities such positions provide. The banking sector continues to be an evergreen preference for aspiring individuals who seek not only financial stability but also a fulfilling and influential career.
RBI Assistant is one such job opportunity that offers you a good salary package along with other perks and benefits. The RBI Assistant Notification 2023 was officially unveiled on 13 September, 2023 marking the commencement of the application window. The deadline for applications closed on 4 October, 2023, finalizing the submissions of prospective candidates. In an update to the examination schedule, the RBI Assistant 2023 preliminary examination has been rescheduled to be conducted on November 18th and 19th, 2023. Subsequently, the RBI Assistant Mains Exam is notified to take place on December 31, 2023, offering candidates an extended period to prepare for this crucial phase of the examination.
In this blog, we will cover all the details regarding revised in-hand salary, pay scale, perks and other benefits. So, if you are appearing for the RBI Assistant 2023 exam, we urge you to stay till the end.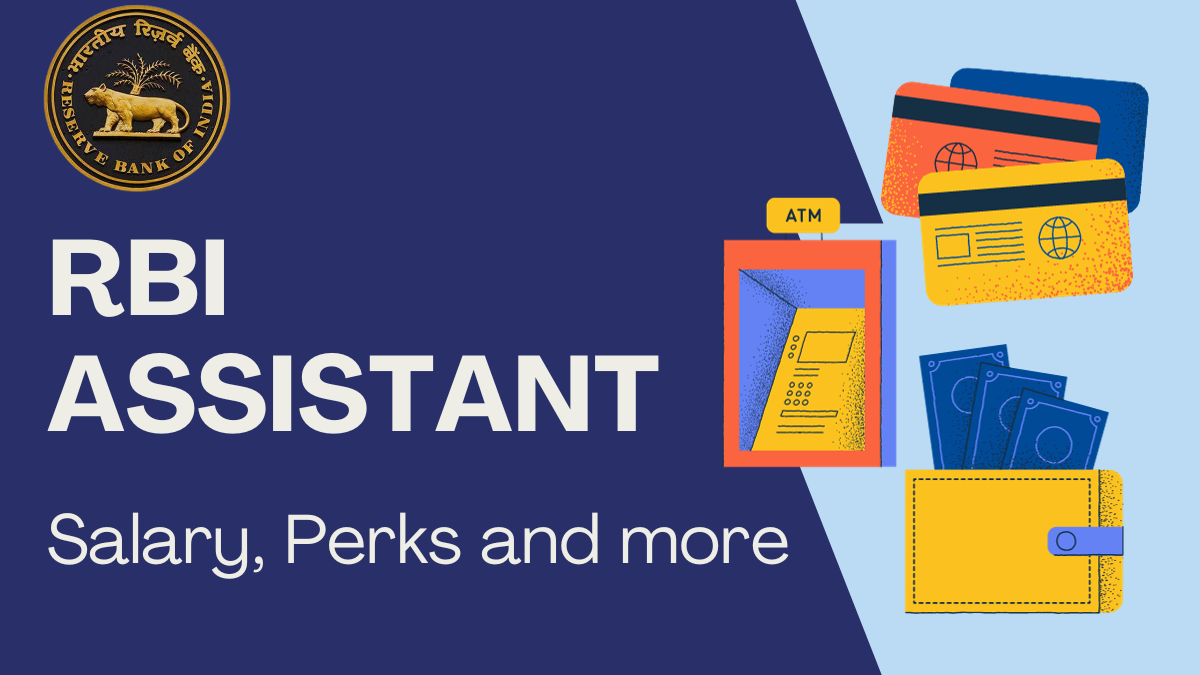 RBI Assistant 2023: Revised Salary Structure
RBI had revised the salary of RBI Assistants in 2022. As per the RBI Assistant 2023 official notification the Basic Pay for an RBI Assistant is ₹20,700 per month. At present, an RBI Assistant's Gross monthly emoluments (without HRA) is approximately Rs 45,050/- per month.
Given below is the comparison of RBI Assistant salary of 2019 and 2023-
| | | |
| --- | --- | --- |
| Salary Details | RBI Assistant Salary 2019 | RBI Assistant Salary 2023 |
| Basic Pay | Rs. 14,650 | Rs. 20,700 |
| Pay Scale | Rs. 13150- 750 (3)- 15400- 900(4)- 19000-1200(6)- 26200- 1300 (2)- 28800- 1480(3) – 33240– 1750 (1)- 34990 (20 years). | Rs. 20700- 1200 (3)- 24300- 1440 (4)- 30060- 1920 (6)- 41580- 2080 (2)- 45740- 2370 (3)- 52850- 2850- 55700 (20 years). |
| Monthly Gross Emoluments | Rs. 36,091 | Rs. 45,050 |
RBI Assistant 2023: Salary Increment
Given below is the breakdown of the basic pay of RBI Assistant along with the increment for every year of service-
| | | |
| --- | --- | --- |
| Years of Service | Basic Pay | Increment |
| First 3 years | Rs. 20,700 | Rs. 1200 |
| Next 4 years | Rs. 24,300 | Rs.1440 |
| Next 6 years | Rs.30,060 | Rs.1920 |
| Next 2 years | Rs. 41,580 | Rs.2080 |
| Next 3 years | Rs.45,740 | Rs. 2370 |
| Next 1 year | Rs.52,850 | Rs.2850 |
| 20 years | Rs.55,700 | – |
RBI Assistant 2023: Pay & Allowances
Besides the above mentioned salary, the RBI Assistants are also entitled to certain allowances. Let's look at the allowances of an RBI Assistant in detail-
| | |
| --- | --- |
| Pay & Allowances | Amount (in Rupees) |
| Basic Pay | 20,700 |
| Additional Special Pay | 265 |
| Grade Allowance | 2200 |
| Dearness Allowance | 12,587 |
| Transport Allowance | 1000 |
| House Rent Allowance | 2238 |
| Special Allowance | 2040 |
| Local Compensatory Allowance | 1743 |
| Gross Pay | 45,050 |
| Net Pay | 40,000 (approx.) |
Note-
House Rent Allowance (HRA) will not be paid to the employee if he/she has been provided with Bank's accommodation.
However, if the selected candidates are not staying in Bank's accommodation, House Allowance of 15% will be paid to the employees additionally.
RBI Assistant 2023: Salary Deductions
The total deductions in the net pay are given below-
| | |
| --- | --- |
| Deductions | Amount (in Rupees) |
| EE NPS Amount | 2970 |
| Prof Tax- split period | 200 |
| Meal Coupon Deduction | 160 |
| MAF | 225 |
| All India RBI Employee's | 10 |
| Sports Club Membership | 10 |
| Total | 3,375 (approx.) |
RBI Assistant 2023: Perks
Apart from the aforementioned salary and allowances, an RBI Assistant is also entitled to the following perks as per eligibility-
RBI Assistant Postings
Upon their selection, candidates will initially be stationed at an RBI Office situated within the Recruitment Zone corresponding to their application location. However, it's important to note that successful candidates may undergo transfers to diverse regional offices. These regional offices are categorized into four main groups: West, South, North, and East Zones. This strategic placement allows the Reserve Bank of India to efficiently allocate its workforce and ensure a balanced and effective operational presence across the nation. Candidates should be prepared for the possibility of such transfers, as it is a part of the organizational structure designed to optimize the RBI's operational effectiveness and serve the banking needs of the entire country efficiently. Regional offices are as follows:
West Zone
Ahmedabad
Bhopal (including Raipur)
Mumbai (including Belapur, Pune and Panaji)
Nagpur
South Zone
Bengaluru
Chennai
Hyderabad
Thiruvananthapuram (including Kochi)
North Zone
Chandigarh (including Shimla)
Jaipur
Jammu/Srinagar
Kanpur (including Lucknow & Dehradun)
New Delhi
East Zone
Bhubaneswar
Guwahati (including all North Eastern states excluding Gangtok)
Kolkata (including Gangtok)
Patna (including Ranchi)
RBI Assistant 2023: Job Profile & Career Prospects
When considering career advancement within the RBI, it's crucial to recognize the wealth of opportunities available for its employees. The RBI consistently organizes internal promotional examinations at regular intervals, offering its dedicated workforce a chance to progress within the organization. Each promotional milestone achieved translates to an elevation in the RBI Assistant's salary, accompanied by a corresponding augmentation of roles and responsibilities. This multifaceted approach to career development not only rewards employees for their hard work and commitment but also nurtures a culture of growth and excellence within the organization.
As employees climb the career ladder, they not only witness a steady increase in their earnings but also gain access to more influential positions. These roles come with enhanced responsibilities and decision-making authority, creating a dynamic environment where professional growth is encouraged and rewarded. With each step, employees are further equipped with the skills and experiences required to excel in the banking and financial sector, making RBI a compelling choice for those seeking a robust and rewarding career journey.
The job profile and career growth of an RBI Assistant is given below-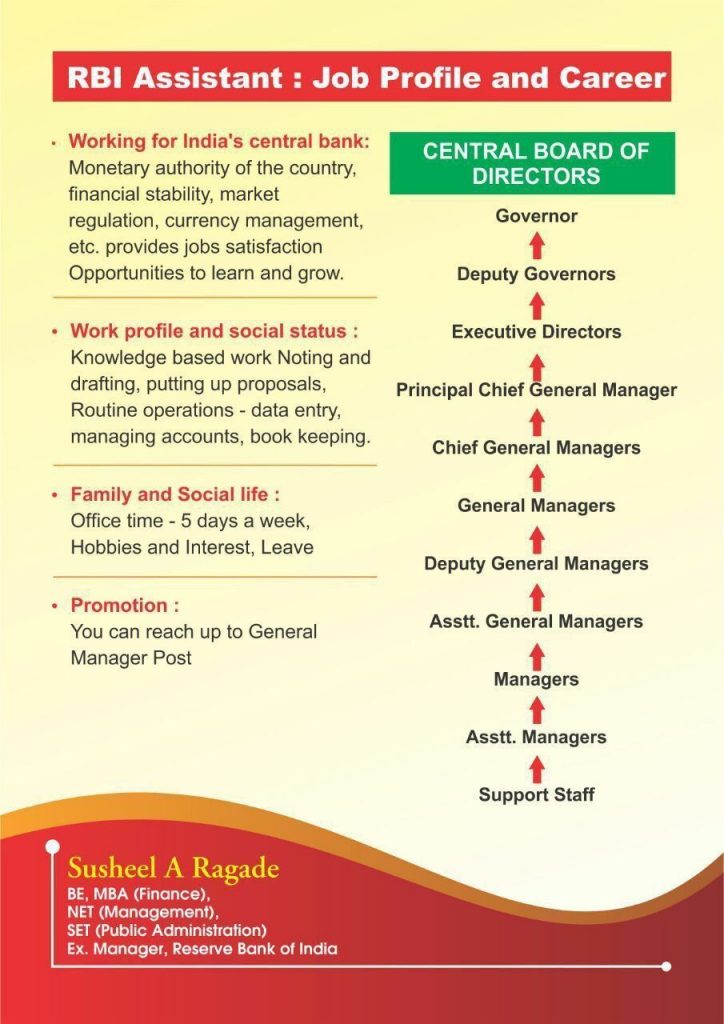 Study with ixamBee for RBI Assistant 2023
Online Course
We strongly recommend commencing your preparation for the RBI Assistant exam in 2023 with ample lead time. To gain insight into how ixamBee can support and enhance your preparations, we invite you to explore our offerings through a demo class for RBI Assistant Online Course available on our website. At ixamBee, we are dedicated to equipping you with the knowledge and resources necessary for your RBI Assistant exam success.
Our comprehensive RBI Assistant Online Course has been meticulously designed to provide you with the most effective preparation and guidance. This course encompasses a wide array of study materials, expert guidance, and practice resources, all aimed at maximizing your readiness for this significant examination. With ixamBee, you not only receive the necessary knowledge but also the confidence and strategies required to excel in the RBI Assistant exam. Your journey to success begins here, and we are committed to walking this path with you every step of the way.
Mock Test
ixamBee offers a diverse selection of free mock tests, designed to cater to your preparation needs at your convenience. These mock tests are accessible from any location and at any time you prefer, granting you the flexibility to assess and enhance your readiness for RBI Assistant exam 2023. With ixamBee's free mock tests, you can practice, evaluate your performance, and refine your test-taking strategies, ensuring you are well-prepared for your upcoming examinations. Follow the links to take a mock test today!
RBI Assistant Prelims free mock test
RBI Assistant Mains free mock test
We hope you start preparing for the RBI Assistant Exam 2023 right away. Preparing in advance will work wonders to give you the boost you need. Make sure to explore our RBI Assistant Study Plan 2023 to find the guidance and right direction you deserve.
ixamBee provides a wealth of valuable resources, including free Online Test Series, Previous Year Papers and informative GK updates throughBeePedia. Stay well-informed with the latest updates on SBI PO, Bank Clerk, SSC, RBI, NABARD, and various Other Government jobs Whether you're preparing for competitive exams or aiming for a career in the public sector, ixamBee offers the essential tools and updates to help you achieve your goals.
Also read
RBI Assistant Recruitment 2023: What is the Language Proficiency Test?
How to Prepare for RBI Assistant Exam 2023