The Food Corporation of India (FCI) is the largest Public Sector Undertaking that deals with the food grains supply chain management in India. It was established in 1965. The Assistant General Manager (AGM) is a highly coveted post for which thousands of applicants try their luck. In this article, we will discuss how you should prepare for the General Awareness part of the FCI AGM Exam.
FCI AGM Exam 2021
The FCI AGM Exam is conducted in two phases, namely, a written examination and an interview. The written examination consists of 180 objective-type questions for one mark each. The time allotted is 150 minutes. The paper is divided into four sections with 45 questions each in which the following subjects are tested:
Reasoning, Data Analysis, Numerical Ability
Management and Ethics
Agriculture, Agriculture Economy and Computer awareness
General Awareness, Current Affairs
FCI AGM General Awareness Syllabus
Current Affairs (past 3-6 months)
Union Budget 2021
Sports
Science and technology news
Static G.K.
Latest Appointments, Obituaries, Awards and Summits
Important News and Acts related to FCI
History of the FCI
How to Prepare General Awareness for FCI AGM?
You must read the newspaper daily.
Stay up to date with the latest important events.
Learn about the history and functioning of the FCI.
Important events and trends related to the FCI (if any).
Attempt a free mock test to understand the exam pattern and comprehend your preparation.
Read ixamBee's BeePedia.
FCI AGM General Awareness Trivia
We have compiled a list of General Awareness trivia for you for the last 3 months. As you will see, the trivia is for a variety of topics that may be assessed in the FCI AGM examination. This will give you an idea about what kind of questions may be asked and accordingly what it is that you need to prepare.
First Italian mega Food Park & food processing project launched in India on April 17, 2021.
Guillermo Lasso was elected President of Ecuador in April 2021.
India and Russia to Establish "2+2" Dialogue to Boost Partnership
Order of the Rising Sun, Gold and Silver Rays conferred upon Bangalore teacher Shyamala Ganesh for her contribution toward Japanese language and culture in Karnataka
Lewis Hamilton won the Portuguese Grand Prix for Mercedes in May 2021.
Seema Bisla becomes the fourth Indian female wrestler to qualify for Tokyo Olympics.
The 2020 UEFA European Football Championship commenced on Friday, May 11, 2021.
The Pradhan Mantri Awas Yojana – Gramin (PMAY-G) achieved a 92 percent target in its first phase from 2016-17 to 2018-19.
In April 2021, US President Joe Biden announced that all American troops would be withdrawn from Afghanistan by September 11, 2021.
Sonu Sood was appointed the Brand Ambassador of COVID Vaccination Drive in Punjab.
Archaeologists have discovered ruins of an ancient city in Luxor, located on the east bank of the Nile River in Southern Egypt. The city is named 'Aten'
ixamBee BeePedia for FCI AGM General Awareness
If you want to stay at the top of your General Awareness preparation, BeePedia is your one-stop solution. It provides you with all the requisite content for the FCI AGM exam. 
BeePedia covers Current Affairs, Banking Awareness, Economic news updates and financial news updates, weekly Current Affairs, Banking Awareness.
It also provides summaries on updates from various government ministries and particularly from the Press Information Bureau (PIB).
It covers updates on Finance and Banking, Economy, National and International News, Reports & Indexes, Science & Technology, Agriculture & Rural Development, Defence, Awards and Sports.
It also covers the relevant static information related to the current affairs/news to provide you the convenience of all related information in one place.
BeePedia is published weekly and can be downloaded as a PDF.
A monthly article is published at the end of the month that incorporates all the important information for the month.
BeePedia is available in English and Hindi.
Resources for FCI AGM General Awareness
BeePeedia
Kurukshetra magazine
Yojana magazine
PIB reports
Lucent's General Knowledge
Rapid General Knowledge, Disha Publications
Manorama Yearbook, Malayala Manorama Publications
Pratiyogita Darpan, Upkar Publications
At ixamBee, you can find all the requisite material for your FCI AGM exam preparation in our online course. Here you can avail of all-encompassing study materials consisting of video lessons, study notes in PDF format, full-length practice tests and practice questions along with live classes for doubt clarification with subject experts.
ixamBee has launched a 'Get Vaccinated, Get Rewarded' offer to provide a flat 18% off to candidates who are preparing for competitive examinations and would like to buy any of our courses. To avail of this offer, all you have to do is upload a picture of yourself getting jabbed.
Stay Home, Stay Safe!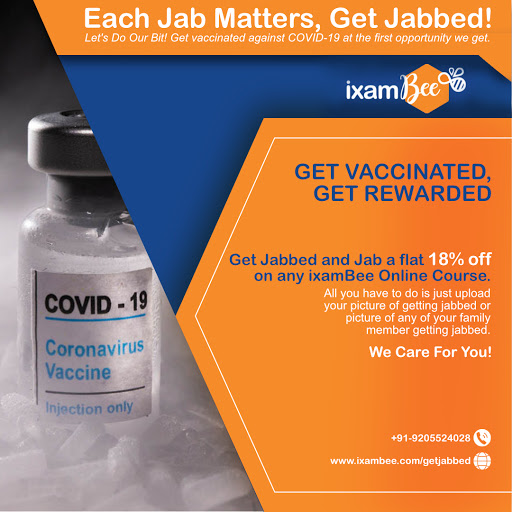 Also read:
FCI Assistant General Manager Online Course [General Administration]
FCI AGM (General Administration)- What to prepare?
FCI Assistant General Manager – An Insight into Different Job Profile
At ixamBEE you can find free Online Test Series, GK updates in form of Beepedia, as well as latest updates for Bank PO, Bank Clerk, SSC, RBI, NABARD and Other Government Jobs.