Read here the top tricks to crack the English Language section of bank exams and the best ways to boost your English for all bank exams
The English language is one of the most scoring, yet neglected parts of any competitive exam preparation. It is highly advisable that you begin your preparation well in advance for this section. You can begin with small things like reading and watching the news in English along with looking up new words as you come across them. In all fairness, English language skills are not something that you can acquire overnight. Therefore, start your English preparation for bank exams today!
In this article, we will try to understand how to prepare the English language for bank exams, particularly, NABARD and IBPS AFO.
English Syllabus for Bank Exams
Broadly speaking, the English syllabus for bank exams can be divided as:
Reading Comprehension
Grammar
Vocabulary
However, we will see what all topics are included for a holistic preparation approach.
Also see: Detailed IBPS SO Syllabus 2022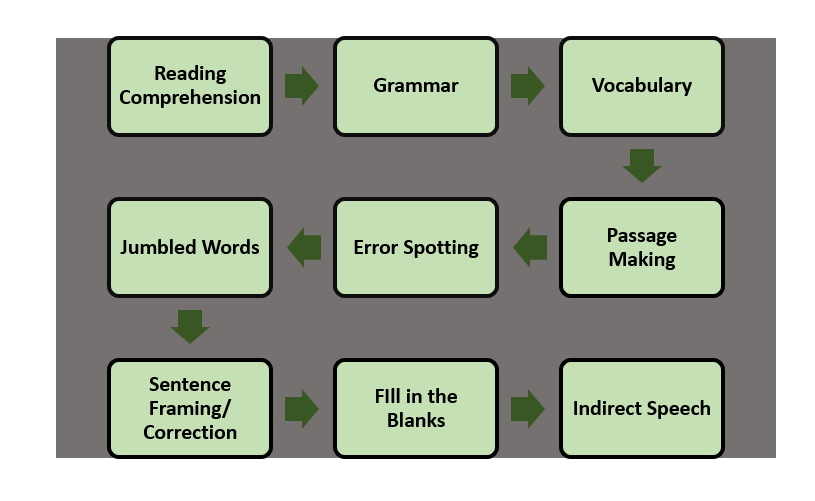 English Preparation for Bank Exams: Tips
To begin with, inculcate a habit of reading. The more you will read, the more your vocabulary will improve.
If you consider it from an exam point of view, it is mandatory to go through the previous year's papers in order to understand what you can expect.
IBPS SO AFO Previous Year Papers
NABARD Grade A and Grade B Previous Year Papers
Solve 5-8 reading comprehension exercises every week. Please remember, you may be asked for more than one comprehension passage also.
You must work on your reading and comprehension speed. While your English language preparation may be strong, the real factor is completing the comprehension in due time accurately.
Solve 1 grammar exercise every week.
When you come across new words, you must look up its meaning and usage in a dictionary.
This is a very scoring subject, so you must ensure you make the most of it. Sometimes candidates take the English Language section very lightly. Do not make this mistake.
Take mock tests from time to time if you want to understand the level of the exam and how you are faring vis-à-vis the same.
NABARD Grade A Phase 1 Mock Test
IBPS AFO Prelims Free Mock Test
The best way to score well in the English language is to practice a large variety of questions every day. In this way, you will be able to improve your grammar and vocabulary automatically.
As aforementioned, do not take the section for granted. Thus, you must begin your preparation well in time in order to ace your exam.
Online Coaching for Bank Exams
It is important to note that you will need an all-around exhaustive approach to your exam preparation if you want to ultimately succeed. Thankfully, at ixamBee, we are committed to doing just that! Explore our courses linked for you below in order to understand how you can get the best learning experience at ixamBee!
All the best!!
At ixamBee you can find free Online Test Series, GK updates in the form of BeePedia, as well as latest updates for Bank PO, Bank Clerk, SSC, RBI, NABARD, and Other Government Jobs.
Also read
English Language (New Pattern) – Word Usage Questions for SEBI Grade A, NABARD Grade A, and SBI PO
NABARD Grade A Mains: How to Prepare for Descriptive ARD?
How to Prepare for NABARD Grade A-Mains?
Agriculture Current Affairs for IBPS AFO, NABARD, FCI, UPSC