The RBI Grade B notification 2023 is just around the corner. Known for its hefty perks, allowances and incentives, the post of RBI Grade B carries many other important responsibilities. The Grade B exam, which is conducted almost every year by the RBI, is a dream job for many candidates- right from freshly graduated students to working professionals across various disciplines.
The exam is fairly new and yet to get its rightful place among the aspirants in the realm of competitive exams is a feat in itself. Many students are still unaware about the RBI Grade B exam. Because of that, so many myths, misconceptions are building in the minds of students through the internet & social media. These myths can dent someone's aspirations of becoming an RBI Grade B Officer. Worry not! We are here to debunk those for you.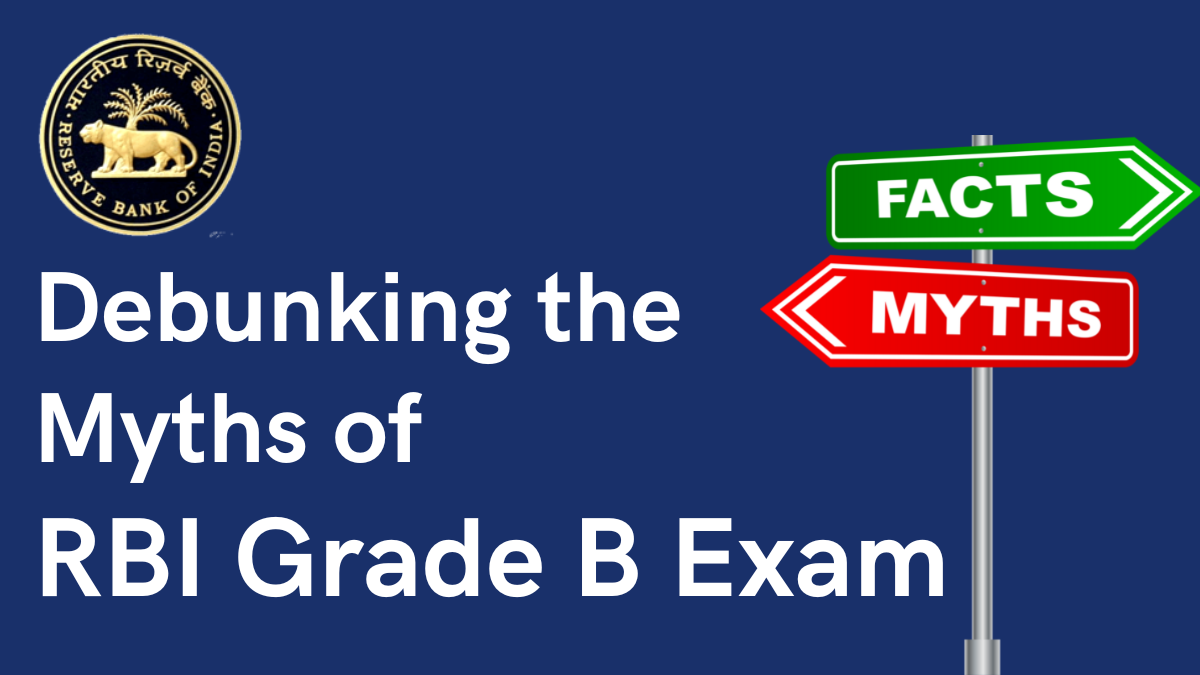 EDUCATIONAL BACKGROUND
Yes you might have heard about people from UPSC background, graduates from IIM, IIT or any Engineering background acing this exam every single year. True. They do get an edge because all this while they would have prepared for some subject in the RBI Grade B syllabus or the other through their curriculum.
However, it is absolutely not necessary for you to be an IITan or IIM graduate. You just need to pass your graduation with 60% and you're good to go. That is the minimum RBI expects from you if you want to appear for this exam.
There are many instances where Arts and Commerce background students have cleared the exam with a good year of preparation. So don't worry too much. Just refer to the syllabus of the exam & keep solving the RBI Grade B previous year question papers.
WORK PROFILE OF RBI GRADE B OFFICER (NO NEED TO BE AN URJIT PATEL HERE)
Because the post is related to the RBI, our Central Bank, it is assumed by many that you need to have a deep understanding about economics. Remember the RBI Grade B Officer is a generalist post and not a specialist one. RBI has other specialist posts such as DEPR, DSIM where you need to be a specialist.
Also, the exam syllabus talks about Economic & Social Issues and not pure Economics. So, you just need to be aware about the issues at large and some of the basic concepts about Banking and FInance.
YOU NEED TO READ 100s OF BOOKS FOR RBI GRADE B
Nope. However, RBI has given a list of some books at the end of the exam syllabus to give you some direction in your preparation regarding the exam.
Of course, reading every one of those books will be beneficial, but it is not humanly possible to do so, and even if you manage to read them all, you still won't remember everything. And exams like RBI Grade B expects you to revise all the content from time to time to improve your retention capacity.
You may instead read newspaper daily to get a hold over current Economic & Social Issues and some of the Finance concepts.
CRACK RBI GRADE B EXAM IN 3 MONTHS!
Unless you're a big fish in the pond who has already prepared for UPSC or come with a strong Economic background, you may not be able to clear the exam in 3 months.
If you're starting from scratch you need at least 1 year of preparation to make your foundation strong. You need to prepare for Quant, Reasoning, English apart from Economic and Social Issues along with Finance & Management. So, a good amount of time is required to understand and make notes of all the topics mentioned in the syllabus.
P.S.- You can do revision in 3 months.
HINDI MEDIUM ME NAHI DE SAKTE
Even the Central government is promoting Hindi to be the primary language of the country then who can stop you from giving the exam in Hindi? Almost all the exams today can be given in Hindi medium. Apart from the English section, you can have all the questions in Hindi on your computer screen.
But you need to find quality resources in Hindi and that may make the preparation slightly difficult for you.
DEADLY DESCRIPTIVE SECTION
In 2021, RBI introduced the Descriptive section in the Phase 2 exam. In the information handouts, RBI had asked the students to write about 600 words for 15 markers & 400 words for 10 marker questions.
Many people fear that they may not be competent enough to type those many words in the given 90 minutes. According to them, lesser words would mean lesser marks.
This is not the case. There are aspirants who have typed only about 300-400 words for 15 marks question & 200-250 words for 10 marks question and still end up clearing the exam with flying colours.
The word limit is only for reference purpose & to frame your answer accordingly. In the end, we all know that quality matters over quantity.
RBI GRADE B IS MINI UPSC- MEANS MINIMUM 3-4 ATTEMPTS PAKKA
It all depends on how you prepare for the exam from the beginning. If you don't refer to the syllabus of the exam, and don't solve the previous year questions, then it may take even more than just 3-4 attempts.
But, if your plan is well structured and covers all the syllabus topics and you're able to practice a lot of RBI Grade B Mock Tests, you can clear the exam in the first attempt itself.
So, that was about the myths which we needed to debunk. You must be feeling relieved after reading some of them. Now, it's time for you to start preparing for the exam without worrying much about anything else. Meanwhile, if we come across any more such myths and misconceptions, we'll let you know. Till then keep studying, keep revising.
All the Best!
To help you prepare 50% faster for competitive exams, ixamBee provides free Mock Test Series, all the Current Affairs in English and Current Affairs in Hindi in the BeePedia capsules for GA Preparation. You can also get the latest updates for Bank PO, Bank Clerk, SSC, RBI NABARD and Other Government Jobs.
Also Read
RBI Grade B 2023 Expected Exam Dates & Strategy
Do You Wish To Pass Government Exams? Read Why Minimum of 1 Year is Required
A Holistic Approach to Pollution