National Agriculture Market popularly known as eNAM is a flagship program by the Government of India to create a unified national market for agricultural commodities. It is an online trading portal completely funded by the central government. eNAM was launched on April 14, 2016, by Hon'ble PM Narendra Singh Modi. eNAM falls under the purview of the Ministry of Agriculture and Farmers' Welfare.
In today's article, we will talk about eNAM in detail. This topic is important for exams like NABARD Grade A and B, FCI, IBPS AFO and more.
NABARD Grade B is scheduled for September 17, 2021, and NABARD Grade A is going to be held on September 18, 2021.
Vision

The vision of eNAM is to promote uniformity in agriculture marketing by streamlining procedures across the integrated markets, removing information asymmetry between buyers and sellers and promoting real-time price discovery based on actual demand and supply.
Mission

Integration of (Agricultural Produce Market Committee ) APMCs across the country through a common online market platform to facilitate pan-India trade in agriculture commodities, providing better price discovery through a transparent auction process based on the quality of products along with timely online payment.
| | |
| --- | --- |
| Dept/Ministry | Ministry of Agriculture, Cooperation and Farmers' Welfare. |
| When/where/who | April 14, 2016, New Delhi |
| Tag line | One Nation One Market |
| Objective | To facilitate farmers, traders and buyers with online trading of commodities with better price discovery and smooth marketing |
| Target (FY 2021-22) | 1000 more mandis to be linked |
| Budgetary allocation | 410Cr (Integrated Scheme on Agriculture Marketing) |
| Union Minister of Agriculture, Cooperation and Farmers' Welfare | Shri Narendra Singh Tomar |
Let's talk about eNAM in detail.
What is eNAM?
eNAM is an electronic portal that networks the existing APMC (Agriculture Produce Marketing Committee) / Regulated Marketing Committee (RMC) market yards, sub-market yards, private markets and other unregulated markets to consolidate all the nationwide agricultural markets by creating a central online platform for agricultural commodity price discovery. It is an online trading platform for agricultural commodities in India. NDA govt rolled out this project nationally based on the success of a similar project initiated by the Congress govt in Karnataka. Small Farmers Agribusiness Consortium (SFAC) is the lead agency for implementing eNAM.
The scheme has provided a single e-market platform to 585 selected regulated wholesale agriculture market yards (by March 2018).
About Small Farmers Agribusiness Consortium (SFAC)
SFAC or Small Farmers Agribusiness Consortium is a Society that works towards increasing incomes of small and marginal farmers through aggregation and development of agribusiness. It is promoted by the Ministry of Agriculture, Cooperation and Farmers' Welfare. SFAC was registered under Societies Registration Act XXI of 1860 on January 18, 1994.
As mentioned above, SFAC is also implementing the body of the National Agriculture Market Electronic Trading (e-NAM) platform. The purpose of this is to provide a single unified market for agricultural products.
Features of eNAM
National e-market platform for transparent sale transactions and price discovery of products.
Liberal licensing of traders/buyers and commission agents by state authorities without any pre-condition of physical presence or possession of shop in the market.
One license for a trader valid across all markets in the state.
Harmonization of quality standards, quality testing and common tradable parameters for agricultural products in every market.
Single point levy of market fees, i.e., on the first wholesale purchase from the farmer
Provision of soil testing laboratories in/or near the selected mandis.
eNAM mobile app is available in Android for farmers and traders to bid and complete a transaction on the app and is available in 8 languages.
In February 2018, features like MIS dashboard, BHIM and other mobile payments were added to the app.
Stakeholders
The different stakeholders of the scheme are:
Beneficiaries- Farmers, APMCs / RMCs (mandis), Traders Buyers, Processers & Exporters
Supported & Implemented by- APMC / RMC (mandis), Lead Implementing Agency – SFAC, Strategic Partner – NFCL DMI / NIC / SAMB / DAM
Introduced & Managed by- DAC & FW, State Govt. Department, District Administration.
What is APMC?
An Agricultural Produce Market Committee (APMC) is a marketing board formed by state governments of India. It was established to safeguard farmers from exploitation by large retailers. It also ensures that the retail price does not reach excessively high levels. It was established under the provisions of the APLM Act.
Currently, there are 1000 markets that are linked to the e-NAM network from 18 states and 3 UT's.
How can APMCs join e-NAM?
States (State Agriculture Marketing Boards) that are interested to consolidate their APMCs /mandis with NAM are required to carry out the following reforms in their APMC Act.
a) Single trading license (Unified) to be valid across the state
b) Single point levy of market fee across the state
c) Provision for e-auction/ e-trading as a mode of price discovery.
How can one join/access e-NAM?
A farmer has to connect to the nearest APMC/Mandi in order to sell his produce through eNAM. He cannot directly access the eNAM portal. A farmer has to visit the APMC for sampling and auction his produce. After careful examination/Bid and electronic weighing of the sample, the payment will be made to him through Challan/Cheque/Internet Banking/RTGS/NEFT and BHIM. To better understand this, you can look at the e-NAM process flow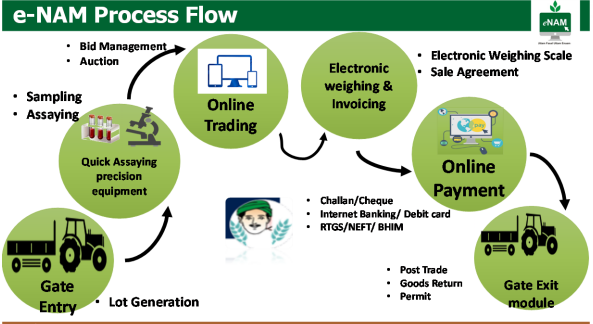 Source: Google image
Detailed list of agricultural commodities under eNAM
| | |
| --- | --- |
| FOODGRAINS/ CEREALS (24) | 1. Arhar 2. Arhar Dal Split 3. Bajra 4. Barley 5. Basmati rice 6. BuckWheat 7. Chakhao Or Black Rice 8. Chana Dal Split 9. Chana whole 10. Horse Gram 11. Jowar 12. Kabuli Chana Whole 13. Lobia 14. Maize 15. Masoor whole 16. Moong Dal Split 17. Moong whole 18. Moth 19. Oats Raw 20. Paddy 21. Ragi 22. Rajma 23. Urad Dal Split 24. Urad whole |
| OILSEEDS (14) | 1. Castor seed 2. Cotton Seed 3. Kusum seed 4. Linseed 5. Mustard seed 6. Neem Seeds 7. Nigar Seed 8. Peanut kernel 9. Pongam seeds 10. Rapeseed 11. Sal Seed 12. Sesame seed 13. Soyabean 14. Sunflower seed |
| FRUITS (31) | 1. Amla 2. Apple 3. Apricot 4. Banana 5. Ber6. Cherry Red / Black 7. Custard apple 8. Grapefruit 9. Grapes 10. Guava 11. Jackfruit 12. Jamun 13. Kinnow 14. Lemon 15. Litchi 16. Mango 17. Musk melon 18. Orange 19. Papaya 20. Papaya Raw 21. Passion Fruit 22. Peach 23. Pear 24. Pineapple 25. Plum 26. Pomegranate 27. Raw Mango 28. Sapota 29. Strawberries 30. Sweet orange 31. Watermelon |
| VEGETABLES (50) | 1. Aloe Vera 2. Banana Raw 3. Beetroot 4. Bhindi/Okra 5. Bitter gourd 6. Bottle gourd 7. Brinjal 8. Broccoli/Calabrese 9. Button Mushroom 10. Cabbage 11. Capsicum 12. Carrots13. Cauliflower 14. Cluster beans 15. Colocasia vegetable 16. Coriander leaves 17. Cucumber 18. Curry Leaves 19. Drumstick20. Fenugreek Leaves 21. Garlic 22. Gherkin 23. Ginger 24. Green chillies 25. Ivy gourd 26. Jimikand (Suran) 27. Lobia Pods 28. Mint Leaves 29. Mustard leaf 30. Onion 31. Oyster Mushroom 32. Pea 33. Pointed gourd 34. Potato 35. Pumpkin 36. Reddish 37. Ribbed celery 38. Ridge Gourd 39. Safed Petha 40. Sem 41. Snake Guard42. Spinach 43. Sponge Gourd 44. Spring Onion45. Sugar Snap Peas 46. Sweet Corn 47. Sweet potato 48. Tapioca 49. Tinda 50. Tomato |
| SPICES (16) | 1. Ajwain 2. Black Pepper Whole 3. Cardamoms Whole 4. Cloves Whole 5. Coriander whole 6. Cumin 7. Dried Raw Mango Slices 8. Dry Ginger 9. Fennel seed 10. Fenugreek seed 11. Large cardamom 12. Mace Whole 13. Poppy Seed 14. Red chilli 15. Tejpata 16. Turmeric |
| MISC (38) | 1. Anthurium 2. Areca nut (betel nut) 3. Bamboo 4. Betel leaves 5. Carnation 6. Chhappan Kaddu 7. Chironji 8. Chrysanthemum 9. Coconut 10. Coconut with Husk 11. Cotton 12. Gerbera 13. Gladiolus 14. Groundnut with pods 15. Guar seed 16. Hilsa 17. Isabgol 18. Jaggery 19. Jute Seeds 20. Lily 21. Mahua flower 22. Mahua Seed 23. Marigold 24. Nutmeg Whole 25. Persimmon 26. Raisins 27. Raw Cashew nut 28. Raw Jute 29. Ritth 30. Rose Cut Flower 31. Safed Musli 32. Saffron 33. Spray Chrysanthemum 34. Tamarind 35. Tender coconut 36. Tuberose 37. Tulip 38. Walnuts Inshell |
Uttam Beej Portal
The Government of Haryana has launched the Uttam Beej Portal that will work toward ensuring that farmers receive good quality seeds with transparency. The announcement was made by Haryana Chief Minister, Shri Manohar Lal Khattar on October 30, 2021.
Other Recent updates about eNAM
During FY 2020-21, a total of 37.73 lakh farmers & during FY 2021-22 (till 30th June 2021) a total of 8.78 lakh farmers have used the National Agriculture Market (e-NAM) platform to sell their agricultural produce. (As on July 23, 2021)
So far, more than 1.69 crore farmers & 1.55 Lakh traders have registered on the e-NAM platform.
The total trade volume of 4.13 Crore MT of bulk commodities &3.68 crore numbers of Coconut & Bamboo worth approximately Rs 1.22 Lakh crore has been recorded on the e-NAM platform.
Direct payment to farmers was enabled on this platform.
After the success of e-NAM in its 1000 mandis, further expansion of 1000 more mandis with e-NAM has been announced by Hon'ble Finance Minister Smt. Nirmala Sitharaman in the Union Budget was released on 1st February 2021. This will further strengthen the mandis.
Conclusion:
eNAM is a comprehensive scheme not only to benefit farmers but also everyone associated with it i.e. traders, processors and exporters. It promotes transparency and provides farmers with the best price for their produce. With the news of the further expansion of 1000 more mandis, we can scale the success of the scheme. Overall, it is one of the revolutionary schemes launched by the central government that works in favour of everyone associated with it.
At ixamBee you can find a number of Online Courses, Free Mock Tests, GK updates in the form of BeePedia, as well as latest updates for Bank PO, Bank Clerk, SSC, RBI, NABARD and Other Government Jobs.
Also read
Rooftop rainwater harvesting: A Step to Ease India's Water Woes
List of Tiger Reserves in India