Life is full of uncertainty. We cannot predict what can happen to us the next moment. We see a lot of accidents, deaths in natural calamity or in general as well. If your accident happens, you may be responsible for all related costs (treatment, tests, and medicines) which can be overwhelming sometimes. To get the protection against such unexpected financial losses, the insurance companies come into play. In today's article we will discuss the terms such as Insurance and Assurance in detail. This article will also clear the confusion people might have between Insurance and Assurance.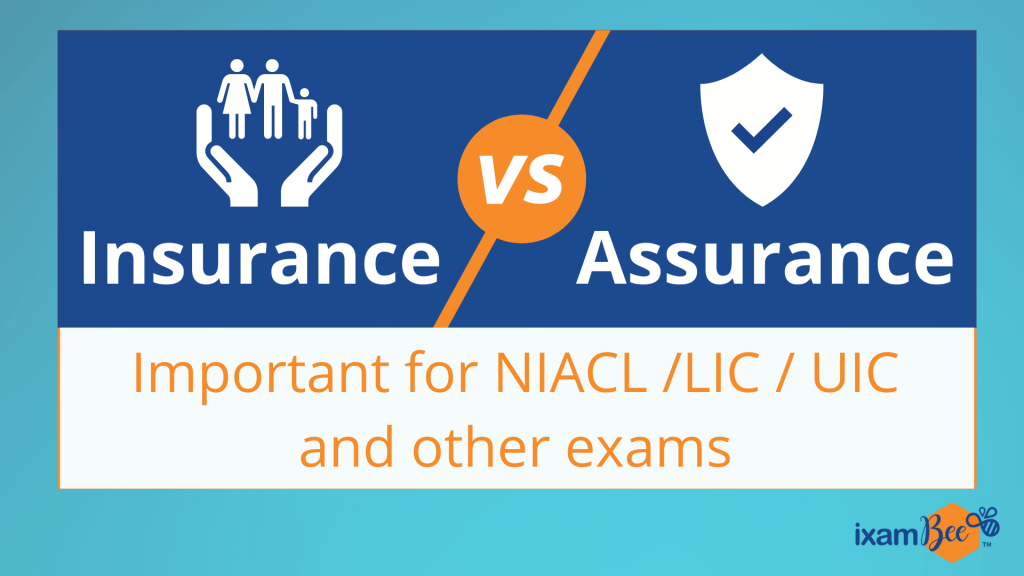 What is Insurance?
Insurance is a contract in which an insurer protects you against losses from specific contingencies or accidents. In this the individual or entity receives financial protection or reimbursement against losses from an insurance company. In simple words it is nothing but an agreement with a company in which they agree to pay the costs if anything happens to you in return of your premium that is paid monthly.
Are you automatically insured against any unforeseen incident in India?
In India, you are not insured against any risk unlike other developed countries such as Australia, Canada and others unless you buy any of the policy (premium) provided by various insurance companies. You can avail the benefit of the insurance provided you buy a policy and pay a certain amount every month to your company. You can also get insured through your employer. Most of the companies insure their employees against any health risks.  In case you are working in a company, you can check this with your HR. 
Types of Insurance
There are many types of insurance. Some very popular insurances are given in the table below.
Health Insurance:
Helps you pay for doctor fees and sometimes prescription drugs. Once you buy health insurance coverage, you and your health insurer each agree to pay a part of your medical expense — usually a certain amount or percentage of the expenses.
Life Insurance
Death is inevitable and our loved ones can face economic hardship when we die. Life insurance eases the burden of that economic risk. Through life insurance, one can protect surviving family members by paying a relatively small amount, called the premium, to an insurance company. When the insured person dies, the insurance company pays a relatively large sum of money to the beneficiaries of the policy
In India, Life Insurance Corporation of India or LIC is prominent in the market that provides Life insurance through various schemes. You can check LIC website to know in detail.
Auto/ Vehicle Insurance
Auto insurance is a contract between an individual and the insurer that protects you against financial loss in the event of an accident or theft. In exchange for your payment of premium, the insurance company agrees to pay your losses as outlined in the policy.
It insures you against
Property –  for example, damage to or theft of your car
Liability – your legal responsibility to others for bodily injury or property damage
Government entities that provide auto insurance in India are NIACL or New India Assurance Co. Ltd., NICL or National Insurance Company and others.
Unlike India, many countries provide free health care services to their citizens. In other words, they insure them with any health risk under their expense, this term is known as Assurance. Let's understand it in detail. 
What is Assurance?
Assurance is similar to insurance, however, insurance refers to coverage over a limited time, whereas assurance applies to persistent coverage for extended periods or until death. Also, in Assurance the insurer gets its money back in case no loss of life takes place. In India, Life Insurance of India or LIC provides insurance like that. On the date of maturity the policy holder gets the entire amount back in case no loss of life takes place. 
Types of Assurance
Unlike insurance which is applicable to fire, theft, auto, marine and other services, assurance deals mainly with Life insurance. LIC provides a number of assurance policies to its customers among various policies. To know about it in detail you can visit the website of LIC.
Also Read:
Insurance Schemes Launched by the Government of India
List of Important Insurance Abbreviations -LIC AAO, UIC, NIACL AO