Check English essay topics for SEBI Grade A 2022
In SEBI Grade A Descriptive English, essay writing is most neglected and taken for granted. Once you have qualified the preliminary exams, you will have to gear up to tackle Descriptive English paper as essays are an important and challenging segment of this paper.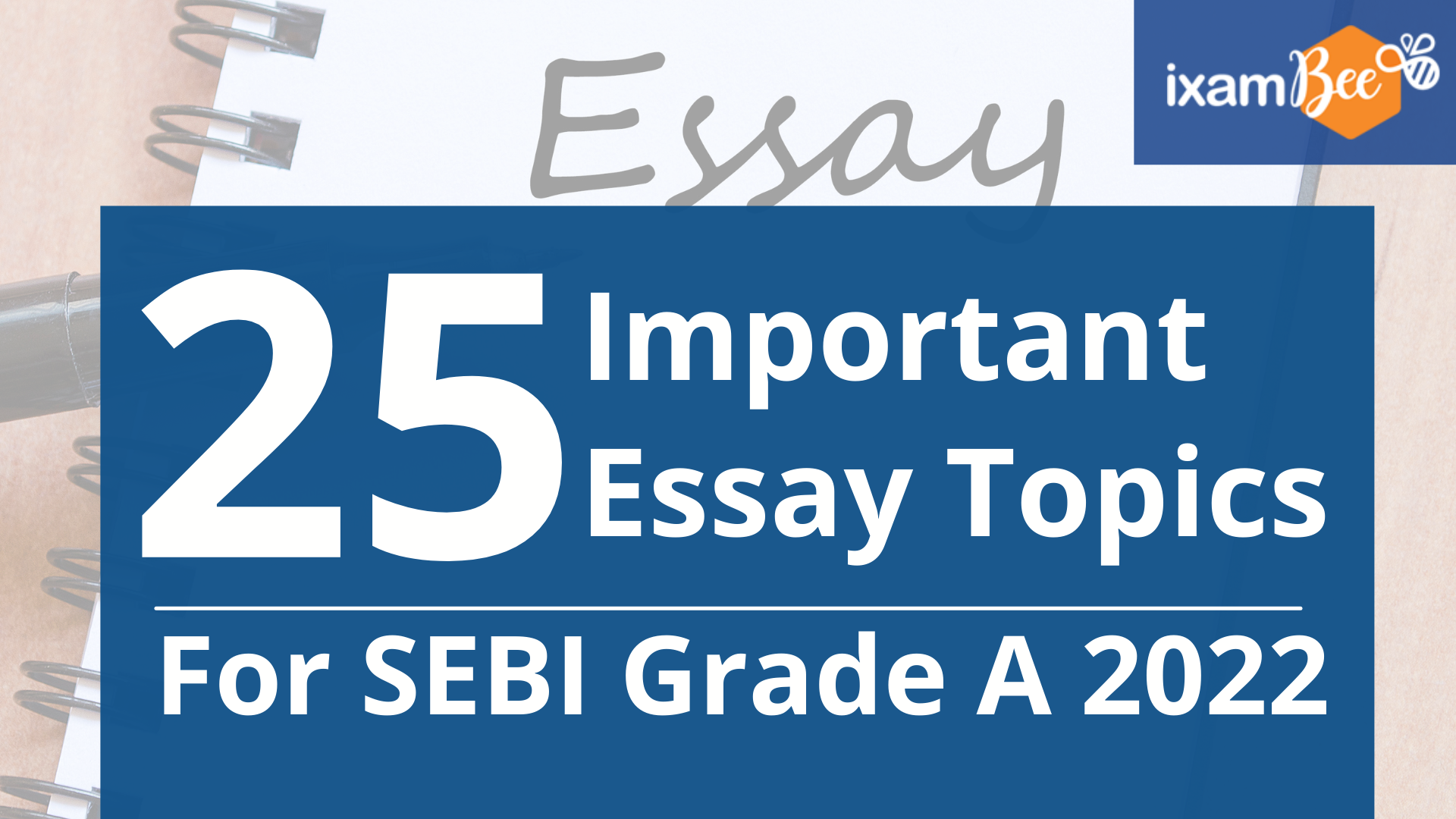 In this article, we will discuss the English essay topics for SEBI Grade A 2022. Essays usually require you to discuss recent socio-political-economic developments. In order to do well in essays you need to be aware of current essay topics 2022 and only then you can practice writing on important SEBI Grade A 2022 essay topics.
Writing is a window to the process of thinking. As Bill Wheeler says;
"Good writing reveals clear thinking." What you write tells the reader how you see your perspective, how you justify it, and how you clarify it."
Essay Writing Structure
Putting your thoughts in a casual manner can confuse and miscommunicate what one is trying to say. A proper structure will help the reader to understand the author's viewpoint.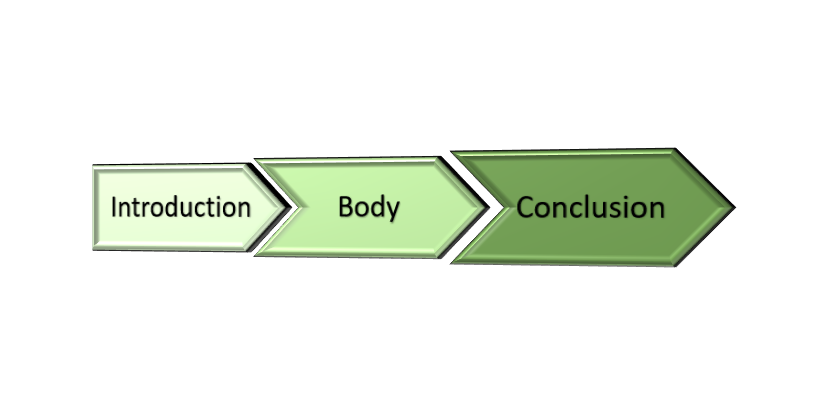 Introduction Part
When you are writing an essay, every sentence and every paragraph is important. But there is something extra important about introductions. Introductions are like the first impression you create on your reader. Most instructors will start grading your work in their head as soon as they begin reading it. They will start categorizing your work as strong/weak, interesting/dull, or effective/ineffective based on the introduction of the topic.
Body of Essay
The second part of the essay is the body, which is the longest part. In general, a short essay will have at least three full paragraphs, and a longer one will have more. The body of the essay is a more elaborate explanation of the points that have been discussed with relevant examples. Each paragraph should begin with a signpost sentence that sets out the main point you are going to explore in that section.
Conclusion Part
The last section of your essay is the conclusion. Usually, it will also be a single paragraph in shorter essays and can be two paragraphs for longer ones. It summarises the main points of your argument and, if applicable, to draw a final judgement about the issues you have been discussing.
25 Important Essay Topics for SEBI Grade A 2022
Most of the topics given in Descriptive English are based on the current events, so a considerable part of it gets covered while you prepare for current affairs.
It is important to observe the writing style while reading about these events. Write on the trending topics yourself in the allotted time and get it checked by a mentor/teacher.
Before you start writing, ensure that you spend some time to make an outline of the essay.
It is recommended to write at least 3-4 essays in a week followed by an analysis.
Listed below are current essay topics for SEBI Grade A 2022 subject wise, which you can practice for Descriptive English.
Social Issues
Advantages and Disadvantages of increasing the legal age of marriage for girls from 18 to21.
How should social media sites deal with hate speeches?
Women Empowerment for a better social order/ Contribution of Women entrepreneurship to the economy/ Gender Equality in India
India's capacity to respond to public health emergencies/ Healthcare in India– Issues and Challenges
Social Media is the fourth pillar of democracy. Discuss.
Is Digital Education uniting us or dividing us?
What is identity theft?
Unemployment and underemployment- Which one is more dangerous?
Use of Artificial Intelligence in day to day life
Climate Change/ Rural Sector
Are Climate Change and Air Pollution two sides of the same coin?/ Climate Change widens the gap between the rich and poor/ What kind of planet will we leave for Posterity?/ Man and Climate Change.
Pros and Cons of Ecotourism.
Is it possible to adapt to climate change?
What are the most urgent environmental threats in South Asia?
Farmer's protest and its impact on Indian economy. Please elucidate.
Banking/ Finance / Economy
Roles and Achievements of SEBI and major challenges faced by it/ Rise of SEBI as a market regulator.
Questions on Union Budget 2022-2023. (For example: Explain PM Gati Shakti Master Plan)
Is India the fastest growing Unicorn hub in the world? Explain.
Are Mutual Funds the best way to invest in security Markets?
Liquidity crisis faced by Franklin Templeton mutual fund/ SEBI's response to liquidity crisis for mutual funds
Importance of a vibrant corporate debt market in India/ is SEBI doing enough to deepen corporate debt markets in India?
Importance of regional trade blocs like NAFTA, SAARC, BRICS and such.
Questions on Non-performing Assets (NPA) like; NPAs: Bane of Indian Banking System/ NPA and its impact on economy/ Stressed Assets have adversely affected the banking system in India. What should be done to address the same.
How can Angel Investors give a boost to the start-up economy in India?
Tips on Essay Writing
Make a general thrust of the points you have in your mind, so you won't feel wordless and can write the essay quickly.
Avoid using complicated vocabulary.
A simple, clear and grammatically error-free essay will be more influential than a complex one filled with vocabulary.
There are three parts of an essay: Introduction, Body and Conclusion. Don't miss any component.
Do not start the introduction's first line with an idiom or a saying. If you want, you can include that as a conclusion after the introduction portion or end with an idiom or phrase.
Provide some examples from the past or give some statistics to substantiate your answer.
Try to provide your opinion on the topic in the final paragraph by providing a solution to the problem or writing about the challenges and steps to solve it.
Learn about SEBI as an institution, its role, policies and such.
Keep the word limit in mind and strictly adhere to it.
Preparation is more fruitful when the subject matter experts guide you. ixamBee has launched a SEBI Grade A Exclusive Online Course to make your Descriptive English preparation smooth, where our experts will give individual attention, feedback and guidance on each Essay, Precis Writing, Reading Comprehension written by you. We also have crisp, lucid material that will assist you in preparing for your SEBI Grade A 2022.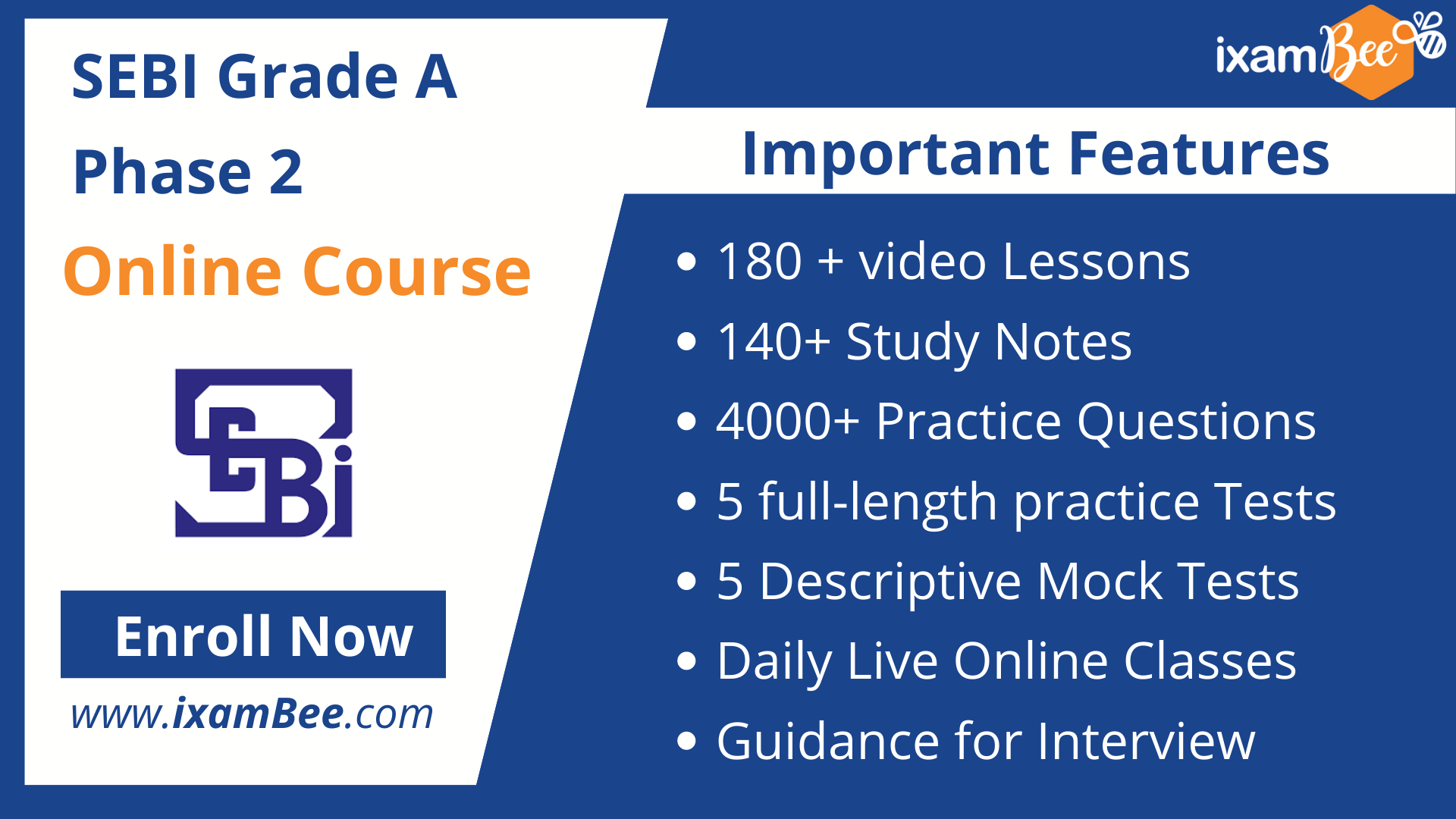 Get Free Online Test Series, GK updates in the form of BeePedia. Similarly, get the latest updates for Bank PO, Bank Clerk, SSC, RBI, NABARD and Other Government Jobs as well.
Also Read
SEBI Grade A 2022: Start Your Preparation Today
Are SEBI Employees Allowed to Trade?
Previous Year Papers & Sample Questions: SEBI Grade A 2022
Jobs for Law Graduates: SEBI Grade A Legal 2022
metro credit займзайм paypsзайм 50000 рублей срочно без отказа