Read here how to prepare for the SBI Clerk exam 2022 with SBI Clerk mock tests ixamBee's Ultimate BeeBanker Online Course
We know the famous saying "Practice makes perfect" and when we look at famous cricketers, actors, musicians and athletes, we know that the saying holds true. Today, let us understand how practice can help us achieve our dream job. The SBI Clerk notification 2022 can be out anytime. Therefore, you must not only be ready to face the competition but also ace the exam with flying colors.
In this article, we will try to approach the SBI Clerk 2022 exam preparation to understand how we can prepare with the help of 2 important components for any exam preparation; i.e., mock test and proper coaching. Let us understand how the SBI Clerk mock tests and ixamBee's Ultimate BeeBanker Online Course can help you prepare for ALL bank exams.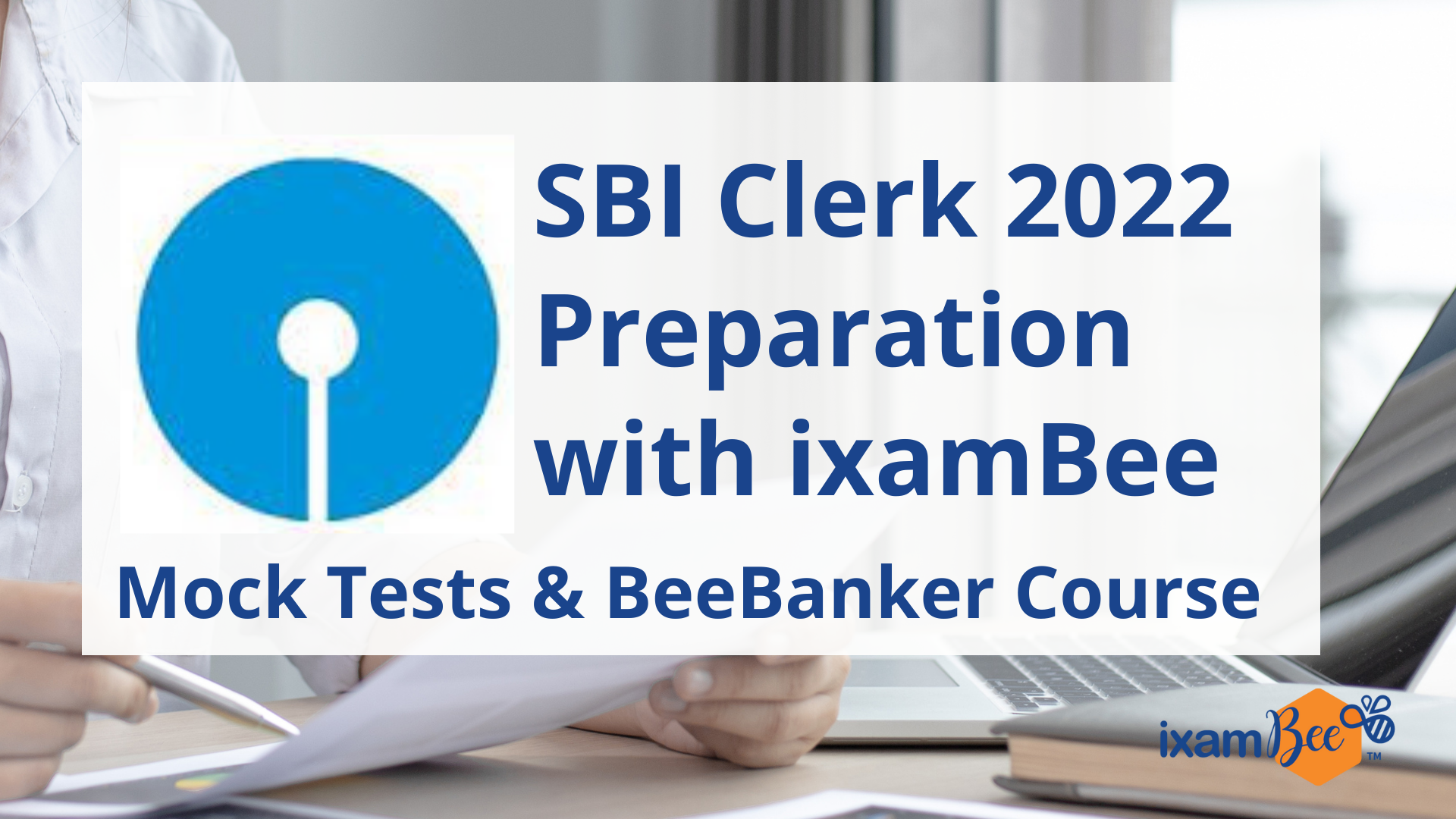 SBI Clerk Mock Tests
Let's look at a few of the benefits of practicing the SBI Clerk practice test series:
Practicing SBI Clerk mock tests will help you know which topics you have mastered and which topics need more work.
These practice tests will help you learn the quirks in the exam and build a study strategy
The more you practice, the more natural and relaxed you will feel on the day of the actual exam
Attempting multiple SBI Clerk Prelims practice tests will help you pace yourself and get a fair idea about how much time should be given to each topic
Lastly, these tests will also help you retrieve all shortcut tricks, and formulae on the day of the exam.
Having said so much about practicing SBI Clerk mock tests, we are pleased to tell you that these mock examinations are available at ixamBee completely free!!
At ixamBee, you can avail of these tests completely for free and as many times as you like!
Also read: SBI Clerk Preparation 2022: Best Tips for Prelims & Mains
Ultimate BeeBanker Course for SBI Clerk
At ixamBee, we strive toward offering students the best learning experience possible that will steer them toward success. Keeping in line with this objective, ixamBee has launched the Ultimate BeeBanker Online Course that will help aspirants prepare for several bank exams simultaneously. In this course, you will get;
More than 400 video lessons
More than 200 study notes in PDF form
10 Descriptive English mock tests 
Weekly tests
More than 10,000 practice questions
150+ Difficulty based Chapter Tests
More than 75 Section tests
10 one-on-one individual sessions
Daily Live Classes with the concerned faculty
Interview Preparation
Unmatched mentorship
You can avail of this course for 2 years!!
Please note, if you are unable to crack any exam in 2 years, you will be given a FULL REFUND.
Learn more about the SBI Clerk 2022 exam at ixamBee.
All the best!!
At ixamBee you can find free Online Test Series, GK updates in the form of BeePedia, as well as latest updates for Bank PO, Bank Clerk, SSC, RBI, NABARD, and Other Government Jobs.
Also read
SBI Clerk 2022 Notification Status
English Questions (New Pattern) for SBI Clerk 2022
SBI Clerk Previous Year cut-offs (Prelims)
Computer Knowledge Questions (Mixed) for RBI Assistant and SBI Clerk 2022
English Questions (New Pattern) for RBI Assistant and SBI Clerk 2022
частный займ в москве срочнозайм денег без паспортахочу взять займ