RBI has recently released an official handout mentioning the details on how the RBI Grade B Phase 2 examination will be conducted. This handout pretty much allays any fears on how the actual exam would be like and what can you expect. Stay with me till the very end and get your queries resolved regarding the conduct of RBI Grade B Phase 2 exam 2021.
RBI Grade B Phase 2 Exam Flow
There will be a morning shift for Paper III followed by a break. Paper I and Paper II will be held in the afternoon shift with no breaks in between the papers
Two admission letters will be issued to you for the two shifts
Before you can take the exam, you will need to type your credentials as per the information mentioned on the admit card on the login screen
You should ensure that the profile displayed is that of yours. In case of any issue, please point this out to the invigilator before you begin the exam.
 The objective-type questions will have 5 options. To mark your answer for evaluation, click on either "Save and Next" or "Mark for Review and Next."
To begin the test, check on the box that reads "I have read all the instructions carefully" or something similar to this
Once you click on the "I am Ready" button, the timer will start
Use this panel only for descriptive test, even though it will be visible for the entire length of the examination
Choose the favorable language to answer the descriptive-type questions. Do not press on the "Exit tab at any point in the examination."
The keyboards will be only in English. You are required to remember the Inscript or Remington mapping on the keyboard if attempting RBI Grade B Phase 2 Paper I and RBI Grade B Phase 2 Paper III in Hindi.
You must select English to answer Paper-II, if you selected Hindi to answer Paper I
English Descriptive Paper will automatically start after 120 minutes, for ESI Paper expire.
RBI Grade B Exam Details
How will the objective and descriptive pattern work?
The RBI Grade B Phase 2 exam will be conducted in morning and afternoon shifts. Paper III will be held in the morning shift while Paper I and Paper II will be held in the afternoon shift. When you begin the test, you will encounter objective-type MCQs from FM. Once the time duration of 30 minutes is over and you submit your answers, FM Descriptive questions will auto appear. After 90 minutes, you will submit your answers for FM Descriptive afterward which objective MCQS from the ESI paper will start appearing automatically. This will continue till you finish the entire exam.
What shall be the word limit for RBI Grade B Phase 2 Descriptive answers?
There will be 6 questions each in ESI Descriptive and FM Descriptive. You are required to answer any 4 questions for each paper. 2 questions will carry 15 marks and the rest 2 questions will be of 10 marks each. 15 marker questions will have a 600 word limit each while a 10 marker question needs to be written within 400 words.
What shall I do to choose Hindi as my medium of communication?
You will be able to see a panel where you can select Hindi as your choice of language in the RBI Grade B Phase 2 exam. You can change your language preference before you start with the test.
How will the RBI Grade B Phase 2 Objective and Descriptive Papers toggle?
After the 30 minutes time limit lapses for objective type Finance and Management Paper, the 90 minutes duration for FM descriptive will automatically start. You cannot toggle between the objective and the descriptive paper. After FM, Economics and Social Issues paper will auto start for the next 120 minutes.
How can I submit my RBI Grade B Phase 2 papers?
For the objective type papers, once you exhaust your 30 minutes time limit you will be able to "finally submit." Similarly, for the rest of the exam, you will be able to submit your answers only after the entire time duration for that section is exhausted.
General Do's and Don'ts
Do's
"Mouse Click" the answer to select the best option among the five options for the objective-type papers
Click on "Save and Next" or "Mark for Review and Next" to save the answer for the current question before moving to the next question. This will mark your answer for evaluation.
Click on the chosen answer again or click on Clear Response to deselect the answer
Go to the question palette to access the desired question directly
Clarify your queries with the Invigilator before the commencement of the exam
Submit your answers only after the entire test duration lapse
Bring both admission letters with a passport size photo affixed to each of the call letter
Bring a photo ID proof (except Ration Card and Learner's Driving License) with two photocopies. The staff candidate shall bring the RBI Identity Card with its photocopy.
Switch off your mobile phones and submit at the designated place
Don'ts
Auto submit
Press on the exit button visible on the panel
Click on any "keyboard keys" for the objective-type to save yourself from locking the exam
Use calculators, books or other assistance materials
Attempt any questions that you are unsure of
RBI Grade B Phase 2 Exam Formalities
Staple each Admission Letter with the photocopy of the valid photo ID proof
These documents are to be submitted in the drop-box at the end of each shift
Due to Covid-19, an IRIS scan is introduced. You are expected to wear glasses as you will be required to remove the glasses/ contact lenses for IRIS scanning.
Bring a ballpoint pen and a stamp pad
You need to wear a face mask
You can bring a transparent water bottle
Hand sanitizer
Scribe candidates should bring along the duly filled inscribe forms with an affixed photograph
ixamBee wishes you all the best for the RBI Grade B Phase 2 exam. In case you missed RBI Grade B this time and wanted to leave no stone unturned for RBI Grade B 2022, Start early by enrolling in our RBI Grade B Exclusive Online Course. This course will provide you an extra edge and keep you one notch above your competitors. The great news is that ixamBee is running a Holi offer nowadays. You can avail yourself of a flat 29% off on all Online courses. You just need to use HOLIHAI29 as a coupon code. For further details visit ixamBee.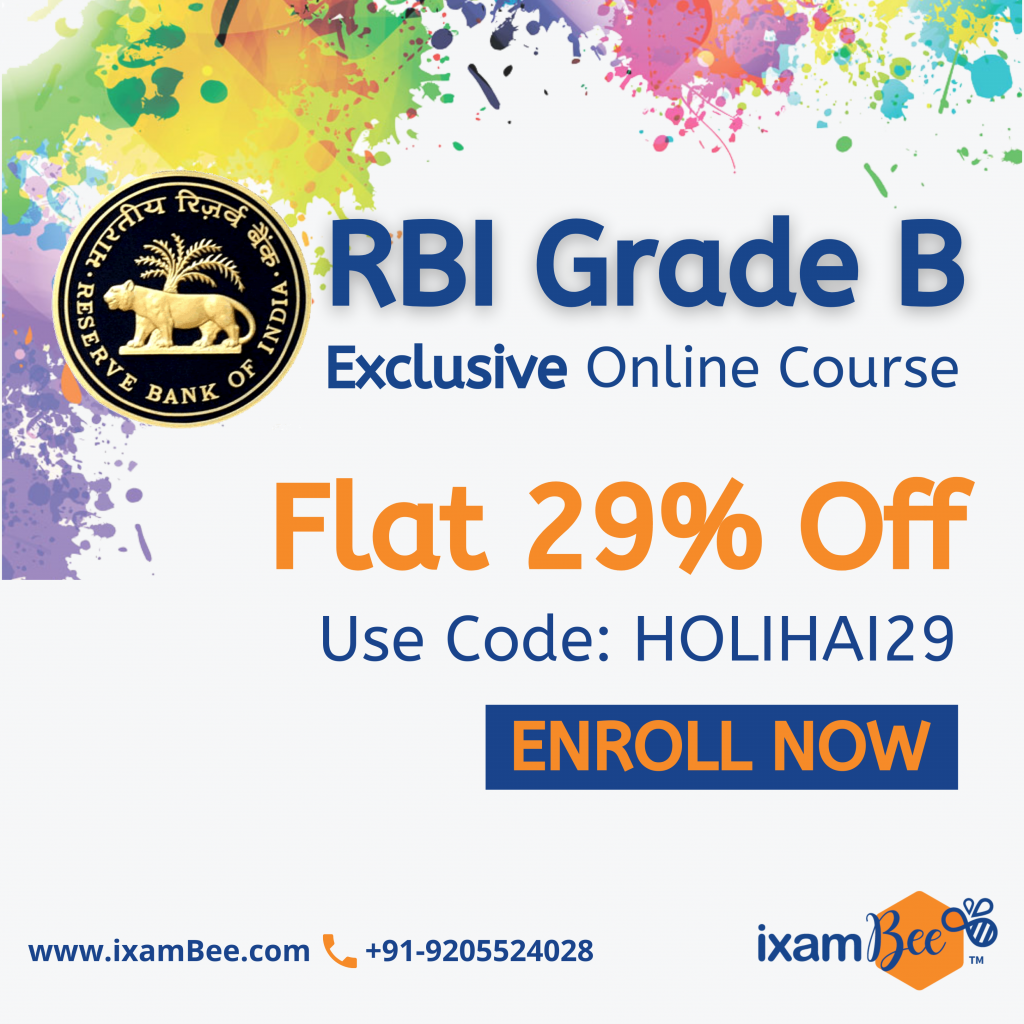 Also Read:
Updated Full-Form of IFSC with All Details
IMEI Full Form with All Details
Get Free Online Test Series, GK updates in form of Beepedia, BeeBooster, as well as latest updates for Bank PO, Bank Clerk, SSC, RBI, NABARD, and Other Government Jobs.