I object to violence because when it appears to do good, the good is only temporary; the evil it does is permanent.
–Mahatma Gandhi
#gandhijayanti #mahatmagandhi #nonviolence #peace
Gandhi Jayanti
Mohandas Karamchand Gandhi was born on October 2, 1869 in Porbandar, modern-day Gujarat. Back then, Porbandar was part of the Kathiawar Agency during the British Raj. This day is marked as an official holiday in India and is observed in all states and union territories. This year will mark Gandhiji's 152nd birth anniversary.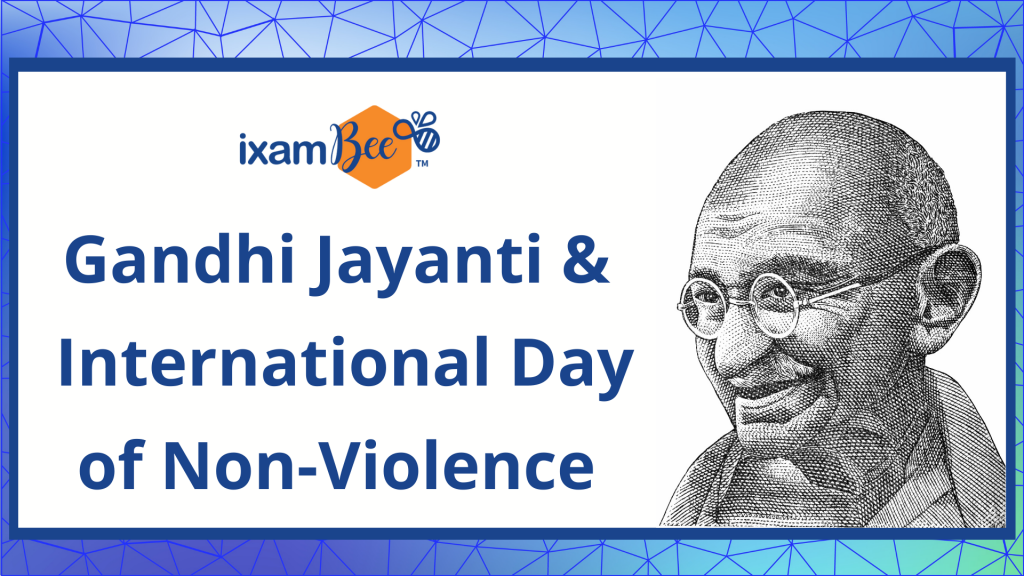 A Brief Timeline of Gandhi's Life
Gandhi is not only India's but one of the world's greatest social and political thinkers and activists of the 20th century. Such was his life and such were his deeds that he earned the title of the 'Mahatma.' He is known as the 'Father of the Nation' in India and lovingly referred to as 'Bapu.'
Let us look at a brief timeline of Gandhi's illustrious life and how he touched millions of lives through his work and his words.
1869- Gandhi was born in Porbandar on October 2.
1883- Gandhi married Kasturba
1887- He completed his schooling
1888- Gandhi left for London to study Law
1891- Gandhi returned to India after completing his studies
1893- He left for South Africa to practice Law
1915- Gandhi returned to India for good and joined the Indian National Congress
1918- Gandhi's first "fast unto death" in India in Ahmedabad Mill Strike
1919- Jallianwala Bagh massacre
1920- Gandhi launched the Non-Cooperation Movement
1922- Chauri Chaura incident and the retraction of the Non-Cooperation Movement due to breach of Gandhi's ahimsa policy
1930- Dandi March from Sabarmati Ashram and the launch of the Civil Disobedience Movement
1931- Gandhi-Irwin Pact
1932- Gandhi's fast against the Communal Awards
1942- Quit India Movement was launched. Gandhi gave the call to "do or die"
1947- India won independence from the British
1948- Gandhi was assassinated by Nathuram Godse
International Day of Non-Violence
On October 2, the International Day of Non-Violence is also observed annually. The day honours Gandhiji's contribution toward the Indian Freedom Movement and his tireless efforts toward making non-violence the mainstay of struggles and rebellions.
What is Non-Violence?
Ahimsa Paramo Dharma
Non-violence is the philosophy of refusing physical violence under any circumstance or any sort of provocation to achieve socio-political change. It is also known as non-violent resistance. Rather than using physical force or violence, non-violent resistance makes use of the following:
Peaceful protest and persuasion
Civil non-cooperation
Non-violent demonstrations like strikes and fasts
History of the International Day of Non-Violence
In 2005, Shirin Ebadi, Iranian human rights activist and Nobel Laureate moved the United Nations to observe October 2, as International Day of Non-Violence to honour Gandhiji. In a resolution passed in June 2007, the UN marked this day and since then, October 2 is celebrated as the day for non-violence all over the world.
International Day of Non-Violence Significance
The importance of the day lies in how we use it. This day is dedicated to not only honouring Gandhi's memory and legacy but to acknowledging that non-violence is a proven and successful method of protest and subsequent change. Therefore, we must use this day to create more dialogue to solve the world's present problems and introduce change using non-violent methods.
Mahatma Gandhi and Ahimsa
Mahatma Gandhi followed and largely popularized the policy and philosophy of ahimsa. His belief was that; "An eye for eye makes the whole world blind."
He embodied the philosophy of ahimsa and through his practical actions paved the way for thousands to come who would live their lives following the Mahatma's principles.
United Nations and Non-Violence
The fundamental purpose behind the founding of the United Nations was to ensure international peace and cooperation and to prevent the use of violence to settle conflicts to the farthest degree possible. After witnessing the bloodshed and other horrors of World War 2, the international community took a collective decision to establish an international intermediary organization to settle conflicts peacefully.
The primary function of the United Nations is to encourage nonviolent communication among nations.
Government Schemes Named After Gandhi
Time and again, our country has honoured Gandhi by naming awards, public buildings, roads, programs and schemes after him. Let us take a look at some of the government schemes that honour Bapu.
Mahatma Gandhi National Rural Employment Guarantee Act (MNREGA)
Mahatma Gandhi Pravasi Suraksha Yojana
Gandhi Shilp Bazaar
Gandhi Smriti And Darshan Samiti
Mahatma Gandhi Bunkar Bima Yojana
Swachh Bharat Abhiyan
Gandhi Peace Prize
In 1995, the Government of India began the conferment of the International Gandhi Peace Prize. The award is conferred upon those who show extraordinary merit in the fields of social work, non-violence and use of other Gandhian methods in achieving socio-economic politico change.
The award comes with a cash prize of ₹1 crore.
Some recipients of this prestigious award include Nelson Mandela, ISRO and Chandi Prasad Bhatt.
The award may be conferred upon an individual or an organization (example, ISRO).
Further Reading
Gandhi, Mahatma. The Story of my Experiments with Truth. 1925.
Guha, Ramachandra. Gandhi Before India. 2013.
Gandhi, Rajmohan. The Good Boatman. 1995.
Brown, Judith M. Gandhi: Prisoner of Hope. 1989.
Bose, Nirmal Kumar. My Days with Gandhi. 1953.
Fischer, Louis. A Week with Gandhi. 1942.
We must draw inspiration, not only from Gandhi's policy of ahimsa, but also his resilience and how he remained true to himself and his beliefs during challenging times.
For those of you who are preparing for upcoming government examinations, we hope Gandhi's courage and resilience will inspire you to believe in yourself and achieve your goals successfully as well.
If you want to stay well-informed on all the topics and concerns that are running in current affairs, you should read ixamBee's BeePedia capsules. BeePedia is also available in Hindi. 
At ixamBee, you can find a number of Online Test Series, GK updates in the form of BeePedia, as well as latest updates for Bank PO, Bank Clerk, SSC, RBI, NABARD and Other Government Jobs.
Also read
International Day of Older Persons: Theme 2021, Significance and More!
World Environmental Health Day: Theme 2021, Significance and More!
International Day of Democracy: Importance, Theme and More 
International Day of Peace: History, Theme, Significance and More!