"On this International Day, let us promise to make peace not just a priority, but a passion. Let us pledge to do more, wherever we are in whatever way we can, to make every day a day of peace."
–Ban Ki Moon, Former UN General-Secretary
When is International Day of Peace Observed?
International Day of Peace is observed on September 21, every year.
Is It Also Called Peace Day?
Yes, International Day of Peace is also known as International Peace Day.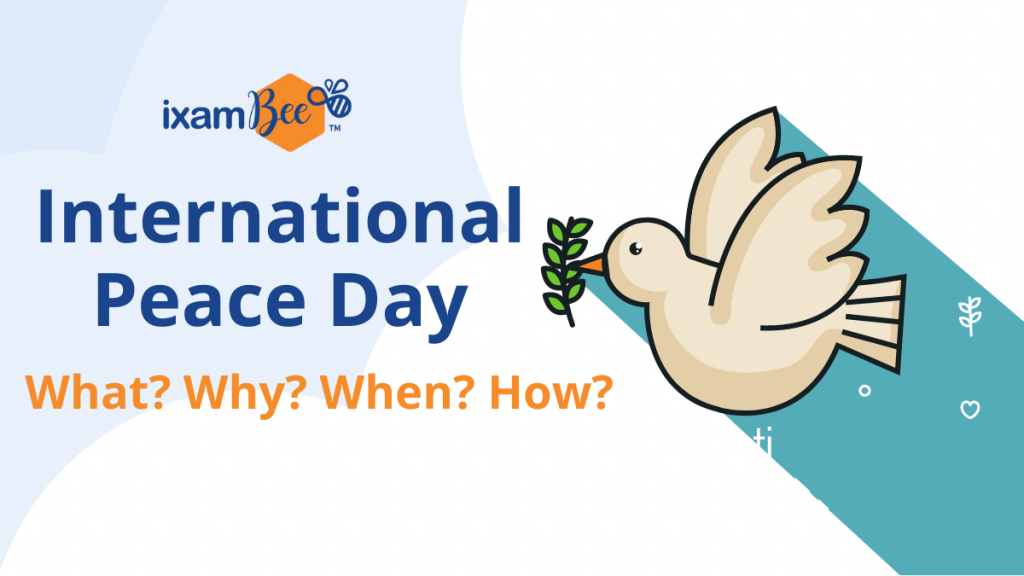 History of International Peace Day
The holiday was initially marked in 1981 to be observed for the maintenance of world peace and stability. However, in 2001, the day was further dedicated to cease-fire (in places with ongoing war) and non-violence. The day focuses on celebrating and strengthening the principles of peace all over the world.
In 2013, the day was further dedicated to Peace education. Peace education implies the obtaining of virtues and values that allow all people to live in peace and harmony with themselves and others in our shared surroundings.
What is Ceasefire?
Ceasefire refers to the temporary stoppage in an ongoing war. During ceasefire, the involved parties agree to refrain from any aggressive activities towards one-another. On September 21, ceasefire is observed by UN member-nations who may be involved in war at a given time.
Why Is International Day of Peace Observed?
The day is dedicated to creating awareness and dialogue about the importance of peace and security across the world. This peace is necessary both within independent nation-states and at an international level as well.
As political scenarios change, the outlook of violence and war also changes. The day allows us to reflect upon how peace and harmony can be achieved across the globe for all countries and societies.
In other words, the day also gives us a chance to reflect upon problems that threaten our peace and stability.
Also read about the International Day of Democracy
By Whom Was This Day Marked?
The day was brought into observation by the United Nations. The United Nations is an intergovernmental global organization whose fundamental aim is to ensure peace, security and stability across all nations.
Does India Also Observe This Day?
Yes, India also observes the International Peace Day on September 21, 2021 as it is a member of the United Nations.
What is the Theme for International Day of Peace 2021?
The International Day of Peace theme 2021 is "Recovering better for an equitable and sustainable world."
This year's theme also intertwines the values of sharing, compassion and kindness with peace and harmony to rebuild our world together as we try to re-emerge from the grasp of a global pandemic.
The International Day of Peace Theme 2020 was "Shaping Peace Together."
How Does the United Nations Help in Maintaining Peace?
The United Nations acts as an intermediary between its member states in times of crises. It tries to ensure that conflicts are resolved peacefully through negotiation and verbal communication. The UN also deploys Peacekeeping Operations as and when necessary.
Learn more about how the UN deals with threats to peace and aggression.
What Should We Do on International Peace Day?
Educate ourselves on the disadvantages of war.
People in war-prone areas should advocate for the discontinuation of violence.
Listen to Give Peace a Chance by John Lennon
Listen to Michael Jackson's Heal the World.
Reflect upon this year's Peace Day theme and how you can contribute toward the same at an individual or community level.
Learn about the aims, objectives and history of the United Nations.
Read the UN Charter.
Some Interesting Facts
The incumbent General-Secretary of the UN is António Guterres of Portugal.
Iceland is deemed the most peaceful country in the world.
The present Permanent Representative of India to UN is Shri T. S. Tirumurti.
The peace Treaty of Versailles was signed in 1919 that marked the culmination of World War 1.
John Lennon recorded 'Give Peace a Chance' as part of his anti-war demonstration to support the end of war in Vietnam.
The Peace Bell in New York City is rung on September 21, every year.
While problems and conflicts are inescapable, particularly in a pluralistic world like ours, at all times we must strive to resolve our differences peacefully. That is the only way to overcome obstacles. War and violence further increase our problems than solve them.
The importance of peace and security are undeniable at any level of organization. As important as it is to be at peace with yourself, it is paramount to have socioeconomic and political peace in our external environment. Only through this peace and harmony can we reach our potential as a human race.
If you are planning to appear for the upcoming NABARD Grade A, NABARD Grade B, PFRDA, IBPS RRB Scales 2 &3, IBPS RRB Clerk Mains, IBPS SO exams and such, you must be up-to-date with your General Awareness preparation. Questions may be assessed from a variety of topics like current affairs, international news, important holidays and observances and such. These include topics from both static and dynamic GK. If you want to get ahead of your peers, you must keep up with the latest information.
One way to do this is by routinely and religiously going through ixamBee's BeePedia updates. These are weekly/monthly information capsules that cover all matters of current affairs.
At ixamBee, you can find a number of Online Test Series, GK updates in the form of BeePedia, as well as latest updates for Bank PO, Bank Clerk, SSC, RBI, NABARD and Other Government Jobs.
Also read
Teachers' Day in India: History, Importance and Celebration
International Literacy Day: Importance, Theme and More
हिन्दी दिवस विशेष: भारत की राजभाषा के रूप में हिन्दी