Prime Minister Narendra Modi recently announced that January 16 will be celebrated as the National Startup Day. According to him, startups will be the "backbone" of new India. National Startup Day will bestow a validation upon the role of startups in the growth of India's GDP. This will strengthen the country's position on a global stage. The aim of this initiative is to encourage young talent to see entrepreneurship as a primary career option.
#startupday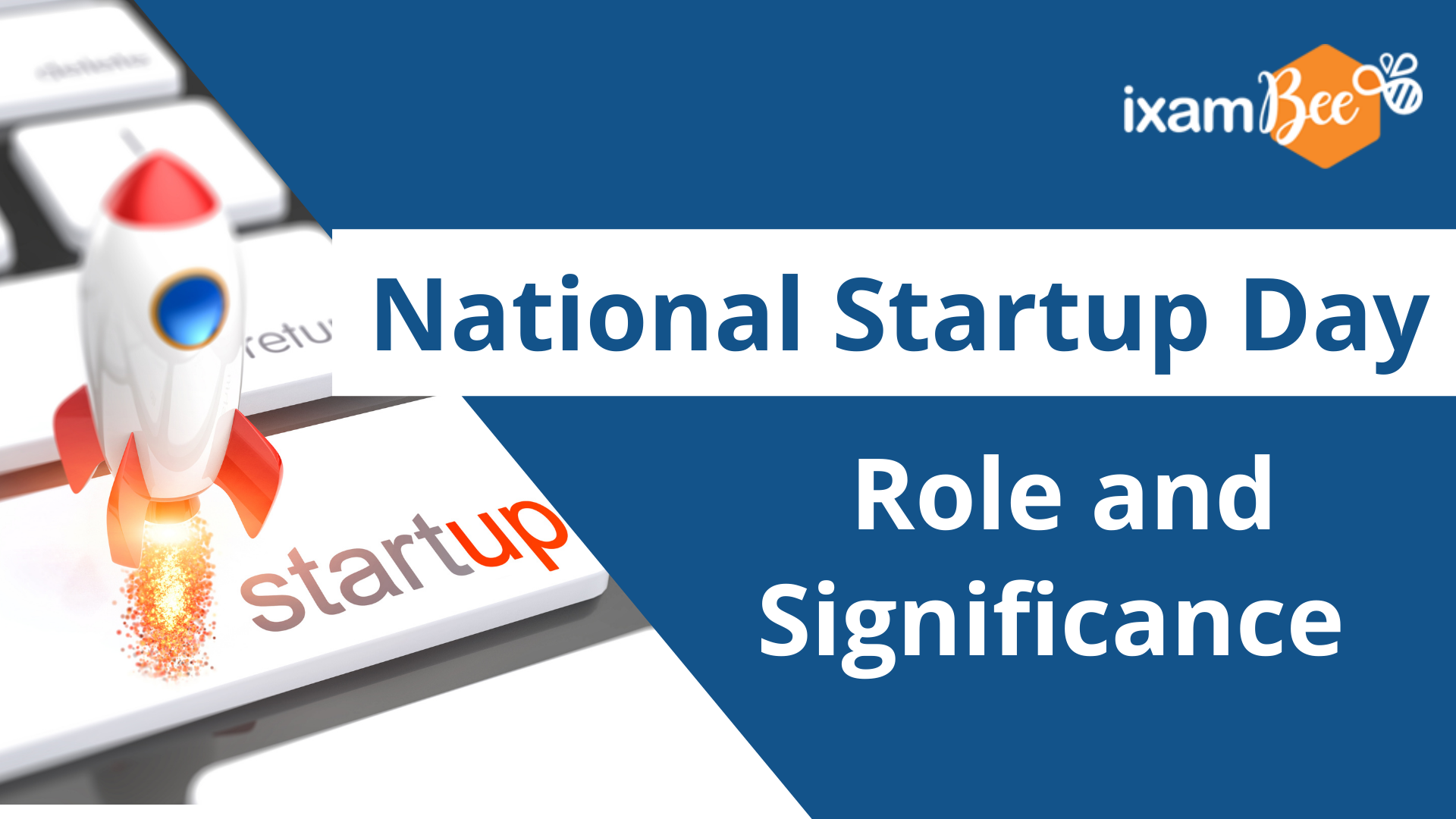 Startup India Initiative
The Government of India launched the Startup India initiative on January 16, 2016. Its aim is to promote financing for startups. Presently, India has more startups than it ever had. Therefore, this initiative has been a welcome step in this direction. This initiative will help startups in reaching their full potential by providing the right guidance and access. The government aims to improve the ease of doing business by providing the right environment for them. For this, many policy reforms and government collaborations have been made to promote startups in India.
Objectives of Startup India are-
National Startup Day
In light of the above, January 16 has been designated as the National Startup Day. PM Modi made this announcement on January 15, 2022 via a video conference during a week-long event "Celebrating Innovation Ecosystem" as a part of Azadi ka Amrit Mahotsav. The purpose is to create a startup culture at the grass-root level which will create employment opportunities and promote sustainable development. According to PM Modi, 'National Startup Day is a positive step by the government in freeing entrepreneurs and innovation from bureaucratic silos'. He connected with 150 startups from different sectors.
The startups were categorised into six groups and gave presentations to the PM on six themes which were-
Growing from roots
Nudging the DNA
From local to global
Technology of future
Building champions in manufacturing
Sustainable development
Role of Startups in India
Startups being small organizations play a major role in the economic growth of any country. Startups can commence anywhere, but it is often the countries with highest needs and demands that bring the biggest opportunities and initiatives. Therefore, startups generally find their place in underdeveloped and developing countries since such environments have many problems that startups can take advantage of to help a struggling economy.
India being a developing nation, is one of the fastest growing markets globally and holds a unique position for having one of the youngest populations in the world. With 54 percent of the population below the age of 25 years, we have the upper-hand to use the skills and abilities of our youth to propel the nation forward through new innovations. There are several reasons for a booming startup culture in India like- cost benefits, size of the market and skilled human capital.
The startup environment in India has always been a vibrant one, however the last two years have been phenomenal, especially for tech startups. Presently, the Technology startup scene in India has evolved to become the fourth largest in the world.
As per the Global Startup Ecosystem Index 2021 (Startup Blink), India stands at the 20th position among the top 100 countries. In 2020, India's rank was 23 and in 2019, India was at the 17th spot.
According to Nasscom's revised forecast for 2025, the Indian startup ecosystem will have around 37,000 tech startups and 180 to 200 unicorns. Furthermore, in the year 2021 alone, 42 Indian startups across 18 sectors have become unicorn companies. India also saw a record $24.1 billion equity investments in 2021 in the field of technology and education.
Given below is a pictorial representation of the percentage growth of Unicorns in India since 2015-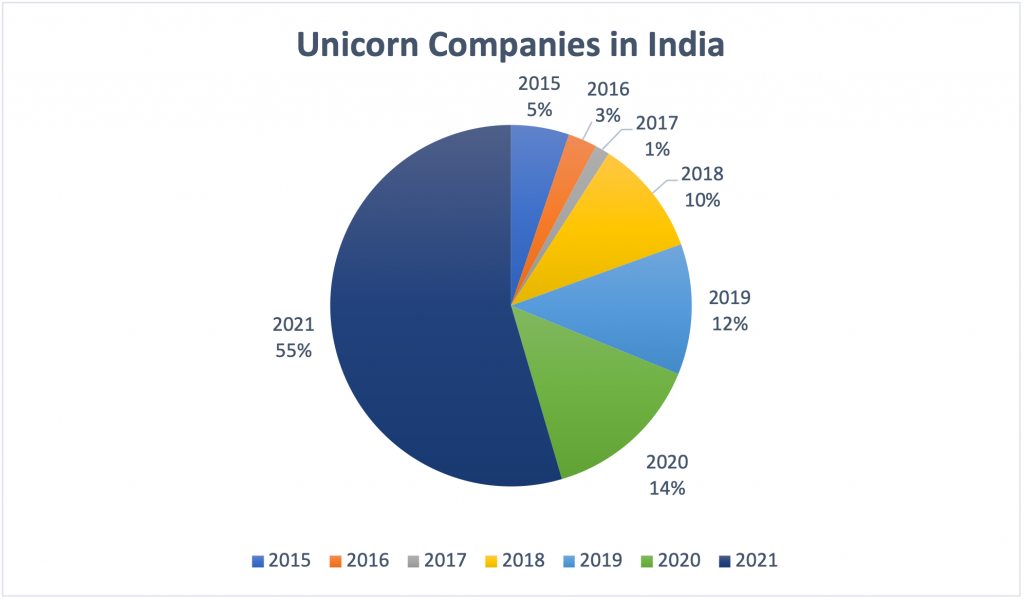 Impact of Startups on Indian Economy
Now that we have understood the role of startups, let's now understand the impact.
Employment
One of the major problems in modern India is unemployment. With a rise in the number of startups in the country, the need for fresh talent and employees has also risen. In the year 2020 alone, Indian startups generated around six lakh direct jobs and in 2021, this number has risen to 6.6 lakhs. Furthermore, 34 lakh indirect jobs were created in 2021.
Increase in the GDP
GDP (Gross Domestic Products) plays a vital role in magnifying the economic growth of a country. It is possible to generate more revenue domestically and consumer's capital will also flow around the Indian economy by supporting and encouraging startups.
New Technology
Startups look for new technologies or create new technologies to simplify workload. This is because, technology has improved operations and lowered the cost of doing business. Once the demand for such technology increases, it will open new avenues for multinational companies to invest in the Indian economy.
Decrease in Imports and Increase in Exports
India relies on many countries for a variety of products and services. However, if startups can handle the demand for a particular product or service, we can decrease the imports of such products/services. This would help in reducing the money flow to other countries which in turn will benefit the country.
If India has more startups, it can produce more goods and services and export them to other countries. This will increase the flow of money from foreign investors in the Indian markets.
Conclusion
Since India has always been a land of innovators and creators, the launch of National Startup Day hopes to ensure that Indian startups will bring back the past glory of India in terms of new innovations. The launch of National Startup Day will boost the confidence of present and future entrepreneurs as it celebrates the spirit of entrepreneurship.
We hope you find this article useful. For more information on Current Affairs and General Awareness, read ixamBee's BeePedia updates. These updates are free and are available in Hindi as well.
Get Free Online Test Series, GK updates in the form of BeePedia. Similarly, get the latest updates for Bank PO, Bank Clerk, SSC, RBI, NABARD and Other Government Jobs as well.
Also Read
Republic Day 2022: Brief Summary of the Indian Constitution
Cryptocurrency: A future or Concern for India
IPO Full Form: Meaning and Latest Developments