The National Bank for Agriculture and Rural Development (NABARD) Grade A examination 2021 is to be held soon. While the official notice has not yet been released, it is expected to be announced soon. Landing a job at an apex institution such as NABARD is the dream of thousands of aspirants in India. ixamBee is here to hold your hand and guide you through the way to help you achieve your goal. You can find all the information about NABARD Grade A 2021, NABARD Grade A syllabus, NABARD Grade A salary and the like here. If you would like to know about other upcoming government exams as well, you can find that on our website.
In this article, we will discuss NABARD Grade A previous year's question paper (2020). This will help us with our NABARD Grade A 2020 exam analysis. This article will only focus on the questions asked for the Agricultural and Rural Development section of the paper. For any examination, on principle, candidates solve previous years' question papers not only for practice's sake but also to form an idea about the kind of questions assessed. Before we begin solving the previous year's question paper, let us first quickly go through why this practice is not only important but also indispensable.
Why do we need to review the previous year's question paper?
To understand the exam pattern.
To gauge the level of difficulty of the questions.
To know which topics are more important than others.
To devise a study plan.
To understand what to study and from where to study.
Third Advance Estimate: Key takeaways
This data is released by the Department of Agriculture, Cooperation and Farmers Welfare every year.
The Third Advance Estimate has been released by the Press Information Bureau of India on May 25, 2021.
One or two questions are surely assessed from the latest advanced estimate.
The latest food production estimate stands at 305.44 million tons.
Oilseed production stands at 36.57 million tons.
Previous Year Paper Analysis
Let us now begin discussing the questions that were assessed in NABARD Grade A 2020 examination. Each question will be followed by a brief discussion to understand how that question can help us prepare for NABARD Grade A 2021.
Which region in India covers maximum area under alluvial soil?
Northern Plains
Central Plateau
Peninsular region
Coastal region
Himalayan range
Ans: (1)
Analysis: Alluvial soil is deposited due to the transportation by river. It is found in the Northern Plains and river valleys in the states of Bihar, UP, West Bengal, Punjab and Haryana. In India, 40% of land is covered by alluvial soil.
Which among the following has the highest water retention capacity?
Sandy soil
Silty soil
Loamy soil
Clayey soil
None
Ans: (4)
Analysis: Clayey soil has the highest water retention capacity. This capacity depends upon the particle size of the soil. If the question asked which type of soil is best suitable for cultivation of crops, then the correct answer will be loamy soil. Clayey soil is not suitable for most types of crop cultivation.
Whenever there is a shortfall from the target of the priority sector, the bank has to deposit the short amount to which fund?
Central govt.
NABARD
RBI
Rural Infrastructure Development Fund
All of the above
Ans: (4)
Analysis: You can learn more about RIDF here.
Which among the following is correct on the basis of decreasing order of production?
Vegetables, Fruits, Plantation crops, Spices, Flowers, Aromatic and Medicinal Plants
Fruits, Vegetables, Plantation crops, Spices, Flowers, Aromatic and Medicinal Plants
Plantation crops, Fruits, Vegetables, Spices, Flowers, Aromatic and Medicinal Plants
Vegetables, Plantation crops, Spices, Fruits, Aromatic and Medicinal Plants
Fruits, Plantation crops, Spices, Aromatic and Medicinal Plants.
Ans: (1)
Analysis: Answer A is correct because vegetables are produced the most followed by fruits. Plantation crops are coconuts, areca nuts, tea and coffee. These plantation crops are produced for commercial purposes on huge areas of land. A basic idea of horticulture and horticulture production data will suffice.
The Phase III of PMGSY which aims at consolidation of 1,25,000 km through routes and major rural links that connect habitations to Gramin Agricultural Markets (GrAMs), Higher Secondary Schools and hospitals is for the period of 2019-20 to ___________
2021-22
2022-23
2023-24
2024-25
None of the above
Ans: (4)
Analysis: The question is asking the target date for the completion of the project. The Third Phase for which the government has allocated ₹80,250 Cr, has been launched for five years. Generally, government schemes are launched for either one year or five years.
Which of the following is the knowledge partner for the committee on doubling farmers' income?
National Council of Applied Economic Research (NCAER)
NABARD
ICAR
AVRDC
All of the above.
Ans: (1)
Analysis: The Committee has adopted three institutions as its knowledge partner. While one is NCAER, the other two are the National Institute of Agricultural Research Policy (NIAP) and the National Centre for Cold Chain Development. (NCCD)
Which of the following types of fish live in freshwater but move toward the sea for breeding?
Catadromous
Anadromous
Indian carps
Gold fish
Shrimp
Ans: (1)
Analysis: A method of categorizing fish based upon their breeding habits is presented below.
Diadromous: Fish migrate between saltwater and freshwater.
Anadromous: Fish spend their time in the sea but migrate to freshwater to reproduce.
Catadromous: Fish spend their time in freshwater but migrate toward the sea to reproduce.
Based on the information provided above, the correct answer is Catadromous fish. Candidates must read the questions carefully and then answer. As we can see that the categories are quite close and hence, confusing. Read the question properly to understand what is being asked before you answer. Here, a basic question has been asked from the Fisheries section of the subject.

Which of the following is the most serious viral disease among poultry animals?
Ranikhet Disease
Duck Plague
Hepatitis
FMD
Fowl Cholera
Ans: (1)
Analysis: Also called the Newcastle disease, Ranikhet disease affects the respiratory and nervous systems of birds. This disease affects broilers the most. Foot and Mouth disease affects cattle.
The Pulses Conclave 2020 (TPC 2020) has been scheduled to be held from 12-14 February 2020 in ____________. The announcement was made by the India Pulses and Grains Association (IPGA). It is the nodal body for India's pulses trade and industry on 9 January 2020.
Hyderabad, Telangana
Bengaluru, Karnataka
Lonavala, Maharashtra
New Delhi
Chennai, Tamil Nadu
Ans: (3)
Analysis: IPGA has been hosting The Pulses Conclave since 2012. The event took place on January 9, 2020, and was questioned in the paper held on February 24, 2020. Candidates must take a cue and be up to date with their current affairs and general awareness.
Which crop is known as white gold?
Silk
Cotton
Potato
Cauliflower
Jute
Ans: (2)
Analysis: This is a very basic question from agronomy. Similarly, questions from agronomy are generally tested to assess the candidate's basic knowledge. Cotton is called white gold because cotton has several uses and has been used to make fabric for at least 7000 years now.
Rosetting in groundnut due to?
Pathogenic virus
Fungus
Bacteria
Deficiency of iron
Deficiency of calcium
Ans: (1)
Analysis: The groundnut aphid, Aphis craccivora, is the primary vector of the disease. This disease is endemic to Sub-Saharan Africa. Rosetting in groundnuts can also be due to deficiency of nutrients as well.
What is the productive age of the layer in poultry?
52 weeks
72 weeks
24 weeks
18 weeks
84 weeks
Ans: (2)
Analysis: Poultry bred for eggs is called Layer. These are egg-laying poultry for commercial egg production. Poultry that is bred for meat is called broiler.
Which one is false for the PM KISAN scheme?
All marginal, small and large farmers are included in the scheme
The farmer will get ₹ 6000 per year at the beginning of the financial year
Farmer who files the income tax return is not among the beneficiaries
For enrolment, the farmer is required to approach the local patwari/ revenue officer/ Nodal Officer
None of the above.
Ans: (3)
Analysis: Candidates must acquaint themselves with the various schemes run by the government. It will not help in scoring well in this section of the paper but will help you hone your overall general awareness. You can learn more about PM KISAN here.
Swastha Dhara Khet Hara is the tagline for _________
Pradhan Mantri Krishi Sinchai Yojana
Soil Health Card Scheme
Pradhan Mantri Fasal Bima Yojana
Paramparagat Krishi Vikas Yojana
None of the above
Ans: (2)
Analysis: You can learn more about the scheme here.
What is the rate of interest on KCC in which the government gives an interest subsidy of 2%?
Up to 3 lakh with annual interest of 7%
Up to 5 lakh with annual interest of 7%
Up to 2 lakh with annual interest of 7%
Up to 3 lakhs with annual interest of 9%
Up to 5 lakh with annual interest of 9%
Ans: (4)
Analysis: Through the Kisan Credit Card scheme, the Government aims to liberate small farmers from money lenders. The government has allocated an approximate budget of 20,000 to be used to provide loans to KCC cardholders. NABARD devised the KCC scheme model. You can learn more about the KCC here.
Which year is dedicated as the International Year or Millets by UNFAO?
2019
2020
2021
2023
2025
Ans: (4)
Analysis: This question was important for the previous year's paper because this recommendation was made by India to the UNFAO. 2018 was observed as the 'Year of Millets' in India.
Tipping is practiced in which crop?
Tea
Coffee
Jute
Gram
Wheat
Ans: (1)
Analysis: Tea is plucked from plants when they grow to a height of 20cm. This is the tipping stage of tea. Tea is then dried and packed for sale.
Which of the following is the most dominant factor for soil degradation in semi-arid zones in India?
Wind erosion
Water erosion
Rill erosion
Sheet erosion
None of the above
Ans: (1)
Analysis: In semi-arid areas the precipitation is low and vegetation is sparse. This is why strong winds easily blow away the soil material that is loose. Without vegetation to hold the soil particles in place or water retention to make the soil heavy, (by bringing the particles close together) wind causes the surface area to blow away thereby eroding the soil. This is not only true for India but all semi arid regions in general.
Elephant grass is also known as?
Napier grass
Bermuda grass
Wheat grass
Elephant grass
None of the above
Ans: (1)
Analysis: Napier grass is a species of perennial tropical grass found in the African grasslands. It is also called Uganda grass.
After analysing the previous year's question paper(s), candidates can obtain a fair idea about the kind of questions that are evaluated in the NABARD Grade A ARD section of the paper. As we have seen through the course of this discussion, questions assessed have a fairly low level of difficulty. The questions are not penetrative and students can score well if they have a fair idea about the subject.
It has been reinstated over and over that candidates should stay on top of their GK and current affairs preparation. Current affairs for the last 3 months (before the scheduled exam) will surely be assessed in one question or another. To get a headstart on your General Awareness preparation you can find weekly updates on all aspects of general awareness on our BeePedia page. Moreover, these BeePedia updates are comprehensive and free and you can download them from the ixamBee website. BeePedia is also available in Hindi. Also, subscribe to our Agribee channel for updates. If you think you can learn better through audiovisual or multimedia-based instruction, subscribe to our ixamBee channel for exam preparation YouTube videos.
Our new batch for NABARD Grade A preparation is starting as of June 1, 2021. If you are preparing to clear the NABARD Grade A examination, there is no time to lose! Visit our website to join our new batch. You can also attempt our free mock tests here.
ixamBee has just launched a 'Get Vaccinated, Get Rewarded' offer to provide a flat 35% off to candidates who are preparing for competitive examinations and would like to buy any of our courses. To avail of this offer, all you have to do is upload a picture of yourself getting jabbed. Already been jabbed but no picture to show for it? Or haven't taken the vaccine yet? Worry not! You can also upload a picture of any member of your family taking the vaccine to avail of the 35% discount.
So hurry up and start sending us your pictures and get a flat 35% off on the course of your choice. Stay Home, Stay Safe!
Got queries? Check out the details here.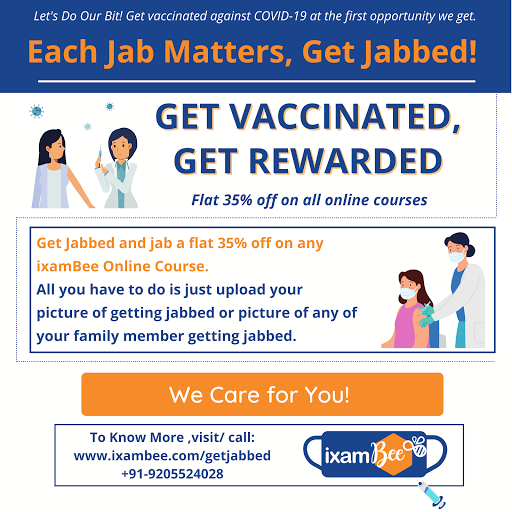 Also read:
What to Prepare Current Agriculture for NABARD Grade A, FCI AGM Exam.
NABARD Grade A 2021: Kurukshetra Magazine Review (March Edition)
NABARD Grade A Important ARD Topic: Institutional Financing Agencies
Get Free Online Test Series, GK updates in form of Beepedia, as well as latest updates for Bank PO, Bank Clerk, SSC, RBI, NABARD, and Other Government Jobs.