The NABARD Grade A 2021 Phase 2 examination is knocking at our doors. The exam will be held on Tuesday, November 16, 2021. This gives us exactly 1 week to pull up our socks and get ready to rumble.
In this article, we have molded a blueprint that will help you utilize the time that you have now productively in order to ace the exam on D-Day. Read the article carefully and follow the tips to the T if you want to qualify the Mains and get to the Interview round.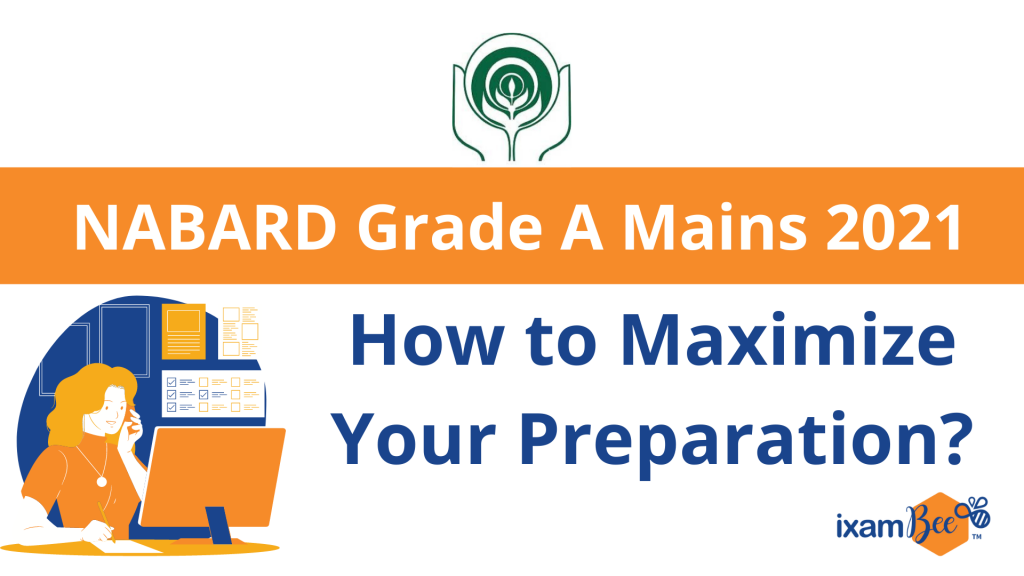 For your convenience, we will approach the preparation on an individual paper basis. Let us quickly go over the 2 papers once before we begin.
Paper 1 will assess Descriptive English.
Paper 2 will assess Agriculture & Rural Development and Economic & Social Issues (Objective + Descriptive).
Let us now cut to the chase.
NABARD Grade A 2021 Mains
Paper 1
Practice 1 comprehension exercise every day.
Read the newspaper and watch the news daily. Keeping yourself well-read will allow you to write better.
Read and write 1 essay every day on a topic related to current affairs.
Take help from S.P. Sharma's Descriptive English book.
Do not use flowery language. Write in simple and short sentences.
Write in an active voice as far as possible.
Some sample essay topics as presented in the information handout have been provided for you below.

Write a letter to your younger brother explaining him how Agriculture Sector has changed in the last decade in India.
Write a letter to the Branch Manager of a Crop Insurance company sharing a good experience of customer service in settling a claim (Based on your experience or reading).
Paper 2
Practice writing descriptive answers on a variety of topics every day.
Stay up-to-date with the information on government schemes and projects for ARD & ESI.
Revise the notes you have made during your study period.
Read and review the following resources

ARD Schemes & Reports
Kurukshetra & Yojana Magazine
Newspaper editorials
ixamBee's BeePedia
Also read How to Prepare for Descriptive ESI for NABARD Grade A?
Learn How to Prepare for Descriptive ARD for NABARD Grade A 2021 Mains examination.
NABARD Grade A Mock Test
One great way to put all the tips into action in one place is by attempting practice tests. In these last few days, we strongly encourage you to take 1 mock test every day. Moreover, at ixamBee, the NABARD Grade A Phase II Free Mock Tests are completely free!
NABARD Grade A Previous Years Papers
Although we hope you have been referring to the NABARD Grade A Mains Previous Year Papers for your preparation, in case you have not, it is not yet too late to take a good look at them.
NABARD Grade A Mains General Tips
As aforementioned, take 1 mock test every day.
Go through the details mentioned in the NABARD Grade A information handout for Phase 2 thoroughly.
Watch free study and revision videos on ixamBee's YouTube channel.
Work on your typing skills. You will need to be able to type quickly as your thoughts come together or else your thought process will get disturbed.
Always prepare a rough outline for the answer before you actually begin writing it.
Select the descriptive questions you want to answer carefully. There will be no dearth of choices, however, you need to choose wisely.
Substantiate all your answers with proper facts and data.
Do not forget to download your NABARD Grade A Admit Card 2021.
Unless your opinion is specifically asked, try to remain neutral on an issue.
Keep yourself motivated all the way through.
Exam Day Preparation
You will be allowed to carry the following items to your exam hall. No other items will be permitted.
Mask (WEARING A MASK is COMPULSORY)
Gloves
Transparent water bottle
Hand sanitizer
A simple pen
One ink stamp pad
Exam related documents (call letter and photocopy of the ID card stapled with it, ID Card in original)
Call Letter should be brought with the photocopy of the Photo ID stapled with it.
Original ID (same as the photocopy) is also to be brought for verification.
In case of Scribe Candidates – Scribe form duly filled and signed with Photograph affixed.
Candidates are discouraged from sharing any items with other candidates.
We wish you the very best, today and always.
At ixamBee, you can find free Online Test Series, GK updates in the form of BeePedia, as well as latest updates for SBI PO, Bank Clerk, SSC, RBI, NABARD, and Other Government Jobs.
Also See
NABARD Grade A Mains 2021: ESI Preparation with Mentor!
How to Prepare for NABARD Grade A Mains
NABARD Grade A/B 2021: Are you Phase 2 Ready?