Read here about the best books for banking exam preparation and best books for preparation of IBPS RRB PO/Clerk to understand what is the best study material for banking exams available for you.
Bank exams are hugely popular in India. This is because a career in the Banking sector, particularly, the public sector is a very lucrative career opportunity for young professionals. Every year, thousands of aspirants try their luck by taking several bank exams such as IBPS PO, IBPS Clerk, SBI PO, SBI Clerk and other bank exams that recruit personnel from time to time.
In this article, we will understand which book is best for bank exams in order to cognize how we can begin our preparation with the list of best books for bank exam preparation.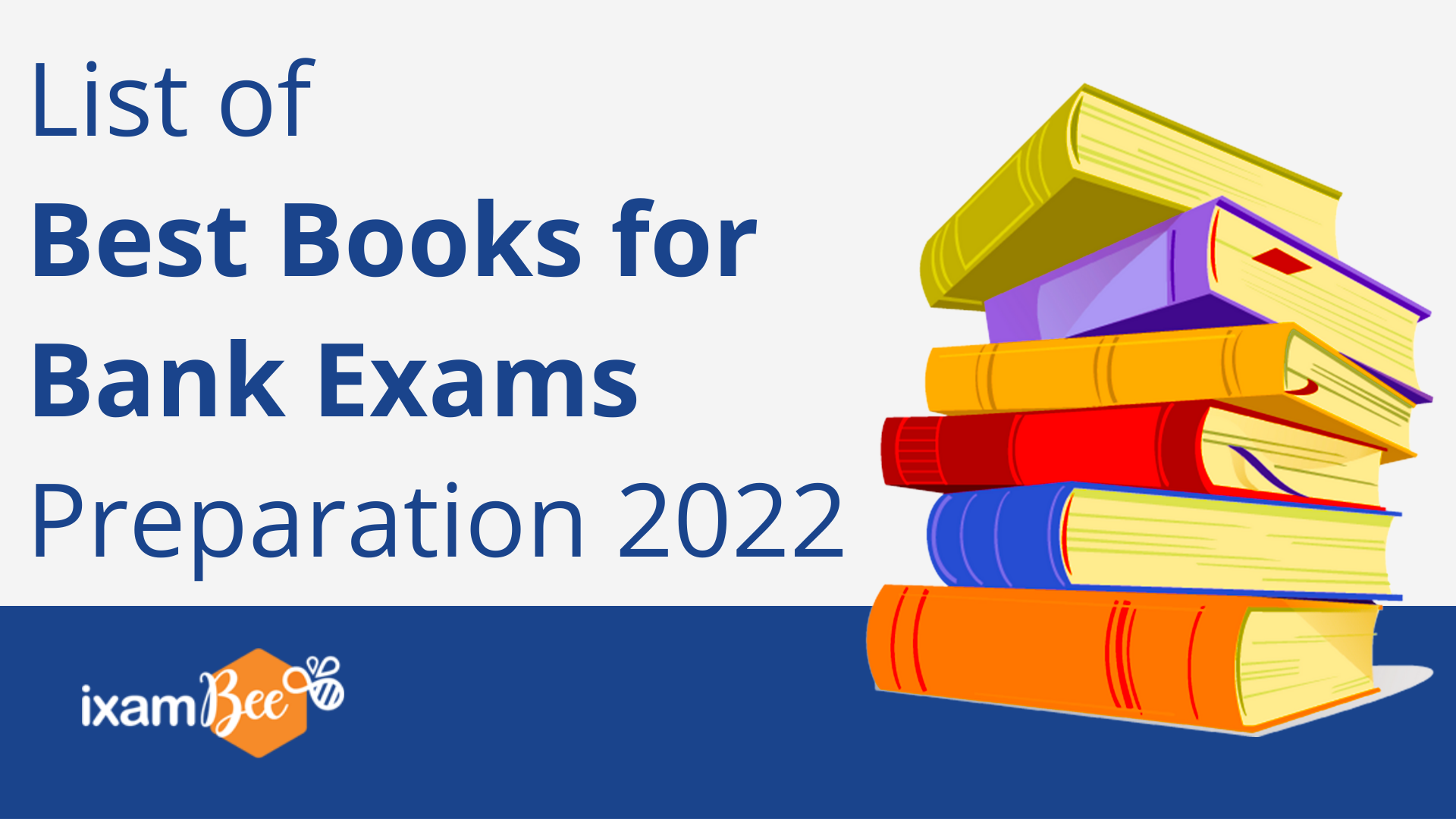 Bank Exam Preparation
Before we move ahead, we should be aware of the bank exam syllabus and books. So firstly, we will try to see which subjects are tested in banking exams like IBPS PO, IBPS Clerk and SBI PO. The subjects assessed are:
English Language
Quantitative Aptitude
Reasoning/General Intelligence
General/Banking Awareness
Computer Aptitude (Generally in the Mains exam)
Also see: How to Prepare for Bank Exams: 25 Week Study Plan for Bank PO
Best Books for Bank Exam Preparation
Get all the information about the best book for banking exam preparation in this section. We have listed for you the bank preparation books that will surely and easily help you prepare for all banking exams whether it is for IBPS PO or SBI, RBI, or NABARD. So now, let us take a look at the subject-wise bank exam preparation books.
Best Books for English Preparation
English is a subject that often overwhelms students, especially those who have attained their education in vernacular medium schools. However, there is no need to worry if you are preparing for competitive exams. The level of assessment is quite basic and we have provided you with the best book for banking preparation that will help you crack this section with ease. We have provided the list of best books for English language preparation for bank exams for you below. You can refer to these books for your study.
Word Power Made Easy by Norman Lewis
Objective General English 2nd Edition by S.P. Bakshi
Teach Yourself English Language & Comprehension by Meenakshi Upadhayay
Topic-wise Solved Papers for IBPS/SBI Bank PO/Clerk Prelim & Main Exam by Disha Experts
Objective General English by R.S. Aggarwal
Word Power Made Easy by Penguin
Objective General English By S.Chand
Descriptive English (For All Competitive Examinations) by S.J. Thakur and S.K. Rout
Best Books for Reasoning Preparation
The reasoning section is sometimes also assessed as "Reasoning and General Intelligence". You will find a list of all bank exam book names that will help you prepare for this section.
A Modern Approach to Verbal & Non-Verbal Reasoning by R.S. Aggarwal
Test of Reasoning by Edgar Thorpe
Analytical Reasoning by M.K. Pandey
Verbal & Non-Verbal Reasoning by S. Chand
Verbal & Non-Verbal Reasoning by Arihant Publication
Bank Clerk Reasoning Chapterwise Solved Papers by Kiran Publication
How to Crack Test of Reasoning by Jaikishan
Also see: SBI Clerk Syllabus 2022 Syllabus & Best Books
Best Books for Quantitative Aptitude Preparation
Quantitative Aptitude for Competitive Examinations 17th Edition by R.S. Aggarwal
Practice Book on Quicker Maths 2nd Edition by M.Tyra & K.Kundan
Quicker Mathematics by PSC Publication
Quantitative Aptitude Test by S. Chand
Class Notes by S.S. Bharti
Topic-wise Solved Papers for IBPS/SBI Bank PO/Clerk Prelims & Mains- Quantitative Aptitude by Disha Experts
Fast Track Objective Arithmetic by Arihant Publication
Best Books for GA Preparation
Pratiyogita Darpan by Upkar Prakashan
Lucent's General Knowledge by Lucent Publications
General Knowledge 2022 by Arihant Pandey
General Knowledge 2022 by Manohar Pandey
Banking Awareness by Arihant Publications
Banking Awareness for SBI/IBPS Bank Clerk/PO/RRB/RBI Exams by Disha Experts
Objective Banking & Financial Awareness by Dhankar
RapidFire General Knowledge 2022 for Competitive Exams by Disha Experts
General Knowledge Capsule 2022 by Disha Experts
Also, be sure to take a look at ixamBee's BeePedia capsules to stay abreast with all the latest General Awareness information! These capsules are available both in English and Hindi. They are prepared with the intention to help aspirants with their exam preparation. You can follow this link or visit our website to download these information capsules completely for free!
Best Books for Computer Knowledge Preparation
Computer Knowledge or Computer Aptitude may not always be tested in all bank exams as certainly as in the aforementioned subjects. However, if you are preparing for several bank exams, it would be wise to know in which exams you can be tested on this subject. For example, it is tested in the IBPS PO Mains exam. The important books for your reference have been provided below.
Objective Question Bank of Computer Awareness for General Competitions by Arihant Experts
Computer Awareness by Arihant Experts
Kiran Objective Computer Knowledge & Literacy by Pratiyogita Kiran
Computer Awareness by N.K. Gupta
Computer Knowledge by Shikha Agarwal
Also see: Best Books for RBI Grade B 2022 Phase 1
Best Books for IBPS RRB PO/Clerk Exam
The Institute of Banking Personnel Selection recruits candidates to work in Regional Rural Banks as Clerks and Scale 1, Scale 2 and Scale 3 officers. This is a golden opportunity for those looking to make a career in the banking sector because several vacancies are released every year. Therefore, if you want to understand how to prepare for IBPS RRB PO/Clerk exams, you must look for the best study materials. For this, we have listed the best books for IBPS RRB exams below. These books are recommended by experts for IBPS RRB exam preparation.
Before we move ahead, please note, that in the IBPS RRB PO exam and IBPS RRB Clerk exam, only Reasoning and Numerical Ability are assessed in the Prelims paper.
In the IBPS RRB PO/Clerk Mains exams, General Awareness, Computer Knowledge and Hindi/English are also assessed with Reasoning and Numerical Ability.
Reasoning
Reasoning Book for Competitive Examinations for Bank PO/Clerk, IBPS, SBI, RBI, SSC-CGL by Pearson
How to Crack Test Of Reasoning by Jaikishan
Bank PO Reasoning Chapterwise Solved Papers by Kiran Prakashan
A New Approach to Reasoning Verbal and Non-Verbal by BS Sijwali
We recommend that you also refer to R.S. Aggarwal's A Modern Approach to Verbal & Non-Verbal Reasoning. This is a seminal book for any Reasoning test preparation.
Numerical Ability
Magical Books On Quicker Maths by M Tyra
Kiran's Quantitative Aptitude Numerical Ability
Be especially sure to refer to Quickest Mathematics by Kiran Prakashan which is great for students who want to practice a variety of subjects of varying levels of difficulty.
General Awareness
Manorama Yearbook
India Year Book by Publications Division, Government of India
Banking Awareness for SBI & IBPS Bank Clerk/ PO/ RRB/ RBI/ LIC exams 4th Edition by Disha Experts
Banking Awareness by BK Raut and SR Behera
The aforementioned book by Disha Experts is especially useful for studying current affairs related to financial awareness and the Indian economy.
English
New Pattern English Language for SBI/IBPS Bank PO/SO/Clerk/RR by Disha Experts
English Grammar & Composition by S.C. Gupta
Additionally, the IBPS RRB PO/Clerk syllabus can be covered by also studying "Wren and Martin's English Grammar and Composition". This is a seminal book for any English Language preparation.
Computer Knowledge
Objective Computer Awareness by Arihant Experts
Computer Awareness by VMS Grover
Bank Exam Preparation with ixamBee
If you want to ace your banking exam preparation, it is important that you explore ixamBee's Ultimate BeeBanker Online Course. This course is designed to help students prepare for all bank exams. Therefore, we recommend that you carefully go over the features of this course listed below.
More than 400 video lessons
More than 200 study notes in PDF form
10 Descriptive English mock tests
Weekly tests
More than 10,000 practice questions
More than 150 Difficulty based Chapter Tests
More than 75 Section tests
10 one-on-one individual sessions
Daily Live Classes with the concerned faculty
Interview Preparation
Unmatched mentorship
You can avail of this course for 2 years!!
If you are unable to crack any exam in 2 years, you will be given a full refund.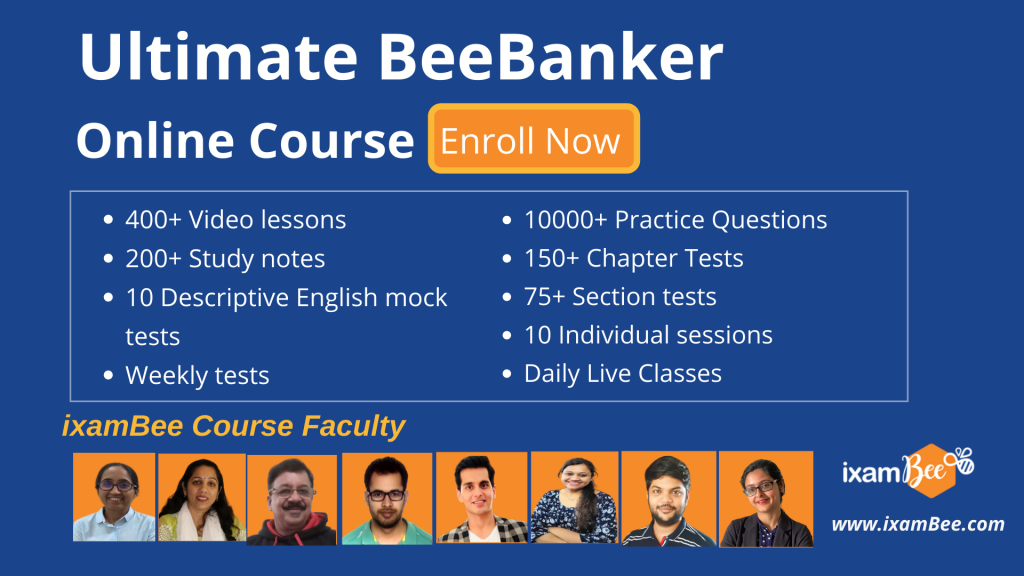 Best wishes to all aspirants
At ixamBee, you can find free Online Test Series, GK updates in the form of BeePedia, as well as latest updates for SBI PO, Bank Clerk, SSC, RBI, NABARD, and Other Government Jobs.
Also read
Preparing for Bank PO Exams? Here's What You Ought to Know!
Data Interpretation Questions For Bank Exams- SEBI Grade A, SBI PO & IBPS PO
Ultimate BeeBanker Online Course for Bank PO & Bank Clerk Preparation
Tips to Prepare for Bank Exams 2022