Read here Latest Current Affairs Events of January & February 2022, Important National & International current affairs for 2022.
The knowledge of Current affairs and General Awareness is important for all of us if we want to stay aware of the world around us. However, this knowledge becomes even more important if we are preparing for competitive exams like RBI Grade B, NABARD Grade A, Railways, SSC and other bank exams.
In this article, we are going to briefly go over all the important and latest current affairs of January & February 2022 for both National & International events.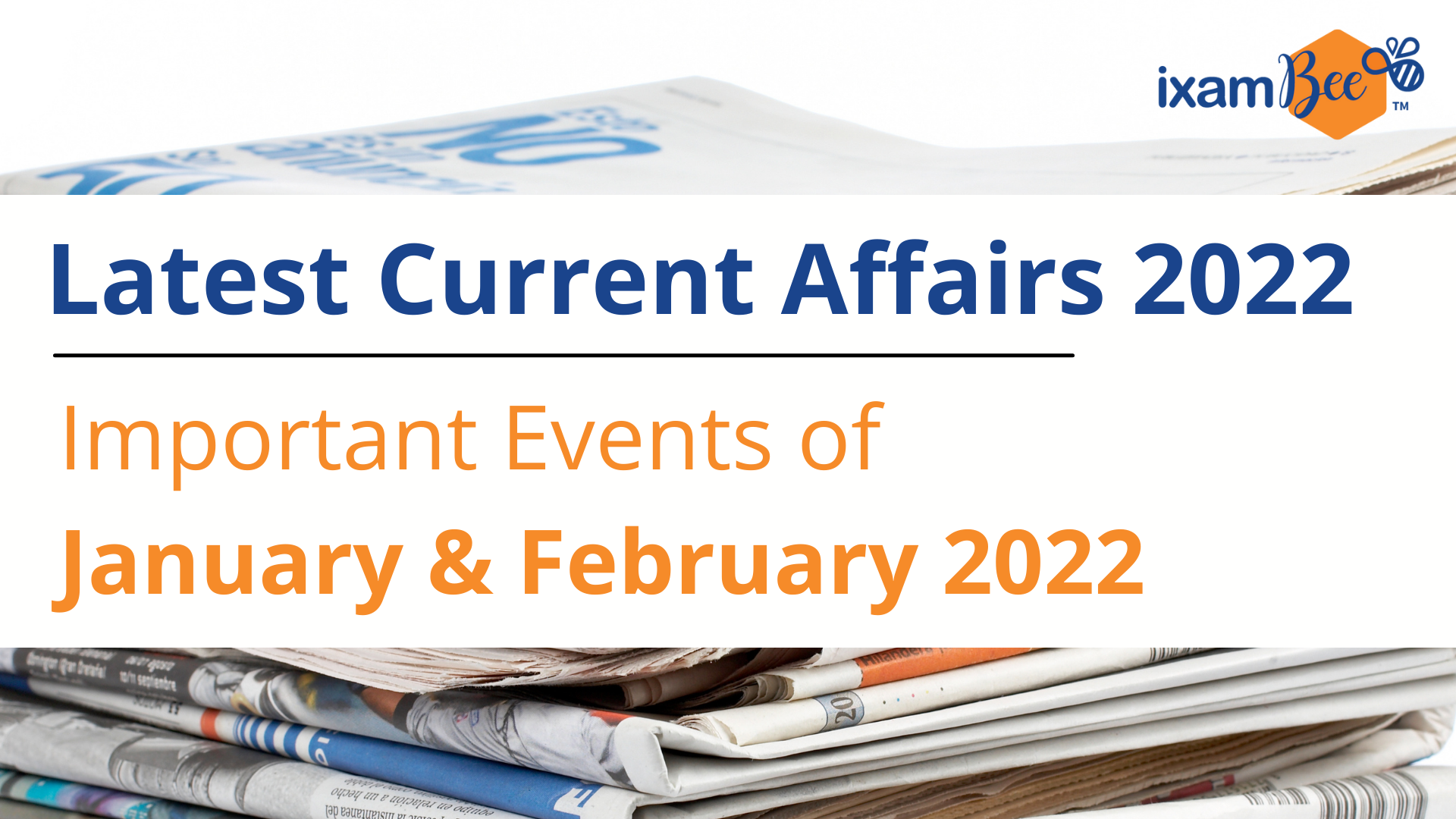 Latest Current Affairs 2022
We will first look at the important events of January 2022 and then read about the important current affairs for February 2022. For your convenience, we have listed the National and International news separately.
Latest Current Affairs 2022: January
National
The Heartfulness International Yoga Academy was founded in Hyderabad, Telangana by Union Ayush Minister, Sarbananda Sonowal.
The 25th National Youth Festival was held in Puducherry between January 12 to 16 2022.
T.S. Tirumurti appointed as the Chair of the UN Security Council Counter-Terrorism Committee for 2022.
The Parliament of India launched an official app named 'Digital Sansad App' on January 27, 2022.
Government approves 19th Tranche of Electoral Bonds
PM inaugurates the Bina (MP)- Panki (UP) Multiproduct pipeline project.
The Indian Institute of Technology (IIT) Madras ranked at number 1 in the Atal Ranking of Institutions on Innovation Achievements (ARIIA) 2021 (released in January 2022).
The Government of India joined forces with Israel to create 150 'Villages of Excellence' in 12 States of our country
India ranked 83rd in the Henley Passport Index 2022.
ISRO successfully conducted the qualification test of Cryogenic Engine for Gaganyaan mission at the ISRO Propulsion Complex (IPRC), Mahendragiri, Tamil Nadu.
SEBI launched the Saarthi App on January 19, 2022, to create awareness among the investors about the Securities Market, KYC Process and more.
The Central Drug Research Institute developed an indigenous RT-PCR kit called 'INDICoV-OmTM' or 'Om' for testing the COVI-19 omicron variant.
The Sahitya Akademi conferred the Yuva Puraskar and the Bal Sahitya Puraskar for 2021 on 22 winners.
International
Egypt becomes fourth new member of BRICS New Development Bank.
World's Longest Metro Line Opens in Shanghai, China. The line runs the length of 831 km.
Japan signed the 'Reciprocal Access Agreement (RAA)' with Australia on January 6, 2022.
France takes over the rotating presidency of the European Union. The Czech Republic will take up the presidency next in June 2022.
The United States of America topped the 2022 International Intellectual property (IP) Index.
New Species of Rainfrog Discovered in Panama Named After Swedish environmental activist Greta Thunberg (Pristimantis gretathunbergae/ Greta Thunberg Rainfrog).
Also read: Important Days of January 2022
Latest Current Affairs 2022: February
National
The Finance Minister Nirmala Sitharaman presented the Union Budget 2022-2023 in the Parliament of India on February 1,2022.
February 1-7, 2022 was observed as 'UPI Safety and Awareness Week' in India. The entire month of February was observed as 'UPI Safety and Awareness Month'.
Legendary playback singer Lata Mangeshkar passed away on February 6, 2022.
Legendary singer and music composer Bappi Lahiri passed away on February 15, 2022.
Ratan Tata was conferred Assam's highest civilian award, i.e., "Assam Bhaibhav' on February 16, 2022
NITI Aayog organised a 3-week virtual summit, 'Fintech Open', between February 7–28, 2022.
Exercise Milan 2022 was held in Vishakapatnam.
Kala Ramachandran became Gurugram's first woman Police Commissioner.
Tata group acquired Odisha-based Neelachal Ispat Nigam Ltd for ₹12,100 crore.
Chennai Super Kings becomes India's First Unicorn Sports Enterprise.
The Khijadiya Bird Sanctuary in Gujarat and Bakhira Wildlife Sanctuary in Uttar Pradesh were listed as Wetlands of International Importance by the Ramsar Convention.
The State Bank of India General Insurance Company Ltd. launched a '#BahaneChhodoTaxBachao' campaign to educate users.
India became the 2nd country to implement the T+1 stock settlement mechanism after China.
Madhabi Puri Buch replaced Ajay Tyagi as the new chairman of the Securities and Exchange Board of India. She became the first lady chairman of SEBI.
The Geological Survey of India (GSI) approved the setting up of India's first geopark in Madhya Pradesh.
The Delhi Cabinet approved establishing India's first electronic-waste eco-park in New Delhi as a part of its Delhi Film Policy 2022.
The largest electric vehicle (EV) charging station in India was inaugurated at Gurugram.
Home Delivery of medicines begins under Services e-Health Assistance and Teleconsultation (SeHAT) program.
India launched Operation Ganga on February 26, 2022, to evacuate Indians from Ukraine amidst Russia's invasion on Ukraine.
International
A war between Ukraine and Russia began on February 24, 2022.
Canada approved world's 1st plant-derived COVID-19 vaccine.
Xiomara Castro Sworn In As First Female President Of Honduras.
Dubai firm, the Zenith Marine Services LLC to launch world's first hydrogen-powered flying boat in partnership with THE JET ZeroEmission.
South Africa developed its version of the Moderna vaccine to augment vaccinations all over Africa
4 Indian cities featured in TomTom Traffic Index 2021: Mumbai, Pune, Delhi and Bengaluru.
NASA announced its plan to retire the International Space Station in 2031.
ISRO successfully launched 3 satellites; EOS-04, INSPIREsat-1 and INST-2TD.
NABARD launched their 'JIVA Programme' to promote natural farming.
Also read: Important Days of February 2022
Daily GA Quiz
A great way to keep up-to-date with the latest current affairs is by taking General Awareness quizzes routinely. At ixamBee, you can take a daily GA quiz completely for free. Be sure to take a quiz today!!
BeePedia for General Awareness
If you too want to stay abreast with the latest GA updates, be sure to read ixamBee's weekly/monthly BeePedia capsules. These BeePedia current affairs capsules are available in Hindi & English.
Also read
Union Budget 2022-23: Key Highlights
2021: A Recap of the Important Events of the Year
Important Days of December 2021