NABARD Grade A Exams are a golden opportunity for the aspirants who are looking to work in Agriculture and Rural Development areas. In this article, we will discuss the NABARD Grade A Agriculture and Rural Development (ARD) section of the paper. However, this article will solely be focused on how candidates can prepare for the Rural Development part of the NABARD Grade A 2021 ARD syllabus. Our subject expert, Kailash Tiwari, ex-AFO, UBI, will take you through the NABARD Grade A syllabus to help you understand how you can prepare for questions about Rural Development. We will look at the syllabus for Rural Development, how to prepare for it and what are the resources available for the same.
How to study Rural Development?
Unlike Agriculture, there is no static syllabus for Rural Development. Questions revolve around Panchayat Raj development or about various schemes run by the Rural Development Ministries.
To begin with, first, you have to conceptualize a rural society/ village in your mind. When you do this, think about the following points with context to a rural setting.
Challenges faced in Indian villages
Lack of roads/connectivity- Single-lane roads,
Lack of housing facilities– In a rural setting, people have simple homes. Living in a pucca house is quite difficult as well.
Lack of proper sanitation– No proper management of solid and/or liquid waste. Water waste is dumped in a common canal which leads to diseases.
Maximum agriculture work (livelihood and employment)- More than 50% of Indian population lives in its villages. There is poor employment generation in the agricultural field. This is why the youth are migrating to cities for better opportunities. You will always be questioned about the Mahatma Gandhi National Rural Employment Guarantee Act (MGNREGA)
Low rates of literacy– People in the villages live very difficult lives. Acquiring basic necessities is a challenge in itself. The focus of the entire family is shifted from education to acquiring basic needs and surviving day-to-day.
Poor basic infrastructure– Primary infrastructure for the health and education sectors is very poor. The aims and objectives of the Community Development Program started in 1952 yet remain unfulfilled.
NABARD Grade A 2021: Rural Development Syllabus
Before we move forward with understanding how to prepare for the Rural Development syllabus, let us look at some broad topics that are evaluated in the examination. There are three main broad headings under which there are several subjects that are assessed. They are:
Rural Area: Concept of Rural Area, Structure of the Indian Rural Economy, Importance and role of the rural sector in India- Economic, Social and Demographic Characteristics of the Indian rural economy, causes of Rural Backwardness
Rural population in India: Occupational structure, Farmers, Agricultural Labourers, Artisans, Handicrafts, Traders, Forest dwellers/tribes and others in rural India- Trends of change in rural population and rural workforce; problems and conditions of rural labour; Issues and challenges in Handlooms
Panchayati Raj Institutions: Functions and Working. MGNREGA, NRLM – Aajeevika, Rural Drinking water Programmes, Swachh Bharat, Rural Housing, PURA and other rural development programs.
What should I focus on?
Now that we have conceptualized life in rural areas, we should understand what needs to be studied to understand and answer questions related to rural development in India.
Rural connectivity initiative and program– What is the government doing to develop roadway connectivity in rural areas?
Rural housing- Pradhan Mantri Gramin Awas Yojana (PMAY-G) previously Indira Awas Yojana, is a social welfare program, created by the Indian Government, to provide housing for the rural poor in India.
SBM-ODF, ODF, ODF+- Swatchh Bharat Mission: The Swachh Bharat Mission-Urban aims to fulfill the objective of 100% Open Defecation Free (ODF) status in all Urban Local Bodies (ULBs) in the country by 2019. This will entail providing access to clean and usable toilet facilities for the citizens.
Source of employment (skill development and MGNREGA)- Study the schemes undertaken by the Ministry of Skill Development. Understand the aims and objectives of MGNREGA
Educational advancement (initiatives)- Study the schemes and programs undertaken by the government for educational advancement such as Midday Meal Scheme, Beti Bachao, Beti Padhao (BBBP) and Sarva Shiksha Abhiyan (SSA) among others.
Health structure and programs- Study the schemes and programs undertaken by the government to strengthen the health infrastructure such as PM Jan Arogya Yojana, PM Jan Aushadhi Yojana and Health and Wellness Centers (HWCs).
Static Rural Development
How to study Static rural development? There are no prescribed books or guidelines per se. If you have a fair idea about the problems faced in the rural areas and the work done so far, you will be able to understand what kind of questions are asked from static rural development.
The rural economy in India- Rural economy constitutes 46 percent of national income. Thus growth and development of the rural economy and population are key to the overall growth and inclusive development of the country.
Rural population and workforce- What is the structure of the rural population? Where does the rural population seek livelihood and employment? These and many other similar questions can be expected.
Panchayati Raj Institutions– How did the system of Panchayati Raj evolve? We will study the various committees set up over the years to formulate the Panchayati Raj system later in this article. Questions on Panchayati Raj are surely assessed in every examination.
About NABARD– What is NABARD? What are its functions, aims and objectives? If you are preparing for the NABARD Grade A exam, it is understood that you need to know about the work done by the institution.
Institutional and non-institutional agencies- What are the agencies that work in the rural areas for their development? Agencies such as banks, cooperative societies, registered societies and NGOs fall under this category.
Rural credit– Any loan that is taken for agricultural purposes or small home businesses across the rural areas in India is known as a rural credit. Also know about Kisan Credit Card (KCC) and Nationalization of Banks 1969.
Sources to study Rural Development
Static part- Related Ministries and the reports they publish.
Kurukshetra Magazine is a monthly magazine published by the Government of India. It helps us understand the government's views on an issue and the steps taken to work toward it. Reading the Kurukshetra magazine will not only help you prepare for ARD but also the Economic and Social Issues (ESI) part of the syllabus. If you are unable to read the entire magazine, you can always find YouTube videos giving you the summary of the monthly publication.
Read the Yojana magazine as well.
Dynamic current affairs- Current affairs topics related to agriculture and rural development. Ministry of Rural Development, Ministry of Micro, Small & Medium Enterprises published by the Press Information Bureau (PIB)
Economic survey-Agriculture and Rural Development for the year 2020-21.
Panchayati Raj
Through the decades, several committees have been formed that have helped the evolution of the Panchayati Raj System in India. All the efforts culminated in the adoption of the 73rd Amendment Act, 1992.
The Constitution (73rd Amendment) Act, 1992 added a new part IX that consisted of 16 Articles to the Eleventh Schedule of the Constitution. The 73th Amendment foresaw the Gram Sabha as the basis of the Panchayat Raj System that would carry out duties and delegate power as it derived from the State Legislatures.
NABARD Grade A 2021: Preparation Strategy / Exam Preparation / Preparation Plan
Our new batch for NABARD Grade A preparation has begun as of June 1, 2021. However, don't lose heart if you have not yet enrolled. We are still taking new students if you want to join this batch. If you are preparing to clear the NABARD Grade A examination, there is no time to lose! Visit our website to join our new batch.
You should take a look at the previous year's question papers. It will give you a good idea about what kind of questions are assessed. Similarly, you can take a free mock test to gauge the exam pattern while also evaluating your preparation. You can also understand how to cover the Agriculture part of the NABARD Grade A syllabus.
ixamBee has just launched a 'Get Vaccinated, Get Rewarded' offer to provide a flat 18% off to candidates who are preparing for competitive examinations and would like to buy any of our courses. To avail of this offer, all you have to do is upload a picture of yourself getting jabbed.
Stay Home, Stay Safe!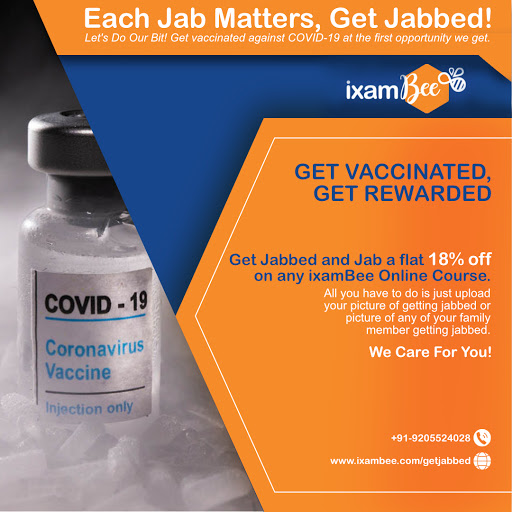 Also read
NABARD Grade A 2021: Previous Year Question Paper 2020 (ARD Analysis)
NABARD Grade A 2021: Kurukshetra Magazine Review (March Edition)
How to Prepare Quant for NABARD Grade A
At ixamBEE you can find free Online Test Series, GK updates in form of Beepedia, as well as latest updates for Bank PO, Bank Clerk, SSC, RBI, NABARD and Other Government Jobs.