October, the tenth month of the Gregorian calendar, holds some important national and international events. The month has derived its name from OCTO, which in Latin means "eight." The month of October has been selected as 'Breast Cancer Awareness Month, this year to raise awareness about the impact of breast cancer.
Knowing about important dates in October will help you in your upcoming bank, SSC, and Central and State Government jobs. Such type of information is generally covered under the General Awareness section in various competitive exams. Let's have a look!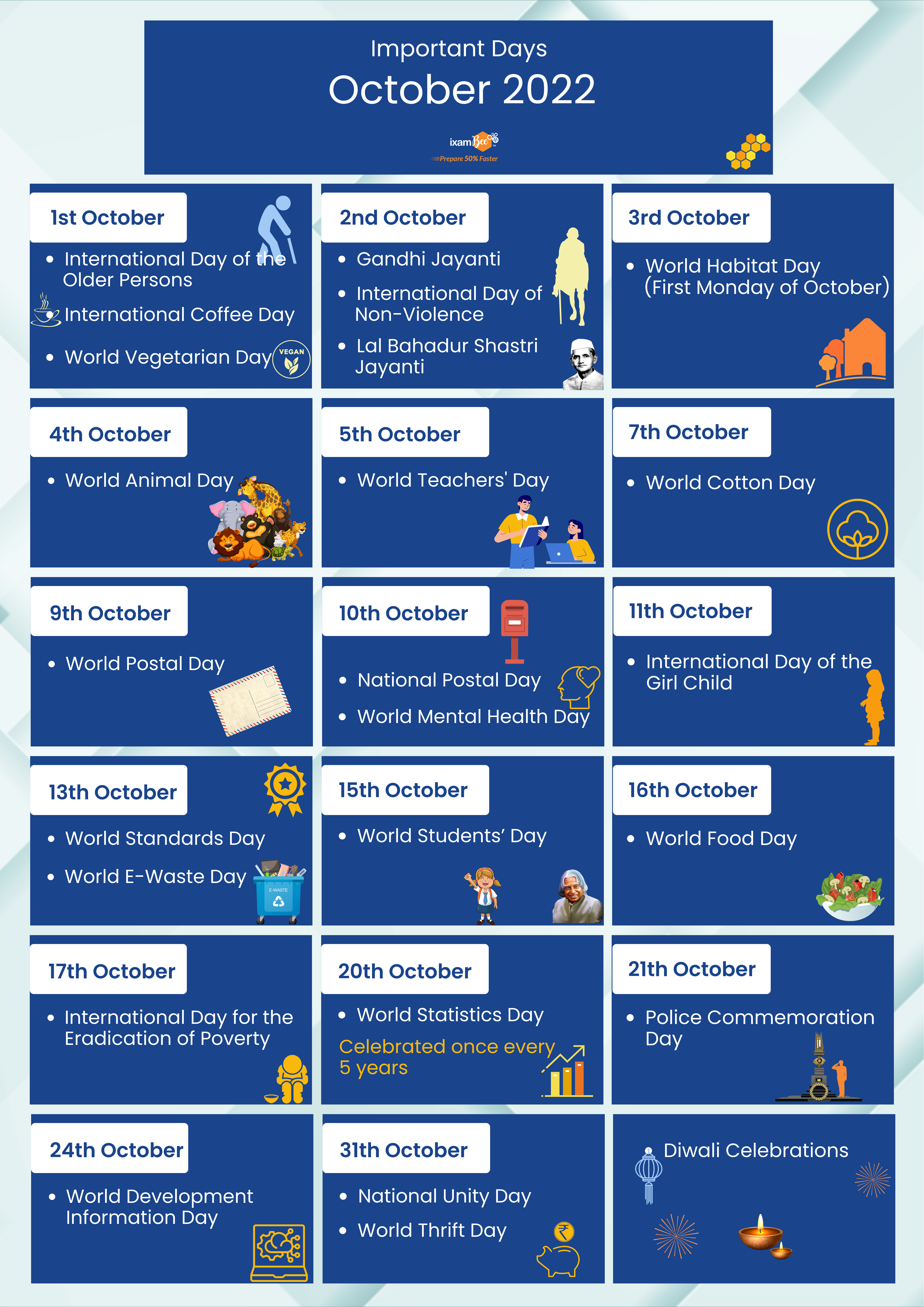 October Important Days
The important dates for October are given below.
Date
Event
Importance
October 1
International Day of Older Persons
To celebrate raising awareness about issues affecting the elderly
International Coffee Day
To promote and celebrate coffee as a beverage.
October 2
Gandhi Jayanti / International Day of Non-Violence
Gandhi Jayanti is an event celebrated in India to mark the birthday of Mahatma Gandhi. Also celebrated as the International Day of Non-Violence.
October 4
World Animal Day
International day of action for animal rights and welfare, the feast day of Francis of Assisi, the patron saint of animals
October 4
World Habitat Day
To reflect on the state of our towns and cities and on the basic right of adequate shelter for all. Theme 2022: Mind the Gap. Leave No One and Place Behind
October 5
World Teachers' Day (International Teachers Day)
To mark the rights and responsibilities of teachers and standards for their primary preparation and additional education, recruitment, profession, and pedagogy.

Theme 2022: The transformation of education begins with teachers
October 7
World Cotton Day
To recognize the countless benefits that cotton brings to communities worldwide.

Theme 2022: Weaving a better future for cotton
October 8
World Egg Day
To celebrate the power of the egg.
Indian Air Force Day
To celebrate the valour of the Indian Air Force. This year India will celebrate the 89th anniversary of Indian Air Force Day.
October 9
World Migratory Bird Day
To raise awareness about the conservation and ecological importance of such birds in the global ecosystem.

Theme 2022: Light pollution and its impact on migratory birds
October 9
World Post Day
To celebrate the global communications revolution through the ability to write letters to others all over the world. Theme 2022: Post for Planet
October 10
World Mental Health Day
The day is for global mental health education, awareness and advocacy against social stigma. Theme 2022: Making mental health for all a global priority
October 10
World Day Against the Death Penalty
To advocate for the abolition of the death penalty and raise awareness of the conditions and the circumstances which affect prisoners with death sentences. Theme 2022: The Death Penalty: A Road Paved with Torture
October 11
International Day of the Girl Child
To support opportunities for girls and increase awareness of gender inequality faced by girls worldwide based upon their gender. Theme 2022: All girls deserve better—the world deserves better
October 12
World Arthritis Day
The day is designed to raise global awareness about all facets of the disease. Theme 2022: It's in your hands take action
October 13
International Day for Disaster Risk Reduction
To promote a global culture of risk awareness and disaster reduction to reduce the impact of calamities on human beings and other life forms on our planet earth. Theme 2022: Substantially increase the availability of and access to multi-hazard early warning systems and disaster risk information and assessments to people by 2030
October 14
World Standards Day
To raise awareness among regulators, industry and consumers about the importance of standardization to the global economy.
October 14
International E-Waste Day
Focuses on the crucial part each of us plays, as consumers and citizens, in making circularity a reality for e-products.
October 15
International Day of Rural Women
Theme 2022: Rural women confront the global cost-of-living crisis
October 15
Global Handwashing Day
To motivate and mobilize people around the world to improve their hand-washing habits. Theme 2022: A health care "quality and safety climate or culture" that values hand hygiene and infection prevention and control.
October 16
World Food Day
The day is celebrated to commemorate the date of the founding of the United Nations Food and Agriculture Organization in 1945. Theme 2022: Leave NO ONE behind
October 17
International Day for the Eradication of Poverty
The day is an international observance celebrated each year throughout the world.
October 20
World Osteoporosis Day
To raise global awareness of the prevention, diagnosis and treatment of osteoporosis and metabolic bone disease.
October 21
National Police Commemoration Day
To remember and honour the brave policemen who have laid down their lives in the line of duty.
October 22
International Stuttering Awareness Day or International Stammering Awareness Day
To raise public awareness of the issues faced by millions of people – one percent of the world's population – who stutter, or stammer. Theme 2022: Being seen, being heard: Representation and normalization of stuttering in the mainstream
October 23
International Snow Leopard Day
To protect and conserve snow leopards and other wildlife of the Himalayas. Snow leopards are an endangered species
October 24
World Polio Day
The day is observed in order to call on countries to stay vigilant in their fight against the disease. Theme 2022: World Polio Day 2022 and Beyond: A healthier future for mothers and children
October 24
United Nations Day
To make people of the world aware of the aims and achievements of the United Nations and to gain their support for its work. Theme 2022: End racism. Build peace
October 24
International Day of Diplomats
The day marks the contributions made by diplomats in shaping the world since ancient times and in making our planet a better place.
October 27
World Day for Audiovisual Heritage
To raise awareness of the significance and preservation risks of recorded sound and audiovisual documents. Theme 2022: Enlisting documentary heritage to promote inclusive, just and peaceful societies
October 28
International Animation Day
To celebrate the art of animation
October 29
International Internet Day
The day marks the sending of the first electronic message which was transferred from one computer to another in 1969.
October 29
World Psoriasis Day
The day shines a light on the challenges faced by those suffering from psoriasis and psoriatic arthritis. Psoriasis is a disease that results from an overactive immune system and is evidenced by rashes on the skin
October 31
National Unity Day
The day was introduced by the Government of India in 2014. The day is celebrated to mark the birth anniversary of Sardar Vallabhai Patel.
General Awareness is an essential section in almost all bank exams. It checks how much you are aware of the happenings around the world. Be aware and score high so that you overcome all hurdles that come your way while achieving your dream job.
To help you prepare 50% faster for competitive exams, ixamBee provides free Mock Test Series for all the Current Affairs in English and Current Affairs in Hindi in the BeePedia capsules for GA Preparation. You can also get the latest updates for Bank PO, Bank Clerk, SSC, RBI  NABARD and Other Government Jobs.
Also read
Important Days in November 2022: Children's Day in India, World Vegan Day & More
Important Days in September 2022 and Their Themes
Important Days of August: National Handloom Day, Breastfeeding Week & More!
The government revoked three contentious farm bills