What should be my strategy for clearing IBPS PO Mains exam?
The IBPS PO 2021 Mains exam date has been fixed to be held on January 22, 2022. While, we are confident that you have been studying really hard for the IBPS PO Mains exam 2021, now, with so few days in hand, it is time to make a switch.
Forthwith, it is time for you to centre all your preparation for the IBPS PO Mains Exam to revision and taking practice tests.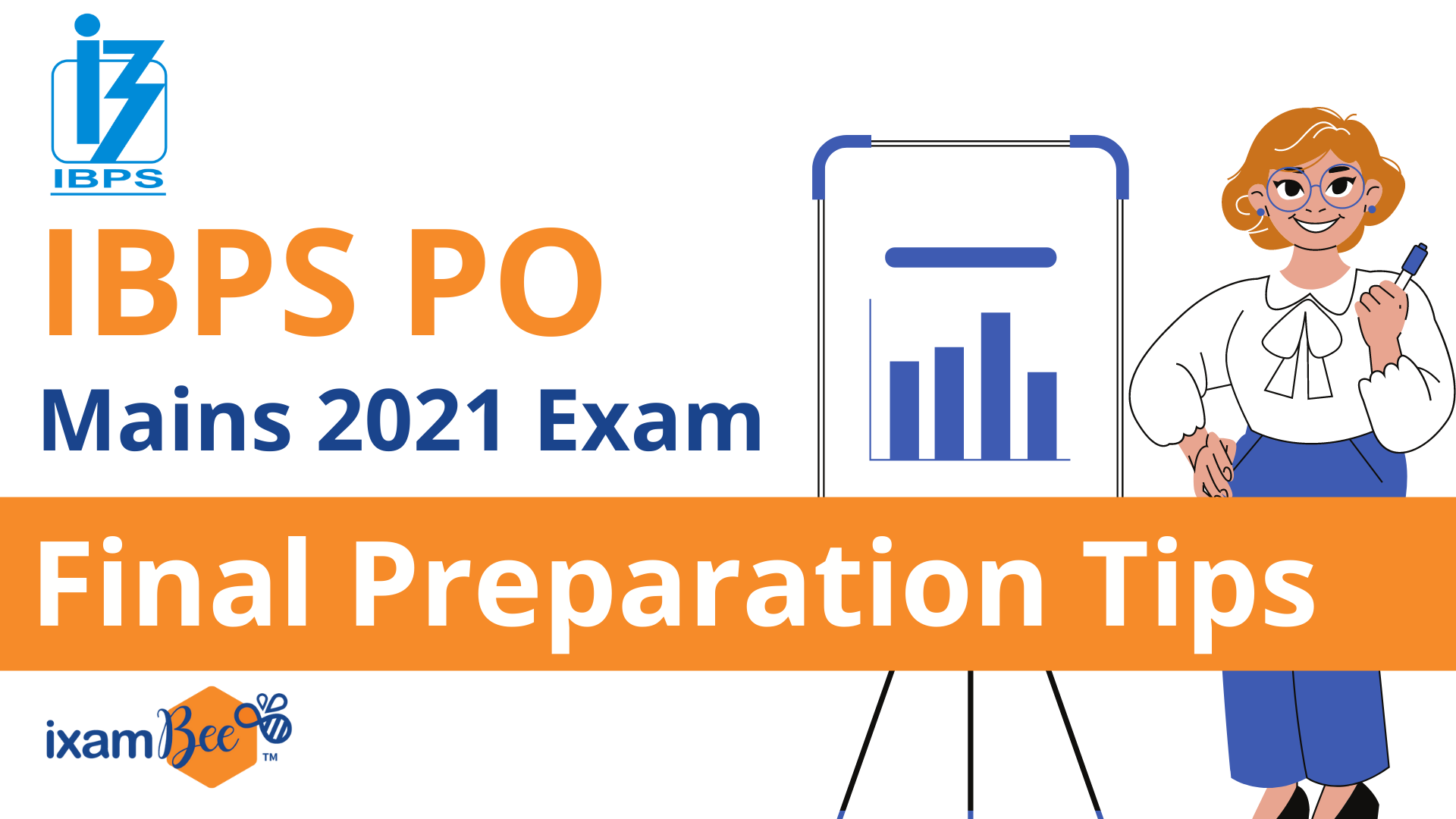 In this article, we will try to understand how you can achieve the aforementioned. We will discuss what your IBPS PO Mains preparation strategy should look like in the last days before the exam.
IBPS PO Mains 2021 Best Preparation Tips
In order to revise for the IBPS PO Mains 2021 exam with the best preparation tips, ask yourselves the following questions to gauge your standing. In addition to this, you will need to realign your IBPS PO Mains preparation strategy according to your answers to utilize these days to the max.
Have you finished studying the entire IBPS PO Mains Syllabus? Ideally, you should've already completed all your study by now and begun your revision. Nonetheless, in case you haven't, please begin immediately.
Are you familiar with the IBPS PO Previous Year Cut Off? At ixamBee, you can analyze cut-off marks for the last few years as well. This will give you a fair idea of the marks you need to earn in order to clear this exam.
Have you been maintaining notes? If yes, now is a good time to revise them over.
Have you been taking GK quizzes? Take a free Daily GA Quiz with ixamBee today!
Have you been preparing for Computer Aptitude? This is an extremely scoring section as the syllabus is quite basic. Moreover, the Computer Aptitude test is clubbed with Reasoning in the same section. Hence, if you perform well in this test, you can improve your overall score for this section.
Have you been taking Free Mock Test for IBPS PO Mains Exam? Practice tests are an irreplaceable asset for any exam preparation. However, at ixamBee, this invaluable resource is offered completely free.
Have you been keeping up with the latest Banking and General Affairs? You can also refer to ixamBee's YouTube channel for free study and revision videos. We have also attached a video for your reference below.
Once you receive some clarity on where you stand, it is time to repurpose your routine. Now, your focus should be on incorporating these pointers in your final week of preparation before the exam.
IBPS PO Mains 2021 Other Preparation Tips
To begin with, you must read 3-5 essays and/or news articles daily. This is a double-edged sword that will help you prepare for General Awareness and Descriptive English in tandem.
Write 1 letter and 1 essay every day.
Solve 1 grammar or Reading Comprehension exercise daily.
Continue solving Reasoning puzzles every day as you have been doing.
Practice is key. You must continue solving Data Analysis & Interpretation problems as you have been doing. Solve 3-5 questions from this section every day.
Remember to time yourself when taking practice tests.
Last but not the least, stay up-to-date with the latest General/ Economy/ Banking Awareness news. Refer to ixamBee's BeePedia capsules to find all the latest information in one place.
IBPS PO Mains 2021 Exam Day Preparation
Download your IBPS PO Mains Admit Card.
Prepare the bag you will be taking to the exam centre on the evening before your exam.
Take proper rest before the exam.
Kindly reach the exam centre well in advance.
Only carry items like water bottle, pen, documents and hand sanitizer that you will be permitted to carry inside the exam hall.
Take all safety precautions for your safety and for that of others.
Do not form a crowd before or after the exam. If there is a crowd, kindly avoid it.
We hope you will be well-rested on the day of your exam in order to perform your best. Moreover, we also hope that you will clear this exam with the same energy and confidence that you cleared the IBPS PO Prelims 2021 exam.
We wish you all the very best!
At ixamBee you can find a number of Online Courses, Free Test Series, GK updates in the form of BeePedia, as well as the latest updates for Bank PO, Bank Clerk, SSC, RBI, NABARD and Other Government Jobs.
Also read
IBPS PO 2021 Mains Exam: Best Preparation Strategy