Read here best tips to crack NRA-CET 2022 Exam from experts. NRA CET Preparation Tips 2022 for class 10-level exam.
The newly established National Recruitment Agency (NRA) will conduct a Common Eligibility Test (CET) at a national level. This NRA CET exam will replace the Preliminary or Phase 1 exam of several central government jobs conducted by SSC, IBPS & Railways. The NRA CET notification 2022 is expected to come out soon.
Please note, the CET will be conducted at 3 levels; they are:
Matric level (Class 10)
Higher Secondary level (Class 12)
Graduation level
Further, we should not wait for the NRA CET 2022 notification to begin our preparation. In this article, we will discuss how to prepare for NRA CET 2022 for the class 10-level exam.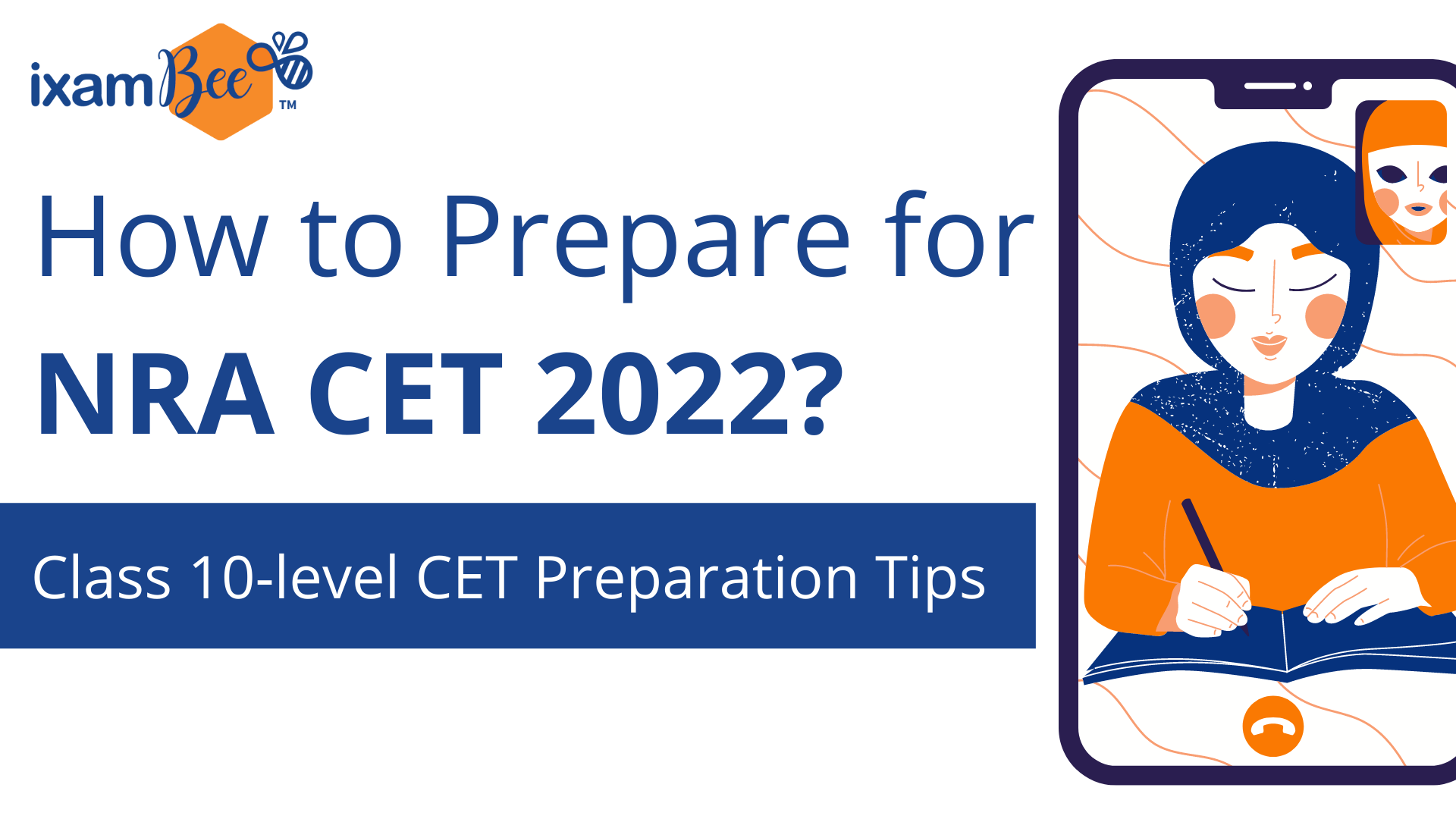 Exams Covered Under Matric level CET
Before we move ahead with the NRA CET Preparation Tips 2022 let us take a look at the exams that will be covered under the NRA CET at the Matric level (class 10).
SSC GD constable paper 1
Paper 1 for SSC MTS
SSC Selection Post
RRB Group D Tier 1 exam
RRB NTPC Tier-1 exam
NRA CET Preparation Tips 2022
How Should I Start Preparing for NRA CET?
Before you start your preparation in any way, it is imperative that you understand what the NRA CET 2022 exam entails. For this, you should understand the NRA CET syllabus and exam pattern 2022 clearly.
NRA CET Exam Pattern 2022
The NRA CET Expected Exam Pattern 2022 is given in the table below.
| | | |
| --- | --- | --- |
| Name of the Exam | No. of Questions | Marks |
| General Awareness/General Knowledge/General Science | 25 | 50 |
| General Intelligence & Reasoning | 25 | 50 |
| Mathematics/ Quantitative Aptitude | 25 | 50 |
| Language and Comprehension (Hindi/English) | 25 | 50 |
| Total | 100 | 200 |
Please note, it is expected that candidates will be allotted 90 minutes for this exam.
NRA CET Syllabus 2022
The NRA CET Expected Syllabus 2022 has been provided for each subject in the table below.
Section
Topics
General Intelligence & Reasoning
Analogies
Similarities and Differences
Space Visualization
Spatial Orientation
Problem Solving
Analysis Judgment
Decision Making
Visual Memory
Discrimination
Observation
Relationship Concepts
Arithmetical Reasoning and Figural Classification
Arithmetic Number Series
Non-verbal Series
Coding And Decoding
Statement & Conclusion
Syllogistic Reasoning
Semantic Analogy Symbolic/ Number Analogy Figural Analogy
Semantic Classification Symbolic/ Number Classification Figural Classification
Semantic Series
Number Series
Figural Series
Numerical Operations/ Symbolic Operations
Space Orientation/Space Visualization
Venn Diagrams
Drawing Inferences
Punched Hole/ Pattern- Folding & Un-folding
Figural Pattern-folding & Completion
Indexing
Address Matching
Date & City Matching Classification of Centre Codes/ Roll Numbers Small & Capital Letters/Numbers
Critical Thinking
Emotional Intelligence
Social Intelligence
General Awareness
Current events and of such matters of every day observations and experience in their scientific aspect.
Questions relating to India and its neighbouring countries especially pertaining History, Culture, Geography, Economic Scene, General Policy & Scientific Research.
Quantitative Aptitude
Whole Numbers, Decimals, Fractions & Relationships Between Numbers
Percentage
Ratio & Proportion
Square Roots
Average
Simple and Compound Interest
Profit, Loss & Discount
Partnership
Mixture & Alligation
Time and Distance/Time & Work
Basic Algebraic Identities of School Algebra & Elementary Surds
Graphs of Linear Equations, Triangle and Its Various Kinds of Centres
Congruence and Similarity of Triangles Circle and Its Chords
Bar Diagram & Pie Chart
English Comprehension
Grammar
Vocabulary
Reading Comprehension
Error Spotting
Jumbled Words
Sentence Framing
Fill in the blanks
Antonym
Synonym
Candidates' ability to comprehend English and their reading and writing ability would be tested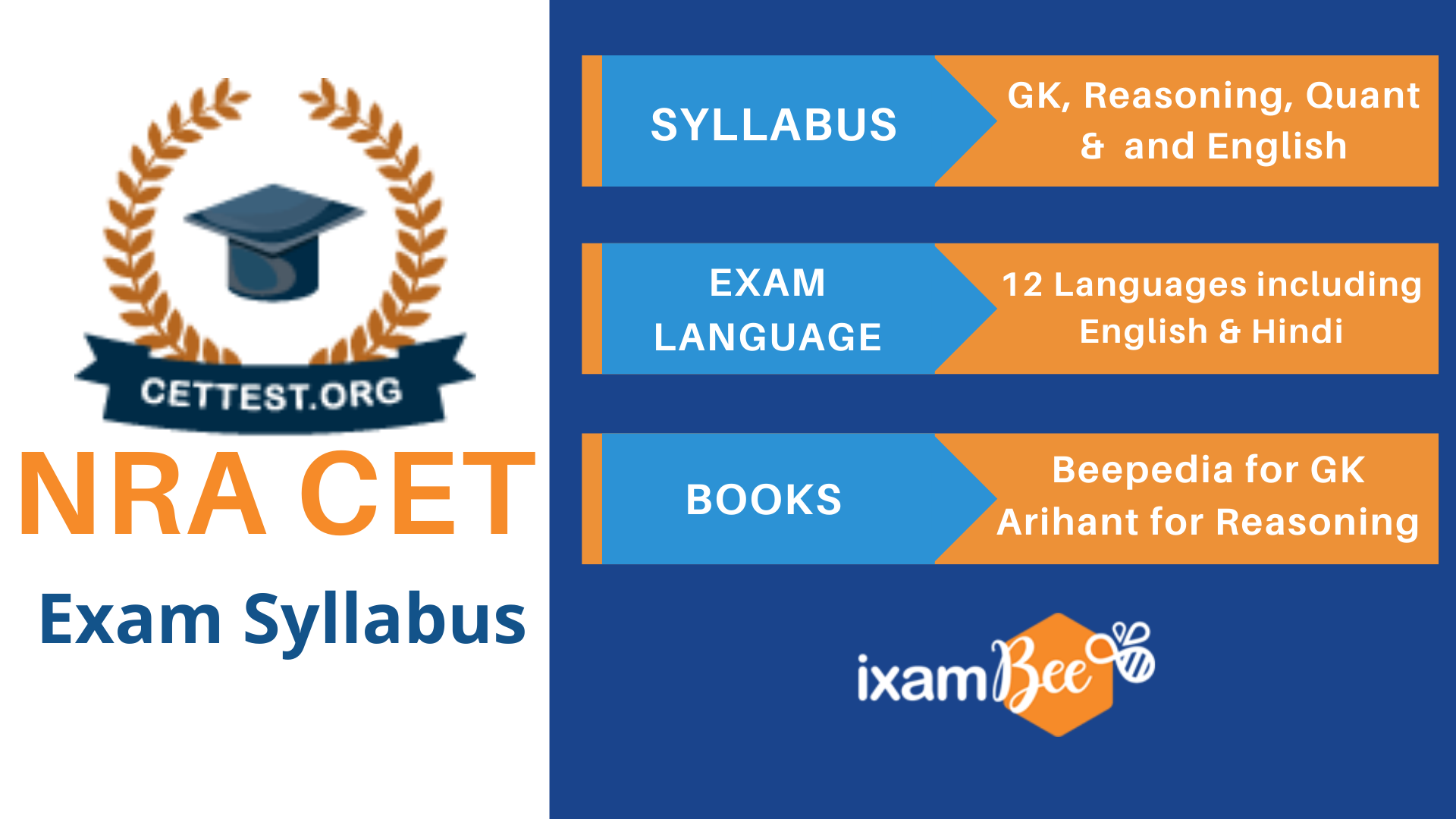 Also read: Important Books for NRA CET Preparation 2022
NRA CET Exam Difficulty Level
Please note, the difficulty level of the exam will depend upon the post you are applying for. Therefore, for the Matric-level CET, your level of assessment will be of Class 10-level only.
NRA CET 2022: Subject-Wise Preparation Tips
Let us now look at how we can prepare for the NRA CET matric-level exam for each subject.
Firstly, we must understand that the level of assessment will be of matric level-only. Therefore, we can expect the questions to be simple and basic.
Quantitative Aptitude
The more important topics from this section are Number Systems, Ratio and Proportion, Data Interpretation, Percentages, Mensuration, Simple and Compound Interest.
Solve 5 questions from each of the aforementioned topics daily.
However, you must give due time and attention to all the topics as well.
Memorize tables up to 20, Squares up to 40, and Cubes up to 20. This will help you solve all the questions quickly and accurately.
Take 1 or 2 subjects at a time only. It is best to begin slowly and steadily if mathematics is not your strong suit.
Moreover, we advise you to begin with the more difficult topics first.
Please keep in mind, since the assessment is for matric-level only, all the questions will be quite basic. Therefore, if you practice enough, you should be able to score well in this section.
General Intelligence & Reasoning
This is the most important section of any competitive exam from the examiner's perspective.  
General Intelligence and Reasoning seeks to check the problem-solving ability of a candidate.
The more important topics for this section are Coding-Decoding, Alphanumeric Series, Verbal Reasoning, Embedded Figures, Blood relations, Direction Sense and Order & Ranking.
For this section and for Quantitative Aptitude, we recommend that you take many mock tests to understand how you are faring in this exam.
General Awareness
The General Awareness section of the paper basically can be divided into 2 parts, i.e., Static G.K and Current Affairs. Among these 2, if you are asked school-level static G.K., it can be a very scoring section as questions will be asked from history, geography, elementary science, politics, novels, English literature and the like.
If you passed your matric exam a few years ago, its time to reopen your school books once again. However, be mindful of the latest syllabus as a reference point for your exam.
Read BeePedia capsules to stay abreast with Dynamic GK.
Take a daily GA Quiz with ixamBee for free!
English Language
The language assessment seeks to assess the candidate's basic knowledge of vocabulary, grammar and communication ability. Therefore, if you want to score well in the English section, start studying the basics of English Grammar.
Improve your vocabulary by reading newspapers.
There will be a reading comprehension exercise as well. Thus, you must solve 3-5 passages every week.
Keep taking grammar MCQ tests as often as you can.
Read the newspaper in English daily. It will help you with your GA and English preparation simultaneously.
If you want to know anything more about the NRA CET exam 2022, you can find all the details on our website about the same.
Team ixamBee wishes you the very best!
Get Free Online Test Series, GK updates in the form of BeePedia. Similarly, get the latest updates for Bank PO, Bank Clerk, SSC, RBI, NABARD and Other Government Jobs as well.
Also read
SSC Exam Calendar 2021-2022: New Calendar for Upcoming SSC Exams
SSC CGL Preparation Tips by Toppers
Government jobs after class 12 Or, What Next After 12th?