Pegged as the National Infrastructure Master Plan for multi-modal connectivity and a source of employment opportunities for the youth, PM on the eve of 75th Independence day announced that the Central Government will launch Gati Shakti Master Plan, a Rs.100 lakh-crore project for developing 'holistic infrastructure'.
Gati Shakti Master Plan will help local manufacturers compete with their counterparts worldwide by raising their global profile. The plan will also raise the possibility of new future economic zones. The Finance Minister in the budget speech of 2019-2020 announced an outlay of Rs 100 lakh Crore that is to be used over the next 5 years for this infrastructure project.
Recently, the Government of India constituted a 20-member Empowered Group of Secretaries (EGoS) to monitor the development and implementation of this mission.
What is Gati Shakti Master Plan?
Gati Shakti Plan is a first-of-its-kind initiative that will provide world-class infrastructure and attract investments from both domestic and foreign investors. The project is seen as a crucial ingredient for attaining the target of a $5 trillion economy by FY 2025.
Under the Gati Shakti Master Plan, a digital platform will be created to provide high resolution satellite images, infrastructure, utilities, logistics and lands and administrative boundaries. This digital platform will bring 16 ministries including rail and roadways for amalgamated planning and dovetail implementation of infrastructure connectivity projects.
The vision of Gati Shakti Plan
Gati Shakti Master Plan will incorporate infrastructure schemes like Bharatmala, Sagarmala, inland waterways etc. Besides this economic zones like pharmaceutical and textile clusters, defence corridors, electronic parks, agriculture zones will be canopied to enhance connectivity and make the economy more competitive. The Gati Shakti Master Plan will also strengthen technology as spatial planning tools developed by BiSAG-N will be used for the effective implementation of the project.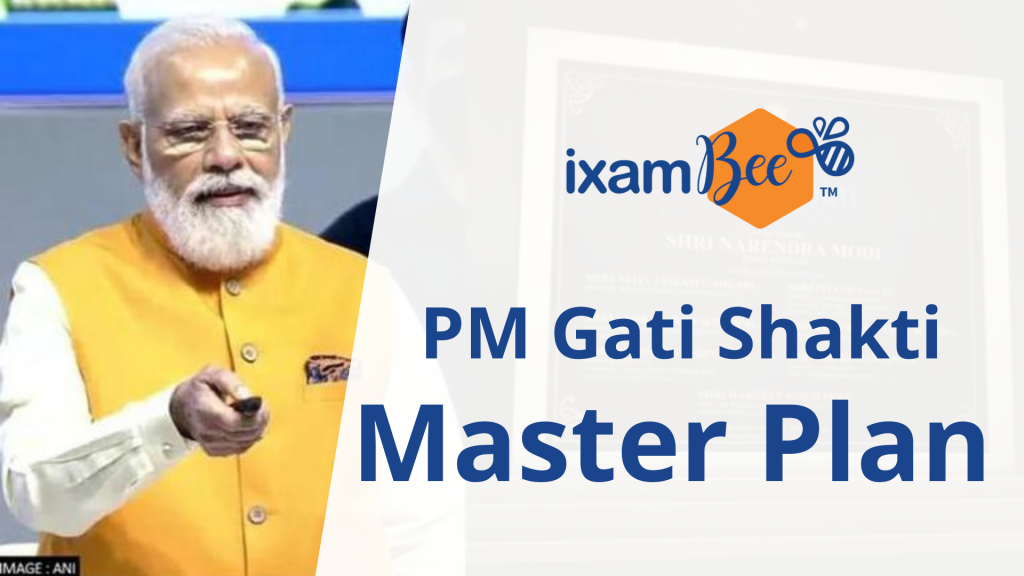 Why Need of a Gati Shakti Plan?
Gati Shakti Master Plan focuses on coordinated planning and effective implementation of infrastructure projects so that the logistics costs can be brought down. It has been observed in the past that there exists a lack of coordination between different Departments / Ministries which lead to a wide gap between macro planning and micro implementation as departments think and work in silos. Poor infrastructure planning badly affects the road Infrastructure. Also, high logistics costs that amount to 13-14% of GDP impact cost structures within the economy which make shipping merchandise to buyers costly for exporters. This reduces the competitiveness of India's exports. The Gati Shakti Master Plan is expected to create quality infrastructure for Sustainable Development thus giving rise to many economic activities and creating employment on a large scale.
Gati Shakti Six Pillars
This infrastructure plan is based on 6 pillars as mentioned below-
Comprehensiveness: all initiatives of various Ministries and Departments with one centralized portal will be visible to provide critical data for better execution of projects.
Prioritization: Easy to prioritize projects through cross-sectoral interactions by different departments.
Optimization: Assistance to different ministries for project planning after the identification of critical gaps. Will also help in selecting the most optimum route in terms of time and cost.
Synchronization: Synchronizing each department activities by ensuring coordination of work.
Analytical: Better visibility to the executing agency of all data at one place with GIS-based spatial planning and analytical tools.
Dynamic: All Ministries and Departments will be able to visualize, review and monitor the progress of cross-sectoral projects, through the GIS platform as the progress of the projects will be updated regularly on the portal.
Some Important Features of the Gati Shakti Master Plan
The scheme embraces Rs 110 lakh crore amount of the National Infrastructure Pipeline that was launched in 2019.
Will increase cargo handling capacity besides reducing the turnaround time at ports.
Target to have 11 industrial corridors and 2 new defence corridors – one in Tamil Nadu and the other in Uttar Pradesh.
To extend 4G connectivity to all villages along with adding a 17,000 km gas pipeline network.
Aim to expand national highway network length to 2 lakh km.
Building of more than 200 new airports, heliports and water aerodromes to fulfil the Government 2024-25 ambitious target
Optimum utilization of resources and reducing cost and time overruns.
Reduce human intervention within the ministry.
The bulk of the project composition will be of Energy, roads, railways and urban projects.
Conclusion
PM Gati Shakti Master Plan intends to ensure every department has visibility of each other's projects activities for effective execution of projects in a comprehensive manner. This will help various departments to prioritise their project planning through cross-sectoral interactions.
The Gati Shakti Master Plan is a step in the right direction to push infrastructure to boost economic growth and create a multiplier effect yielding higher returns.
It will attract foreign investments and enhance India's global competitiveness to realise its dream of becoming the "business capital" of the world. However, this initiative needs to be reinforced by a regulatory and institutional framework along with addressing structural and macroeconomic stability concerns that will incur from high public expenditure.
Also Read